I make forecasts based off of cold data. Sure, I use words to gussy it up, to make this simple but tough business a bit easier to bear. But my calls are backed by signals generated both autonomously by Stocklabs and manually via the indexmodel process.
On 11/28 Indexmodel signaled bunker buster for the first time since February 28th. You may ask yourself, "what good is a signal that fire that infrequently? Daddy needs more trades." I find great solace in such an indicator. The thing about your humble pal Raul [hpR] is he works way too hardt. Doing things most of yous would quickly call it quits on.
I peeled 17 mattress out of the ground behind my urban farm. A group of boys, poor as it gets and left without the oversight of a reasonable person, built some kind of wrestlemania jump park on what was then abandoned land. Earth eventually grew over it, and I had no idea it was there when I shelled out the dough for the land.
I probably should have rented a bobbed cat to make short work of the endeavor. But I channeled my immigrant grit and mined them one-by-one with pick and lever bar.
Everyone wants to be early. To have been in Brooklyn before they were priced out. Or Tesla when it was $40/share. Or Bored Apes when they were 0.25e. But most folks don't know the reality of being early.
In fact, often times folks are too early. Or they're just plain wrong.
But being early in urban real estate is not glamorous. It can be exponentially rewarding, and I know what it takes to activate a site, to create a conduit of opportunity and eventually a flywheel that spits out moneys.
Enough of that. It doesn't matter. That's ego taking over.
The infrequent signals are something I can use to allot capital to long-term investments without too much thought.
The signals are the signals are the signals. The signals are telling me low of month is in. They are not a 100% win rate.
This time could be a loser. It is not my job to predict that. My job is to click to buttons on the computer that make the numbers on the screen go from my bank account to my brokerage account and then into FB, BRK.B, GOOGL, AMZN and so on.
Maybe next week numbers go up. We don't know.
Okay for now.
Raul Santos, December 19th 2021
And now the 369th edition of Strategy Session. Enjoy.
---
Stocklabs Strategy Session: 12/20/21 – 12/24/21
I. Executive Summary
Raul's bias score 2.83, neutral. Buyers regain control of the tape. Equity prices rally throughout the holiday-shortened week.
U.S. markets will be closed Friday in observation of Christmas.
II. RECAP OF THE ACTION
Small gap up to start the week. Sellers drove lower all day Monday and we were gap down Tuesday. Sellers kept price down on the lows until the Wednesday afternoon FOMC rate decision and press conference introduced a strong bid. All of Wednesday afternoon's rally was reversed Thursday by a trend down. There was some continuation lower early Friday before buyers stepped in and stabilized prices into the weekend.
The last week performance of each major index is shown below: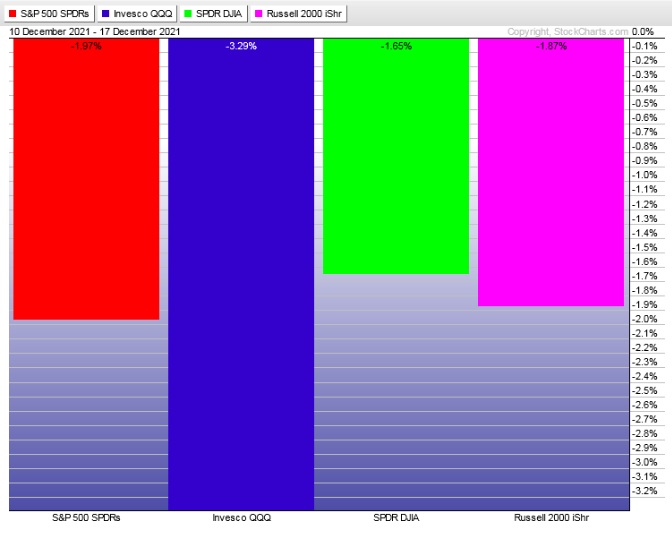 Rotational Report:
Key tech and discretionary sectors saw heavy selling on the week. Meanwhile investors rotated into risk averse utilities and staples. Healthcare also strong.
slightly bearish
For the week, the performance of each sector can be seen below: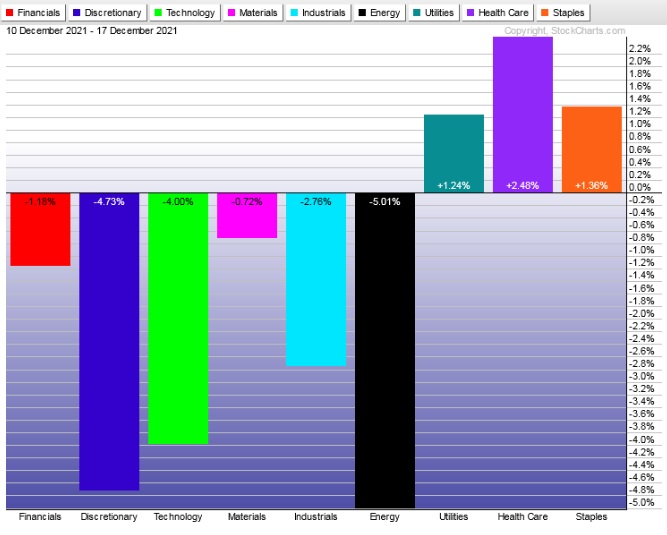 Concentrated Money Flows:
The bullish skew sixteen weeks back was negated five weeks ago. Then we had three consecutive weeks of heavy sell flows, with three weeks back being the most extreme we've seen yet.
Two weeks ago the ledger skewed slightly negative, but we saw a nice pocket of semiconductor groups on the positive side of the ledger. However last week we saw another major negative skew.
bearish
Here are this week's results:

III. Stocklabs ACADEMY
Less attention, time to rally
By the end of last week the prevailing sentiment seemed to be exhaustion. The uptick in volatility paired with a negative news cycle has taken its toll on most of the active market participants I monitor.
Add in the stress of year-end, holiday preparations, and we might have reached the point where folks step away.
I've thought we reached this point for weeks, and perhaps I am merely projecting my own state onto the behavior of the markets.
I am leaning on the signaling from indexmodel and Stocklabs. The bunker buster signal on 11/28 still marks our local swing low, and we have three days left in the 3-month hybrid overbought signal that triggered December 8th.
I pair these two emotionless indicators with my own subjective read of sentiment. I layer in calendar/moon context and formulate this forecast. Is it perfect? Absolutely not. But it is the best method I've come up with.
Note: The next two sections are auction theory.
What is The Market Trying To Do?
Week ended searching for buyers
IV. THE WEEK AHEAD
What is The Market Likely To Do from Here?
Weekly forecast:
Buyers regain control of the tape. Equity prices rally throughout the holiday-shortened week.
Bias Book:
Here are the bias trades and price levels for this week:

Here are last week's bias trade results:

Bias Book Performance [11/17/2014-Present]: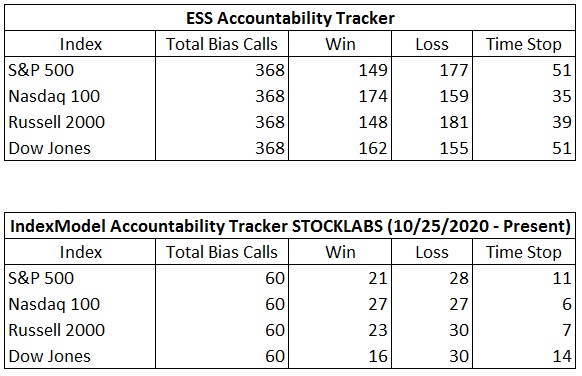 Ether has clear reading, the others are not discovery down
Markets fluctuate between two states—balance and discovery. Discovery is an explosive directional move and can last for months. In theory, the longer the compression leading up to a break in balance, the more order flow energy to push the discovery phase.
Market are most often in balance.
Every week this newsletter uses auction theory to monitor three instruments, the Nasdaq Transportation Index and the PHLX Semiconductor Index. Readers are encouraged to apply these techniques to all markets.
Transports are beginning to compress. Short term it looks like discovery down. Intermediate term we're still in the process of making a higher low—discovery up. Put it together and it looks like balance/compression.
See below: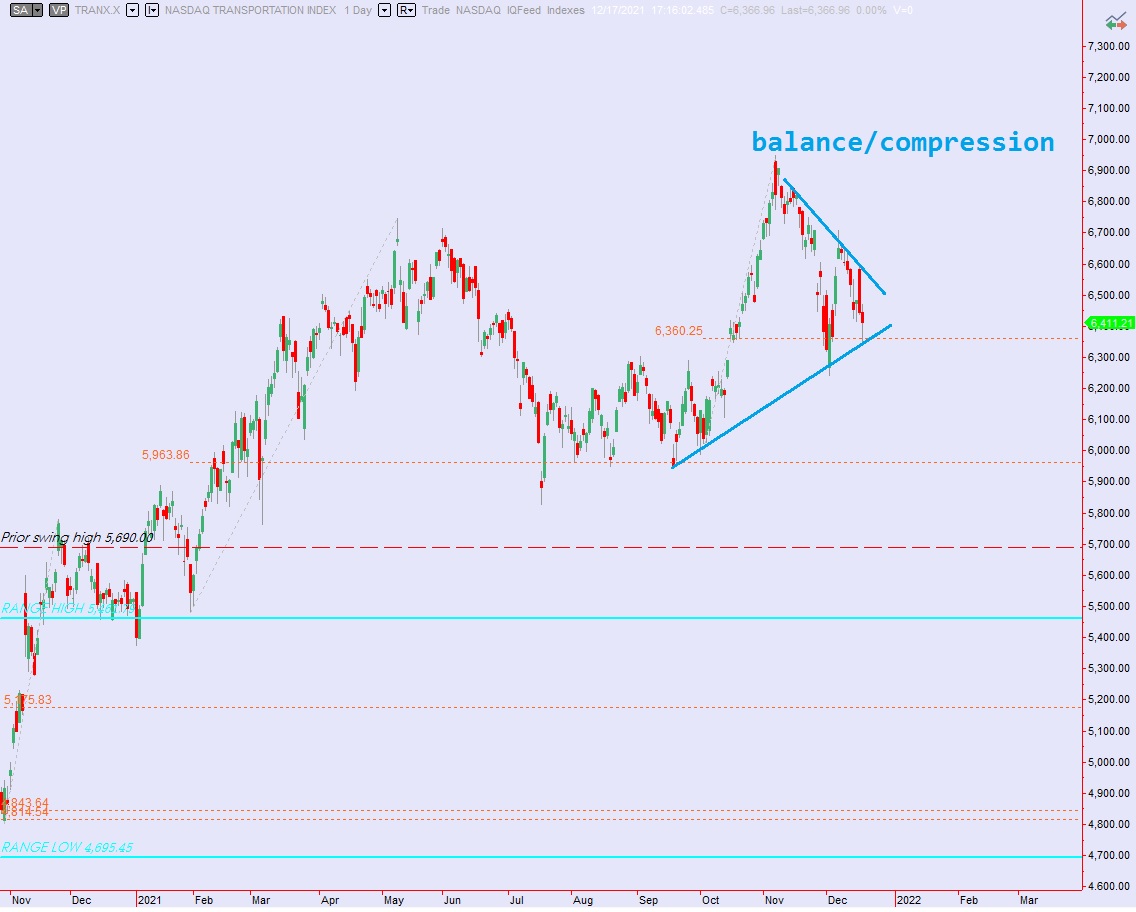 Semiconductors printed a massive red candle Thursday but for now appear to be in balance.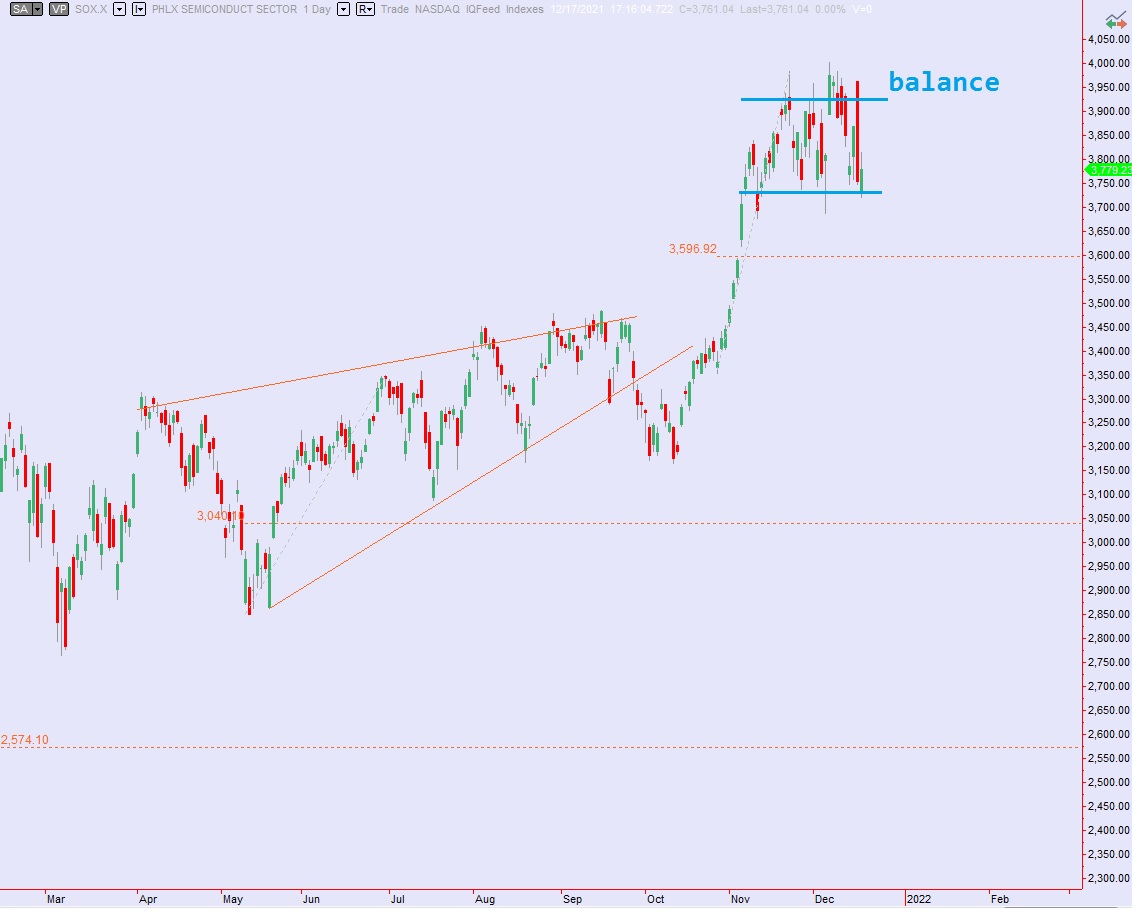 Ether will be monitored going forward as a third contextual component. The ethereum network currently has a market cap just under $500B. The PHLX is about $3.5T. Therefore while we analyze ether alongside semiconductors, we ought to give more contextual weight to semiconductors than ethereum.
Ethereum transitioned into discovery down last week by leaving its recent balance zone behind via a series of lower highs and lows. See below: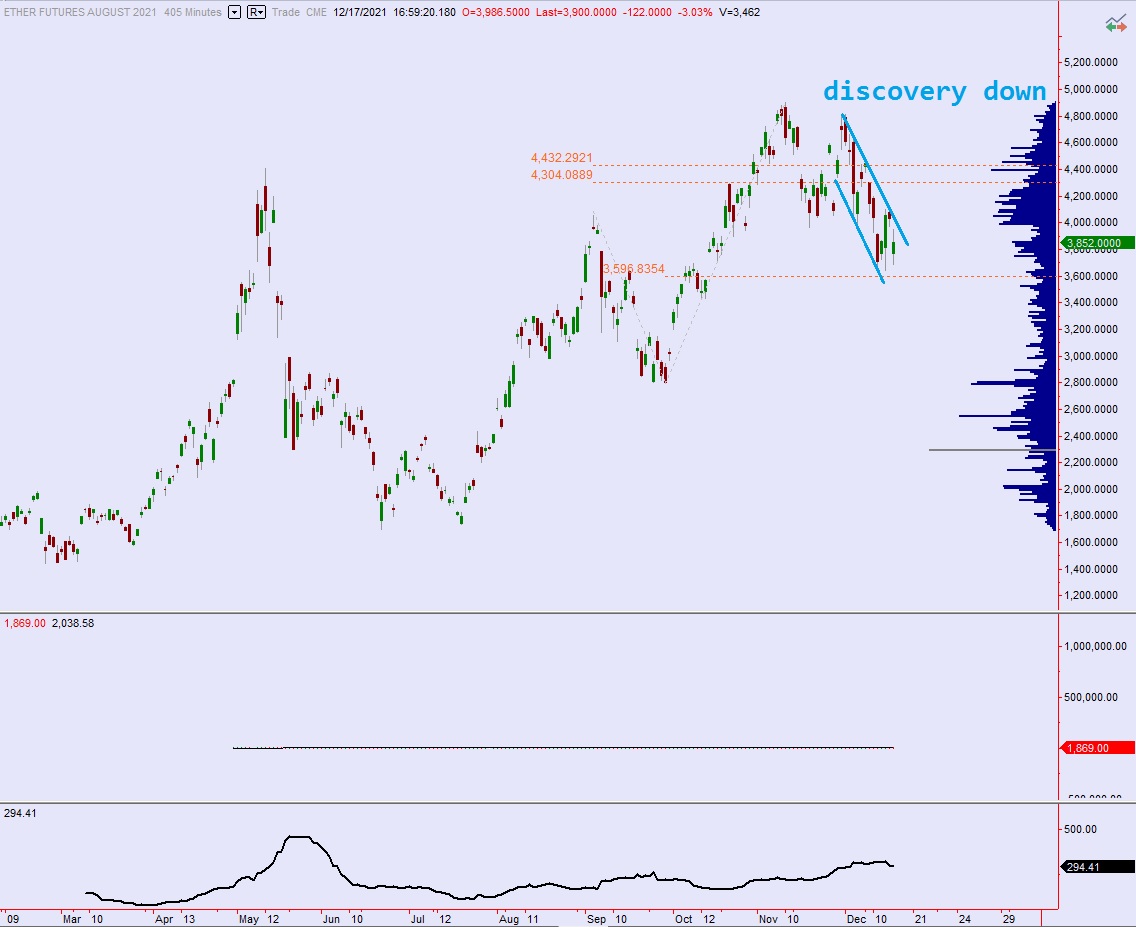 V. INDEX MODEL
Bias model is neutral for a third week after signaling Bunker Buster three reports back. The Bunker Buster before the most recent one was forty two weeks ago.
Heading into the holiday-shortened week neutral. No bias.
Here is the current spread: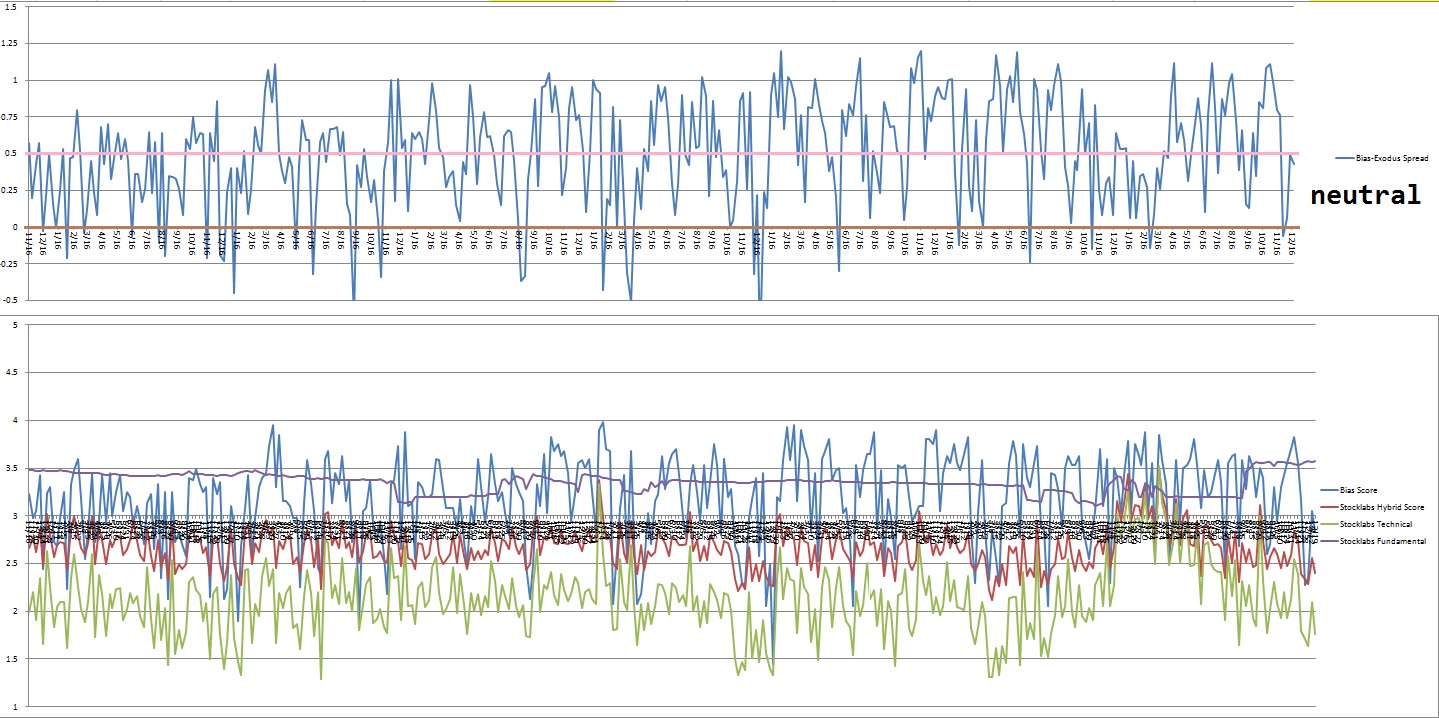 VI.12 month Hybrid Oversold
On Wednesday, December 1st Stocklabs went hybrid oversold on the 12-month algo. This is a bullish cycle that ends Wednesday, December 15th end-of-day. Here is the final performance of each major index: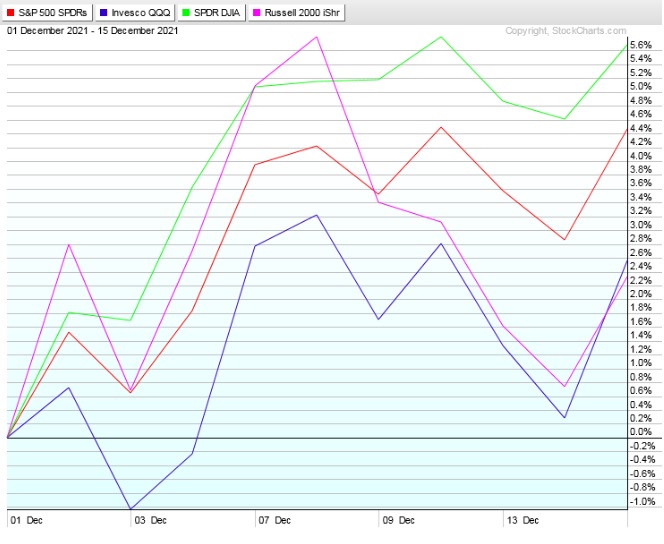 VII. 3 month Hybrid Overbought
On Wednesday, December 8th Stocklabs went hybrid overbought on the 3-month algo. This is a bullish cycle that ends Wednesday, December 22nd end of day. Here is the performance of each major index so far:
VIII. QUOTE OF THE WEEK:
"The first principle is that you must not fool yourself—and you are the easiest person to fool." – Richard Feynman
Trade simple, execute the system
If you enjoy the content at iBankCoin, please follow us on Twitter