Hello chaps. I must be brief. I have been playing from behind all morning because first of all insomnia plagued your dear pal Raul last night. I fell asleep next to the fire after a generous portion of FISH MEAT. Only to shoot back into consciousness, fully erect and energized at 3am. Managed to re-sleep around 6am only to be jolted back into wintery existence at 8am. Then it was a quick pony tail and over to pick up elder raul for a ride up to dear aunt raul's to make a facetime to aunt raul in the old country.
Aunt raul in the old country is holding it down. Chopping wood on the mountain side and baking breads. Living real remote like, pretty freaked out about the covid and foreigners. Italians crack me up. I like to unsettle them by telling them I am coming soon but that when I arrive I intend to work. I cannot sit around taking cafe all day by a fire. I need to work. To build something otherwise I'll be likely to take up my dream vocation of trafficking Moroccan hashish by way of a hyper-tuned motorcar.
Anyhow I need to be brief. I managed to find my way onto a whitelist for a hoverboard NFT and by golly I am doing my best not to drop the ball like I normally do. These discord junky gen-zers keep getting the jump on me and I am tiredt of it.
Spooky week ahead and I think it kicks off with a rally. A two-and-a-half day rally right up into the FOMC announcement. Then an ekg burst. Then we don't know.
What we do know is a quad-witching looms on the calendar Friday. The ghosts of xmas past,present, future and the metaverse are all coming to grab us by the neck and press our noses suffocatingly into our folly. Jolly.
Then the year is pretty much over.
I am hecking bullish by the way. Imagine having a strong statistical conviction that the low of the month is in. How would you behave?
Hopefully by spreading cheer for all to hear.
Ho ho ho.
Raul Santos, December 12th, 2021
And now the 368th edition of Strategy Session. Enjoy:
---
Stocklabs Strategy Session: 12/13/21 – 12/17/21
I. Executive Summary
Raul's bias score 3.05, neutral. Rally through Wednesday morning. Then look for third reaction the FOMC announcement to dictate direction into the second half of the week.
II. RECAP OF THE ACTION
Choppy and flat early Monday before a late-day rally. Pro gap up Tuesday. Most everything held the pro gap for the rest of the week, closing on a strong note, except for the Russell which faded into the weekend.
The last week performance of each major index is shown below: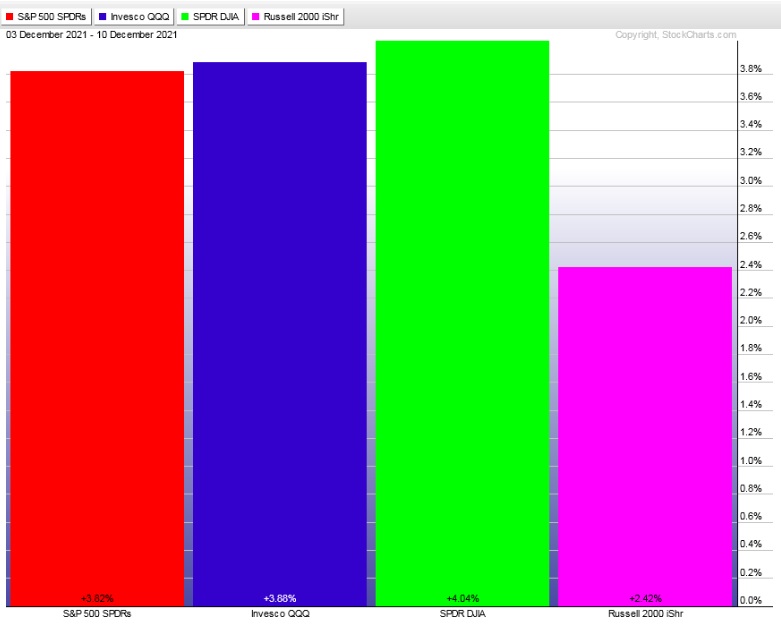 Rotational Report:
All sectors pinned higher after being pinned lower two weeks back. Key Tech sector leading higher. Utilities and staples a bit stronger than bull like to see while discretionary was sort of in the middle of the pack.
slightly bullish
For the week, the performance of each sector can be seen below: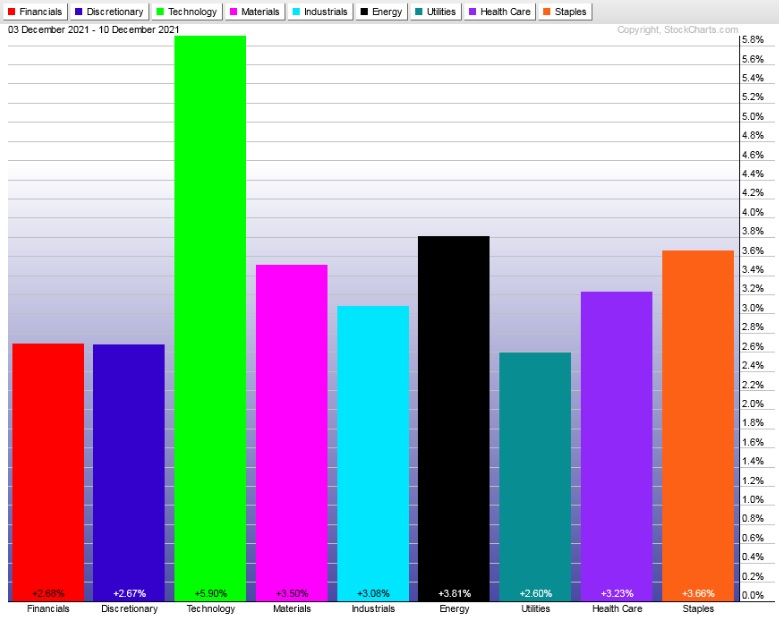 Concentrated Money Flows:
The bullish skew fifteen weeks back was negated four weeks ago. Then we had three consecutive weeks of heavy sell flows, with two weeks back being the most extreme we've seen yet.
Last week the ledger skewed slightly negative, but we saw a nice pocket of semiconductor groups on the positive side of the ledger.
neutral
Here are this week's results:

III. Stocklabs ACADEMY
Quad-witching, expect shenanigans
Consider the upcoming week to be pretty much year-end. There are likely to be fewer participants even this week as folks log off for some holiday relief.
That said, the tape could be thin and vulnerable to big moves. We had the Fed announcement Wednesday and by Thursday we'll likely set direction into the weekend. Friday could be full of shenanigans or the prevailing drift of late Wednesday could carry into the weekend.
We don't know.
But this context is not the type to press too aggressively.
Note: The next two sections are auction theory.
What is The Market Trying To Do?
Week ended searching for sellers
IV. THE WEEK AHEAD
What is The Market Likely To Do from Here?
Weekly forecast:
Rally through Wednesday morning. Then look for third reaction the FOMC announcement to dictate direction into the second half of the week.
Bias Book:
Here are the bias trades and price levels for this week:

Here are last week's bias trade results:

Bias Book Performance [11/17/2014-Present]: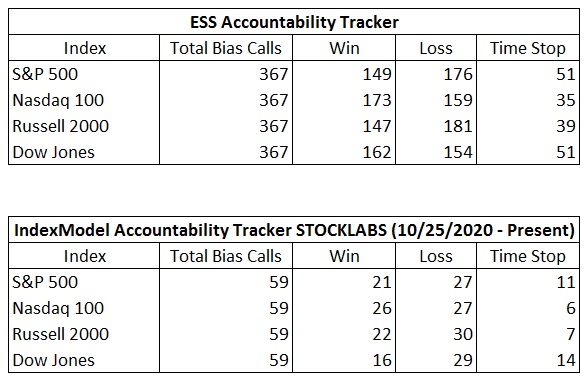 Ether has clear reading, the others are not discovery down
Markets fluctuate between two states—balance and discovery. Discovery is an explosive directional move and can last for months. In theory, the longer the compression leading up to a break in balance, the more order flow energy to push the discovery phase.
Market are most often in balance.
Every week this newsletter uses auction theory to monitor three instruments, the Nasdaq Transportation Index and the PHLX Semiconductor Index. Readers are encouraged to apply these techniques to all markets.
Transports could be settling into an old range zone. Or with how they held the Fibonacci retrace, they could be setting a higher-low in a continued discover up phase.
See below: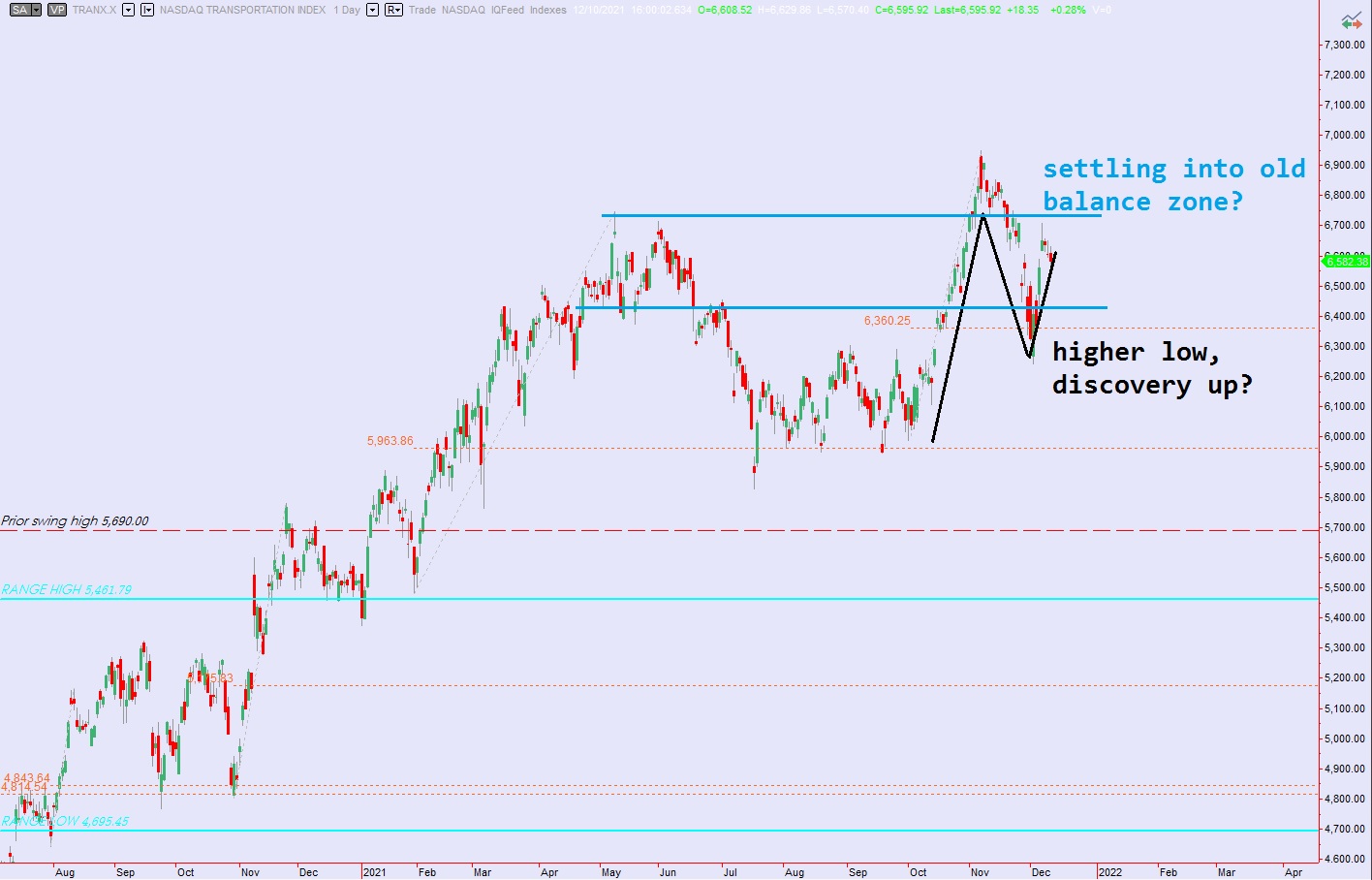 Semiconductors could be in a sloppy discovery up, or balance. We can clearly see that it is not in discovery down.
Ether will be monitored going forward as a third contextual component. The ethereum network currently has a market cap just under $500B. The PHLX is about $3.5T. Therefore while we analyze ether alongside semiconductors, we ought to give more contextual weight to semiconductors than ethereum.
Ethereum is showing a clear balance. See below: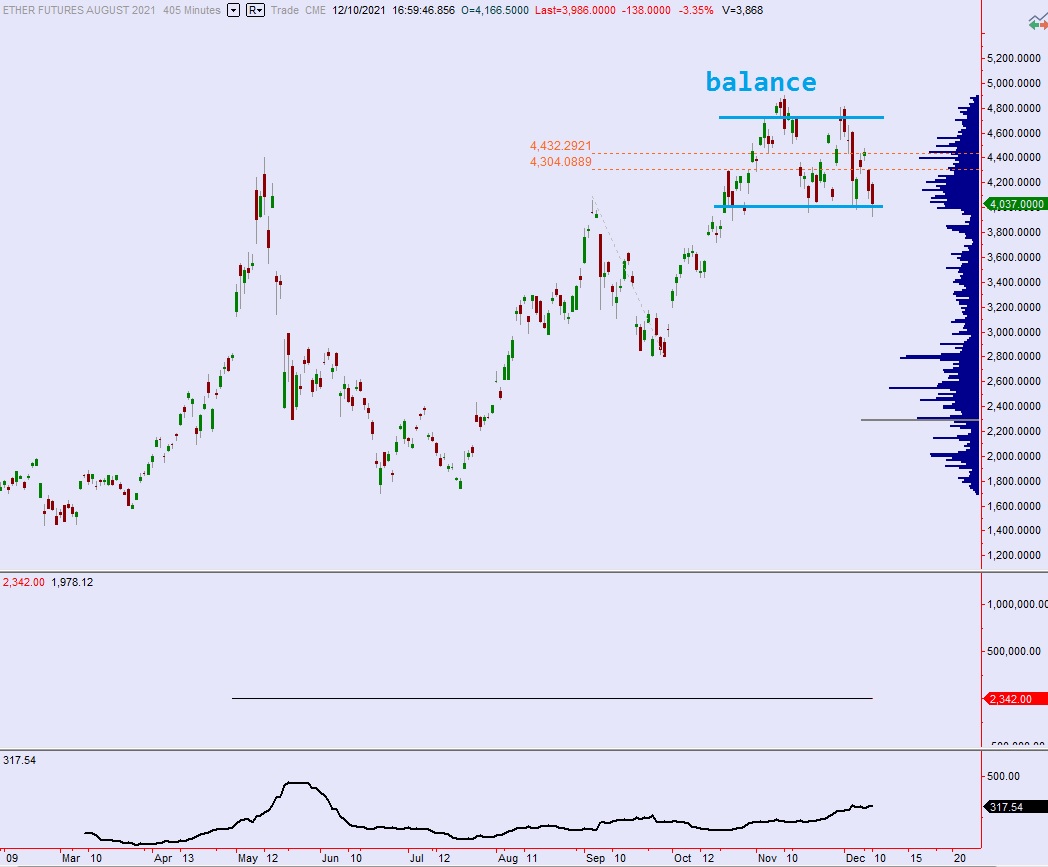 V. INDEX MODEL
Bias model is neutral for a second week after signaling Bunker Buster two reports back. The Bunker Buster before the most recent one was forty one weeks ago.
Heading into the second full week of December neutral. No bias.
Here is the current spread:
VI.12 month Hybrid Oversold
On Wednesday, December 1st Stocklabs went hybrid oversold on the 12-month algo. This is a bullish cycle that ends Wednesday, December 15th end-of-day. Here is the performance of each major index so far: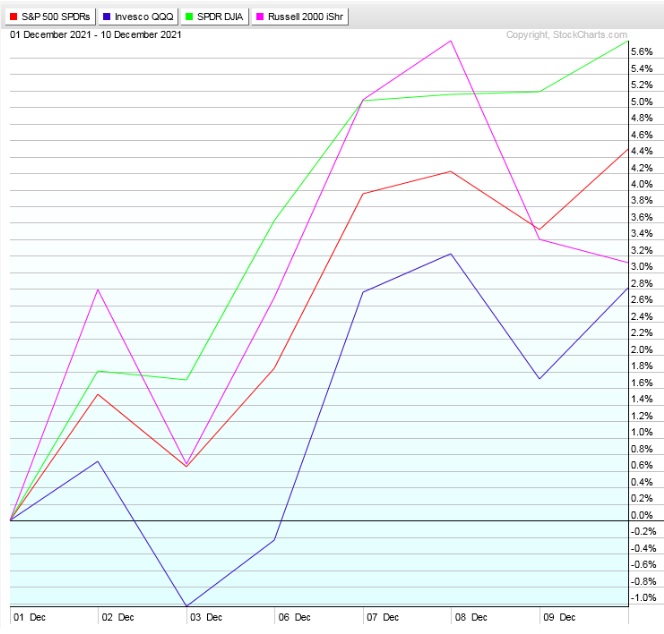 VII. 3 month Hybrid Overbought
On Wednesday, December 8th Stocklabs went hybrid overbought on the 3-month algo. This is a bullish cycle that ends Wednesday, December 22nd end of day. Here is the performance of each major index so far: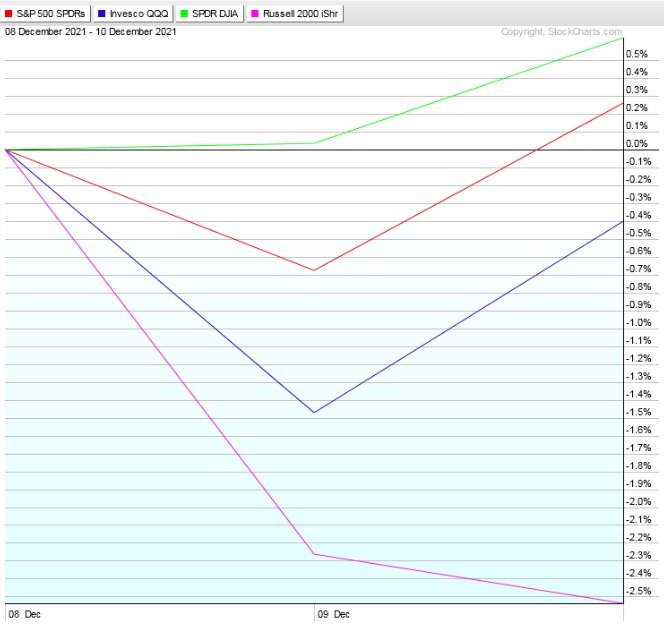 VIII. QUOTE OF THE WEEK:
"I never look back, except to find out about mistakes…I only see danger in thinking back about things you are proud of." – Elisabeth Noelle-Neumann
Trade simple, study past performance
If you enjoy the content at iBankCoin, please follow us on Twitter