Lads it's real overcast here in the land of lakes and I went to a soccer game this morning. This resulted in my being forced to complete Sunday research during my low cognitive hours and boy has it been a grind.
But the research is the research and without it I cannot trade. Those are the rules. I should know. I wrote them. For me.
Great.
Anyhow this whole scary move lower we experienced in the markets, it started with crypto and if crypto has anything to say about it it is going to end with crypto.
Equities, being risk assets just like crypto, are lagging and following moves in the major internet tokens, namely ether.
That stated, it has been a strong weekend for the crypto currency markets and I expect that trend to carry into equities in the upcoming week.
I have attached my ego to the Twitter trade, in part due to some real banker looking Goldman Sachs banker slapping a sell rating on Twitter after I sized up.
I don't like bankers. I used to be a corporate accountant. I've seen many a banker up close and they just make me want to make to kill.
The reality is I have no say in the outcome of this position. My life is in Jacked Dorsey's beautiful hands.
Earnings are set for October the 26th, after the bell of course. This is when my fate shall be decided.
My price target is $109.
Okay. I am really not feeling the juices flowing so I'm gonna go eat some groceries and maybe pet some dogs.
Okay for now.
Raul Santos, October 3rd 2021
And now the 358th edition of Strategy Session. Enjoy.
---
Stocklabs Strategy Session: 10/04/21 – 10/08/21
I. Executive Summary
Raul's bias score 2.95, neutral. Buyers steadily campaign price higher throughout the week. Then look for Friday morning's nonfarm payroll data to dictate direction into the weekend.
II. RECAP OF THE ACTION
Balance/consolidation Monday. Pro gap down and drive lower Tuesday. Continued Selling through early Friday, then a sharp reversal higher into the weekend.
The last week performance of each major index is shown below: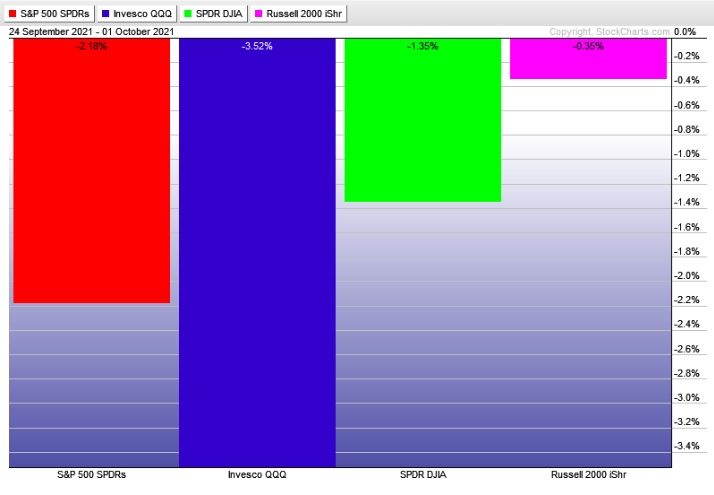 Rotational Report:
Fairly risk off across the board. Energy continues to trade independent of other sectors. Tech and Healthcare leading to the downside is not bullish.
bearish
For the week, the performance of each sector can be seen below: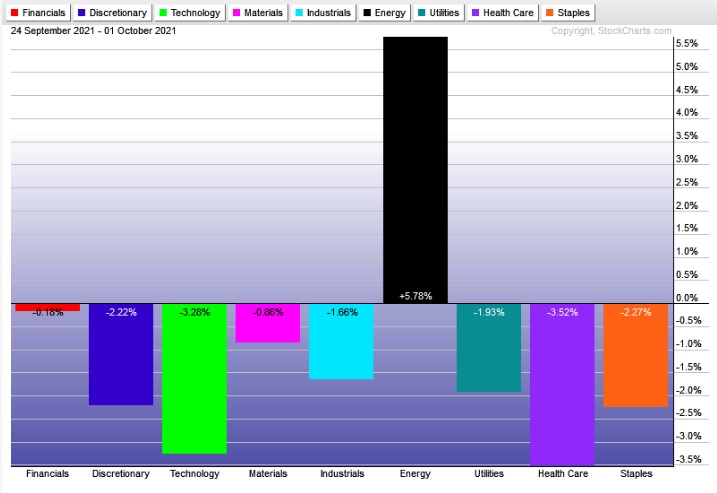 Concentrated Money Flows:
Five weeks back we had a major bullish skew and that really hasn't been negated yet. Last week's ledger is slightly skewed to the negative side.
neutral
Here are this week's results:

III. Stocklabs ACADEMY
Just a couple of bullish cycles now
Indexmodel is neutral and Stocklabs has two bullish cycles heading into next week. New month/quarter paired with Stocklabs backing. I will be leaning bullish all week.
Note: The next two sections are auction theory.
What is The Market Trying To Do?
Week ended searching for buyers.
IV. THE WEEK AHEAD
What is The Market Likely To Do from Here?
Weekly forecast:
Buyers steadily campaign price higher throughout the week. Then look for Friday morning's nonfarm payroll data to dictate direction into the weekend.
Bias Book:
Here are the bias trades and price levels for this week:

Here are last week's bias trade results:

Bias Book Performance [11/17/2014-Present]: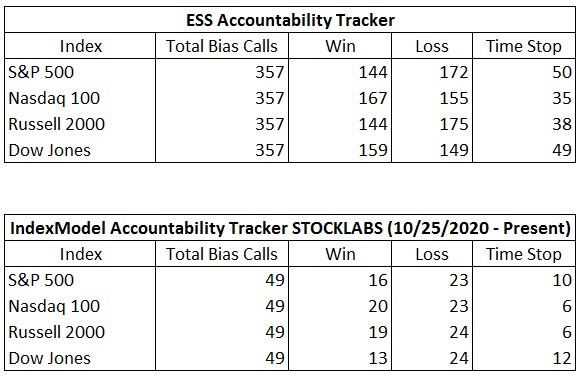 Semiconductors compressing and rallying
Markets fluctuate between two states—balance and discovery.  Discovery is an explosive directional move and can last for months.  In theory, the longer the compression leading up to a break, the more order flow energy to push the discovery phase.
We are monitoring two instruments, the Nasdaq Transportation Index and the PHLX Semiconductor Index.
Transports are still holding range.
See below: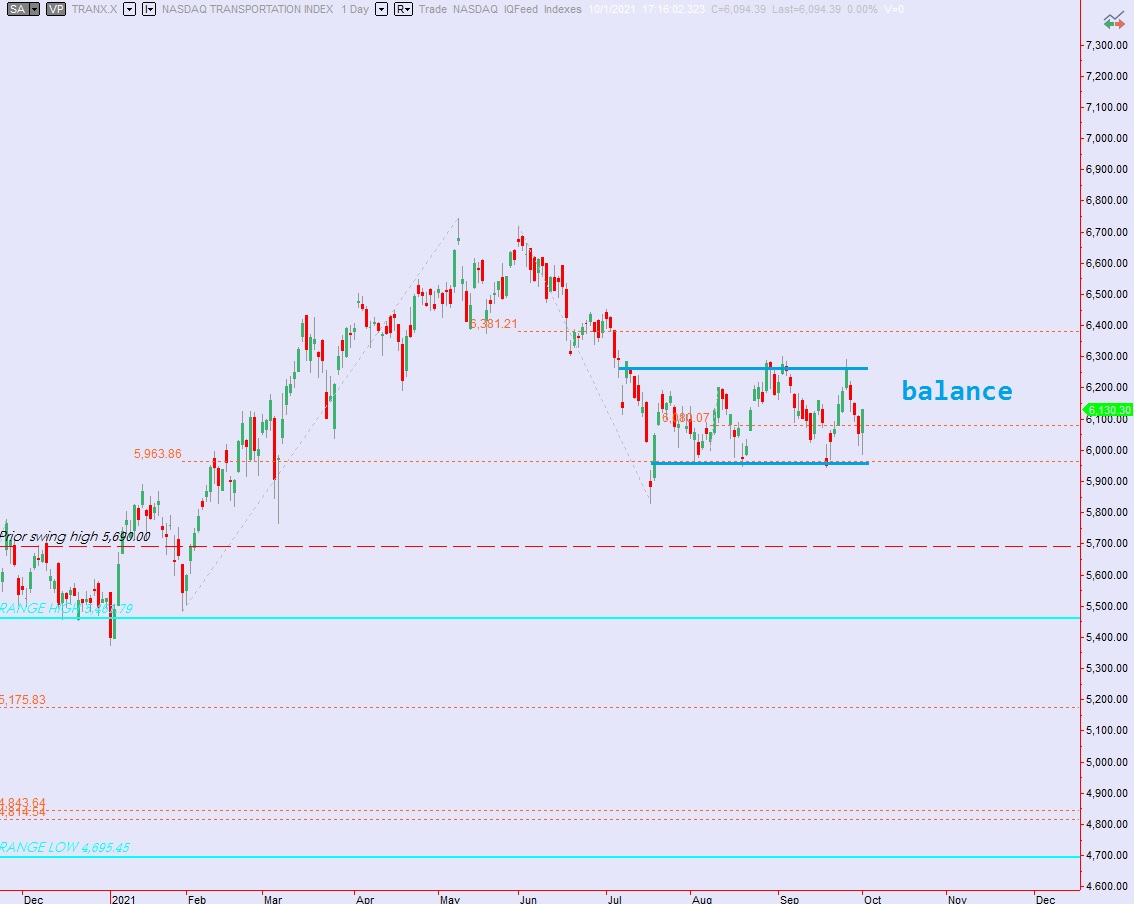 Semiconductors broke their rising wedge last week and now appear to be in a balance formation.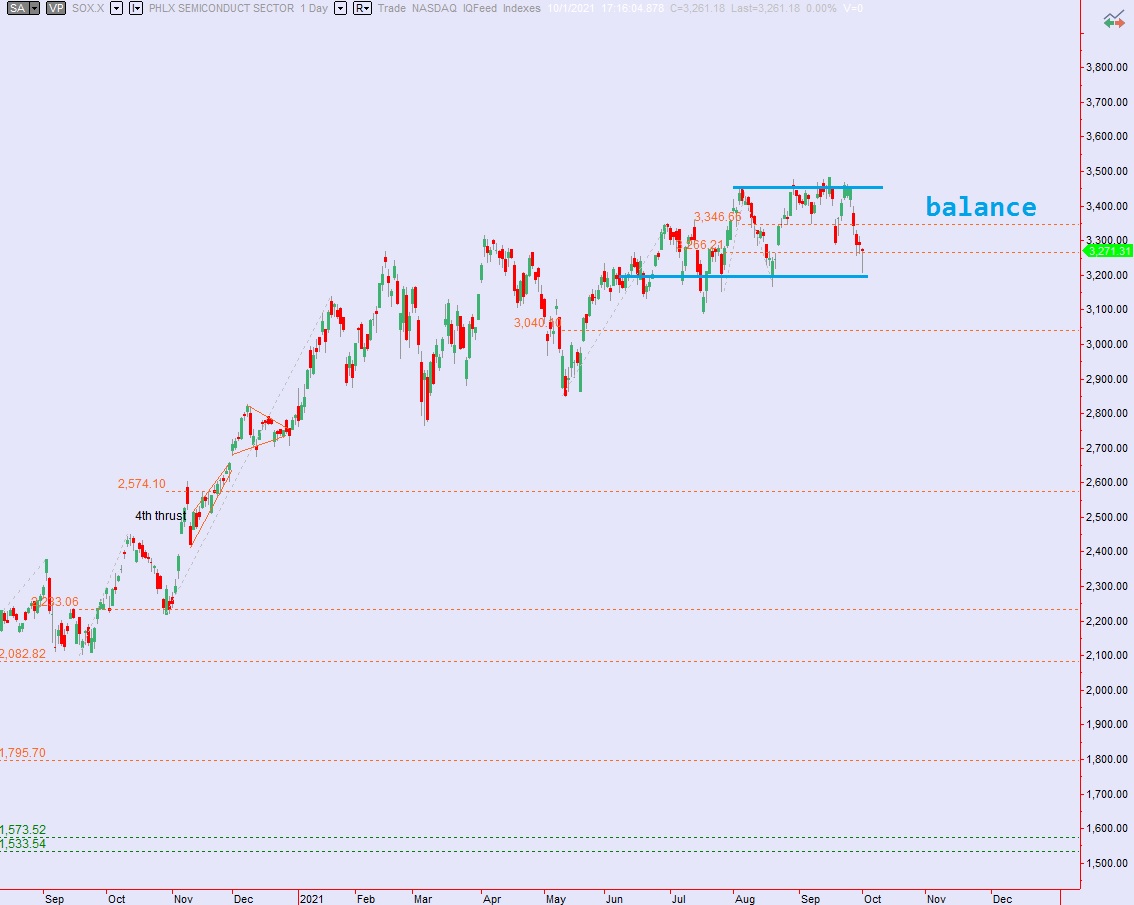 V. INDEX MODEL
Bias model is back to neutral after signaling Rose Colored Sunglasses [RCS] bearish last week. It was neutral the prior two weeks after being Rose Colored Sunglasses [RCS] bearish four weeks back after being neutral five reports back and Rose Colored Sunglasses bearish for the two consecutive weeks prior to that.
We had a Bunker Buster thirty one weeks ago.
Here is the current spread: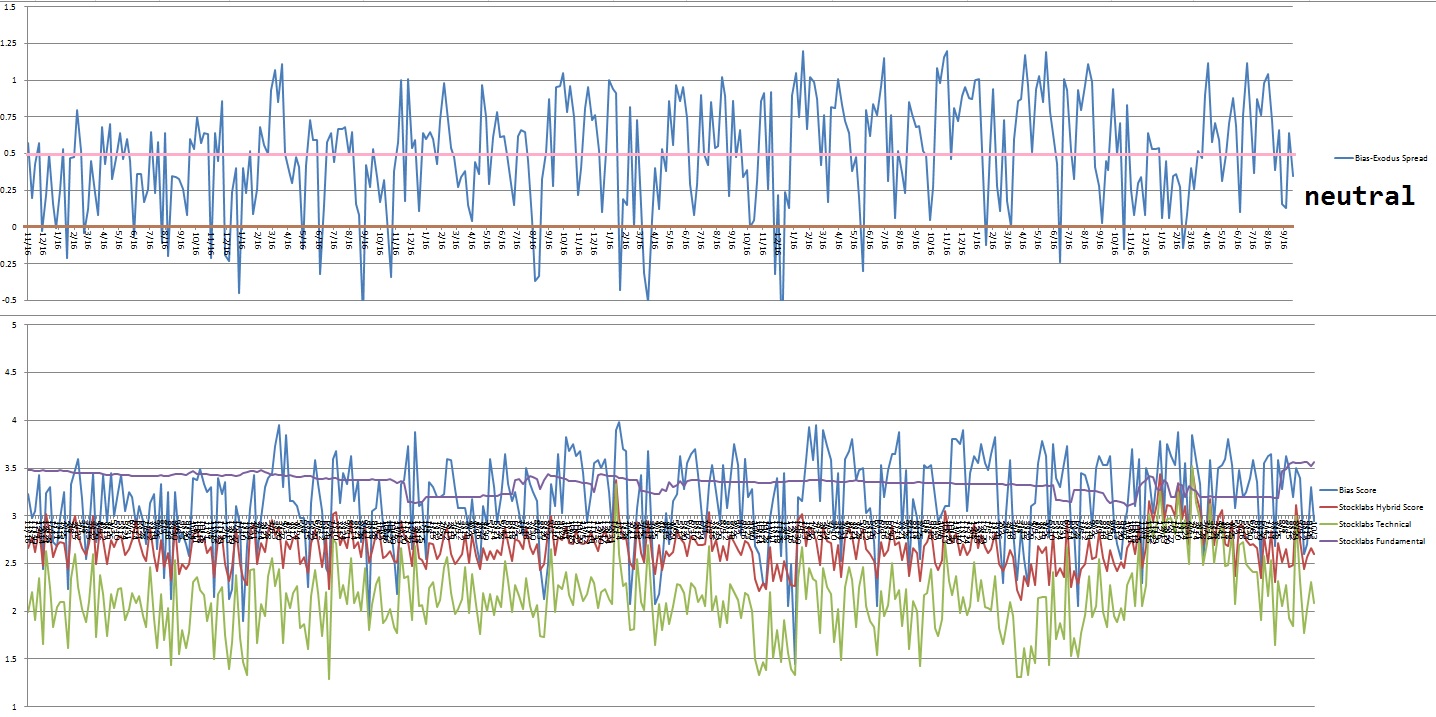 VI. Six Month Hybrid Overbought
On Thursday, September 23rd  Stocklabs went overbought on the 6-month algorithm. This is a bullish cycle that runs until Thursday, October 7th end-of-day. Here is the performance of each major index so far: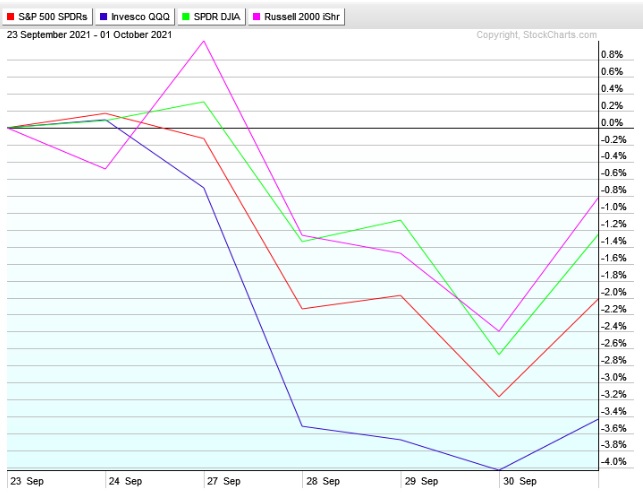 VII. Twelve Month Hybrid Oversold
On Tuesday, September 28th Stocklabs went hybrid oversold on the 12-month algorithm. This is a bullish cycle that runs through Tuesday, October 12th end-of-day. Here is the performance of each major index so far: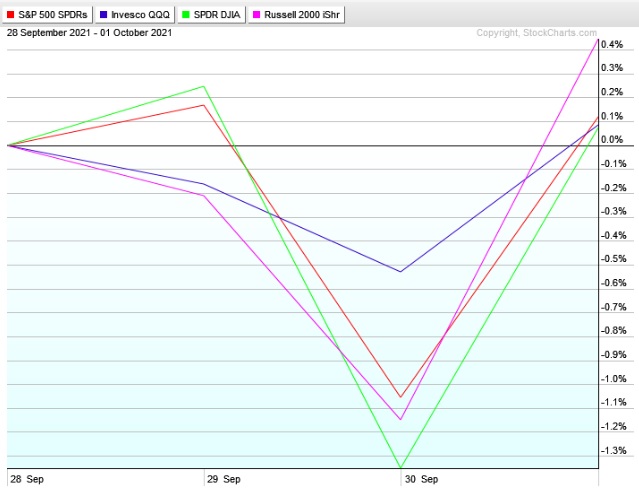 VIII. QUOTE OF THE WEEK:
"I am creating beauty out of scary things." – Grimes
Trade simple, trade beautifully
If you enjoy the content at iBankCoin, please follow us on Twitter