Speculating is a game played best when the spirit is zen and the body sufficiently depleted. I've been at this trading business full time now for nearly ten years. Admittedly, I do not sit in front of the markets from open-to-close, lording over a set of computer screens. My approach is more akin to a sprint.
I used to be one hell of a sprinter in real life.
Anyhow I noticed myself becoming overconfident last weekend and wrote a little note in red marker to myself saying, "Cut risk in half."
And I did.
Last week I traded with half the size I normally do and I traded it just as earnestly as I would normal size. The win streak continued. I earned less than I could have. Which is fine.
Now I feel some humility. Perhaps that is a good thing. We don't know.
Heading into next week my signals are crossed. Stocklabs remains in a bullish cycle clean through to the Monday after Labor Day but Indexmodel is Rose Colored Sunglasses bearish for the third time in four weeks.
Seasonality stats indicate September is the most bearish month of the year for the equity complex.
Summer is coming to an end. People are finally dropping the pandemic cosplay shtick and acting like normal fucking humans again, for better-or-worse. We are in another transitional phase.
I suppose I'm just typing out my thoughts and not really adding any value to you there, the reader. So be it. I'll say okay for now and we'll pick things back up Tuesday.
Raul Santos, September 5th 2021
And now the 354th edition of Strategy Session.
---
Stocklabs Strategy Session: 09/06/21 – 09/10/21
I. Executive Summary
Raul's bias score 3.40, medium bull*.  Choppy week that perhaps sees selling pressure early in the week but recovers and holds the highs into the weekend.
*Index model flagged Rose Colored Sunglasses bearish bias, see Section IV.
U.S. markets will be closed Monday, September 7th in observation of Labor Day.
II. RECAP OF THE ACTION
Bit of strength early in the week and then a steady drift along the highs.
The last week performance of each major index is shown below: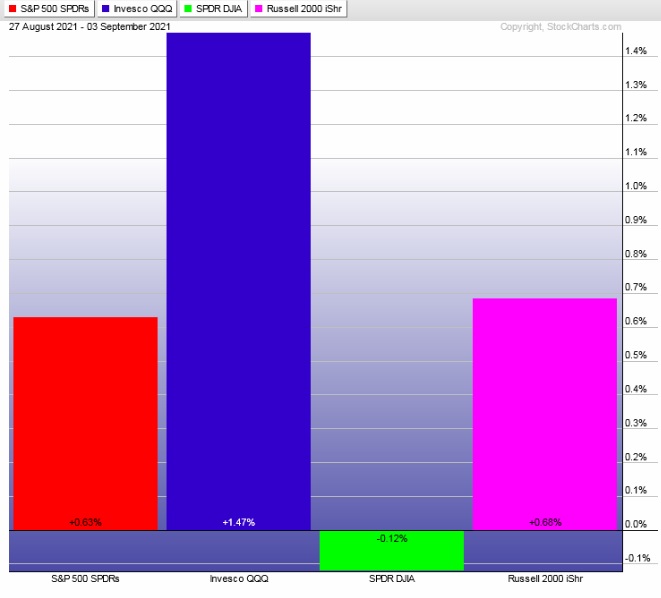 Rotational Report:
A second week of non-ideal sector leadership. Tech hanging tough but investors can be seen rotating into more risk averse areas of the complex.
neutral
For the week, the performance of each sector can be seen below: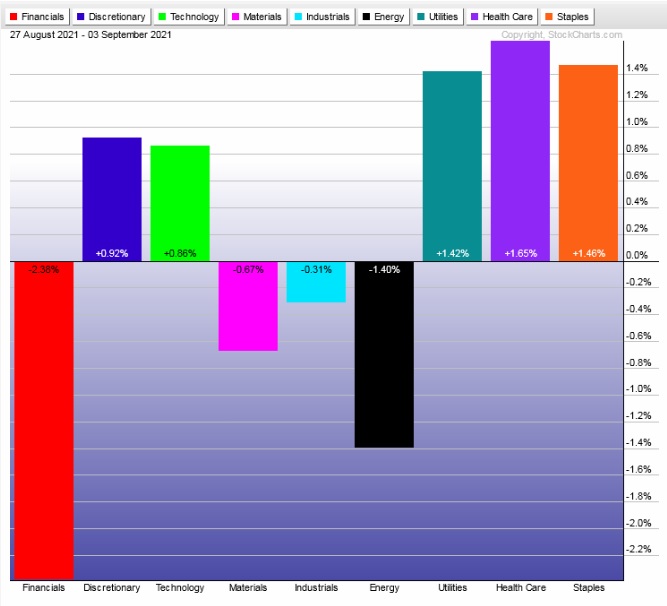 Concentrated Money Flows:
Ledger skewed slightly positive after majorly skewing positive on the prior report.
slightly bullish
Here are this week's results: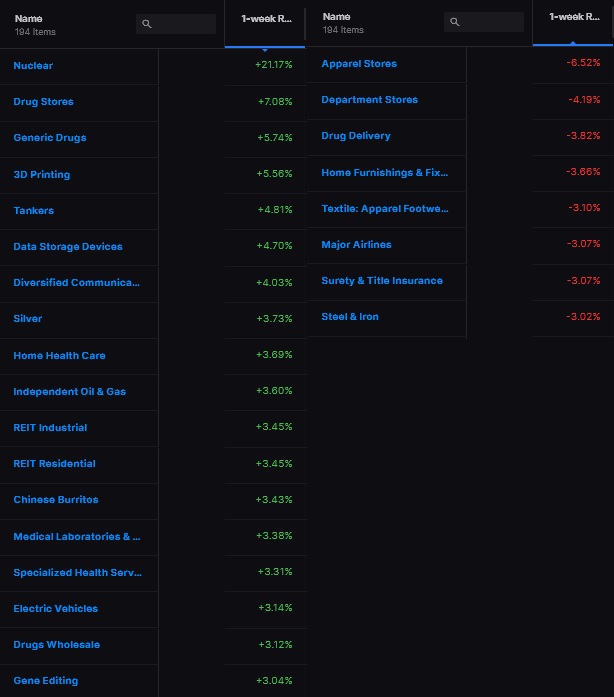 III. Stocklabs ACADEMY
Season change
September is a vibe for sure. Summer is coming to an end. Fields are being sown once more before winter. Kids are headed to college and school. Folks really like American football this time of year. Pumpkin spice lattes.
I don't often check out the seasonality tab inside Stocklabs, but when I am feeling moody I do. Turns out September is statistically the most bearish month of the year.
Perhaps folks check back in with reality after savoring their final few weeks of summer freedom?
We don't know. And also past performance is not indicative of future results. That said, what is better to back our decision process than data?
Seasonality paired with the Rose Colored Sunglasses signal issued by IndexModel this week has me considering cutting my risk a bit via raising some cash.
Developing…
Note: The next two sections are auction theory.
What is The Market Trying To Do?
Week ended searching for sellers
IV. THE WEEK AHEAD
What is The Market Likely To Do from Here?
Weekly forecast:
Choppy week that perhaps sees selling pressure early in the week but recovers and holds the highs into the weekend.
Bias Book:
Here are the bias trades and price levels for this week:

Here are last week's bias trade results:

Bias Book Performance [11/17/2014-Present]: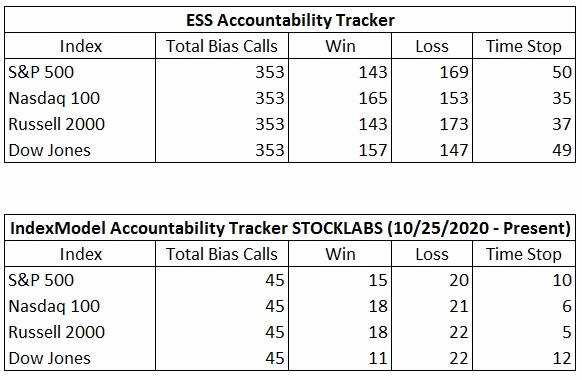 Semiconductors put in a higher low, transports interesting
Markets fluctuate between two states—balance and discovery.  Discovery is an explosive directional move and can last for months.  In theory, the longer the compression leading up to a break, the more order flow energy to push the discovery phase.
We are monitoring two instruments, the Nasdaq Transportation Index and the PHLX Semiconductor Index.
Transports broke their downtrend a few weeks back and have been consolidating above it since. This is a nice clean chart to read here. My primary expectation is for buyers to make a push out of the current intermediate term range.
See below: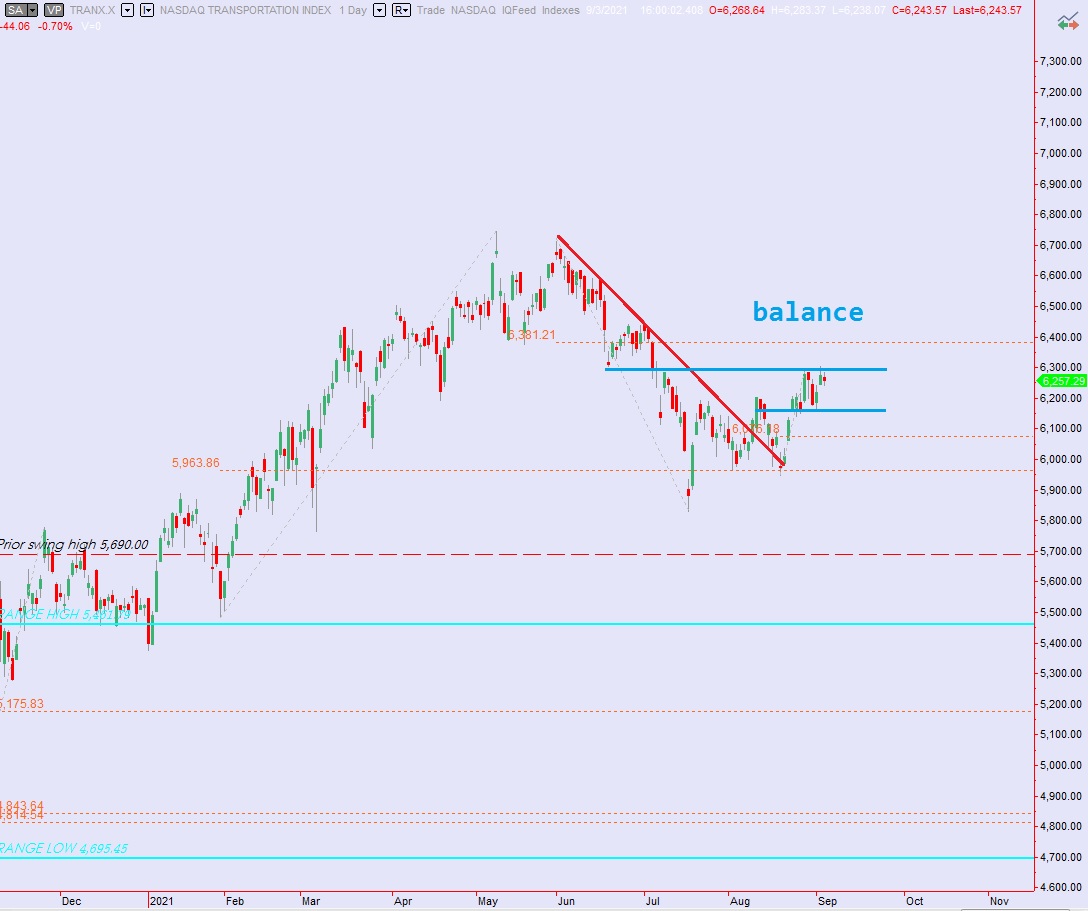 Semiconductors may have printed a higher low on the way to continuing discovery up.
See below: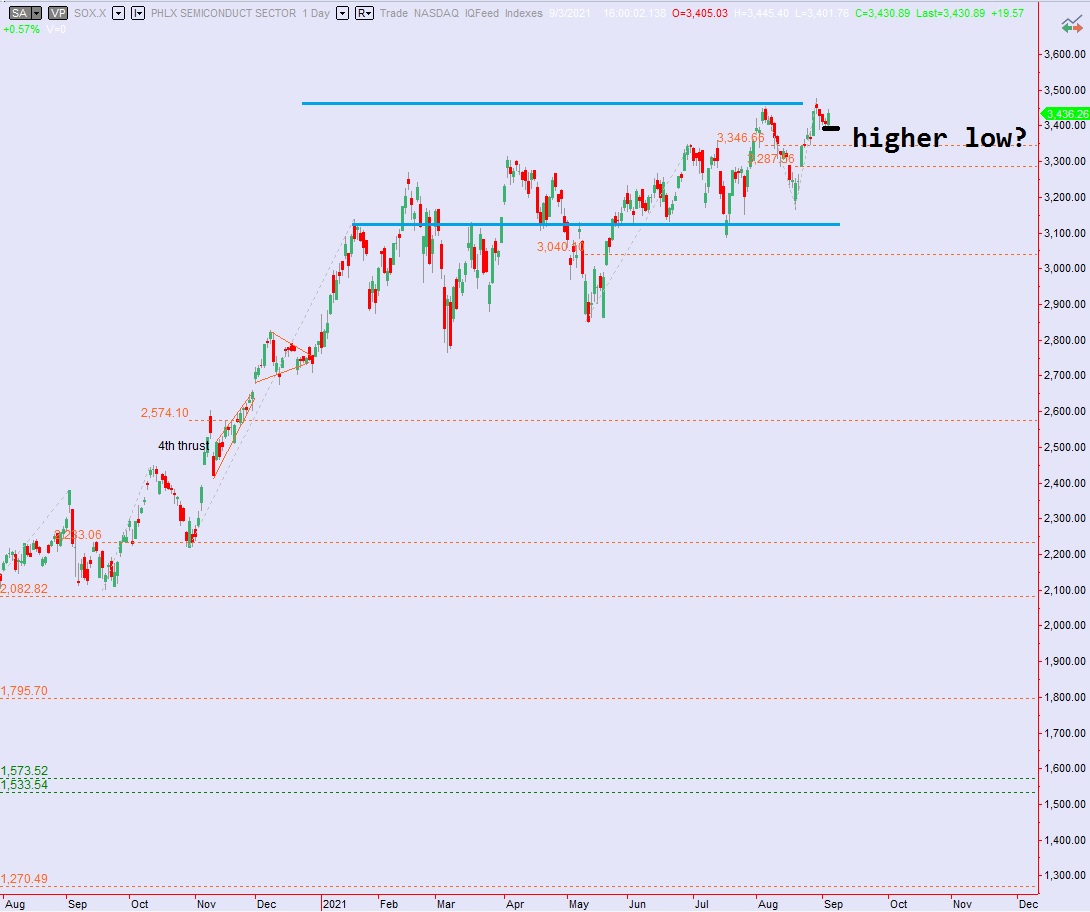 V. INDEX MODEL
Bias model is Rose Colored Sunglasses [RCS] bearish again after being neutral on the last report and Rose Colored Sunglasses bearish for two consecutive weeks prior to that
We had a Bunker Buster twenty seven weeks ago.
Bearish heading into next week.
Here is the current spread: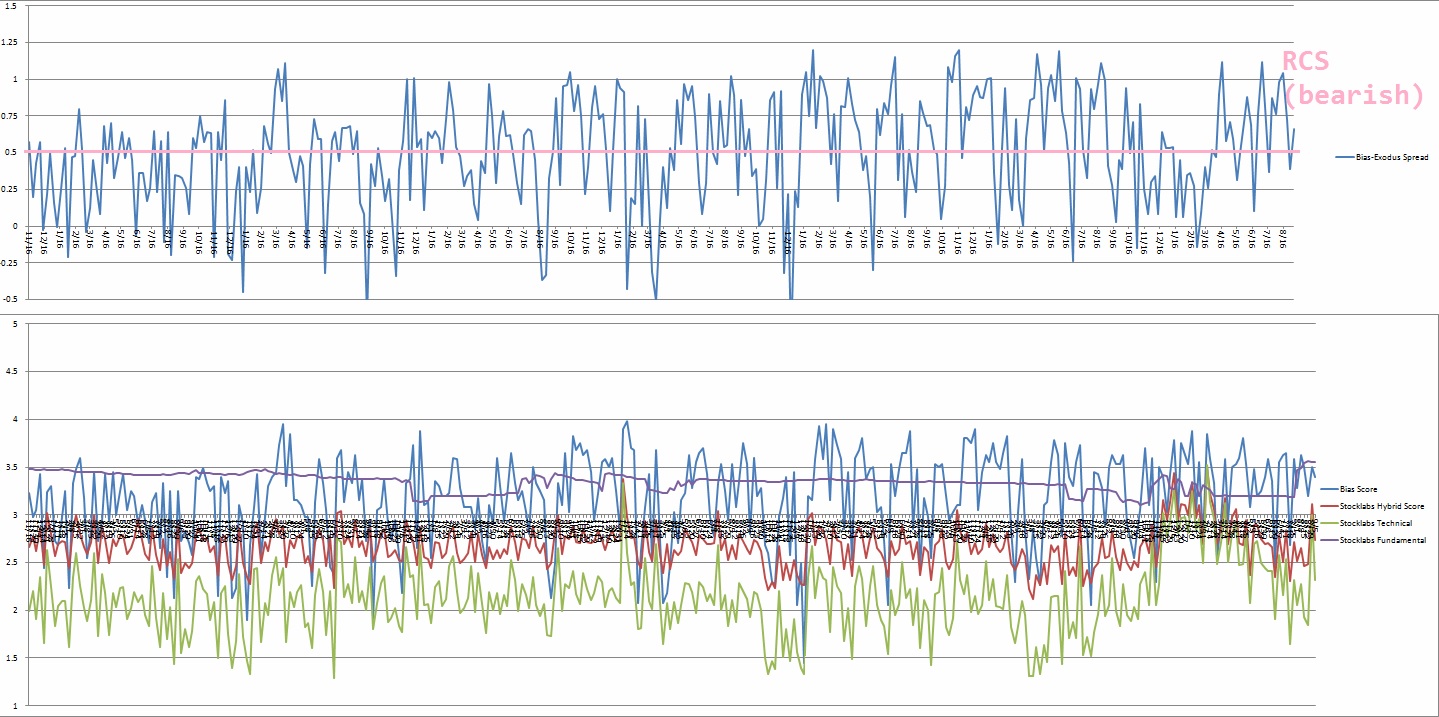 VI. Six Month Hybrid Overbought
On Friday, August 27th Exodus went overbought on the 6-month algorithm. This is a bullish cycle that runs until Monday, September 13th. Here is the performance of each major index so far: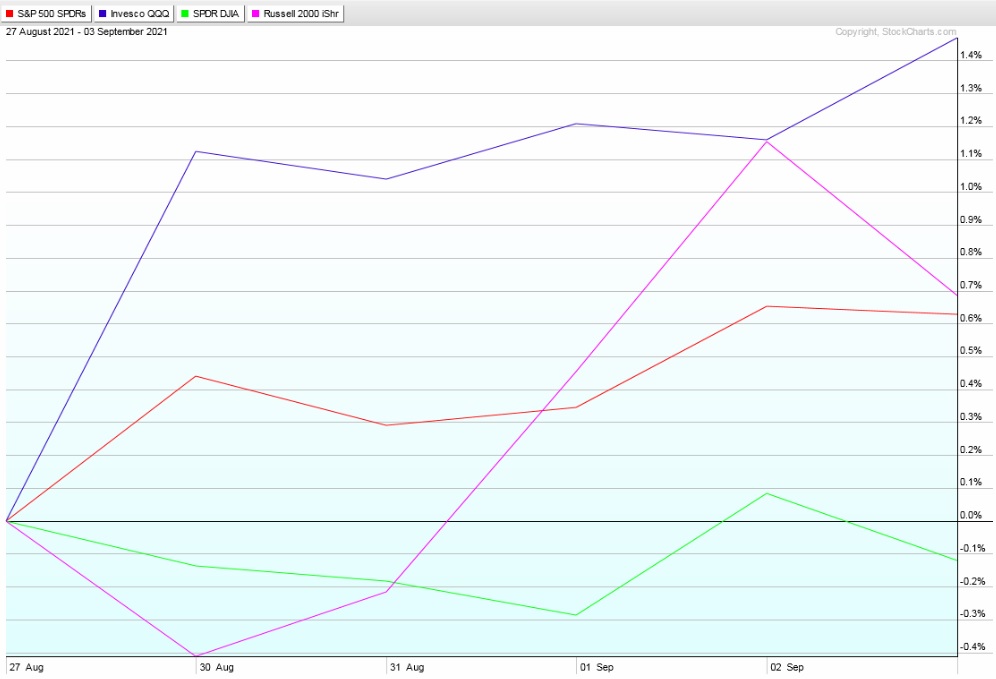 VII. QUOTE OF THE WEEK:
"Keep focused on the step in front of you. Nothing else matters." – Bear Grylls
Trade simple, totally focus on the next trade
If you enjoy the content at iBankCoin, please follow us on Twitter