It's feast and famine at the House of Raul. I went down this estranged life path and fully accept the consequences.
Sold a jpeg Saturday. Turned a one into a five and it may end up being a grave error.
Taking a quick profit on an investment never feels good. I tend not to sell things. But with jpegs I find myself casting snap judgements based off the most absurd metrics. A tweet came across my stream suggesting Jack Paul was buying World of Women jpegs. I loath Jake Paul. Artchick.eth seems like a nice lady but not nice enough to brush aside Jim Paul and his tide of influence. Then like one of those Las Vegas DJs Kaladescope or Key-o-dee or something (I refuse to look back) said he was into World of Women and I was like you know what? Fuck him too I'm from Detroit bitch we birthed techno and we still grime.
So I sold World of Woman. Three weeks. Turned a one into a five.
Spent the morning figuring out how to put 2 back into jpegs because I was suddenly filled with anxiety that I was under exposed to jpegs.
This too may turn out to be a grave mistake.
But I have a nice lazy lion now that I do believe resembles my current state, and that's enough for me right now.
You see lads, I truly have a rare look. It is quite degenerate. These milestones of life keep sort of coming and going, and I just keep chasing paper and chunks of earth.
Check out this week's Strategy Session. I will be bullish heading into September until otherwise noted. I wish I hadn't been bearish last week but fortune's wheel did spin in my favor with that early Monday rally. It was early enough to spook me from doing anything crazy, like shorting the NASDAQ. I did short Wednesday, and for a moment that looked like a solid trade. I hustled the opening bells okay last week and that's all I am really supposed to do—execute the signals put out by Stocklabs/IndexModel and hustle opening bells on the NASDAQ.
I've been eating so much homegrown corn and summer squash and onion and tomato that my skin is smooth and glows and all the wrinkles typically found on a 36-year-old meat homo aren't anywhere to be seen. I am smooth and non-porous, like a fiberglass swimming pool. Maintaining 185lbs of cultivated muscle on a vegitable diet requires eating lots of plant meat and right now I am growing most of it myself.
Okay for now.
Raul Santos, August 29th 2021
And now for the 353rd Strategy Session. Enjoy:
---
Stocklabs Strategy Session: 08/30/21 – 09/03/21
I. Executive Summary
Raul's bias score 3.50, medium bull.  A bit of weakness Monday is met with strong demand leading to a week-long rally. Consumer confidence data out Tuesday may serve to strengthen the rally, as may the nonfarm payroll data due out Friday morning.
II. RECAP OF THE ACTION
Big gap up across the board to start the week followed by a conviction buy trend Monday. Steady gains through Wednesday. Selling pressure Thursday immediately negated Friday morning by another day of conviction buying. The Russell 2000 lead the way.
The last week performance of each major index is shown below: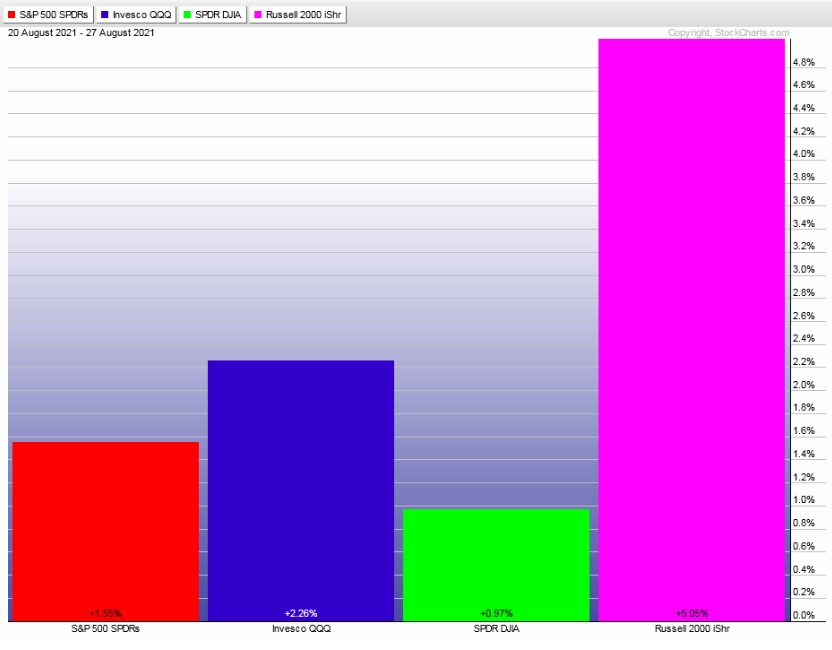 Rotational Report:
Not the ideal sector leadership, but overall a fairly broad market rally.
slightly bullish
For the week, the performance of each sector can be seen below: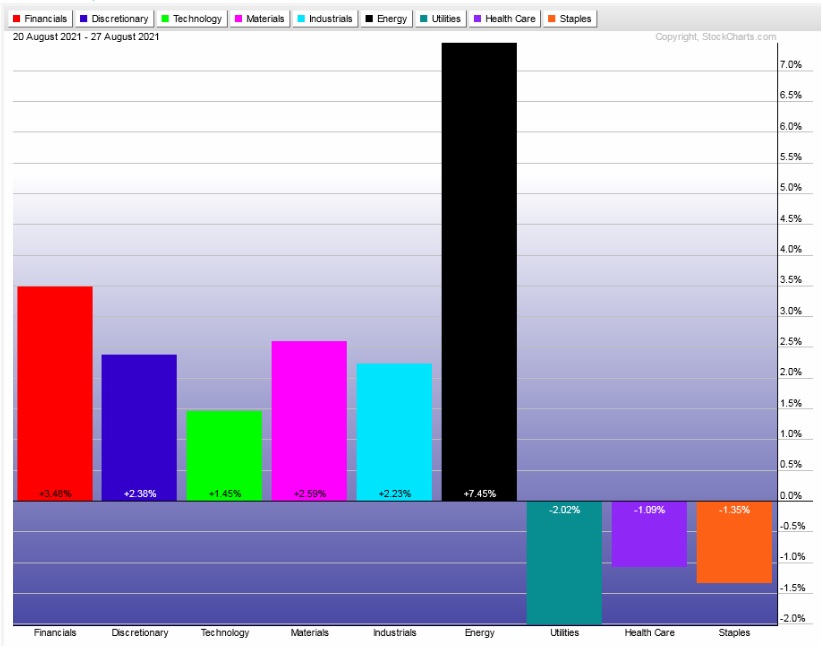 Concentrated Money Flows:
Massive skew to the buy side, effectively negating the big negative skews we've had on our radar.
bullish
Here are this week's results:

III. Stocklabs ACADEMY
Fresh signal
With the 6-month hybrid overbought signal generated Friday on the close we have a fresh reading to begin trading the algorithm again.
Note: The next two sections are auction theory.
What is The Market Trying To Do?
Week ended searching for sellers
IV. THE WEEK AHEAD
What is The Market Likely To Do from Here?
Weekly forecast:
A bit of weakness Monday is met with strong demand leading to a week-long rally. Consumer confidence data out Tuesday may serve to strengthen the rally, as may the nonfarm payroll data due out Friday morning.
Bias Book:
Here are the bias trades and price levels for this week:

Here are last week's bias trade results:

Bias Book Performance [11/17/2014-Present]: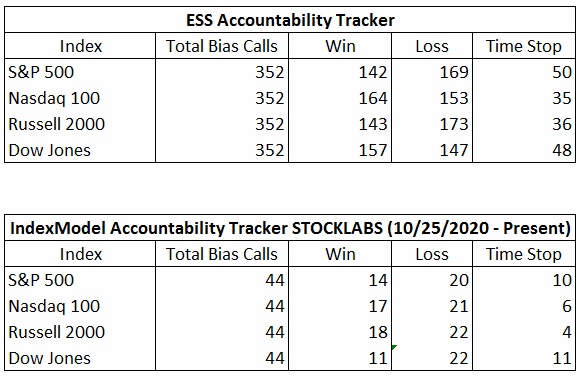 Semiconductors snap range, breakout
Markets fluctuate between two states—balance and discovery.  Discovery is an explosive directional move and can last for months.  In theory, the longer the compression leading up to a break, the more order flow energy to push the discovery phase.
We are monitoring two instruments, the Nasdaq Transportation Index and the PHLX Semiconductor Index.
Transports had what seemed like a bit of a false start, breaking out from the downtrend, but that eventually lead to more upward discovery last week.
See below: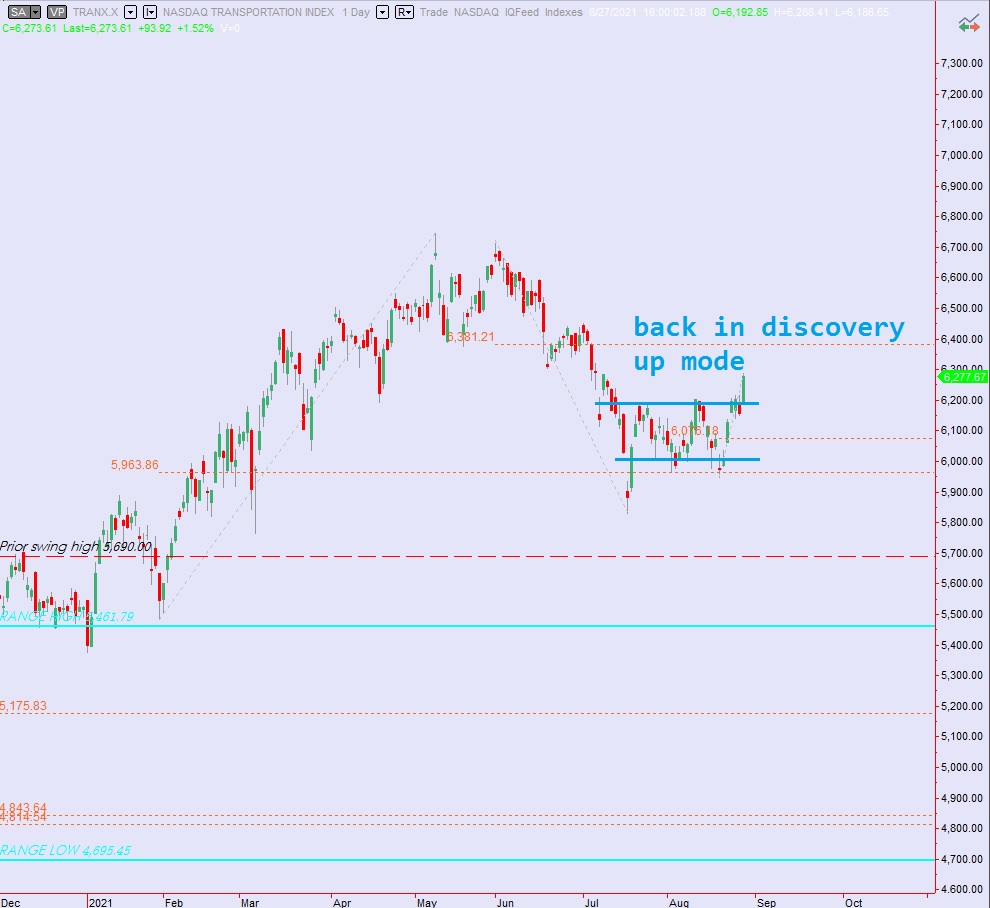 Semiconductors charged back higher, effectively exceeding the range we've been monitoring. It appears we have returned to discovery up.
See below:
V. INDEX MODEL
Bias model is neutral after being Rose Colored Sunglasses bearish for two consecutive weeks.
We had a Bunker Buster twenty-six weeks ago.
Neutral heading into next week. No bias.
Here is the current spread: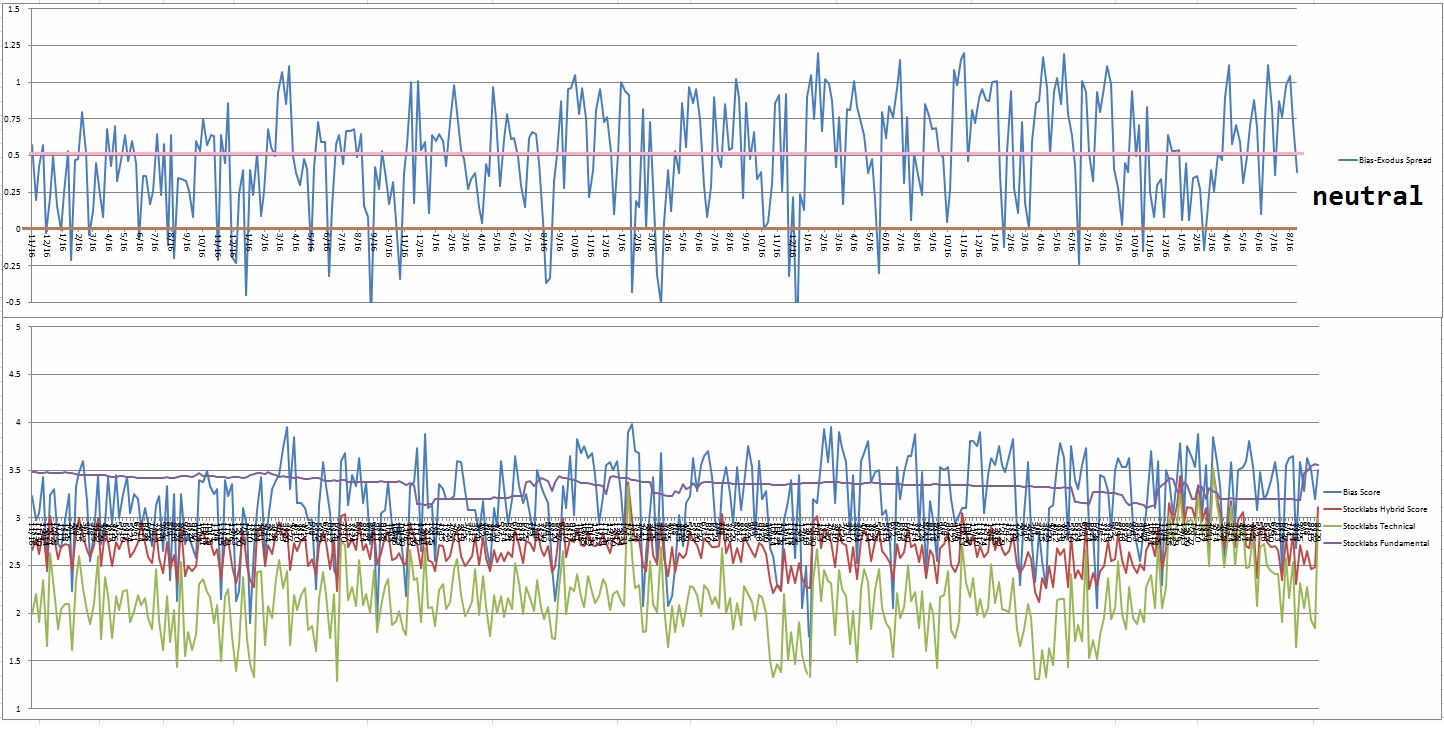 VI. Six Month Hybrid Overbought
On Friday, August 27th Exodus went overbought on the 6-month algorithm. This is a bullish cycle that runs until Monday, September 13th.
VII. QUOTE OF THE WEEK:
"If you risk nothing, you gain nothing." – Bear Grylls
If you enjoy the content at iBankCoin, please follow us on Twitter