Busy week ahead. Research is updated and I must be brief as there are painters here and I like to work alongside other folks working. Sitting here, doing research, while others toil is not something I feel comfortable with. If a comrade has taken up arms and is toiling than I feel the duty to toil alongside them in solidarity.
But there are a few key things to be aware of heading into next week. The first option expiration of the third quarter is sort of sneaking up quickly on us, what with the holiday and the way the month started on a Thursday. I could see the big players leveraging their resources to put pressure on short-sellers, via a squeeze, and then eventually just chopping back to unchanged by week's end.
We have Powell set to speak Wednesday and Thursday. His words may serve to pivot the markets.
Major banks are set to report earnings, with the bulk of earnings due out Wednesday morning.
All these factors combined, plus the objective research presented below, leads me to forecast a sideways drift for the first part of the week and then a pivot either higher or lower mid-week.
As always, we'll take it one day at a time, via the morning reports, unless some unforeseen toiling takes me off the desk.
Okay for now, cheers and trade'em well in the week ahead.
Raul Santos, July 11th 2021
And now the 346th edition of Strategy Session. Enjoy.
---
Stocklabs Strategy Session: 07/12/21 – 07/16/21
I. Executive Summary
Raul's bias score 3.65, medium bull.  Sideways drift until bank earnings due out Wednesday morning along with Powell speak pivots the markets into the second half of the week.
II. RECAP OF THE ACTION
Choppy drift higher during holiday-shortened week. Russell 2000 lagged behind all week but ramped strong into the weekend.
The last week performance of each major index is shown below: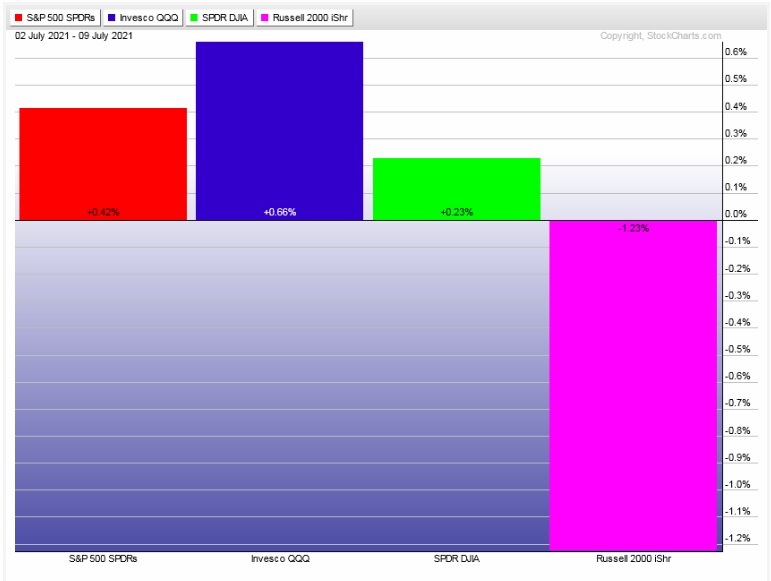 Rotational Report:
Leadership in Utilities gives rise to caution for the bulls. However it was closely flanked by key Tech and Discretionary sectors. Energy continues to trade independently.
neutral
For the week, the performance of each sector can be seen below: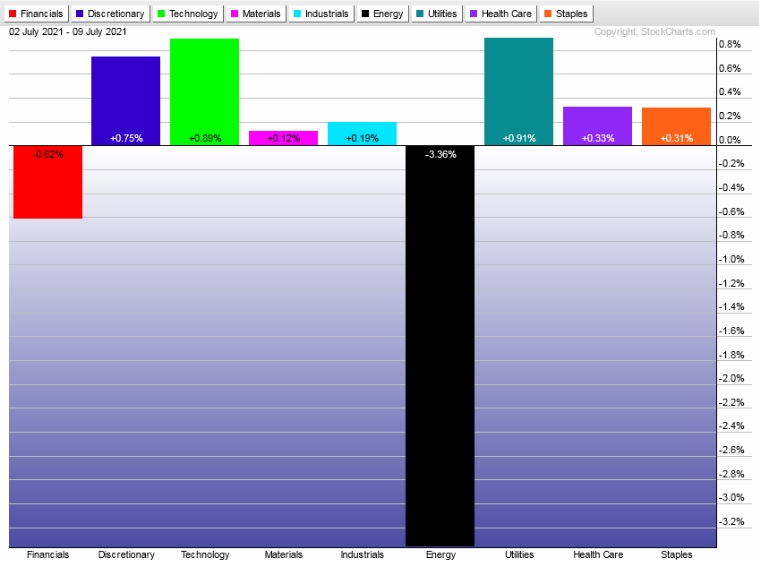 Concentrated Money Flows:
Money flows skewed negatively on the week with the only industry groups managing to populate the positive side of the ledger being REITS, suggesting investors are growing cautious. The negative side of the ledger is not showing any major industry groups.
slightly bearish
Here are this week's results: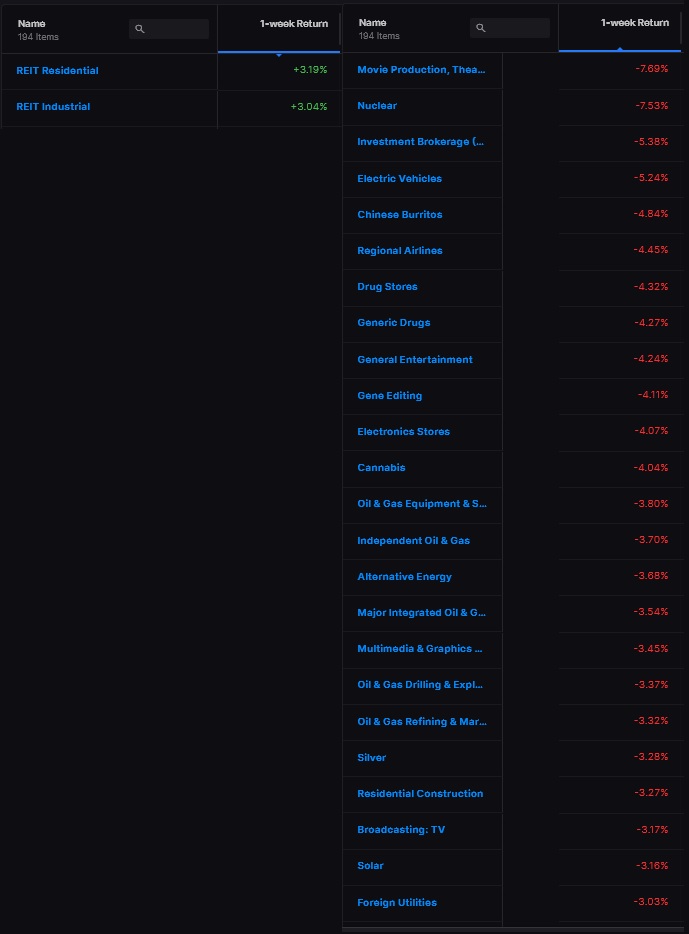 III. Stocklabs ACADEMY
6-month algo triggered on the 7th, did you go long?
Last week my note was about focusing on executing when the 6-month algo flags oversold, which has been one of the more reliable indicators coming out of Stocklabs lately. Well a few short days later on Wednesday it fired out a signal. I was late but managed to put a TQQQ position on Friday morning.
Will it be a winning trade? We don't know. But our job is to focus on being above-average at executing the signals generated by our research. Trust the process.
I saw some posters in the Pelican Room going short Friday afternoon. Maybe they have their own system or set of rules. Again, we don't know. But the most effective way to gain value from Stocklabs is to consistently execute the signals generated by the mother algo.
Note: The next two sections are auction theory.
What is The Market Trying To Do?
Week ended searching for sellers
IV. THE WEEK AHEAD
What is The Market Likely To Do from Here?
Weekly forecast:
Sideways drift until bank earnings due out Wednesday morning along with Powell speak pivots the markets into the second half of the week.
Bias Book:
Here are the bias trades and price levels for this week:

Here are last week's bias trade results:

Bias Book Performance [11/17/2014-Present]: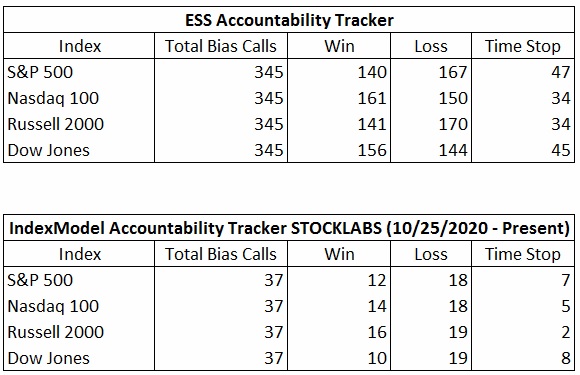 Mirror images
Markets fluctuate between two states—balance and discovery.  Discovery is an explosive directional move and can last for months.  In theory, the longer the compression leading up to a break, the more order flow energy to push the discovery phase.
We are monitoring two instruments, the Nasdaq Transportation Index and the PHLX Semiconductor Index.
Transports look more-and-more like they are in a discovery down phase. They do remain on the low-end of a well-established range and could snap higher. We are coming into the week with this key contextual index at the low-end of its pivot region.
See below: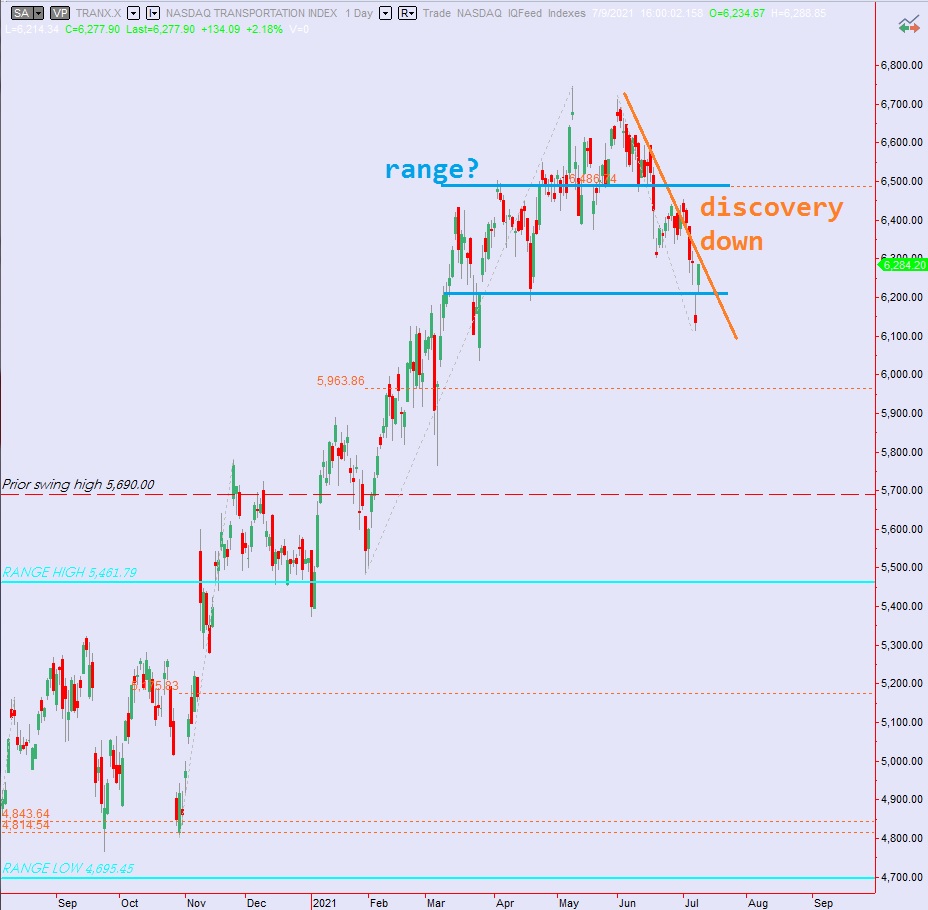 Conversely semiconductors might be going into discovery up. They also might be setting up for a traverse back down through their well-established range. This index is like a mirror image of the Transports. Interesting heading into the first OPEX of the third quarter.
See below: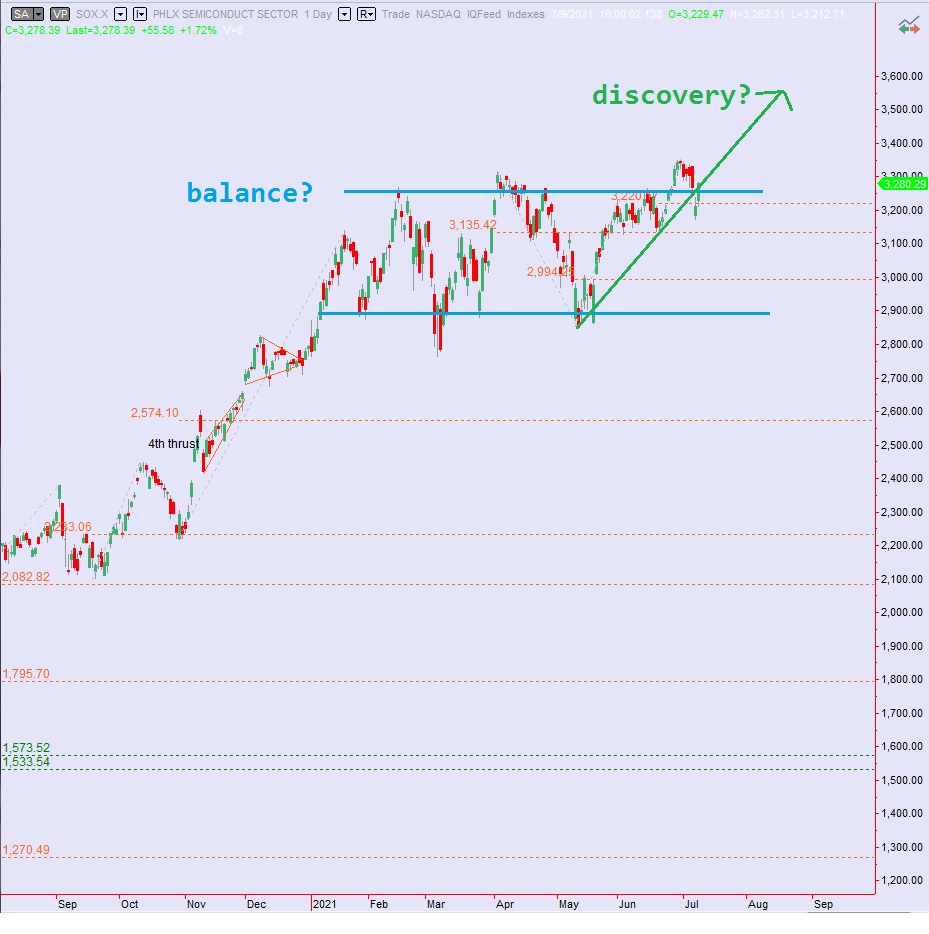 V. INDEX MODEL
Bias model is extreme rose colored sunglasses bullish for a third week after being neutral three weeks back after being extreme Rose Colored Sunglasses bullish bias for three consecutive weeks after being neutral for the two weeks prior to that after being e[RCS] bullish nine weeks back and RCS bearish ten weeks prior.
We had a Bunker Buster nineteen weeks ago.
Extreme Rose Colored Sunglasses calls for a calm drift perhaps with a slight upward bias.
Here is the current spread: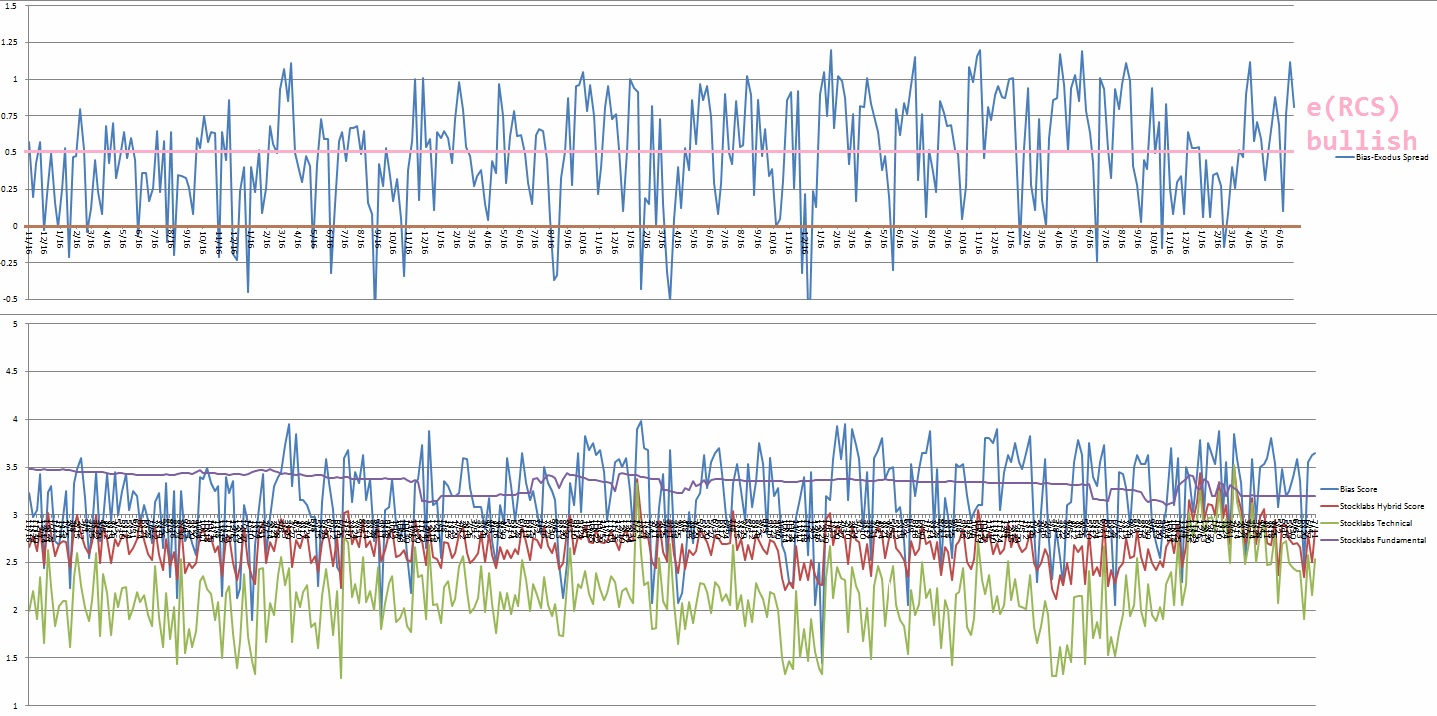 VI. Stocklabs Hybrid Oversold (6-month)
On Wednesday, July 7th Stocklabs went hybrid oversold on the six month algo. This bullish cycle runs through July 21st end of day. Here is the performance of each major index so far: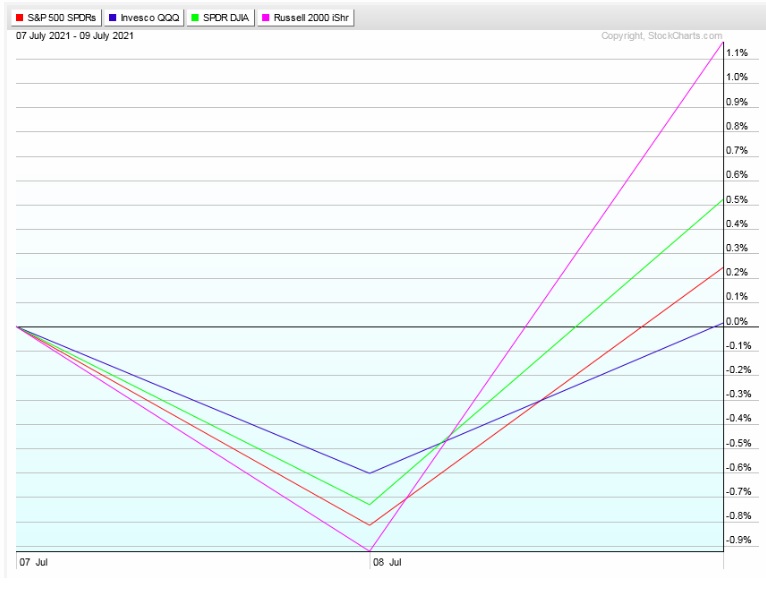 VII. QUOTE OF THE WEEK:
"When I told my father I was going to be an actor, he said, "Fine, but study welding just in case."" – Robin Williams
Trade simple, diversify your income
If you enjoy the content at iBankCoin, please follow us on Twitter