June is nearly complete. For the most part, it was RAUL's month. Fate had interesting plans — I was made to cope with many a challenge in what would become a contemplative period filled with obstacles between your dear humble raul and all these planned goals. We took them as they came though, and given the circumstances I am grateful that the foundation stones I've build my entire compound upon remained an unshakable foothold on this derelict path to freedom.
Yes I work too hardt sometimes but you know what? I have been liberated from the monotony and mediocrity of generic american existence. I am doing my best.  I've sacrificed the amount of attention I give the markets and it shows (fair enough) but now I am dialing back in.
Weekend research has been filed, and I intend to resume morning reports come Monday. The quarter is ending and I need to be back in ship speculative shape come Q3.
Mentally and eventually physically.
Okay for now. Enjoy this week's report.
Raul Santos, June 27th 2021
---
Stocklabs Strategy Session: 06/28/21 – 07/02/21
I. Executive Summary
Raul's bias score 3.55, medium bull.  Sideways drift with slight upward bias into the holiday weekend.
II. RECAP OF THE ACTION
Strong buyers early Monday reversed the tape and set up a week-long rally.
The last week performance of each major index is shown below: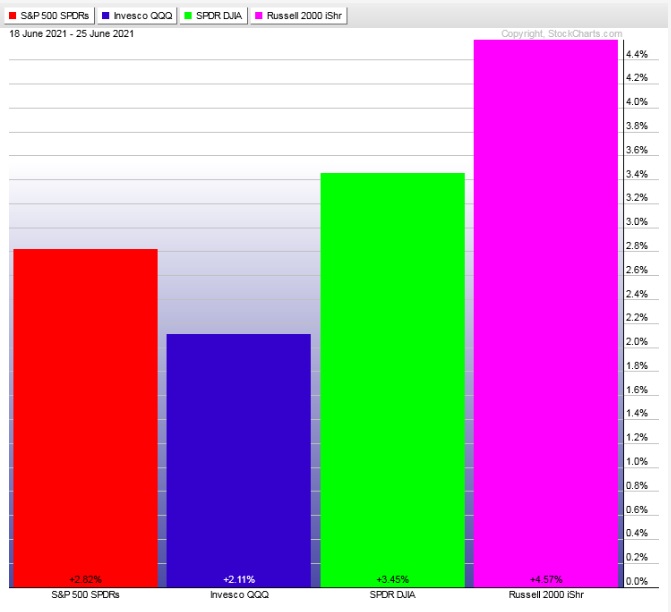 Rotational Report:
Full on rotation back into the equity complex. Leadership in mostly the right places. Energy on its own planet.
bullish
For the week, the performance of each sector can be seen below: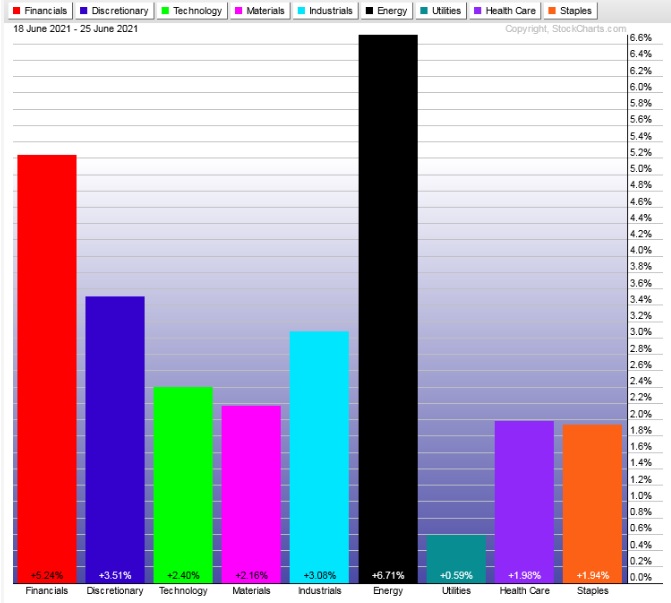 Concentrated Money Flows:
Money flows skewed heavily to the positive side of the ledger, negating last week's bearish reading.
Volume delta might be broken or just be a strange lagging indicator. It is back to being pinned negative.  Median return was about +330 basis points.
bullish
Here are this week's results:

III. Stocklabs ACADEMY
Distracted but dialing back in
One of the greatest values about Stocklabs is its ability to keep us up to speed when we're unable to give our full attention to the markets or at least the amount of attention we prefer to give markets. The thing is, it is only useful if we properly interperate the data.
We had a good oversold reading heading into last week yet my forecast was bearish. My bearish leaning was due to giving too much weight to the negative money flows we saw last week.
In hindsight this was an error. The oversold signal presses right up into the Fourth of July holiday. That is bullish.
I have been distracted outside of the market lately but plan to dial back into the morning reports this week.
Note: The next two sections are auction theory.
What is The Market Trying To Do?
Week ended searching for sellers
IV. THE WEEK AHEAD
What is The Market Likely To Do from Here?
Weekly forecast:
Sideways drift with slight upward bias into the holiday weekend.
Bias Book:
Here are the bias trades and price levels for this week:
Here are last week's bias trade results:
Bias Book Performance [11/17/2014-Present]:
Will range hold or do we rally?
Markets fluctuate between two states—balance and discovery.  Discovery is an explosive directional move and can last for months.  In theory, the longer the compression leading up to a break, the more order flow energy to push the discovery phase.
We are monitoring two instruments, the Nasdaq Transportation Index and the PHLX Semiconductor Index.
Transports found a bid near the low-end of range and appear to be holding balance.
See below:
Semiconductors managed to bounce off that 'eroding support' last week and now they are near the top of their double range. I expect this level to hold as a ceiling but if not the continued semiconductor rally is likely to carry the whole stock market along with it.
See below: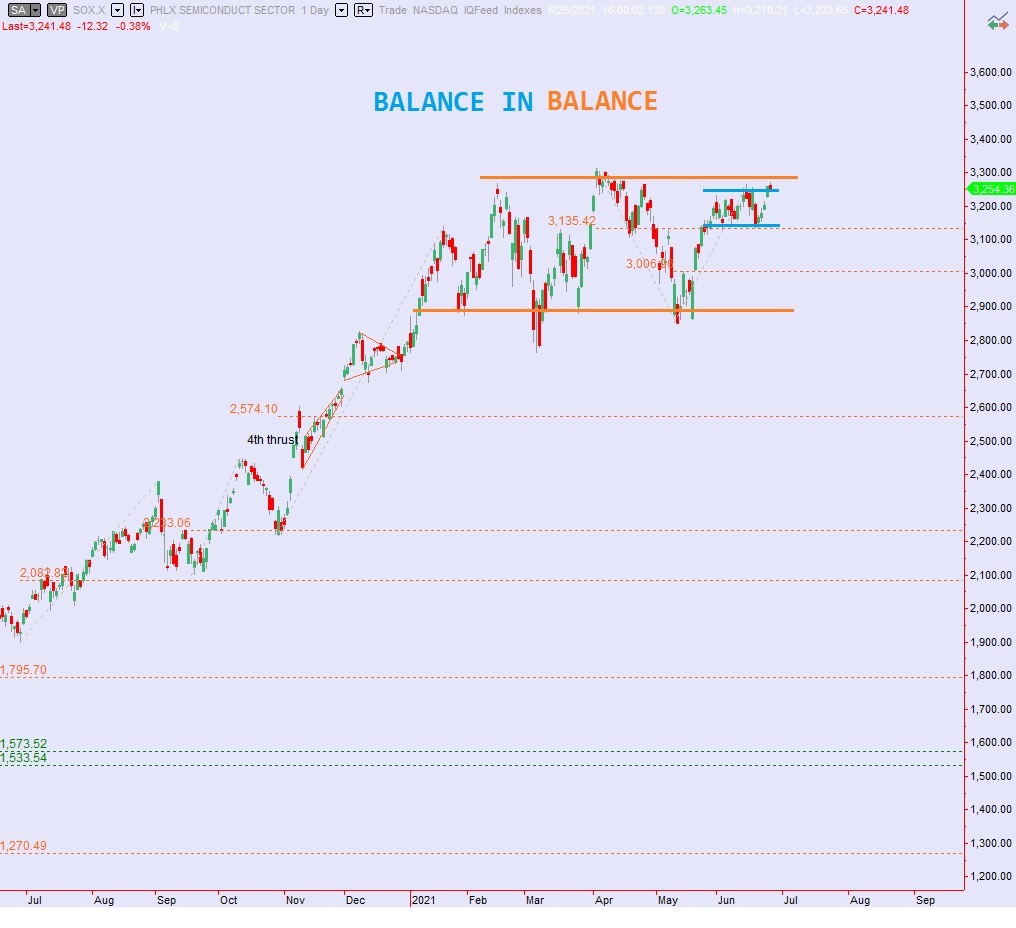 V. INDEX MODEL
Bias model is back to extreme rose colored sunglasses bullish after being neutral last week after being extreme Rose Colored Sunglasses bullish bias for three consecutive weeks after being neutral for the two weeks prior after being e[RCS] bullish seven weeks back and RCS bearish eight weeks prior.
We had a Bunker Buster seventeen weeks ago.
Extreme Rose Colored Sunglasses calls for a calm drift perhaps with a slight upward bias.
Here is the current spread:
VI. Stocklabs Hybrid Oversold (6-month)
On Thursday, June 17th Stocklabs went hybrid oversold on the six month algo. This bullish cycle runs through July 1st end of day. Here is the performance of each major index so far: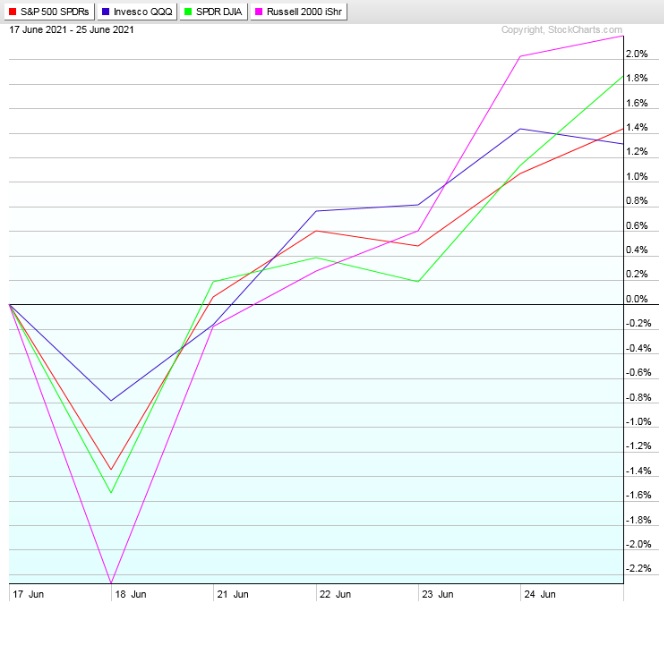 VII. QUOTE OF THE WEEK:
"Every new beginning comes from some other beginning's end." – Seneca
Trade simple, one trade at a time
If you enjoy the content at iBankCoin, please follow us on Twitter