Sort of already used up my best thoughts on this earlier entry. Just keep in mind that June is a month where humble RAUL works harder than you. Toils. Toils and takes risk. Aerodynamic. Thin. Lean. Peak male performance. Cock as hard as pig iron. Pony tail out. No cankles.
Hustling.
Maybe less here and more down in the hood we don't know I just take it one day at a time.
Okay for now here is this week's research.
Raul Santos, June 6th 2021
---
Stocklabs Strategy Session: 06/07/21 – 06/11/21
I. Executive Summary
Raul's bias score 3.58, medium bull*.  Expect markets to continue holding balance along the highs. Moments of volatility to the upside or downside are likely to fade back to the mean by week's end.
*Index Model signaled extreme Rose Colored Sunglasses bullish bias, see Section V.
II. RECAP OF THE ACTION
Closed Monday for Memorial Day. Gap up into the week is faded. Choppy through Wednesday then some selling pressure Thursday. Strong Friday, sort of drifting back up to weekly highs after the nonfarm payroll data.
The last week performance of each major index is shown below: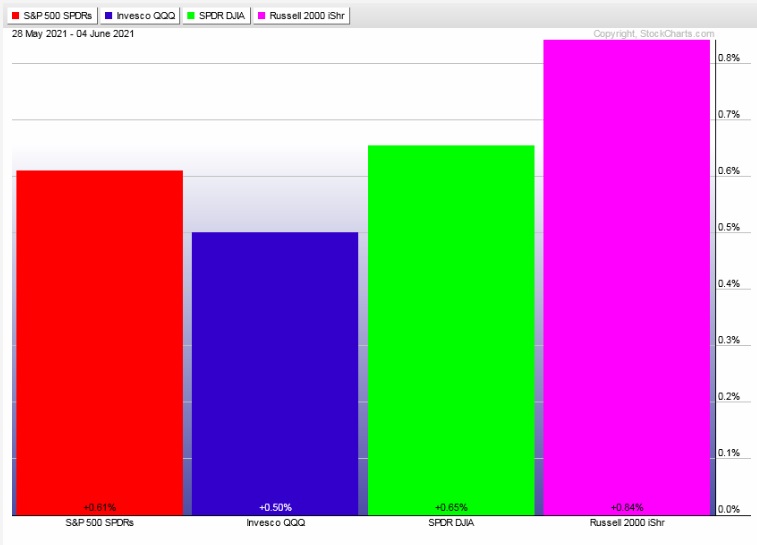 Rotational Report:
Tech strong, flanked by other sector groups. Energy in its own world.
slightly bullish
For the week, the performance of each sector can be seen below: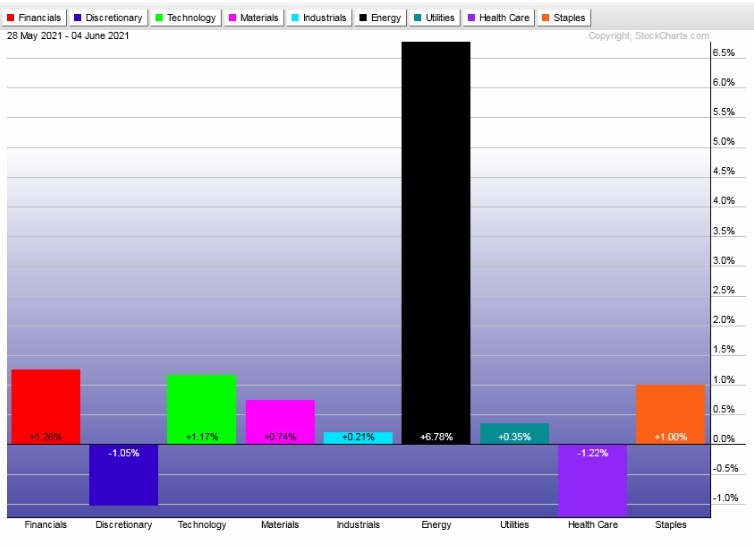 Concentrated Money Flows:
Money flows skewed bullish but were mostly oil and REIT related. Negative side not really featuring any key industry groups.
Volume delta remains pinned negative (broken I think) and median return was about +75 basis points.
neutral
Here are this week's results: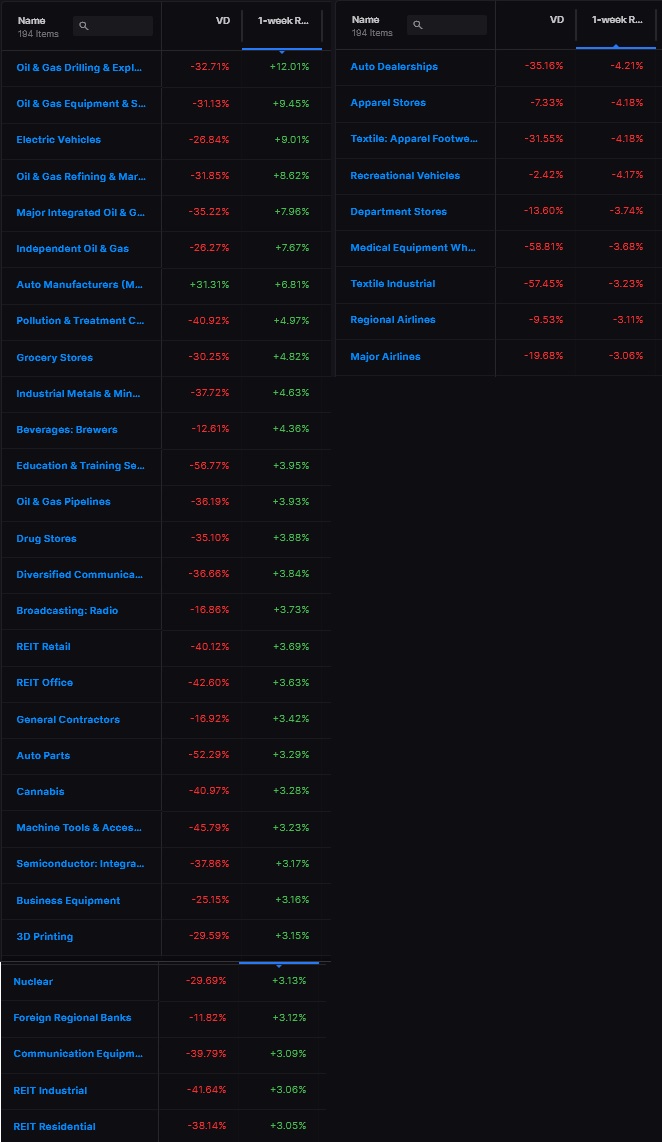 III. Stocklabs ACADEMY
Summer trading
It can be easy to slip into old bad habits during a slow summer tape. Plan every single trade from entry to exit to stop and keep an eye on risk. Stick to the key levels, the key windows of trading activity and be okay with stepping back from trading if you need to refresh the mind.
Note: The next two sections are auction theory.
What is The Market Trying To Do?
Week ended searching for sellers
IV. THE WEEK AHEAD
What is The Market Likely To Do from Here?
Weekly forecast:
Expect markets to continue holding balance along the highs. Moments of volatility to the upside or downside are likely to fade back to the mean by week's end.
Bias Book:
Here are the bias trades and price levels for this week:

Here are last week's bias trade results:

Bias Book Performance [11/17/2014-Present]: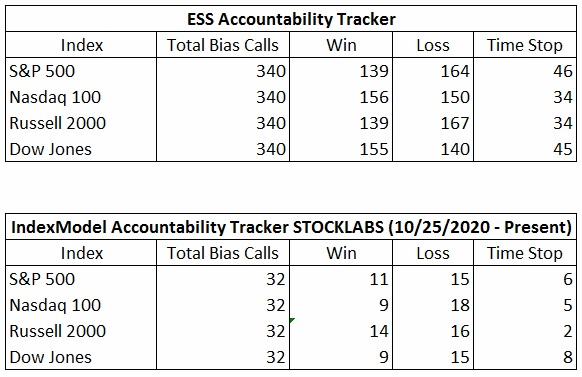 Balance along the highs can set up another leg up
Markets fluctuate between two states—balance and discovery.  Discovery is an explosive directional move and can last for months.  In theory, the longer the compression leading up to a break, the more order flow energy to push the discovery phase.
We are monitoring two instruments, the Nasdaq Transportation Index and the PHLX Semiconductor Index.
Transports holding range like this along the highs is not bearish. Balance and innocent until we make a strong break lower.
Until then we expect balance. The longer we sit in this time-based correction the more bullish it becomes.
See below: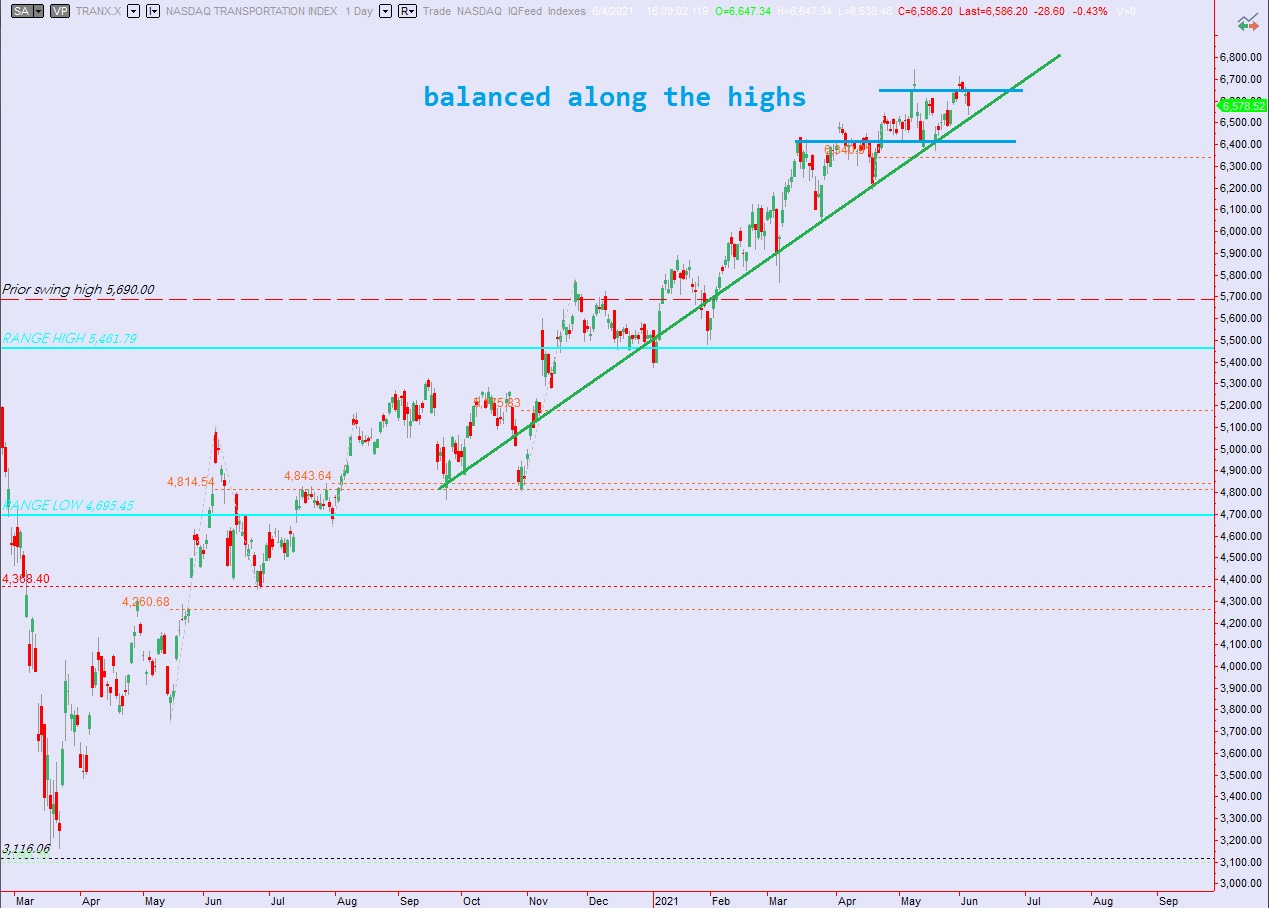 Semiconductors are also balanced. NVIDIA earnings were fantastic and the stock was well received after the report.  There is a clear balance/range here but also in the last two sessions we have set up and pivoted off the bear's Fibonacci level. Buyers likely to attempt a new leg up but for now the call is balance.
See below: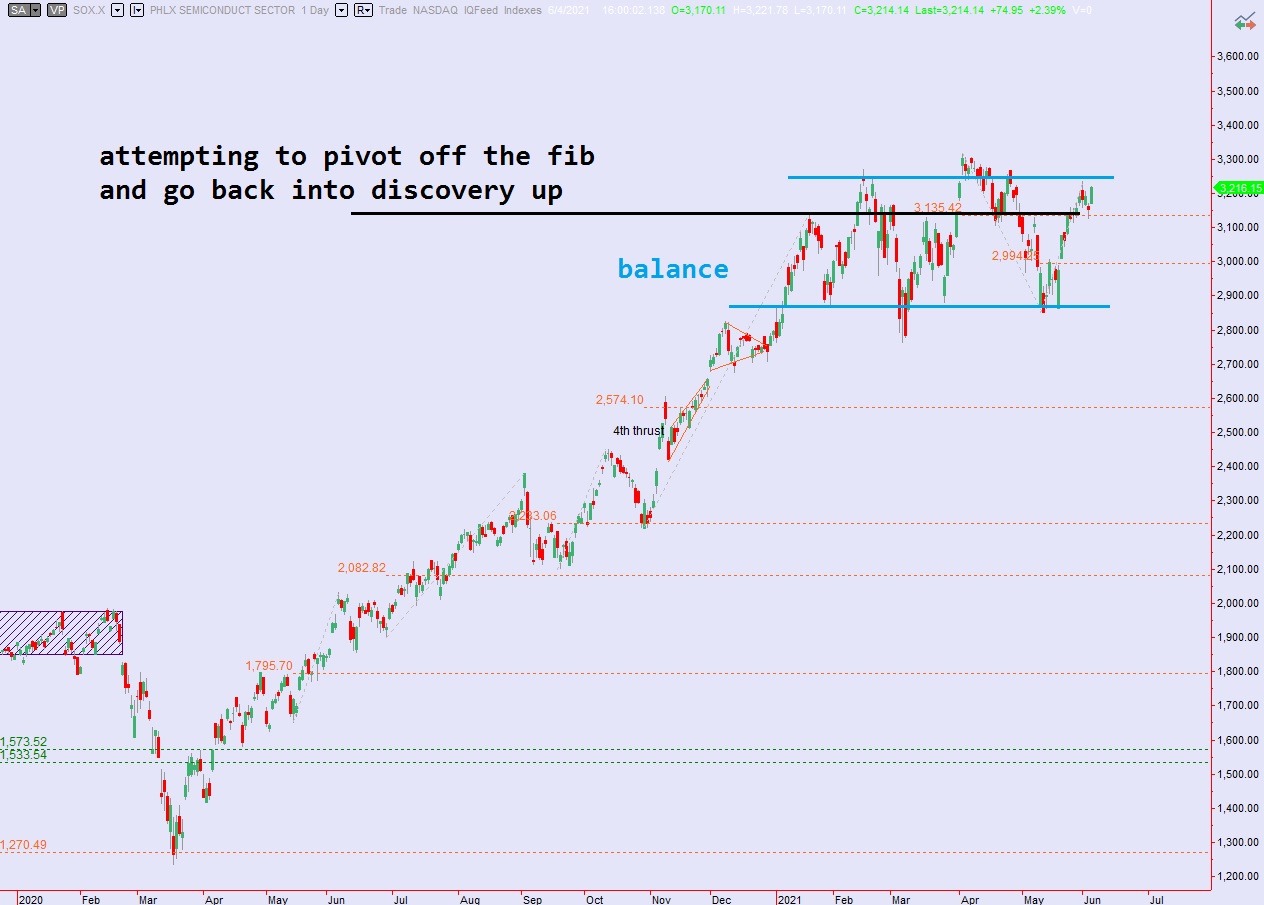 V. INDEX MODEL
Bias model is extreme Rose Colored Sunglasses bullish bias for a second consecutive week after being neutral for the two weeks prior after being e[RCS] bullish four weeks back and RCS bearish five weeks prior.
We had a Bunker Buster fourteen weeks ago.
e[RCS] calls for a sideways drift, perhaps with a slight upward bias.
Here is the current spread:
VI. QUOTE OF THE WEEK:
"All cruelty springs from weakness." Lucius Annaeus Seneca
Trade simple, stay kind
If you enjoy the content at iBankCoin, please follow us on Twitter