Good morning and cheers to the beginning of summer. It amuses me how government and church bogart dates when pagans would pay homage to the old gods in the most hedonistic ways and repackage them as "holidays". The real reason we celebrate right now is the heckin' north coming back to life. Trees are re-leafing themselves. Corns poking up. Women are in heat.
It is right around this flamboyant time when I was born. On my due date. At 6am. Ready to live.
I've almost always been in a good mood. My whole life. Even now, when my situation has gone a bit mundane, being in the grips of too much work, I find all sorts of little opportunities to savor nature.
This morning, for instance, I awoke at 3am and like a moth to a light bulb made my way over to the loud thumping techno hall. Grabbed a coffee on the way and disco danced for a few hours before returning here to Mothership and preparing this week's research. I worked most of yesterday and have more toiling ahead of me today, yet time was found for a bit of recreation — wiggled my bones and vibrated the old nervous system.
I suppose I'll take a nap now. Then an elaborate breakfast before heading back to the coal mine.
Fine for now.
Raul Santos, May 31st 2021
Here is the 340th edition of Strategy Session. Enjoy:
---
Stocklabs Strategy Session: 05/31/21 – 06/04/21
I. Executive Summary
Raul's bias score 3.40, medium bull*.  Choppy sideways drift. Then watch for Powell speak and non-farm payroll data early Friday to provide direction into the weekend.
U.S. markets are closed Monday in observation of Memorial Day.
*extreme Rose Colored Sunglasses (e[RCS]) bullish bias triggered. See Section VI
II. RECAP OF THE ACTION
Strong rally Monday then a slow and steady upward drift for the rest of the week. Russell 2000 outperformed suggesting risk tolerance remains elevated.
The last week performance of each major index is shown below: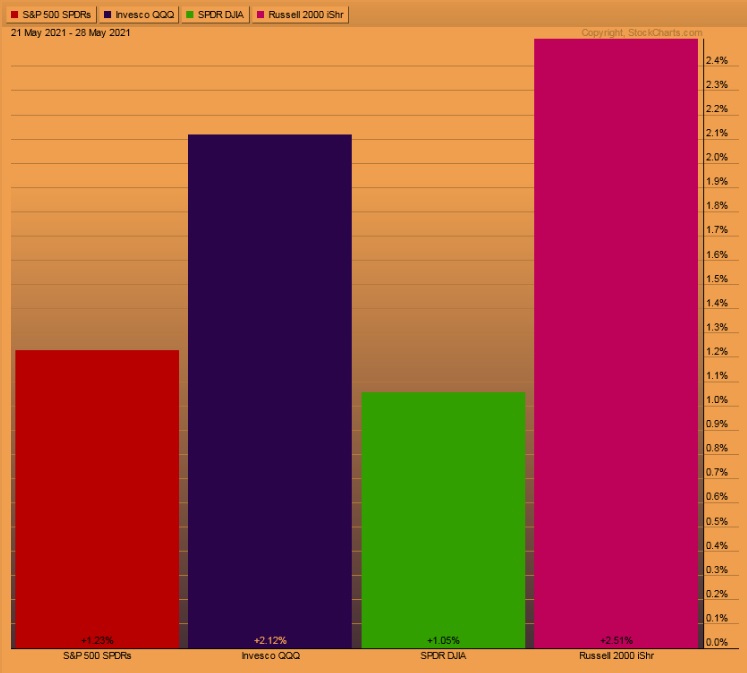 Rotational Report:
About as quality as rotations can be for bulls. Tech strong, energy muted, utilities soft.
bullish
For the week, the performance of each sector can be seen below: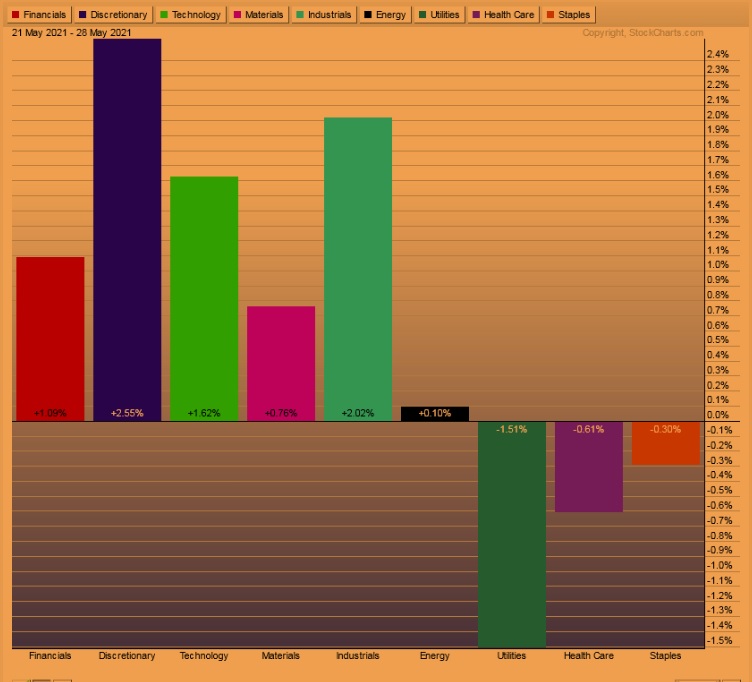 Concentrated Money Flows:
Money flows skewed bullish. A few semiconductors in the ledger which is a positive.
Volume delta remains pinned negative and median return was about +125 basis points.
Money flows are slightly bullish.
Here are this week's results: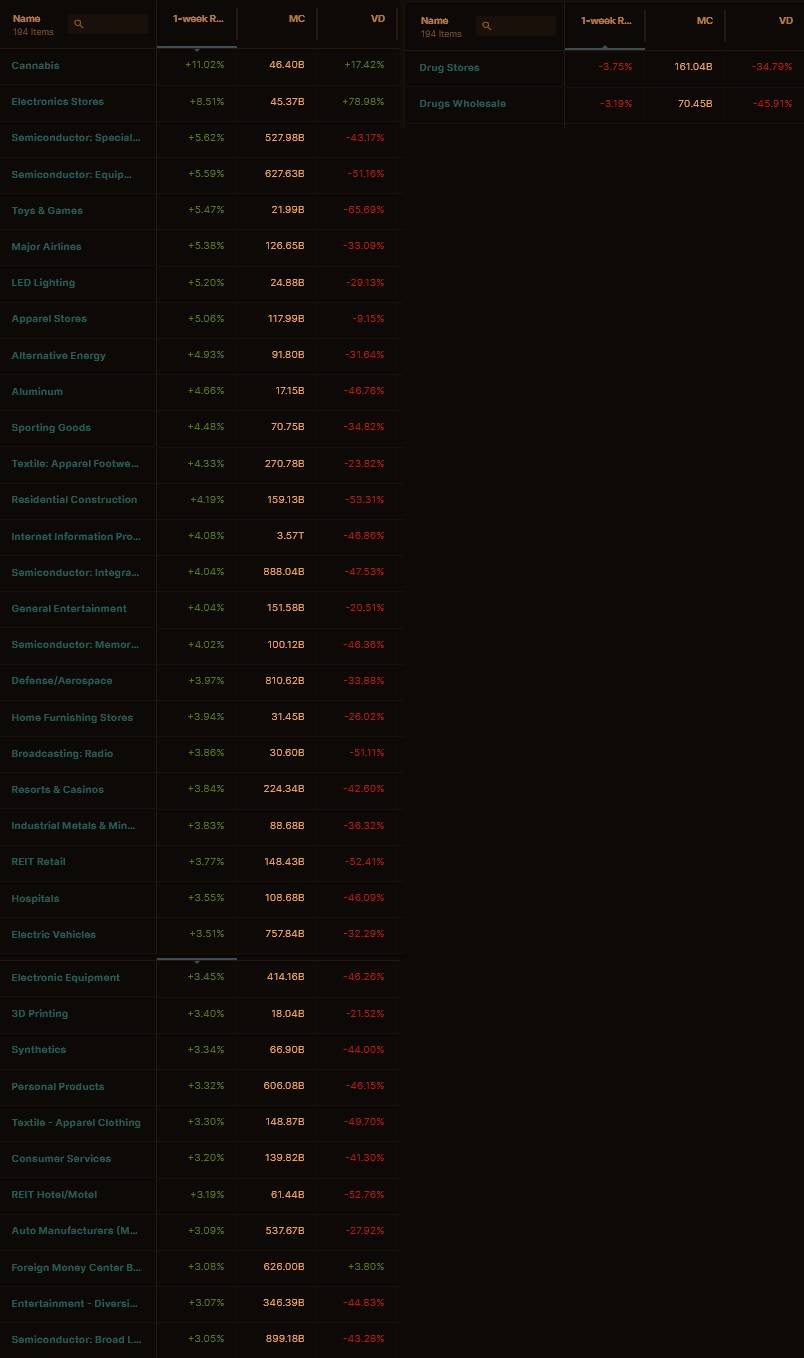 III. Stocklabs ACADEMY
Context
We are heading into the final month of the second quarter. The moon is waning. IndexModel is calling for a calm drift. Transports and semiconductors show balance (see Section IV). No major earnings due out. Economic calendar light. Stocklabs neutral. COVID fear is lessening.
Summer weather hitting the north.
All this adds up to form a contextual vibe of calm markets. Drift. This is of course only the case if we don't encounter any unexpected meaningful news.
Note: The next two sections are auction theory.
What is The Market Trying To Do?
Week ended searching for buyers.
IV. THE WEEK AHEAD
What is The Market Likely To Do from Here?
Weekly forecast:
Choppy sideways drift. Then watch for Powell speak and non-farm payroll data early Friday to provide direction into the weekend.
Bias Book:
Here are the bias trades and price levels for this week:

Here are last week's bias trade results:

Bias Book Performance [11/17/2014-Present]: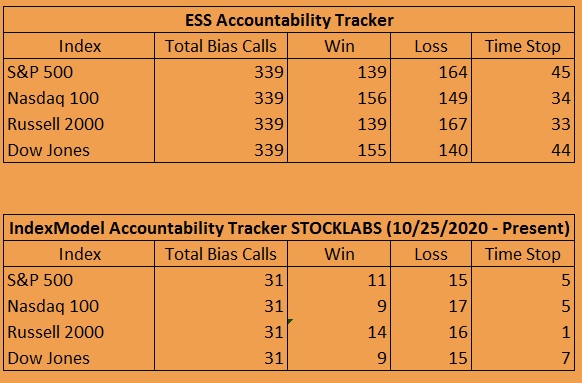 Watching this balance play out
Markets fluctuate between two states—balance and discovery.  Discovery is an explosive directional move and can last for months.  In theory, the longer the compression leading up to a break, the more order flow energy to push the discovery phase.
We are monitoring two instruments, the Nasdaq Transportation Index and the PHLX Semiconductor Index.
Transports are in this mini balance amid a larger discovery up phase. Neutral/bullish until something changes.
See below: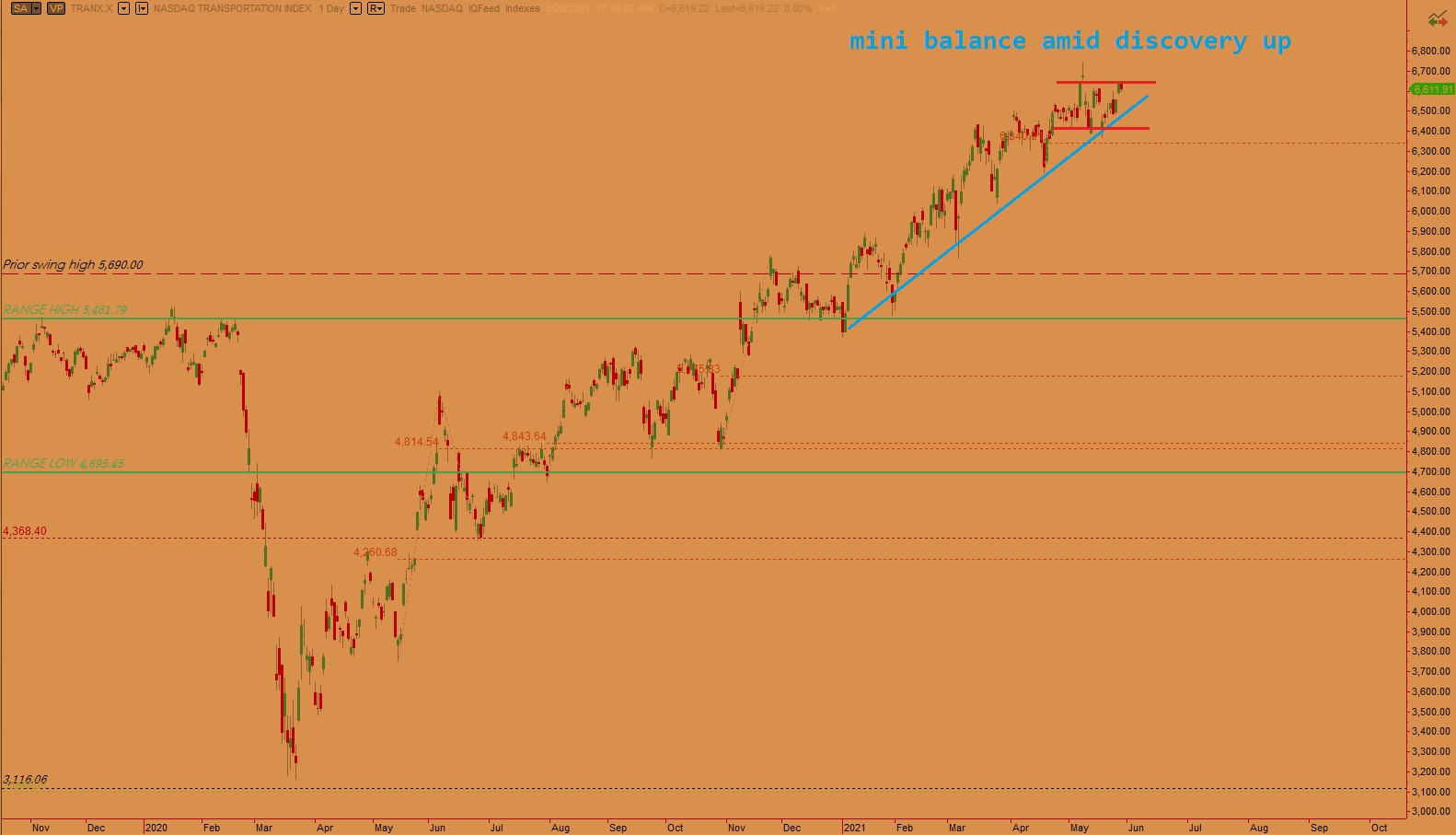 Semiconductors are balanced. Nvidia earnings sent the key PHLX component to a new record high. We can keep an eye on how the new high is received and deduce it to PHLX behavior, which is a key driver of overall market behavior. Balanced for now.
See below: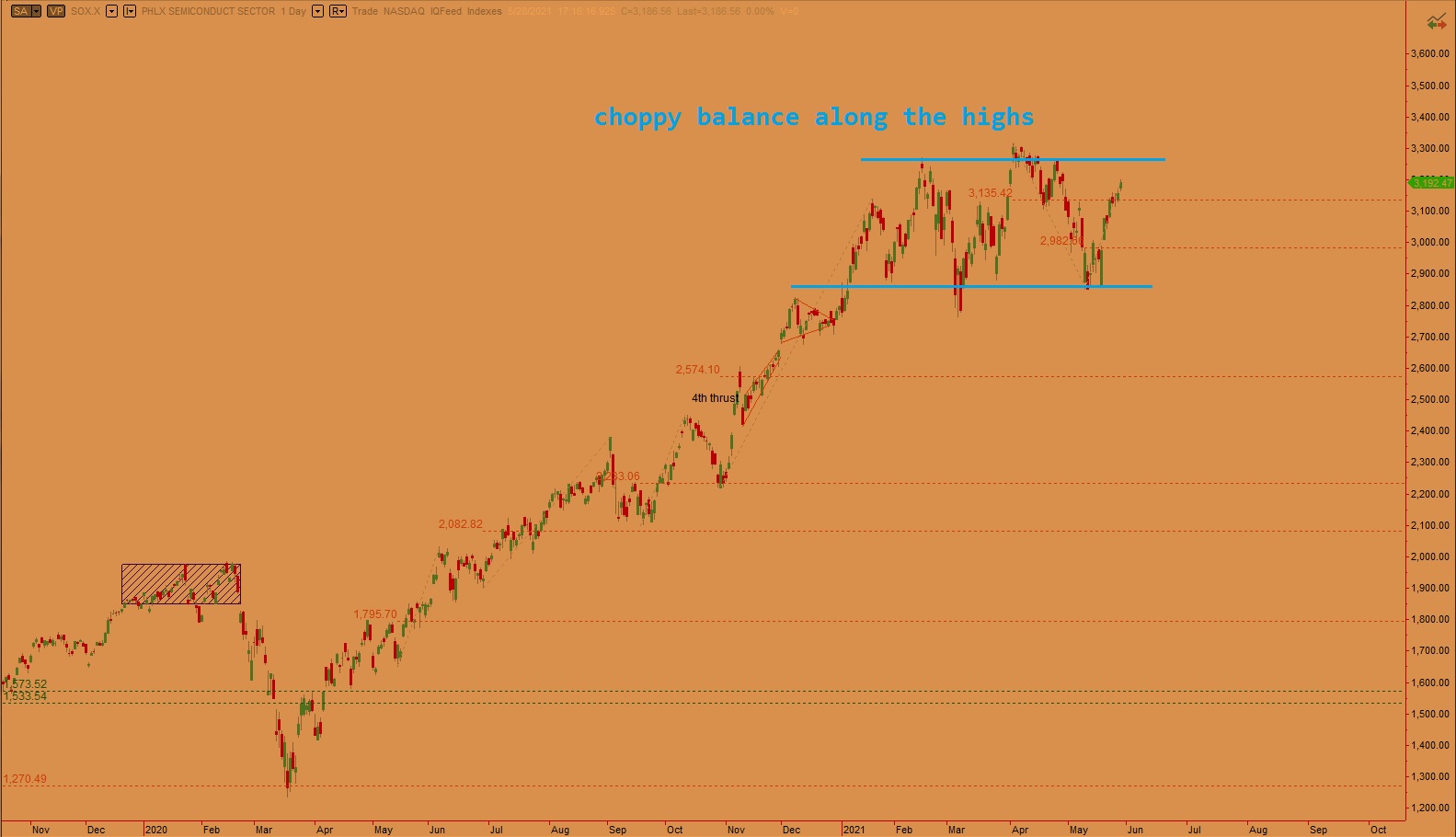 V. Stocklabs Hybrid Oversold
On Wednesday, May 12th Stocklabs flagged oversold on the 6- and 12-month algorithms. These bullish cycles run through end-of-day May 26th. Here is the final performance of each major indexr: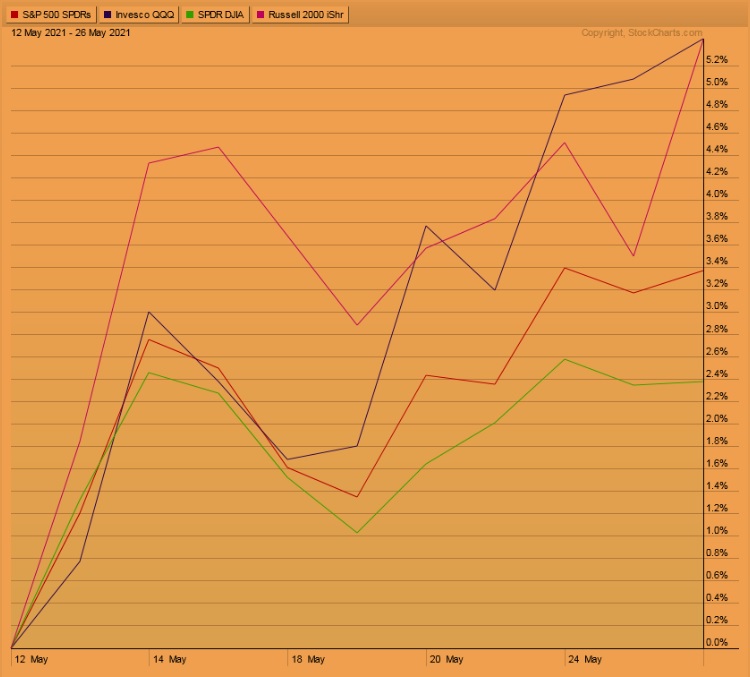 VI. INDEX MODEL
Bias model is back to extreme Rose Colored Sunglasses bullish bias after being neutral for two weeks consecutive week after being e[RCS] bullish three weeks back and RCS bearish four weeks prior.
We had a Bunker Buster thirteen weeks ago.
e[RCS] calls for a sideways drift, perhaps with a slight upward bias.
Here is the current spread: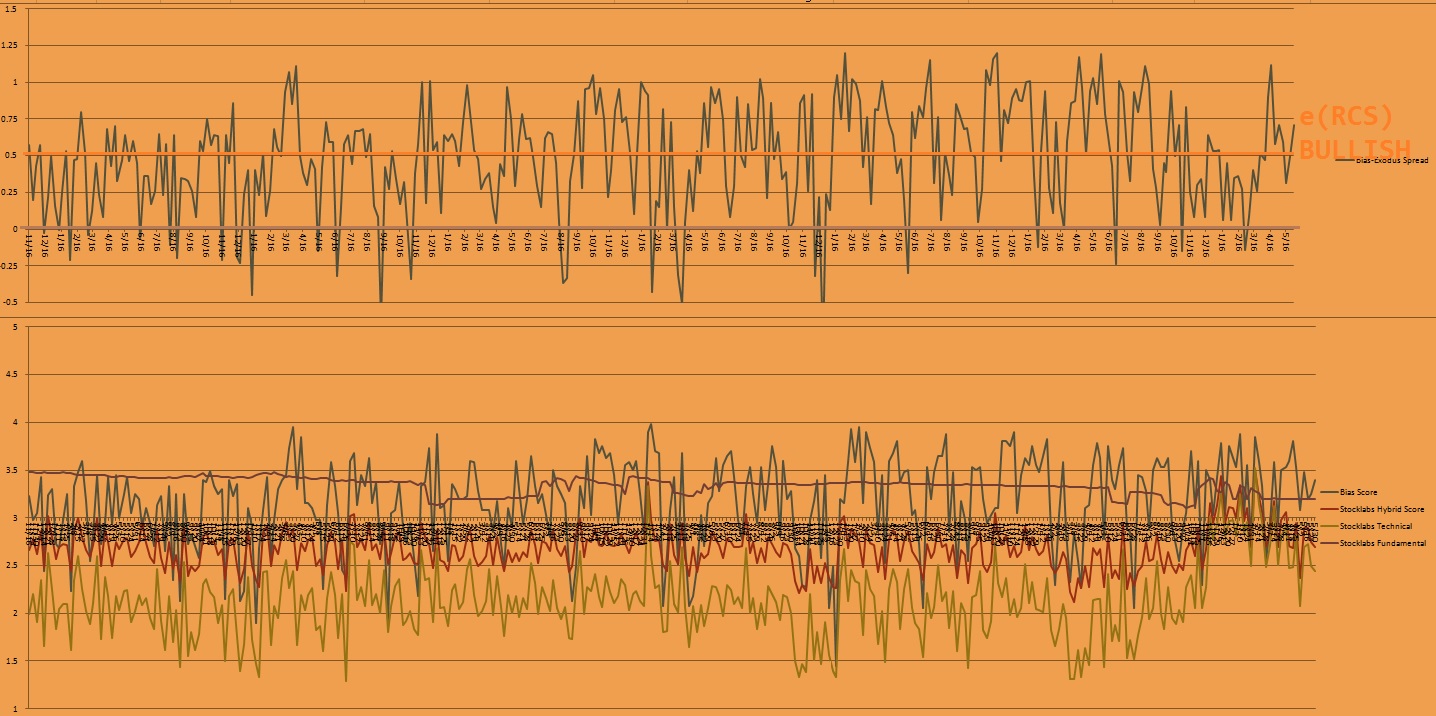 VII. QUOTE OF THE WEEK:
"If you truly love nature, you will find beauty everywhere." Vincent van Gogh
Trade simple, trade beautifully
If you enjoy the content at iBankCoin, please follow us on Twitter