It's feast and famine at the House of Raul (HoR). Has been since I left the mediocre existence of a corporate pleb earning 70,000 fiat american per annum. Now I speculate and toil. Speculate and toil. Toil and toil and speculate waiting for my number to be called.
My number has not been called in weeks resulting in risk management protocol going into place. I have reduced my trading size to one third normal position size until thing settle a bit.
Meanwhile I continue to live in a van between the toiling, eating tins of fish meat.
IndexModel is neutral into month-end. On the note of IndexModel, I'd like to offer props to whomever grabbed that twitter handle when I set it free. Good form.
I'll be doing today and tomorrow what I always do when my hand goes cold. I clean. Clean and organize and clean some more. Scrub the walls and purge the garage. Do these things and think and prepare for the next big speculation.
Okay for now.
Raul Santos, May 23rd 2021
And now the 339th edition of Strategy Session. Enjoy
---
Stocklabs Strategy Session: 05/24/21 – 05/28/21
I. Executive Summary
Raul's bias score 3.25, medium bull.  Choppy price action into month-end. Watch for a reaction to NVIDIA earnings Wednesday after-the-bell to put direction into the second half of the week.
II. RECAP OF THE ACTION
Choppy through Tuesday then some late Tuesday selling. Pro gaps down Wednesday that were bid into resulting in an all-day rally. Rally carried into Thursday. Marked time Friday.
The last week performance of each major index is shown below: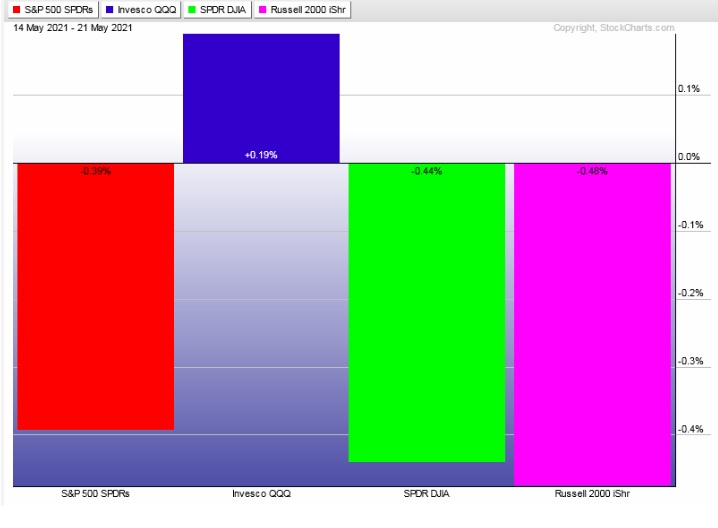 Rotational Report:
Mixed bag. Slight risk aversion with Staples and Utilities performing well. But Tech diverged from broad weakness elsewhere.
neutral
For the week, the performance of each sector can be seen below: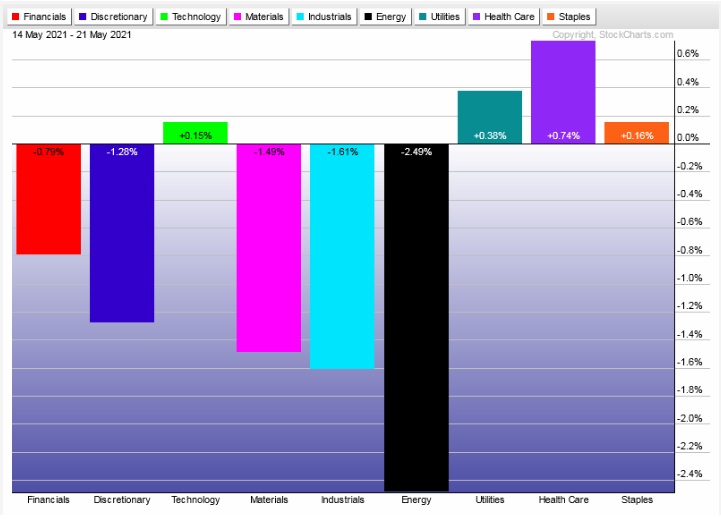 Concentrated Money Flows:
Money flows skewed heavily to the positive side of the ledger.
Volume delta remains pinned negative and median return was about +250 basis points.
Money flows are bullish.
Here are this week's results:

III. Stocklabs ACADEMY
K.I.S.S.
Keep your focus on consistently executing the signals generated by the Stocklabs mother algo. Do only this well and it will keep you on a path of consistent profitability. Keep it simple.
Note: The next two sections are auction theory.
What is The Market Trying To Do?
Week ended searching for buyers.
IV. THE WEEK AHEAD
What is The Market Likely To Do from Here?
Weekly forecast:
Choppy price action into month-end. Watch for a reaction to NVIDIA earnings Wednesday after-the-bell to put direction into the second half of the week.
Bias Book:
Here are the bias trades and price levels for this week:

Here are last week's bias trade results:

Bias Book Performance [11/17/2014-Present]: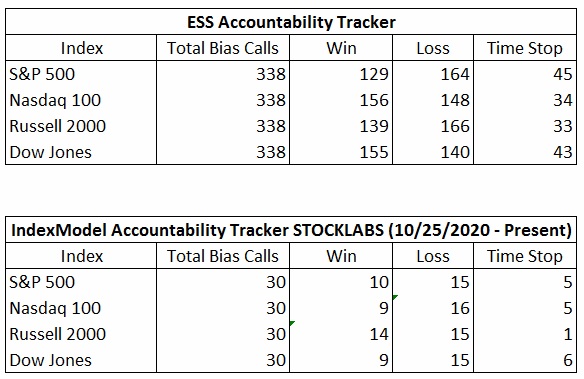 Balance at the highs is not bearish
Markets fluctuate between two states—balance and discovery.  Discovery is an explosive directional move and can last for months.  In theory, the longer the compression leading up to a break, the more order flow energy to push the discovery phase.
We are monitoring two instruments, the Nasdaq Transportation Index and the PHLX Semiconductor Index.
Transports are maybe in balance. Maybe still discovering higher prices.
See below: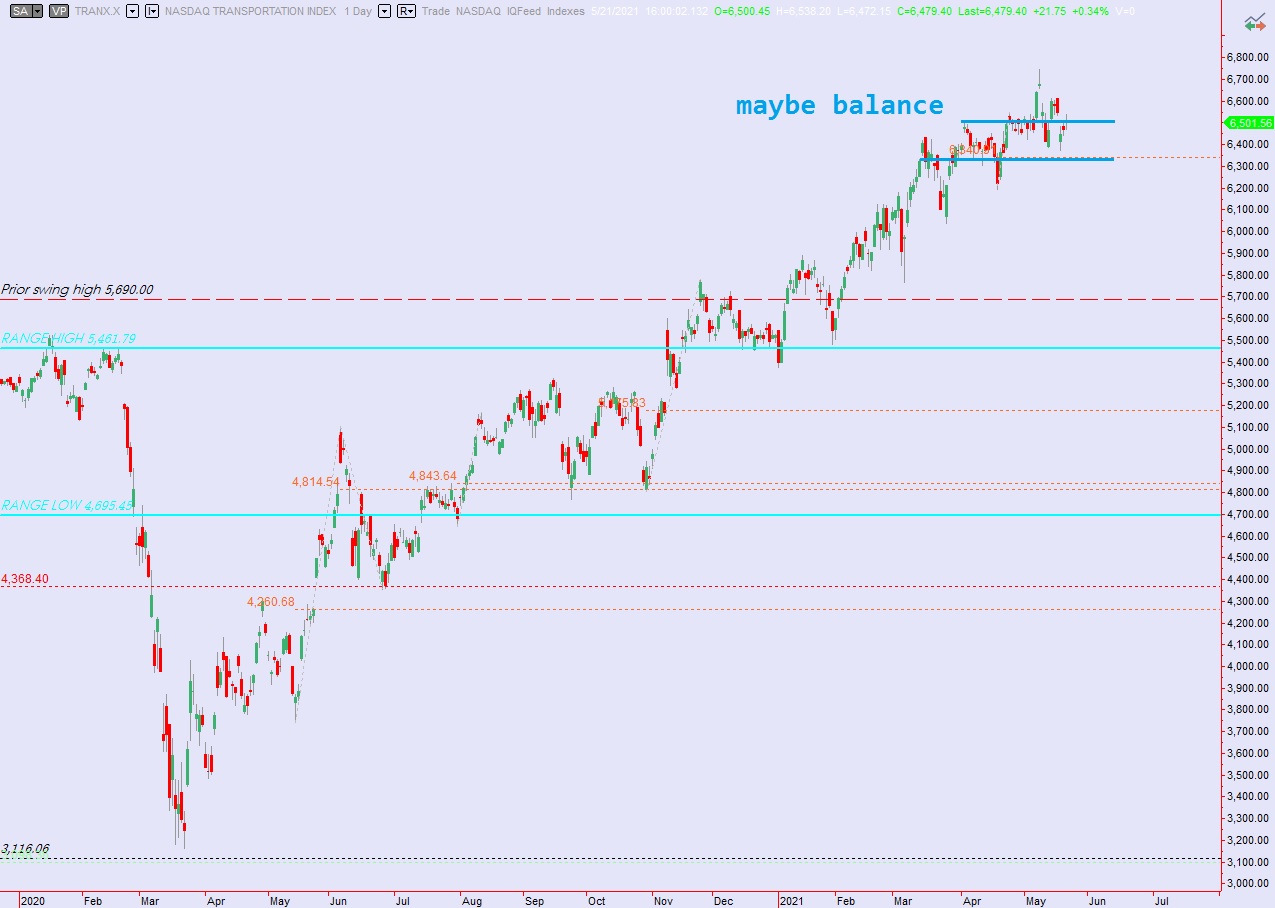 Semiconductors are balanced. Nvidia earnings Wednesday after-the-bell could shake this index loose.
See below:
V. Stocklabs Hybrid Oversold
On Wednesday, May 12th Stocklabs flagged oversold on the 6- and 12-month algorithms. These bullish cycles run through end-of-day May 26th. Here is the performance of each major index so far:
VI. INDEX MODEL
Bias model is neutral for a second consecutive week after being e(RCS) bullish two weeks back and RCS bearish three weeks prior.
We had a Bunker Buster twelve weeks ago.
Neutral means no bias.
Here is the current spread: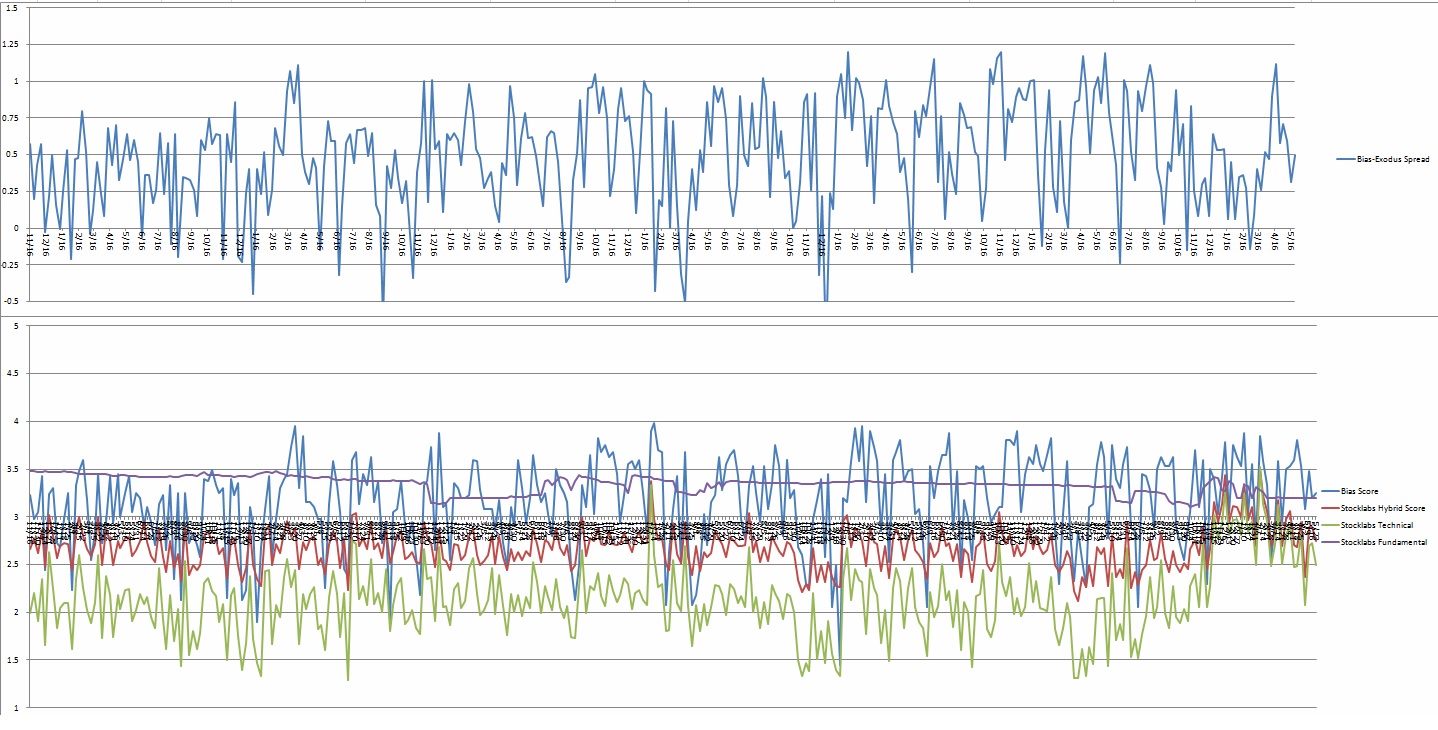 VII. QUOTE OF THE WEEK:
"I am a great believer in luck. The harder I work, the more of it I seem to have." Coleman Cox
Trade simple, put work into every trade
If you enjoy the content at iBankCoin, please follow us on Twitter