This might end up hurting. It certainly feels like I will be fighting the tape and the Fed and Google, but when IndexModel signals Rose Colored Sunglasses I have no choice but to execute my plan.
What is Rose Colored Sunglasses?
Life, especially in the murder mitten, well it can be quite bleak at times. Right now it is not. Right now the spring bloom fills our outsides with wonder and hope. There are about eight other months where a giant lake forms overhead rendering most of life into a grey scale.
If, during the grey days you put on a pair of rose tinted lenses, suddenly everything is a little better. Quite a bit more lovely, actually.
So I named the bearish signal generated by IndexModel Rose Colored Sunglasses because it helps my brain to visualize just exactly what this model is seeing — the four major indices are painting a rosy picture — they're strong (QQQ was +7% in April, huge) yet when you peel back the layers you start to see some decay and even a bit of rot.
I use Stocklabs to peer inside the complications of the equity system. By joining the scores generated by Stocklabs with those of IndexModel I build an oscillator of sorts, much like a curious technical analyst might see if they ever add an RSI or CCI to their charts. Here is my oscillator. I build it on an excel spreadsheet: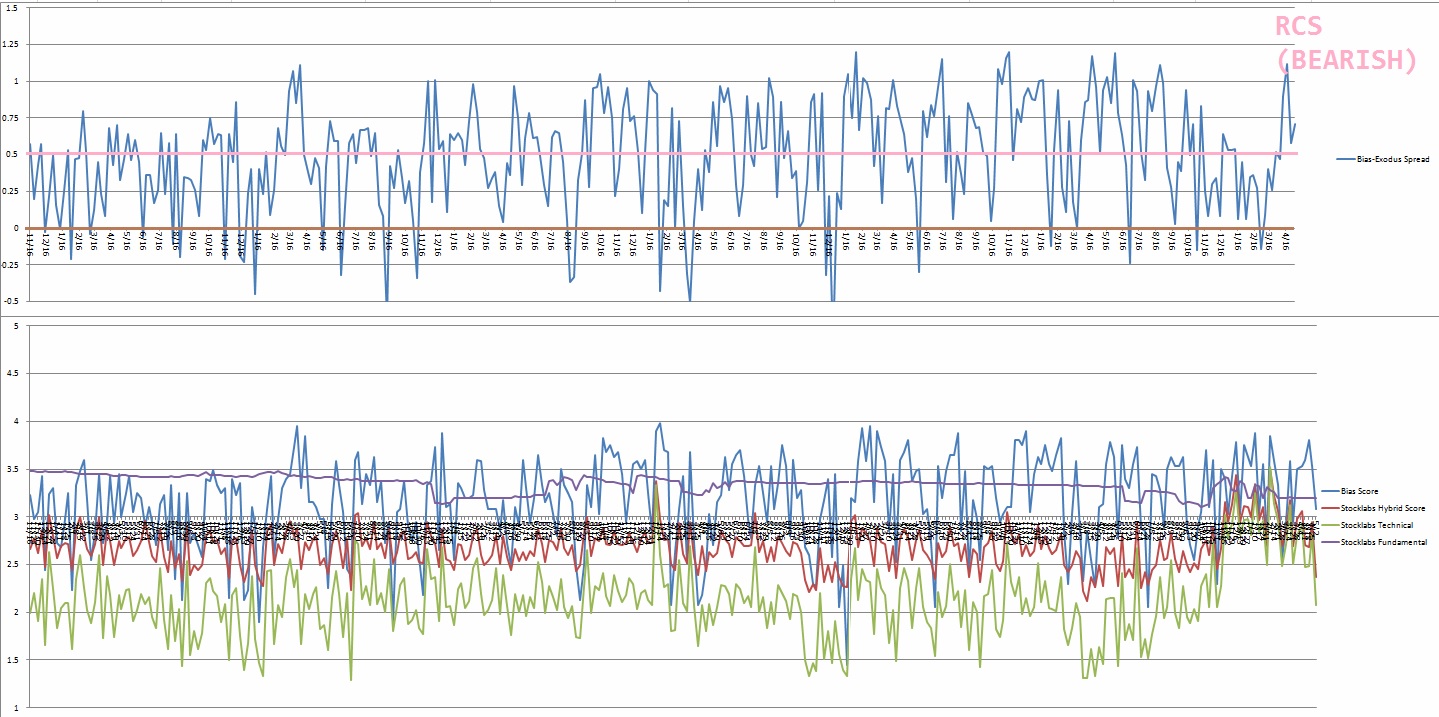 The pink threshold line can be a bit misleading. If the score is extra high (like it was the prior three weeks) that is actually a bullish signal. It calls for a drift. A marking of time, perhaps with a slight upward bias. Does that sound familiar? Look at the daily price action of the S&P 500 over the last three weeks: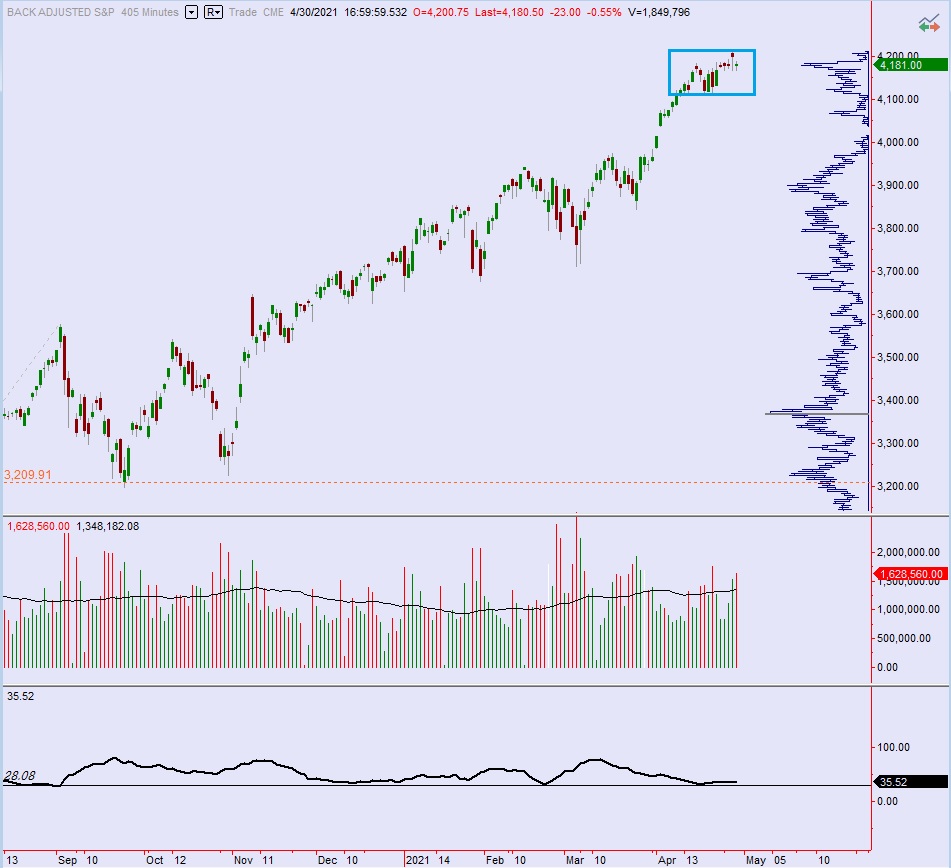 The words drift and slight upward bias come to mind, yes?
Anyhow, the only reason I am writing what now is taking the form of a self-congratulating shit post is to clarify why I build this model and what I intend to do in the week ahead.
I build this model in a manner that is simple and manual. I think there is a tendency to throw a lot of computing power at market analysis for the sake of sophistication when in reality the best advancements in performance come from putting lots of honest work in before taking a trade.
There are usually about three hours of Sunday research followed by 20 minutes of planning each morning before I take a single trade that may only last a few minutes.
The harder I work, the luckier I be. It has kept me on a path of consistent profitability. Chop wood. Carry water. That means I cannot just stop doing what put me here. The work never ends.
What I intend to do in the week ahead is find a spot early Monday to initiate a position in SQQQ. That position will have no price-based stop loss, only a time-based stop that triggers Friday. Also I will be working only the short side of the NASDAQ 100 futures. I will be looking for days that open gap up inside the prior day's range and I will be aggressively working those gap fills. I will be pressing positions to take out overnight low and/or range extension down.
That is what I will be doing next week.
What won't I be doing?
I will not be raising cash. I will not exit Tesla or Twitter or Del Taco or any other investments. Those are for the kids, man. Investments are just going to ride out whatever happens next week, like a sea lab deep below the waves.
I should mention—this does not feel good. It feels like I am fighting a strong market. It is the start of the month and while I am bullish in general, I tend to be extra bullish when new months begin. Carrying a bearish bias into the week may result in my missing out on some upside action.
But the system is the system is the system and the plan is the plan and I work too hardt to sabotage my own success by getting in the way of systems that have been my rock over the years.
The Raul blog is BEARISH until noted otherwise.
Raul Santos, May 2nd 2021
And now the entire 336th edition of Strategy Session. Enjoy:
Stocklabs Strategy Session: 05/03/21 – 05/07/21
I. Executive Summary
Raul's bias score 3.08, neutral*.  Strength early Monday is met with aggressive selling, setting up a week of downward price action. Then look for non-farm payroll data due out Friday morning to dictate direction into the weekend.
*IndexModel flagged Rose Colored Sunglasses bearish bias, see Section IV.
II. RECAP OF THE ACTION
Marked time. Sideways consolidation.
The last week performance of each major index is shown below: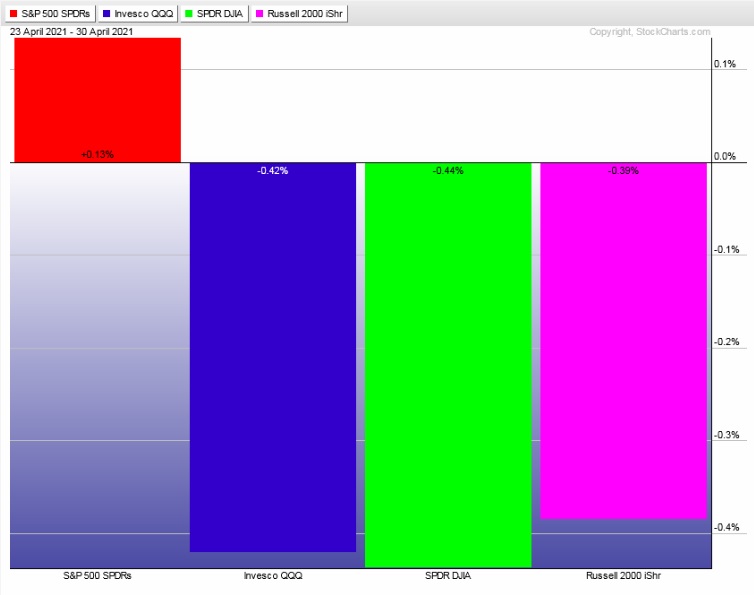 Rotational Report:
Rotation away from key Tech sector. Discretionary resilient. Energy moving independently.
neutral
For the week, the performance of each sector can be seen below: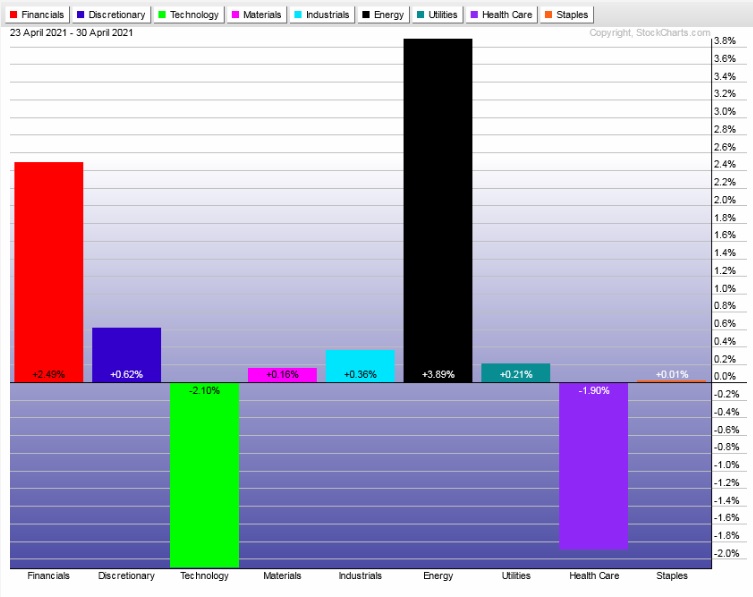 Concentrated Money Flows:
Money flows skewed positive but look at the negative side of the ledger — several semiconductor industry groups.
Volume delta -30% and median return about 75 basis points.
Money flows are slightly bearish
Here are this week's results: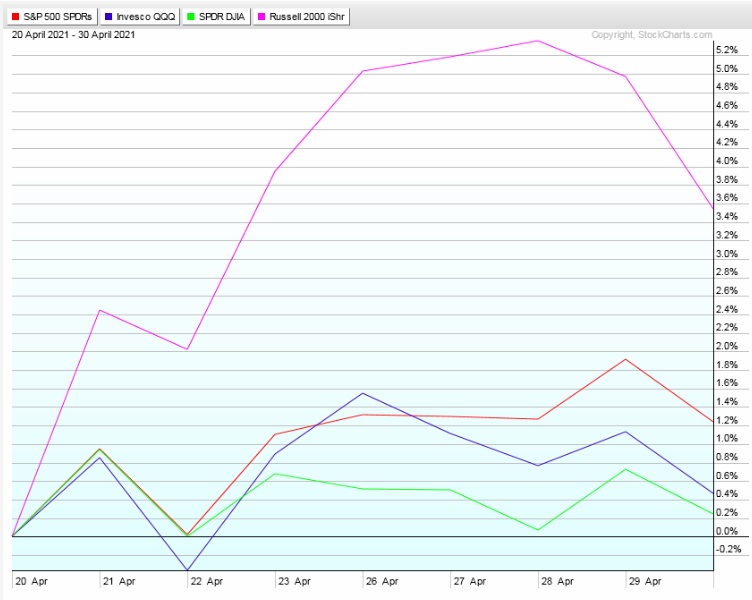 III. STOCKLABS ACADEMY
What next?
Last week was jam packed with earnings and Fed announcement and presidential addresses. And it was month end. So how did we do? The markets seemed to digest all the information in a healthy manner, consolidating sideways through all of the good, bad and neutral.
We have the first Rose Colored Sunglasses bearish signal of the year as we head into May. The beginning of the month can feature some big swings, and to initiate shorts this week in some ways feels like I could be fighting the tape.
Underlying metric and the context of this week's report slightly confirm a bearish bias, but not by much.
I will be initiating a short position (likely SQQQ) At some point Monday and will be working the short side of the tape, intra-day, via NASDAQ 100 futures.
Note: The next two sections are auction theory.
What is The Market Trying To Do?
Week ended searching for buyers.
IV. THE WEEK AHEAD
What is The Market Likely To Do from Here?
Weekly forecast:
Strength early Monday is met with aggressive selling, setting up a week of downward price action. Then look for non-farm payroll data due out Friday morning to dictate direction into the weekend.
Bias Book:
Here are the bias trades and price levels for this week:

Here are last week's bias trade results:

Bias Book Performance [11/17/2014-Present]: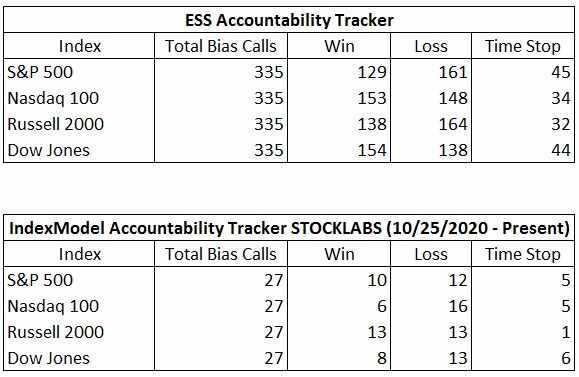 Semiconductors choppy, Transports continue to rally
Markets fluctuate between two states—balance and discovery.  Discovery is an explosive directional move and can last for months.  In theory, the longer the compression leading up to a break, the more order flow energy to push the discovery phase.
We are monitoring two instruments, the Nasdaq Transportation Index and the PHLX Semiconductor Index.
Transports are holding the highs and the price action indicates there is still a discovery up phase underway.
See below: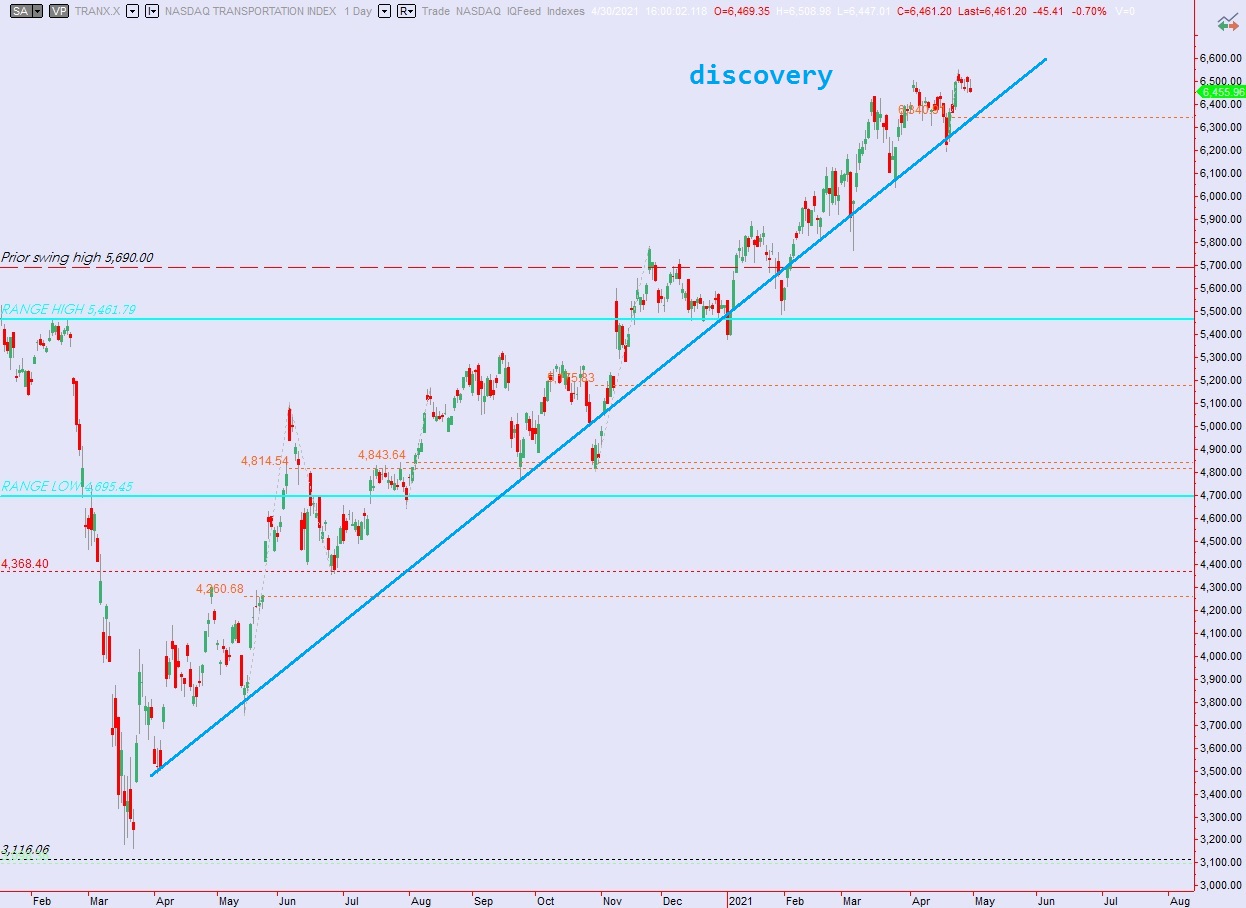 Semiconductors are sort of forming a range up here. There is some room to the downside before we could consider the action to be discovery down. It certainly is not discovery up. Balance for now.
See below: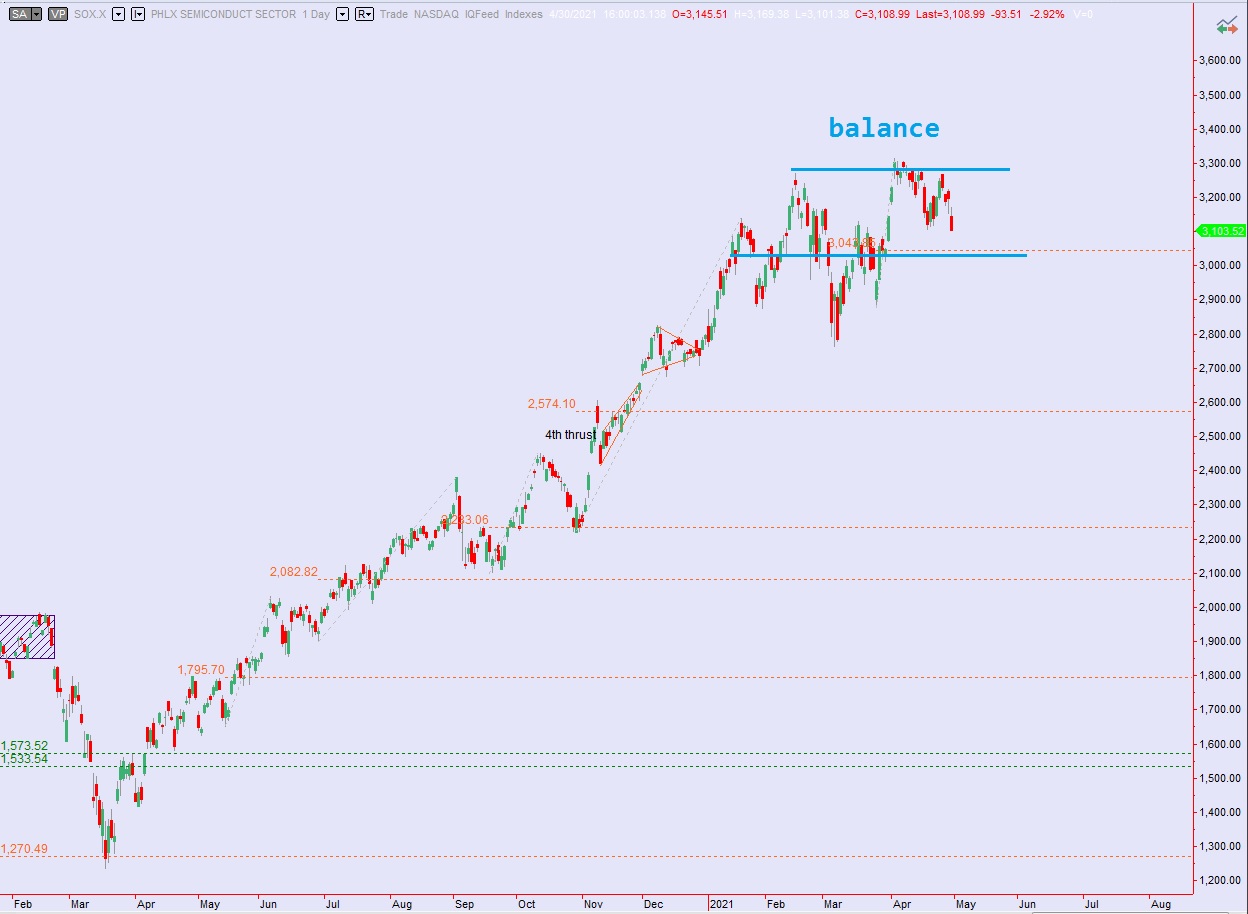 V. Stocklabs Hybrid Oversold
On Tuesday, April 20th Stocklabs flagged oversold on the 6 month algorithm. This bullish cycle runs through end-of-day May 4th. Here is the performance of each major index so far:
VI. INDEX MODEL
Bias model is flagging Rose Colored Sunglasses bearish bias after being extreme Rose Colored Sunglasses for three consecutive weeks.
We had a Bunker Buster nine weeks ago.
Rose Colored Sunglasses calls sellers to control the tape, pressing prices lower.
Here is the current spread: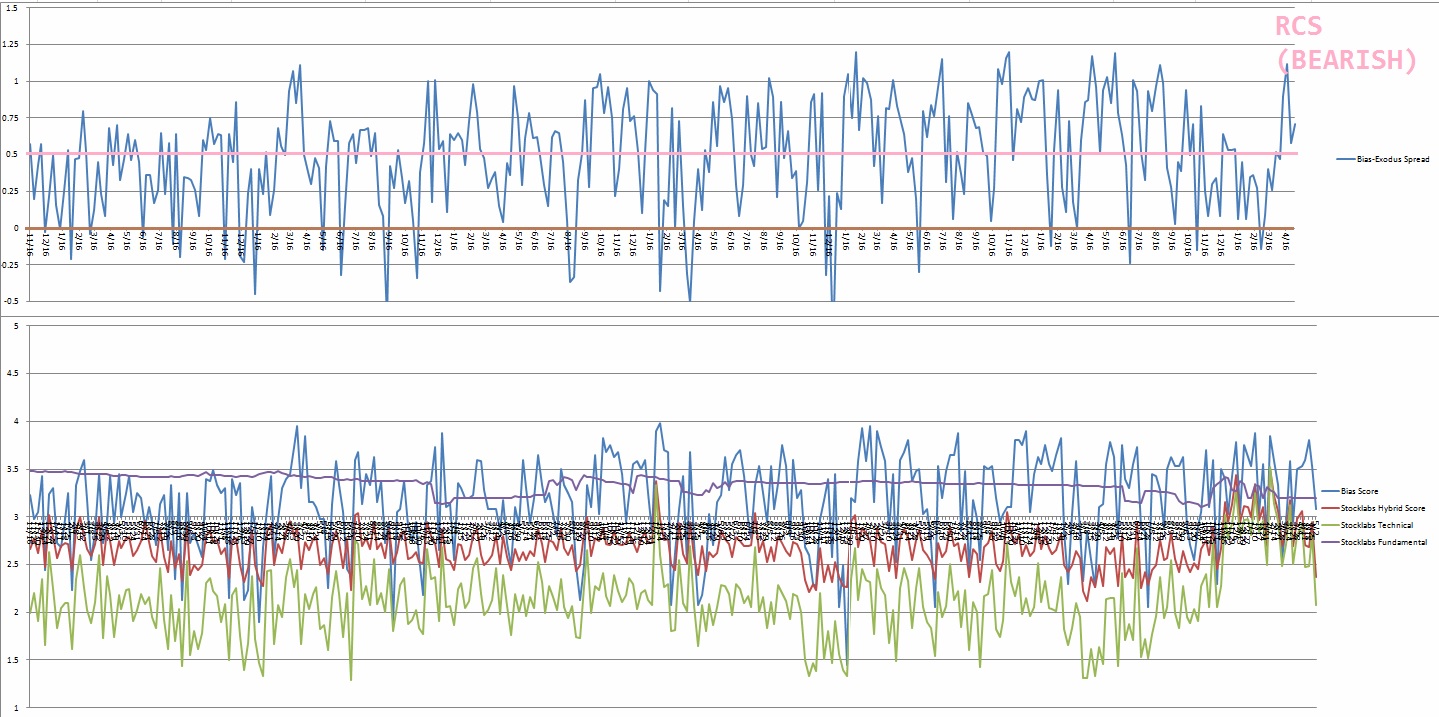 VII. QUOTE OF THE WEEK:
"Humanity must seek what is not simple and obvious using the simple and obvious." Gaius Musonous Rufus
Trade simple, execute the plan
If you enjoy the content at iBankCoin, please follow us on Twitter