Next week is big. Possibly one of the top three-or-four most important weeks of the year. Everything is happening all at once. All the Big Tech outlets report earnings next week, starting with Tesla after the bell Monday and ending with Amazon Thursday. Wednesday afternoon there is an FOMC announcement and press conference. Friday is month-end. Geopolitical risk is elevated also—less from pandemic headlines, more from tax headlines.
What is my job heading into a big week like this?
It is not to be a tax expert, whipping up some hot takes to tweet out.
It is not to hold hands with strangers on the internet as they wager their fortunes of their own.
My job, quite simply, is to extract as much fiat american dollar as possible from the global financial complex. That's it. My job is to focus on the auction. My job is to make a plan and then execute that plan. My job is to obey the risk protocols I put in place before the action heats up. My job is to nurture my mind and body and make time to look inward, to maintain unbiased thoughts. To only allow the lens of the auction to tint my perspective.
Said fiat is eventually to be converted into real assets—concrete and steel and energy generation. Stuff to augment my mortal existence as my ability and willingness toil whither away. Robots. Absurdly German kitchens. Giant shrubs to keep the noise of reality away from my person.
Why though? Why build a giant playground? To benefit as many people as possible. To create places where people feel safe taking drugs and exploring their psyche. To heal the soil and feed as many people as I can nutritious organic, safe, sustainable food. To love thyself. Pleasure.
That's it. Let's set aside the fun tokens and crypto toys for now. The big guns are set to report. Let the shitcoins simmer. Certainly don't sell anything. But focus on our True Leaders. Big Tech.
Maybe give the Fed, that archaic institution that loses its relevance daily, a bit of attention also.
Raul Santos, April 25th, 2021
Here is the 335th edition of Strategy Session. Enjoy:
Stocklabs Strategy Session: 04/26/21 – 04/30/21
I. Executive Summary
Raul's bias score 3.53, medium bull*.  Expect higher prices but allow earnings out of Big Tech to dictate direction as the week progresses.
Tesla reports Monday after-market-close (AMC). Microsoft and Alphabet (Google) Tuesday AMC. Apple and Facebook Wednesday AMC, Amazon Thursday AMC.
FOMC announcement and press conference Wednesday afternoon.
*IndexModel flagged extreme Rose Colored Sunglasses bullish bias, see Section IV.
II. RECAP OF THE ACTION
Big chop. Weakness early in the week, strength into the weekend. Russell bullish divergent.
The last week performance of each major index is shown below: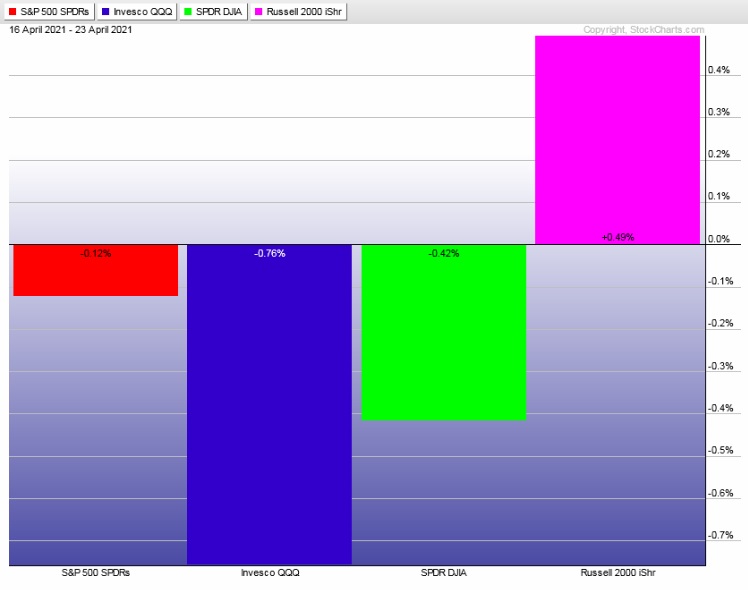 Rotational Report:
Sort of a mishmash of negative returns.
neutral.
For the week, the performance of each sector can be seen below: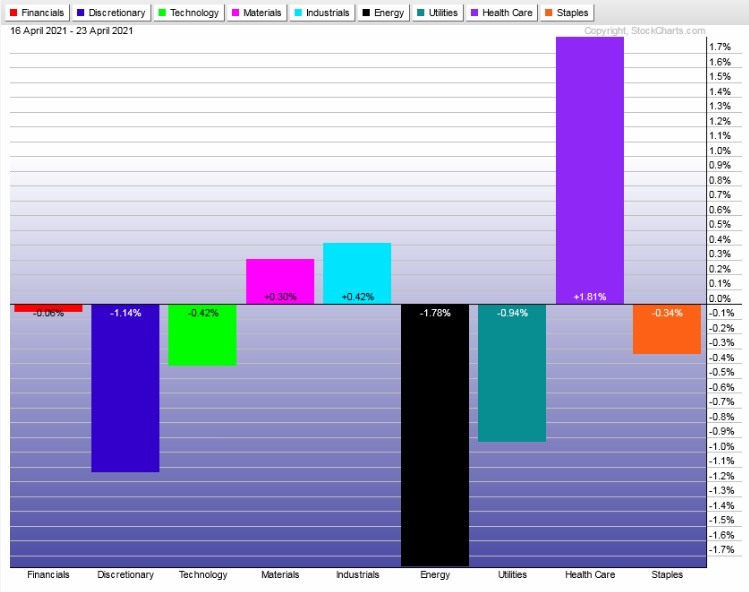 Concentrated Money Flows:
Money flows just barely skewed positive. Fairly subdued.
I am beginning to question the volume delta data because it is pinned down around -40% these last few weeks. Median return was about +40 basis points.
Money flows are neutral.
Here are this week's results: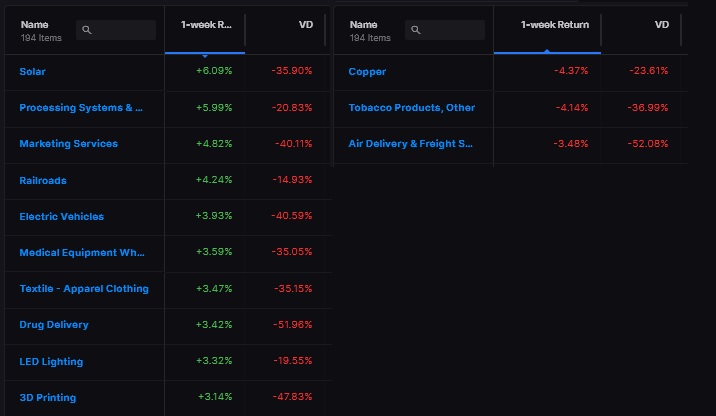 III. STOCKLABS ACADEMY
Huge week ahead
Month-end. All Big Tech outlets reporting. Geopolitical risk remains elevated with the pandemic and tax talk out of the White House. Plus the FOMC announcement Wednesday.
There is nothing wrong with standing aside and letting all this information price out. That said, if we can stay in the rhythm of the action, the upcoming week presents elevated opportunity.
Note: The next two sections are auction theory.
What is The Market Trying To Do?
Week ended searching for sellers.
IV. THE WEEK AHEAD
What is The Market Likely To Do from Here?
Weekly forecast:
Expect higher prices but allow earnings out of Big Tech to dictate direction as the week progresses.
Bias Book:
Here are the bias trades and price levels for this week:

Here are last week's bias trade results:

Bias Book Performance [11/17/2014-Present]:
Semiconductors holdings highs, Transports continue to rally
Markets fluctuate between two states—balance and discovery.  Discovery is an explosive directional move and can last for months.  In theory, the longer the compression leading up to a break, the more order flow energy to push the discovery phase.
We are monitoring two instruments, the Nasdaq Transportation Index and the PHLX Semiconductor Index.
Transports are nearly making a new high. Discovery up continues. Bullish.
See below: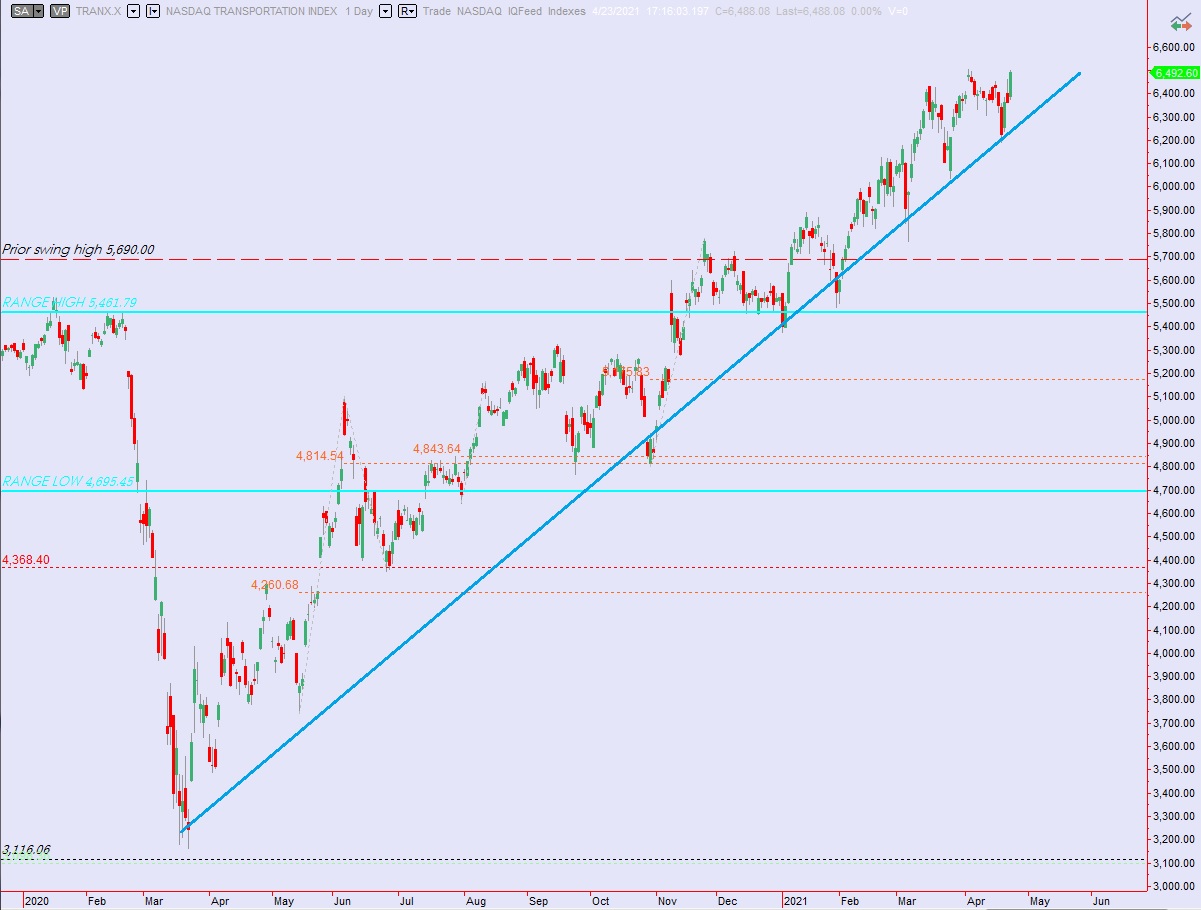 Semiconductors can fall a bit more and still have a discovery up set-up. For now, this looks like discovery up.
See below: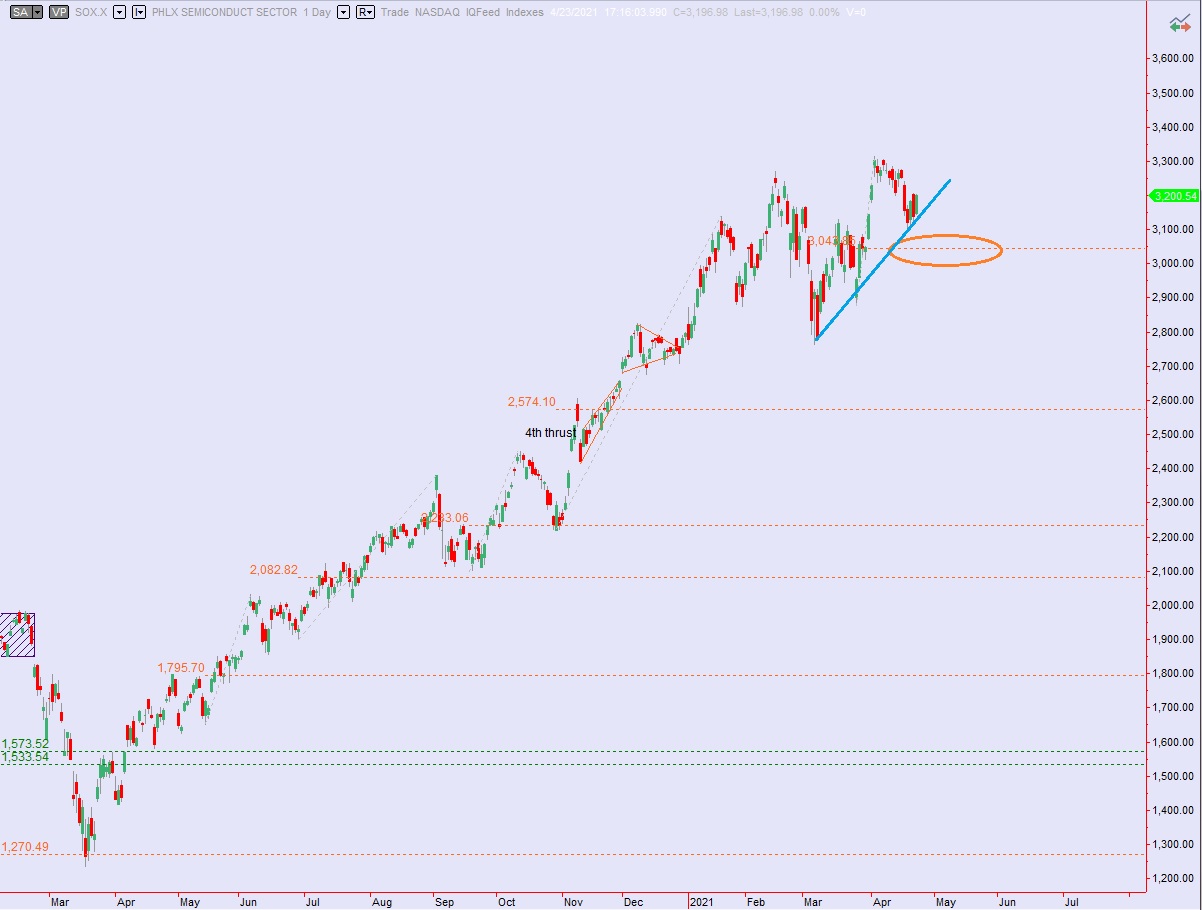 V. Stocklabs Hybrid Oversold
On Tuesday, April 20th Stocklabs flagged oversold on the 6 month algorithim. This bullish cycle runs through end-of-day May 4th. Here is the performance of each major index so far: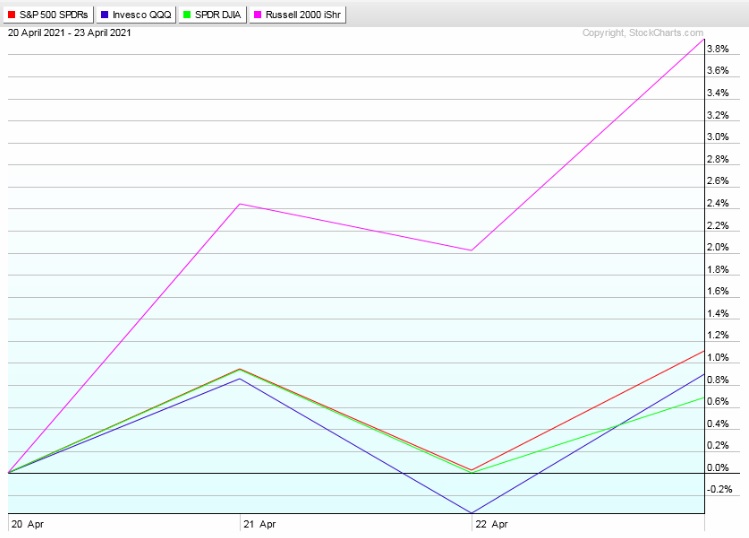 VI. INDEX MODEL
Bias model is flagging extreme rose colored sunglasses for a third consecutive week after being neutral three weeks back and having flagged extreme Rose Colored Sunglasses four weeks back after being neutral four weeks before that after signaling Bunker Buster eight weeks ago after being neutral for the thirteen weeks prior to that.
Extreme Rose Colored Sunglasses calls for a calm sideways drift, perhaps with a slight upward bias. With a bias spread over +1 we expect buyers to pressure the tape higher late into the week.
Here is the current spread: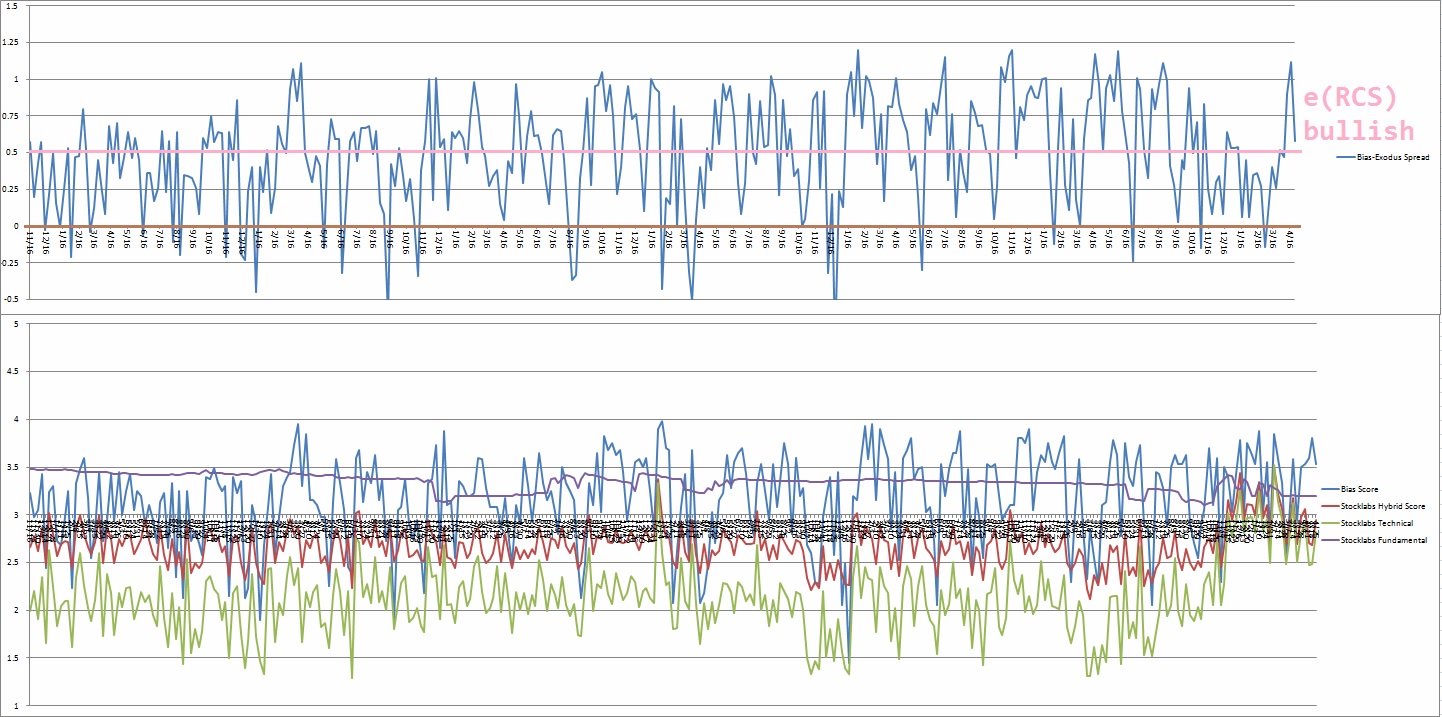 VII. QUOTE OF THE WEEK:
"I succeed because I have a long attention span." Charlie Munger
Trade simple, step back if you lose focus
If you enjoy the content at iBankCoin, please follow us on Twitter