G'dday lads. Not much on my mind so I shall keep this brief.
You have, all of you have, perhaps 70 productive years on this rare planet we call earth. Consider what you leave in your wake.
Not so much as legacy, but in the words of Franklin D. Roosevelt, "The nation that destroys its soil destroys itself." What are you leaving behind besides poop? What are your other waste streams? What will you leave behind.
On that note, I must be off. I have undertaken a large soil remediation project and with the power of my brain I intend to right what my predessors have wronged, or at least prove the gen-pop wrong in a strange new way.
This is what I do. I challenge conventional wisdom. I make people money. And I fuck.
Models have a slight bullish tilt heading into next week.
Raul Santos, April 11th, 2021
And now the 333rd edition of Strategy Session:
Stocklabs Strategy Session: 04/12/21 – 04/16/21
I. Executive Summary
Raul's bias score 3.60, medium bull*. Sideways drift, with any big moves in either direction being faded back to unchanged by week's end.
Major bank earnings due out Wednesday and Thursday before market open may have an impact on overall price action.
*IndexModel flagged extreme Rose Colored Sunglasses bullish bias, see Sections III and IV.
II. RECAP OF THE ACTION
Strong rally Monday. Consolidation of the gains through Wendesday. Gap higher Thursday and continuation rally through Friday and into the weekend. Russell 2000 lagged.
The last week performance of each major index is shown below: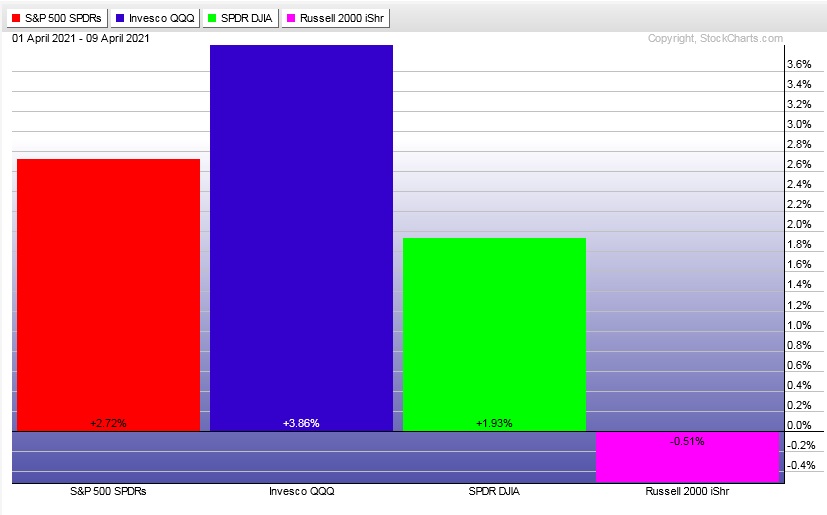 Rotational Report:
Another week of out performance from key Tech and Discretionary sectors. Everything else besides Energy flanking alongside with small gains.
bullish
For the week, the performance of each sector can be seen below: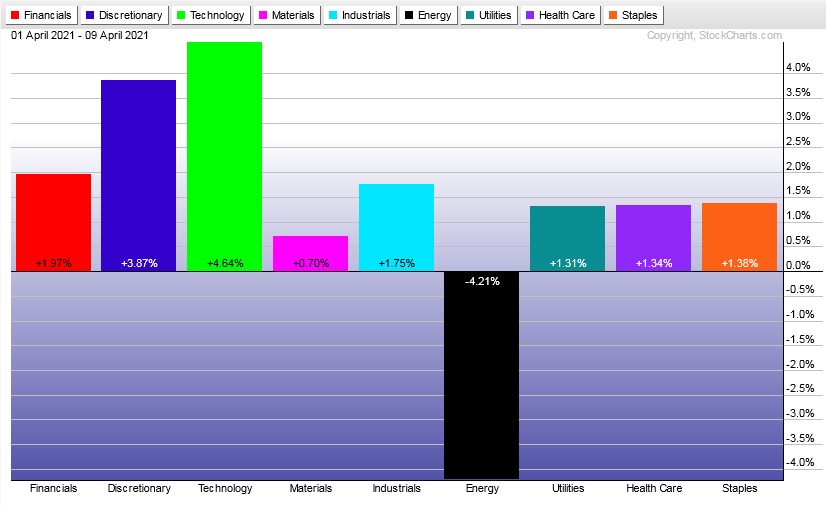 Concentrated Money Flows:
Five weeks back we had major buy flows. It wasn't until two weeks back that we saw follow through on them. But now we have. The last two big money flow pushes have been to the buy side.
Last week was totally balanced. Neutral.
Median return last week a bit less than +50 basis points  and volume delta over the last 30 days is quite negative.
No word yet on having 1-week volume delta added to the screener.
Money flows are neutral.
Here are this week's results: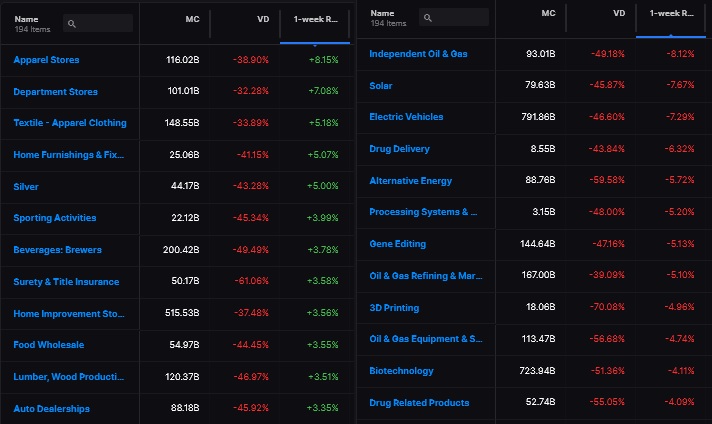 III. STOCKLABS ACADEMY
Extreme Rose Colored Sunglasses
This signal comes from the market model I built and managed which is called IndexModel. It is based on auction theory.
When it goes extreme rose colored sunglasses we historically have seen calm action which is usually better suited for stock picking then it is for futures trading.
That said, when the signal is live I will definitely be trading any gap down in range for the fill and then be playing to take out either (or both) overnight high and range extension up.
Note: The next two sections are auction theory.
What is The Market Trying To Do?
Week ended searching for sellers.
IV. THE WEEK AHEAD
What is The Market Likely To Do from Here?
Weekly forecast:
Sideways drift, with any big moves in either direction being faded back to unchanged by week's end.
Bias Book:
Here are the bias trades and price levels for this week:

Here are last week's bias trade results:

Bias Book Performance [11/17/2014-Present]: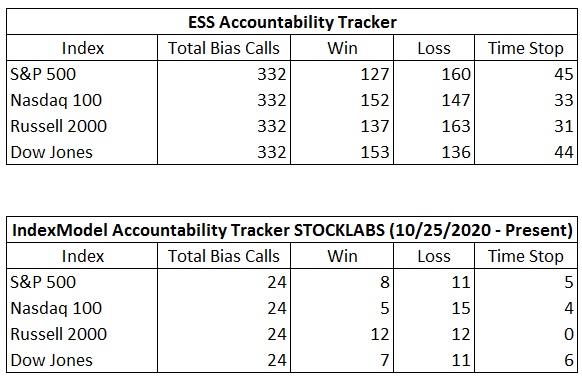 Semiconductors flag along the highs, more discovery?
Markets fluctuate between two states—balance and discovery.  Discovery is an explosive directional move and can last for months.  In theory, the longer the compression leading up to a break, the more order flow energy to push the discovery phase.
We are monitoring two instruments, the Nasdaq Transportation Index and the PHLX Semiconductor Index.
Transports continue to steadily discovering new higher prices.
See below: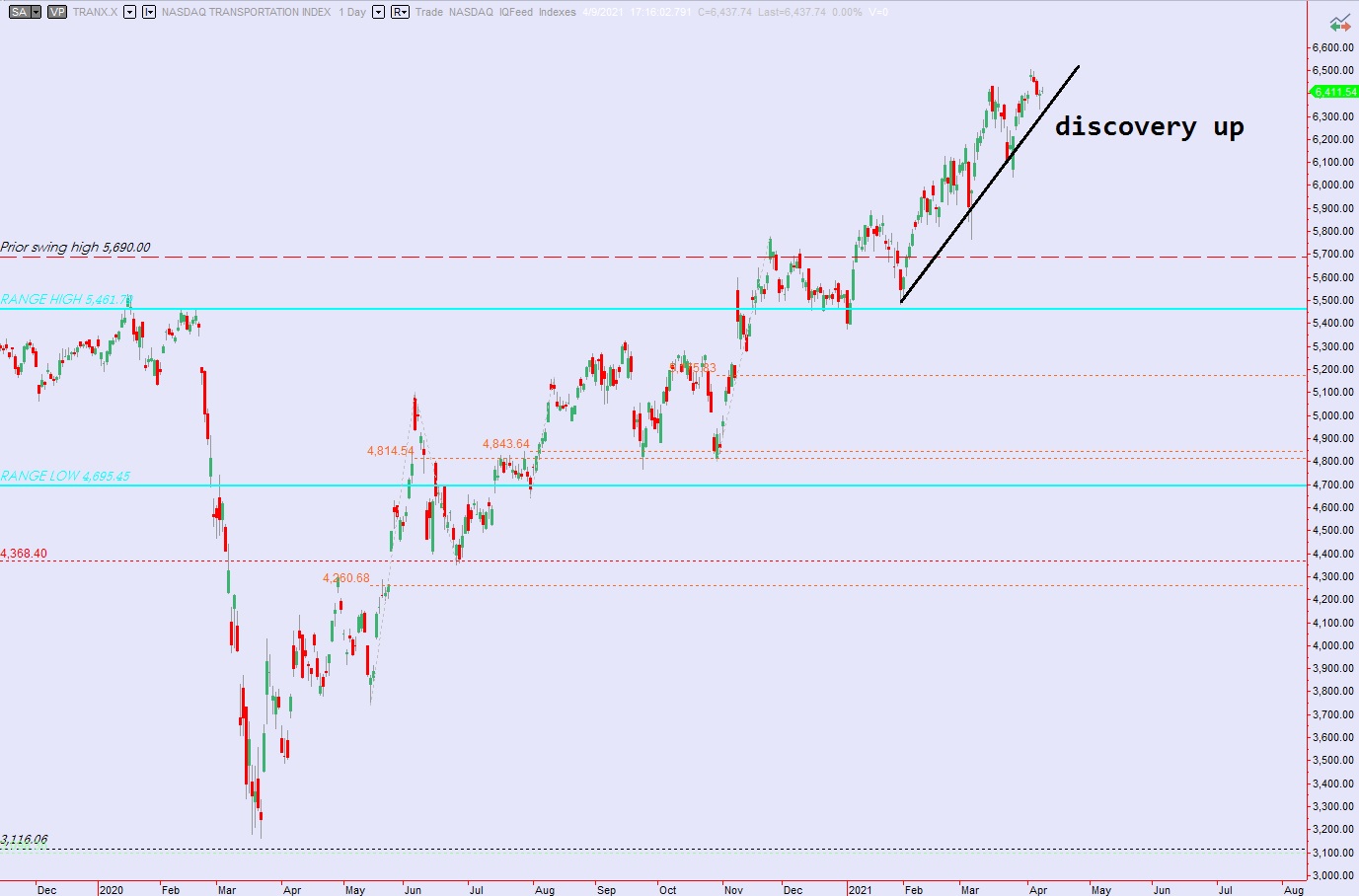 Semiconductors performed a mini discovery phase up out of recent balance and are now flagging along the highs. Heading into next week this is anything but bearish.
See below: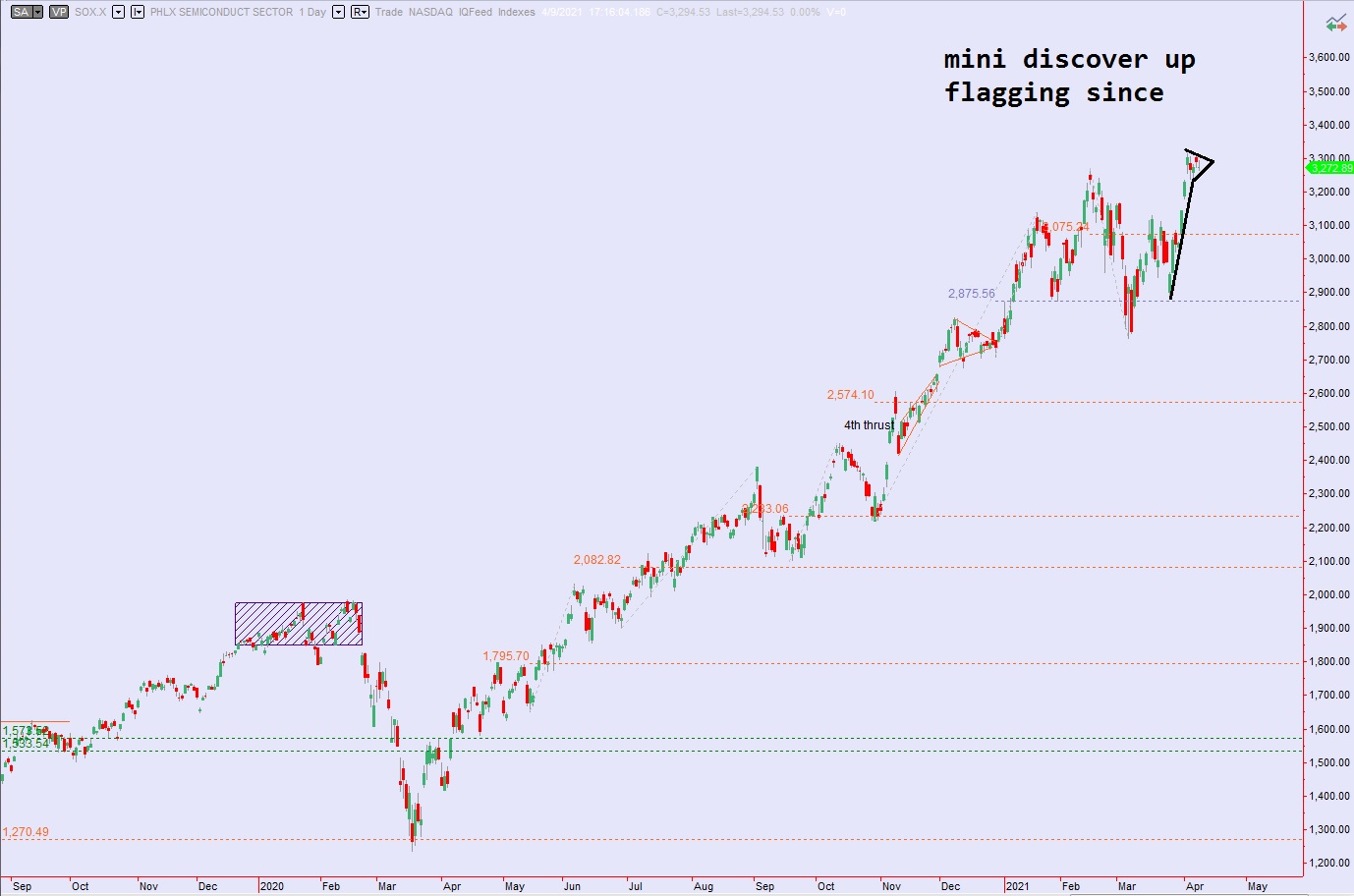 V. INDEX MODEL
Bias model is flagging extreme rose colored sunglasses after being neutral last week and having  flagged extreme Rose Colored Sunglasses two weeks back after being neutral three weeks before that after signaling Bunker Buster six weeks ago after being neutral for the thirteen weeks prior to that.
Extreme Rose Colored Sunglasses calls for a calm sideways drift, perhaps with a slight upward bias.
Here is the current spread: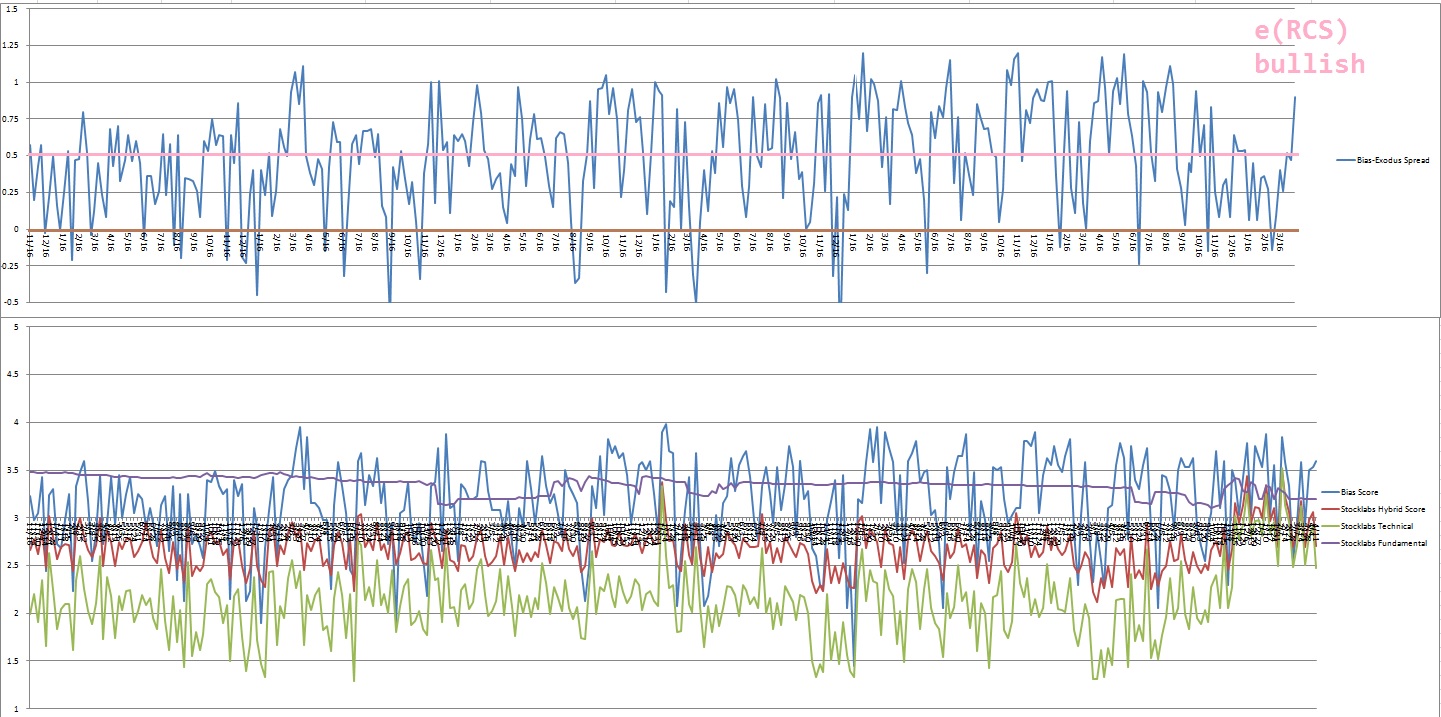 VI. QUOTE OF THE WEEK:
"it is unwise to be too sure of one's own wisdom." Mahatma Gandhi
Trade simple, stay curious
If you enjoy the content at iBankCoin, please follow us on Twitter