For three hundred and thirty two weeks I've sat down and done one-to-four hours of stock market research, augmented by Exodus and Multicharts and MICROSOFT EXCEL. I will not stop doing this work because it is what got me to where I am today — a consistently profitable trader who can safely trade alongside institutions. Institutions, mind you, who command exponentially more resources then your sweet Uncle Baby Raul.
The report is simply being transitioned out from behind the Exodus paywall to here, on the public blog, free for consumption.
I've never been a fan of hoarding information.
When I started this odd adventure as an anonymous internet trader some ten years ago it was because the institutions of higher learning had failed me. Turns out a degree in finance doesn't get you any further along the path to being a consistently profitable trader.
I went online to learn more.
I assumed an alias because I was earning a meaningful salary from Corporate America (Sonny says the working mans a sucker and I agree) and didn't want them to see me out here, riding-round-gettin-it, while also drawing a salary.
Paywalls always bothered me. I paid thousands in the quest to learn more. Dealt with so many charlatans and a few all around decent traders.
Oh boy I am rambling. In short — I never did this for any of you. It was for me and it continues to be for me. I've managed to meet some great people along the way, and I like to think I've helped a few others experience that glorious "a-ha" moment in their own trading.
And that's good enough for me.
I'm doing real fine. Weekend research shall continue. Peep the bottom of this blog for this week's entry.
One thing I hope to make abundantly clear is that before I take my style of trades, many of which last less than ten minutes, I have put several hours of work in beforehand. I am like crocodile. Sitting in the mud thinking about making to kill but doing nothing, then all at once attacking with the rip force of ten women.
Enough of that. Here is my prediction for the rest of this year. I will start to amplify this prediction as the weeks and months go by because it came to me while I was gardening and it was the first good thought I've had in months and I expect it was sent from the old gods and I want to share it with you:
Big Tech and crypto currencies, all of them and their NFTs, can rally until Elon's Tesla starts printing Cybertrucks. The moment Cybertrucks start rolling out of those tents in the desert and being delivered, will likely market (not the end) but the beginning of a solid pause in non-tangible asset appreciation. The Cybertruck really is a perfect mechanic representation of who these people are. Technocrats KIND OF. Big Tech/crypto investors are like everything that was promised in 1990 as being futuristic, plus Saved By The Bell, with a dash of Reddit, made into a human. And that is what the CyberTruck is, a car in meme form. We are going to see these investors shift their resources away from the fucking fairy dust that is crypto and BIG TECH and it will start with buying a Cybertruck. And then that purchase is going to change their life. They're going to start seeing everything differently. More like how I already see things. And realize that money is better invested in real things — cement and energy generation and steel and irrigation. And as their/our wealth shifts to real things, crypto and Big Tech prices will stagnate.
So it is written. So it shall be.
Now whether or not this plays out I can assure you of two things — my predictions don't matter to you. They matter to me because everything is a game in my jalopy of a brain and having good explanations is how I can have faith in my long-term moves.  Faith in the trajectory of my brief mortal life. Second — even if my prediction plays out, to the tee, and I milk Big Tech and Crypto for the next nine months then sell a bit, live, under the premise of this prediction, I still won't be popular on Finance Twitter.
Selah.
Alright enough of that also. Cheers to a fruitful second quarter.
Raul Santos, April 5th 2021
And now the Strategy Session. Enjoy:
---
Stocklabs Strategy Session: 04/05/21 – 04/09/21
I. Executive Summary
Raul's bias score 3.53, medium bull. Rally into Wednesday afternoon. Then look for third reaction to the FOMC minutes to provide direction into the second half of the week.
II. RECAP OF THE ACTION
Choppy through Tuesday then a rally through to end of Thursday. Closed Friday.
The last week performance of each major index is shown below:
Rotational Report:
Rotation into key drivers, Tech and Discretionary. Everything else sort of mixed.
slightly bullish
For the week, the performance of each sector can be seen below: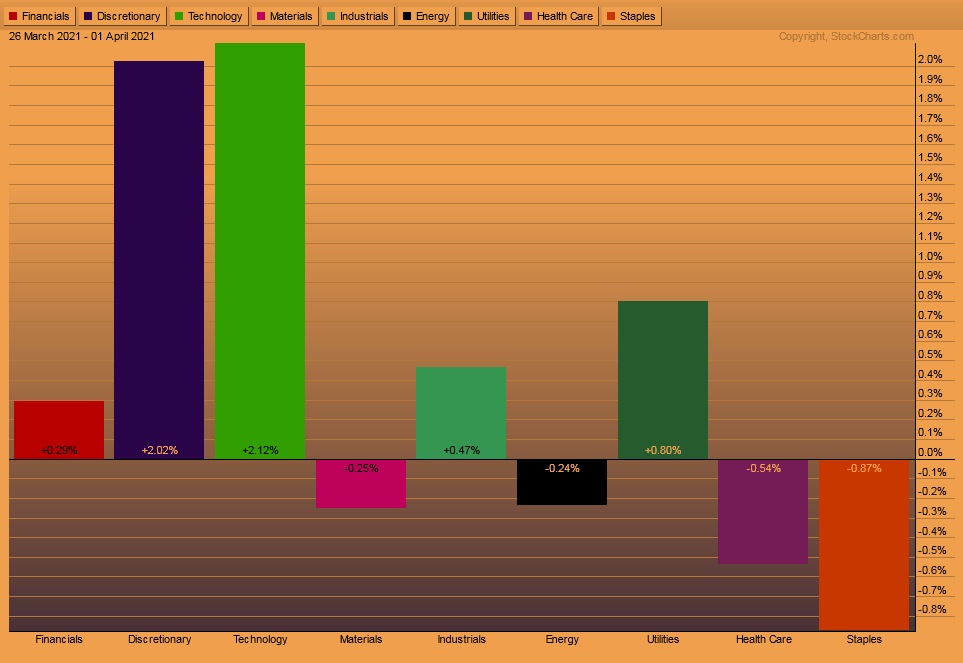 Concentrated Money Flows:
Four weeks back we had major buy flows. It wasn't really until last week that we saw follow through on them. But now we have. The last two big money flow pushes have been to the buy side.
Median return last week was nearly +2.5%  and volume delta over the last 30 days is negative.
What we need. And I will discuss this with The Fly, is a 1-week volume delta. That would help us make actionable use of the volume delta data Stocklabs has.
Money flows are bullish.
Here are this week's results:

III. STOCKLABS ACADEMY
Looking back at the confluence of bullish signals last week
On Thursday, March 18 Stocklabs flagged oversold on the 3-month technical and hybrid signals. You may notice I never include any 3-month signals in the Weekly Strategy Session, but lately I've been giving it more consideration. That signal cycle ended at the end of Thursday. Here is the final performance of each major index during the cycle: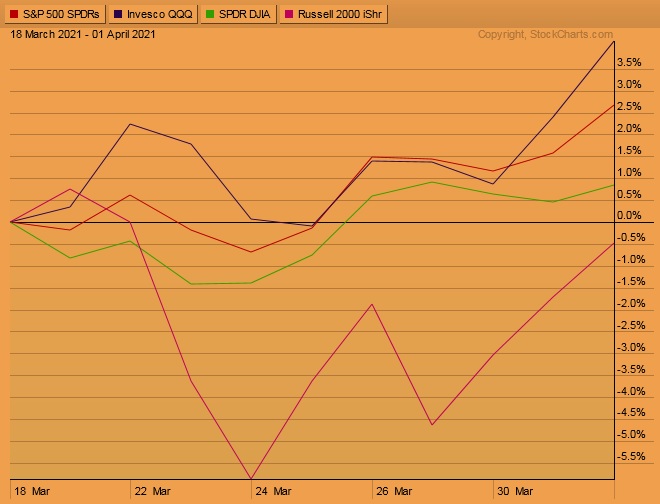 The 3-month technical oversold is worth tracking. It has a decent probability of success into the second half of the cycle.
We also had a 6-month Tech oversold cycle trigger March 24th. The tech signal has better stats on this timeframe than the hybrid. Here are the performance stats of each index so far for this cycle: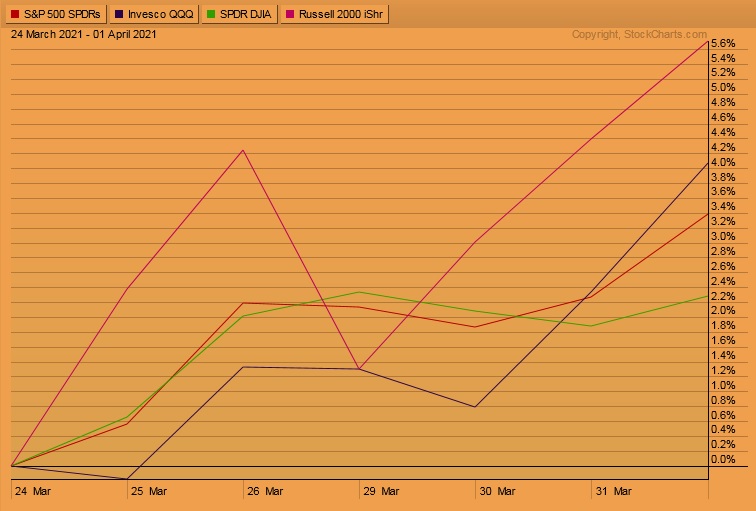 Finally, last week we had Indexmodel going extreme Rose Colored Sunglasses bullish bias. A third bullish signal.
When the proverbial deck stacks up like this, that is the time to press our convictions.
That said. We have only the tail end of the 6-month oversold signal and nothing else heading into next week. Maybe we are not pressing our trades as hard. Quicker scalps.
Note: The next two sections are auction theory.
What is The Market Trying To Do?
Week ended searching for sellers.
IV. THE WEEK AHEAD
What is The Market Likely To Do from Here?
Weekly forecast:
Rally into Wednesday afternoon. Then look for third reaction to the FOMC minutes to provide direction into the second half of the week.
Bias Book:
Here are the bias trades and price levels for this week:

Here are last week's bias trade results:

Bias Book Performance [11/17/2014-Present]: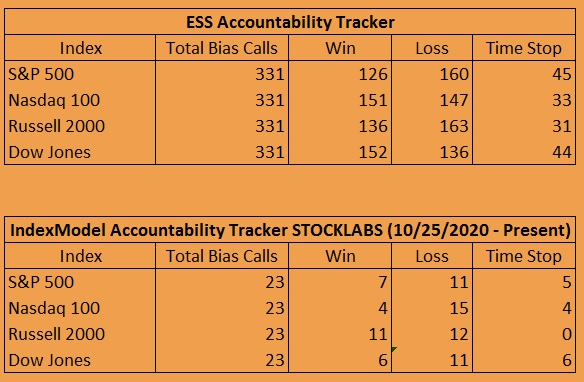 Semiconductors pop out of range, testing sellers
Markets fluctuate between two states—balance and discovery.  Discovery is an explosive directional move and can last for months.  In theory, the longer the compression leading up to a break, the more order flow energy to push the discovery phase.
We are monitoring two instruments, the Nasdaq Transportation Index and the PHLX Semiconductor Index.
Transports continue to steadily discovering new higher prices.
See below: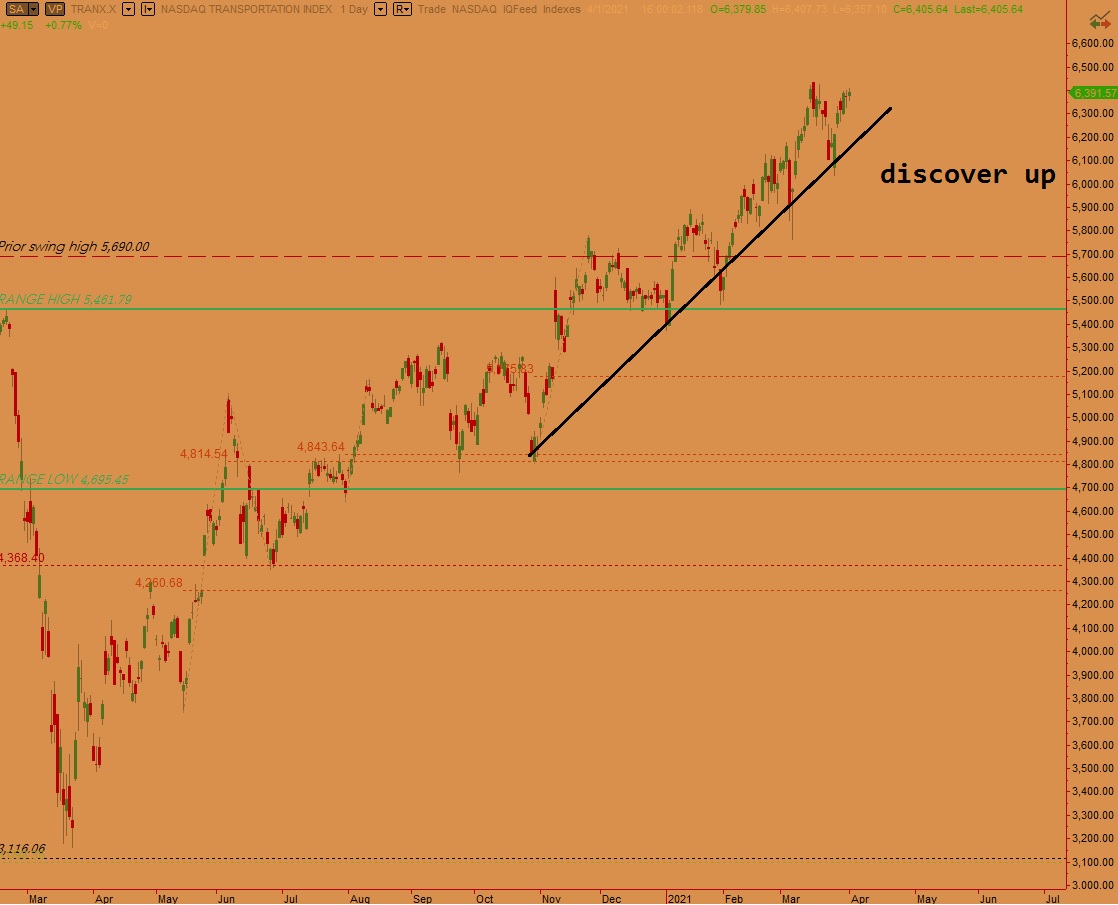 Semiconductors, if you recall, had that obvious-looking head-and-shoulders pattern in place for a few weeks. We mostly ignored it, but noted its existence, because often times those overly apparent chart patterns don't work out for the arm-chair analysts.
Instead we focus where we always focus—is it balance or discovery? The last trading session of last week makes it look like we're abandoning the range we established in a campaign to start a fresh leg of discovery up. However, I am not so sure. The range below is likely to exert some magnetic force, at least it has the potential, heading into next week.
My call is that we are still in a range-bound market on the semiconductors but I am not certain.
See below: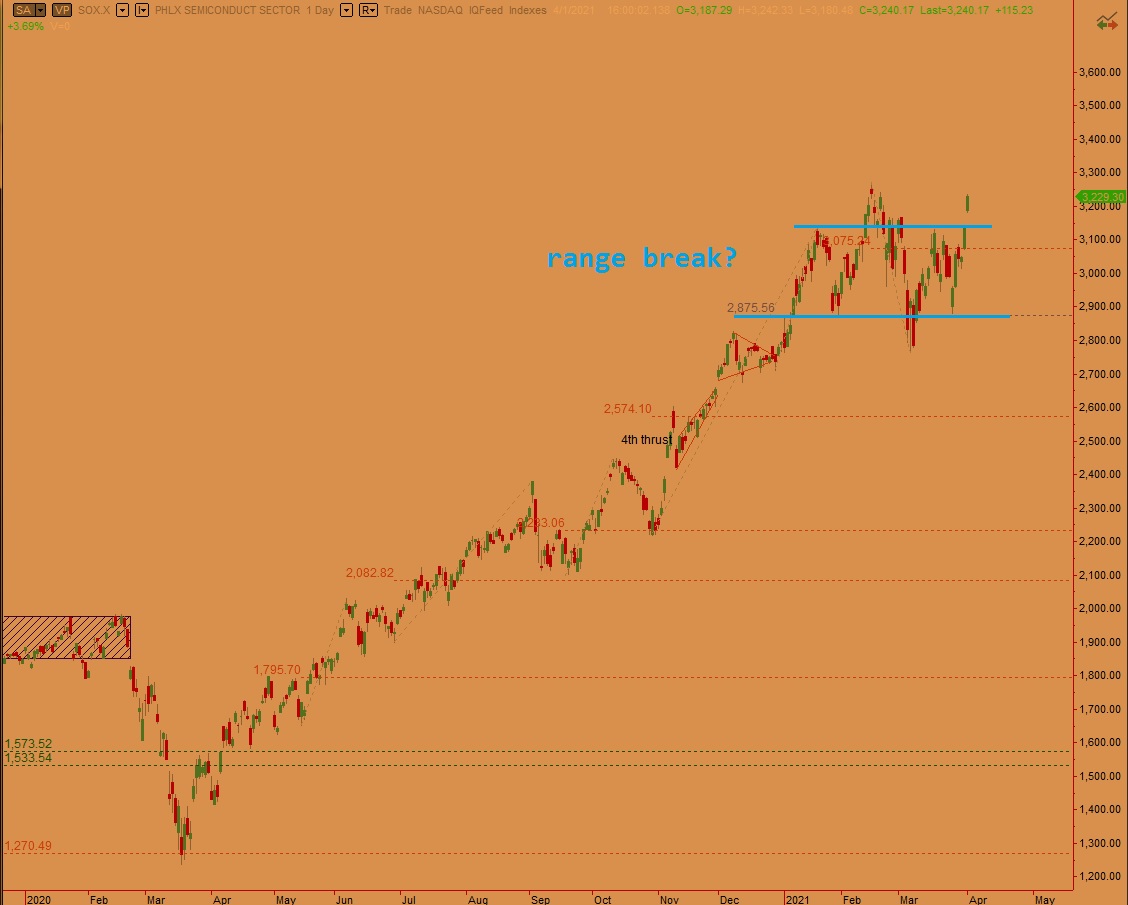 V. INDEX MODEL
Bias model is neutral after flagging extreme Rose Colored Sunglasses last week after being neutral hree weeks before that after signaling Bunker Buster five weeks ago after being neutral for the thirteen weeks prior to that.
No bias heading into next week.
Here is the current spread: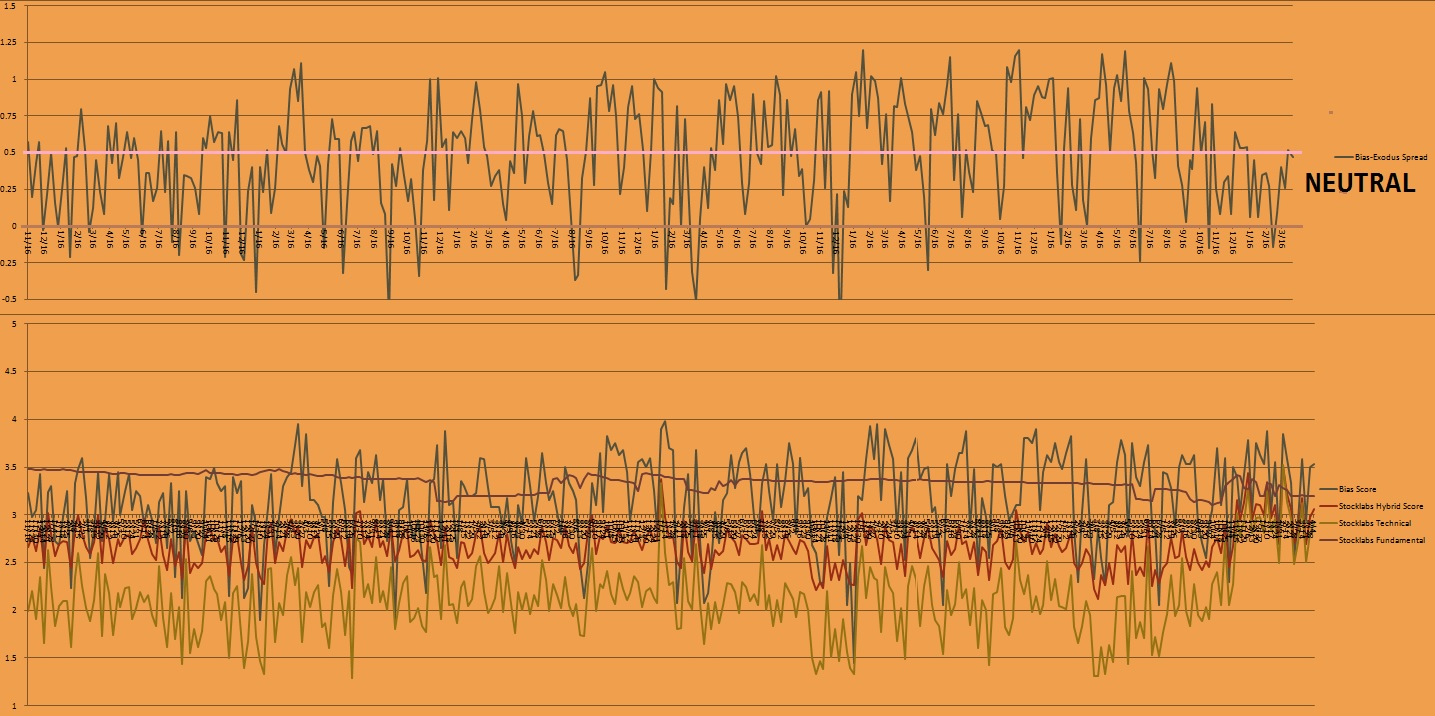 VI. QUOTE OF THE WEEK:
"Don't be a hero. Don't have an ego. Always question yourself and your ability. Don't ever feel that you are very good. The second you do, you are dead." Paul Tudor Jones
Trade simple, accept your weaknesses
If you enjoy the content at iBankCoin, please follow us on Twitter