I have to make this brief and then commute over to my exercise room for the zoom yoga meeting (FML). Boy do I miss going over to the hot house on the uppity side of town and packing shoulder to shoulder with all the nearly naked mamacitas in their state-of-the-art sports bras and panties.
Research is bullish going into the first full week of December. You know the drill. That means I will be actively working open gaps in range (as always). I shall press the bets if we're dealing with a gap down in prior day's range because of the bullish convictions of my research. We'll be gunning for range extension up and overnight highs like a bunch of amphetamine junkies climbing a mountain.
MORE
That's about all I have time to say. The murder mitten has taken on its grey hue, a bland blob of scenery where different days are only discernible by the long stretches of darkness between the brief periods of grey glow. This is the antithesis of a psychedelic experience. Where one features kaleidoscopic trips through the entire visual color spectrum, the other is simply fifty shades of gay grey.
In these conditions it is best to stick of coffee. Legal speed. Until about 11am. Then switch to malt liquor, nourishing the body with a couple of 40 ounce bottles of foamy soda. Then, if night comes and a fire and some good fiction don't put you under, then a big of tequila to turn out the lights.
Enough of that. Farewell lads.
Raul Santos, December 4th 2020
And now, the Stocklabs Strategy session. Enjoy.
---
Stocklabs Strategy Session: 12/07/20 – 12/11/20
I. Executive Summary
Raul's bias score 3.78, medium bull. Expect a bit of weakness Monday, with sellers claiming a minor victory early in the week. Then look for a responsive bid to step in as early as Tuesday morning and for price to steadily rally through to Friday.
II. RECAP OF THE ACTION
Similar story to the prior week—strong selling early Monday discovers a strong responsive bid. The rest of the week is spent rallying then holding along the highs.
The last week performance of each major index is shown below: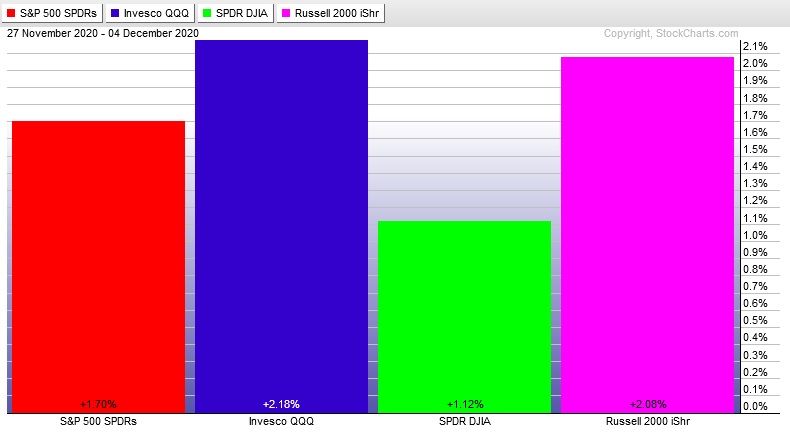 Rotational Report:
Energy continues trade independent the market, this week way out in front. However the key driver Tech put in a strong showing and was flanked by Healthcare and Financials. Utilities were weak. Everything else muted.
slightly bullish
For the week, the performance of each sector can be seen below: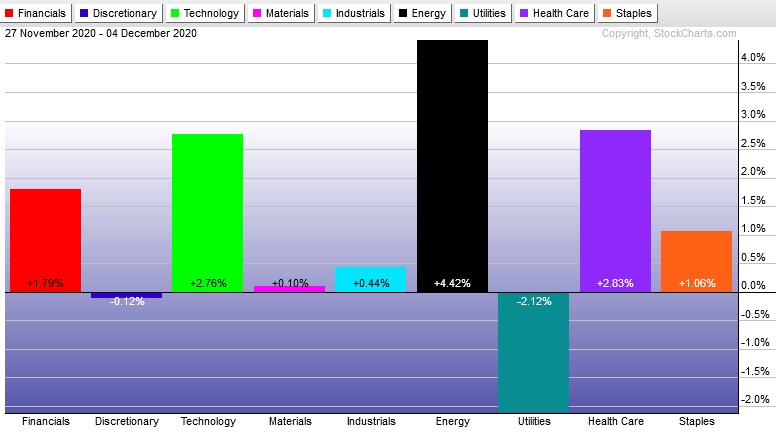 Concentrated Money Flows:
Industry flows skewed majorly bullish for a second week. Raises expectations for a continuation higher.
bullish
Here are this week's results: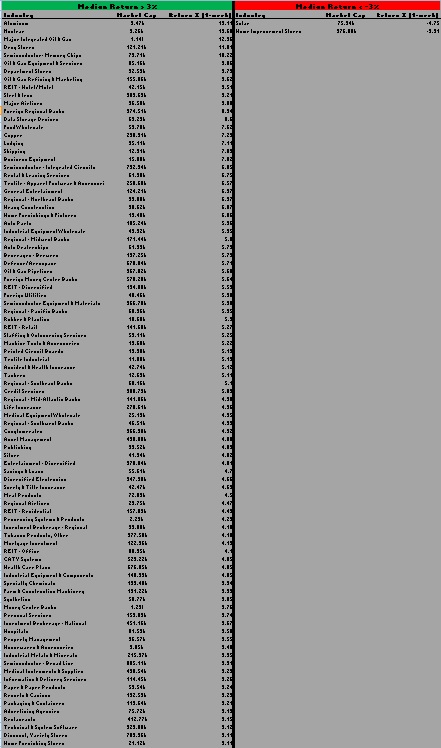 III. Stocklabs ACADEMY
Fresh signal
The Stocklabs overbought signal we were working ended last Monday. Then, into the close Friday a new overbought signal fired. That means we have ten more trading session's worth of bullish bias, clean through to the 18th.
Note: The next two sections are auction theory.
What is The Market Trying To Do?
Week ended searching for sellers.
IV. THE WEEK AHEAD
What is The Market Likely To Do from Here?
Weekly forecast:
Expect a bit of weakness Monday, with sellers claiming a minor victory early in the week. Then look for a responsive bid to step in as early as Tuesday morning and for price to steadily rally through to Friday.
Bias Book:
Here are the bias trades and price levels for this week:
Here are last week's bias trade results:

Bias Book Performance [11/17/2014-Present]: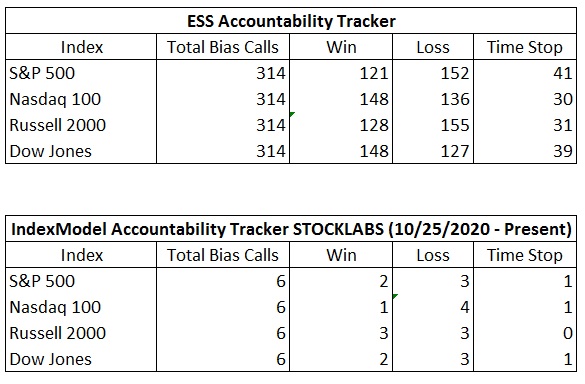 Semiconductors go parabolic, Transports not acting like a failed auction
Markets fluctuate between two states—balance and discovery.  Discovery is an explosive directional move and can last for months.  In theory, the longer the compression leading up to a break, the more order flow energy to push the discovery phase.
We are monitoring two instruments, the Nasdaq Transportation Index and the PHLX Semiconductor Index.
Transports had the look of a failed auction heading into last week after quickly reversing off the highs after making a new swing high. However, price managed to linger and even claw back some losses last week and now it is looking less and less like a failed auction. Sellers need to make a decisive move, and soon, otherwise the prevailing up trend is likely to carry prices into the open air above.
See below: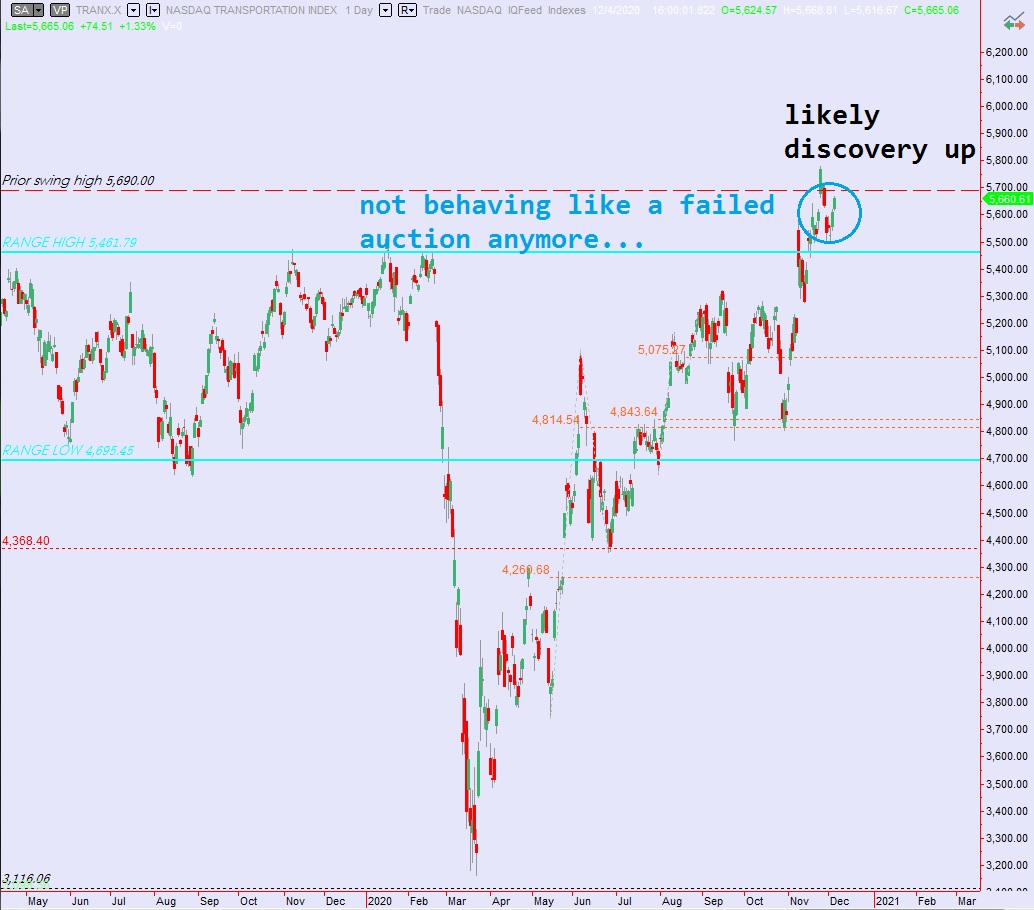 Semiconductors might be at the beginning of something big to the upside after blasting up and away from the wedge formation we've been monitoring for the last few weeks. Or, this could be the final throws of a rally—a euphoric blow off.
We don't know.
Either way, as of now the index remains in discovery up.
See below: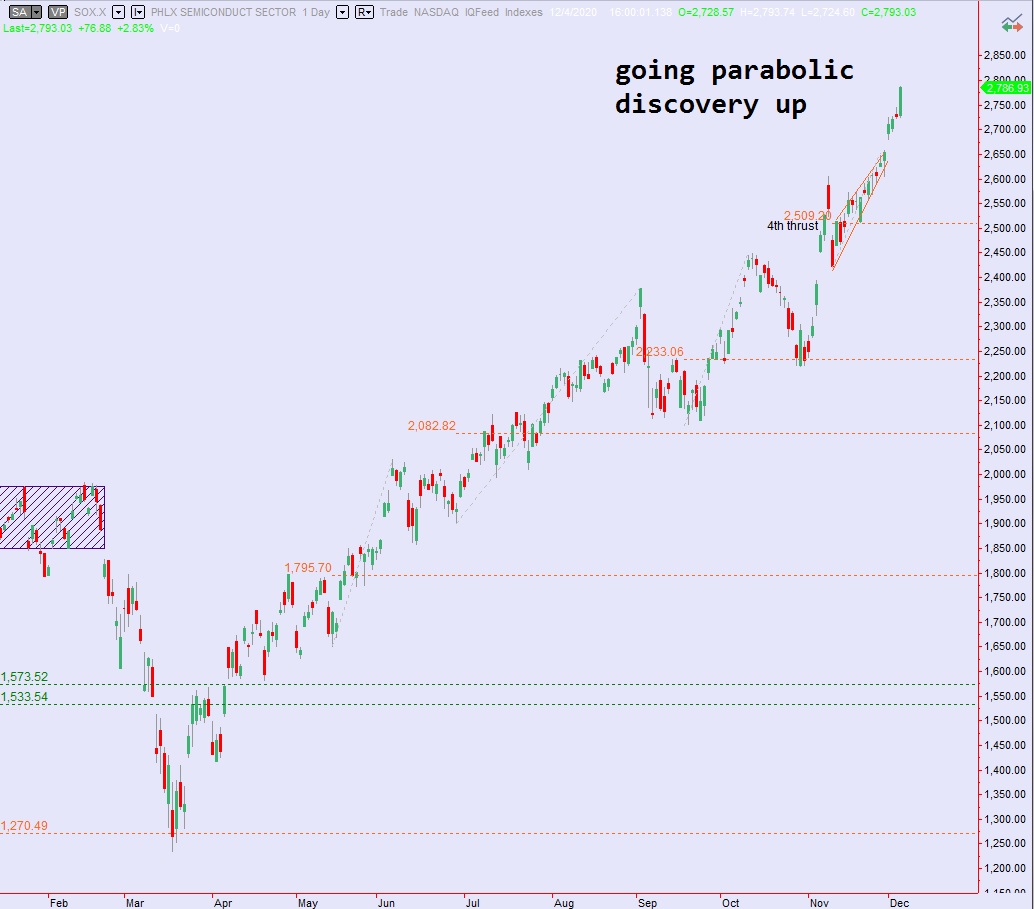 V. INDEX MODEL
Bias model is neutral for a fourth consecutive week. No bias.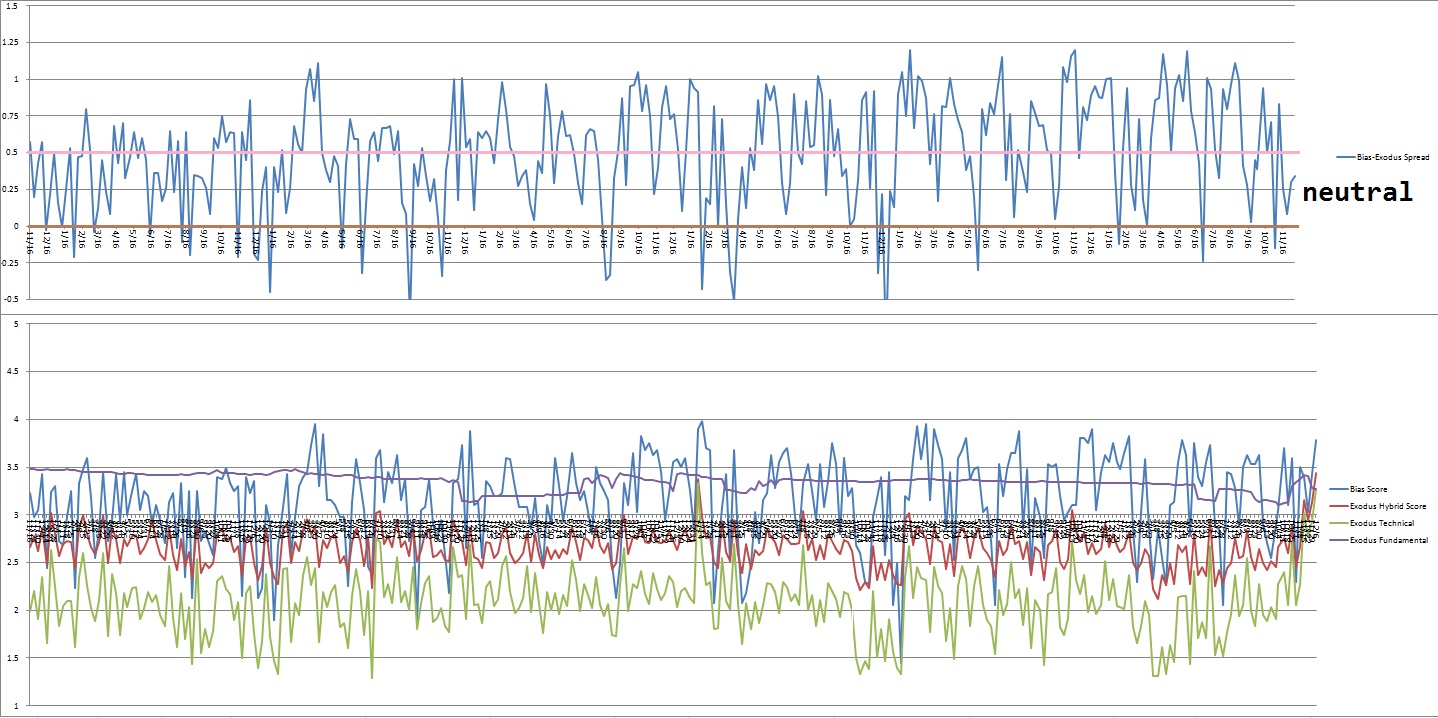 VI. Stocklabs HYBRID OVERBOUGHT
On Friday, December 4th Stocklabs signaled hybrid overbought. This is a bullish cycle that runs through Friday December 18th, end-of-day.
VII. QUOTE OF THE WEEK:
"Man, when you lose your laugh you lose your footing." – Ken Kesey
Trade simple, have fun
If you enjoy the content at iBankCoin, please follow us on Twitter