Closed out my SQQQ position last Monday, locking in the about -20% loss but felt victorious after seeing that big rally happen. Bids held up the market until mid-Wednesday. Chop and downside was the theme into the weekend. I've been running around in the woods, stirring up a bit of unrest amongst the nearby farmers as I seek a clear picture of the American Dream. All-in-all this idle time in the woods has me feeling a bit like Cougar (Top Gun, 1986) unable to reengage. Now my terminal is telling me it has radar lock and the beeping won't stop until I click the buttons to take the shot.
We're really in the meat of it all now aren't we? Fed Chairman J.Powell is due out Monday at 8am and that alone is enough to unsettle the speculator class. What in the name of fixed-up banking could be urgent enough to call attention second thing Monday morning? This wasp has something to say and the timing robots do too—all while autumn is taking a turn into darkness, the spiders are pressing into the warm shelter of Mothership and the big vote, that nilla wafer's worth of democracy, is in the oven.
There is a joker in the deck this week. Daddy-o Elon, mankind's last hope for a technocratic future, is set to report earnings Wednesday over at his main outfit Tesla. Enough obsession is given to the man and his prospects that his numbers might be enough to turn the whole damned equity complex.
Bearish until we hear what Dad has to say. Will initiate a fresh SQQQ some time Monday.
Raul Santos, October 18th, 2020
And now for this week's Strategy Session. Enjoy.
---
I. Executive Summary
Raul's bias score 3.10, neutral*. Choppy Monday, then look for sellers to take control of the tape, working price lower into the weekend.

* Rose Colored Sunglasses [RCS] BEARISH bias triggered, see Section V
II. RECAP OF THE ACTION
Big gap up and rally Monday. Consolidation Through Wednesday morning then selling pressure for the rest of the week.
The last week performance of each major index is shown below: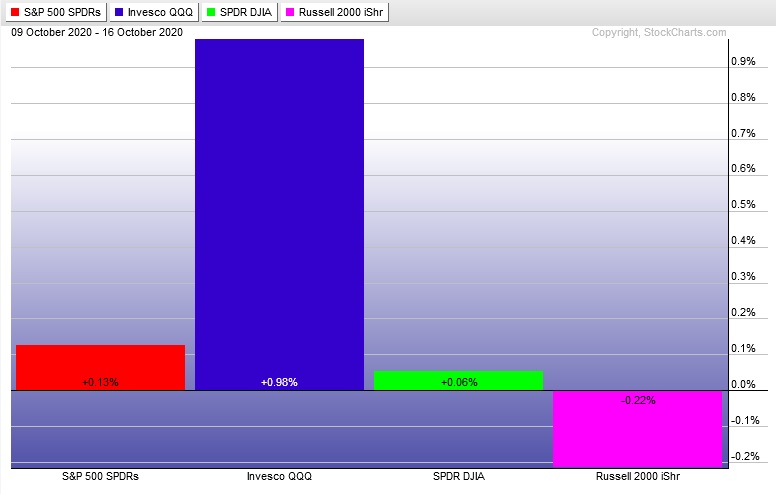 Rotational Report:
Mixed rotations. Staples and Utilities seeing inflows, suggesting an increase in risk aversion.
bearish
For the week, the performance of each sector can be seen below: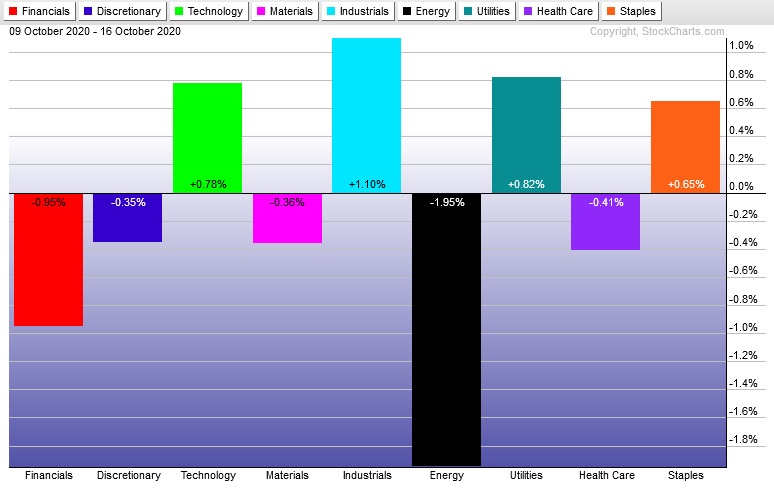 Concentrated Money Flows:
Exodus [PPT 2.0] streamlines how we can research the individual behavior of each industry and how it pertains to overall market sentiment.
Using the Industries screen, we can filter for the Median Return [1 week] of each industry.  I have established an arbitrary -/+ 3% cutoff for qualifying industries of interest.
Money flows muted, but skewed slightly bearish.
Here are this week's results:

III. Exodus ACADEMY
Mixed Signals until Tuesday
IndexModel is flagging RCS bearish for the first time since June 14th. The current Exodus bullish overbought cycle runs through end-of-day Monday. With these signals crossed my convictions remain low. However I more heavily weight the reading from IndexModel therefore I am coming into the week slightly bearish and my bearishness will increase into Tuesday.
Note: The next two sections are auction theory.
What is The Market Trying To Do?
Week ended searching for buyers.
IV. THE WEEK AHEAD
What is The Market Likely To Do from Here?
Bias Book:
The following biases were formed using basic price action and volume profile analysis. By objectively observing these actual attributes of the market we gain a sense of the overall market context. To quantify the effectiveness of this approach, each of the 4 equity indexes (/ES, /NQ, /YM, and /TF) has been assigned a fixed long/short target using a standard 14-period ATR. Each week there will be an outcome of win, loss, or timed stop on all four indexes. The first bracket level hit is deemed the winner in the event that both sides are tagged. This will be tracked and included in the Exodus Strategy Session.
Here are the bias trades and price levels for this week:
[Note: All levels are as quoted on the front month future contract (currently December 2020) by the IQFeed Data Servers. Prices may differ slightly from your data provider. If you do not have a platform which provides real-time futures quotes, please click here for a free (but limited) alternative.]

Here are last week's bias trade results:

Bias Book Performance [11/17/2014-Present]:

Semiconductors continue leg up, Transports continue balance
Markets fluctuate between two states—balance and discovery.  Discovery is an explosive directional move and can last for months.  In theory, the longer the compression leading up to a break, the more order flow energy to push the discovery phase.
We are monitoring two instruments, the Nasdaq Transportation Index and the PHLX Semiconductor Index.
Transports remain balanced.
See below: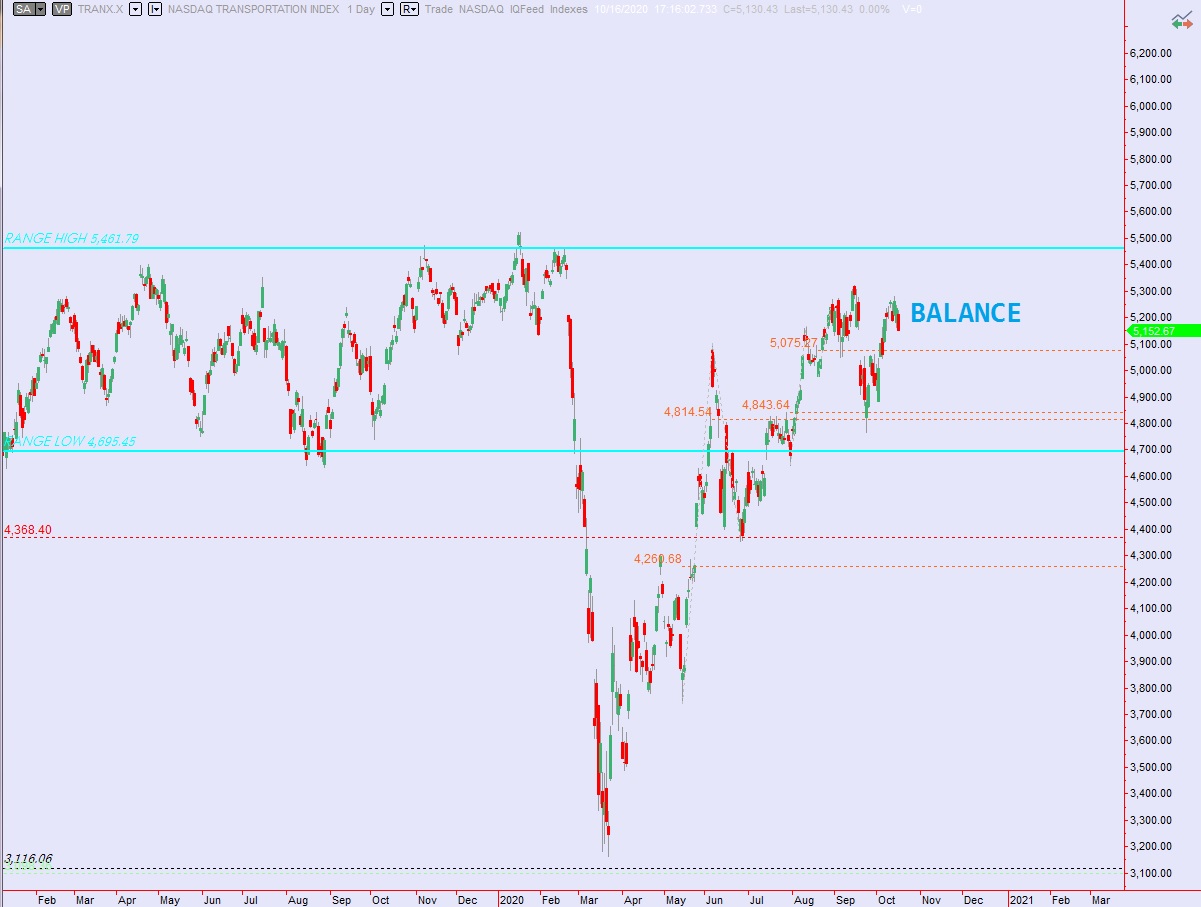 Semiconductors are holding onto and continuing their discovery up.
See below: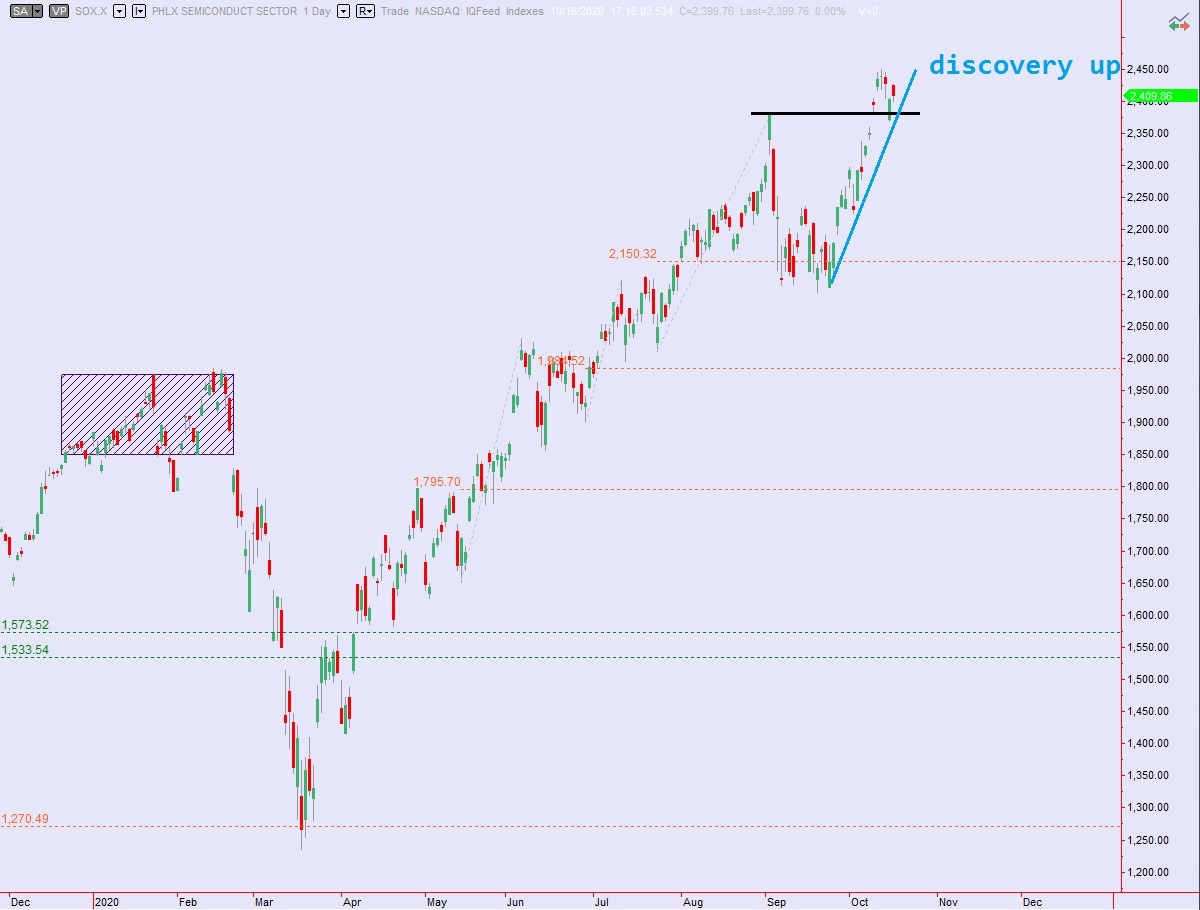 V. INDEX MODEL
Bias model is signaling rose colored sunglasses. This bearish bias suggests subtle decay under the surface of otherwise strong indices. Calls for price to move lower over the next five trading days.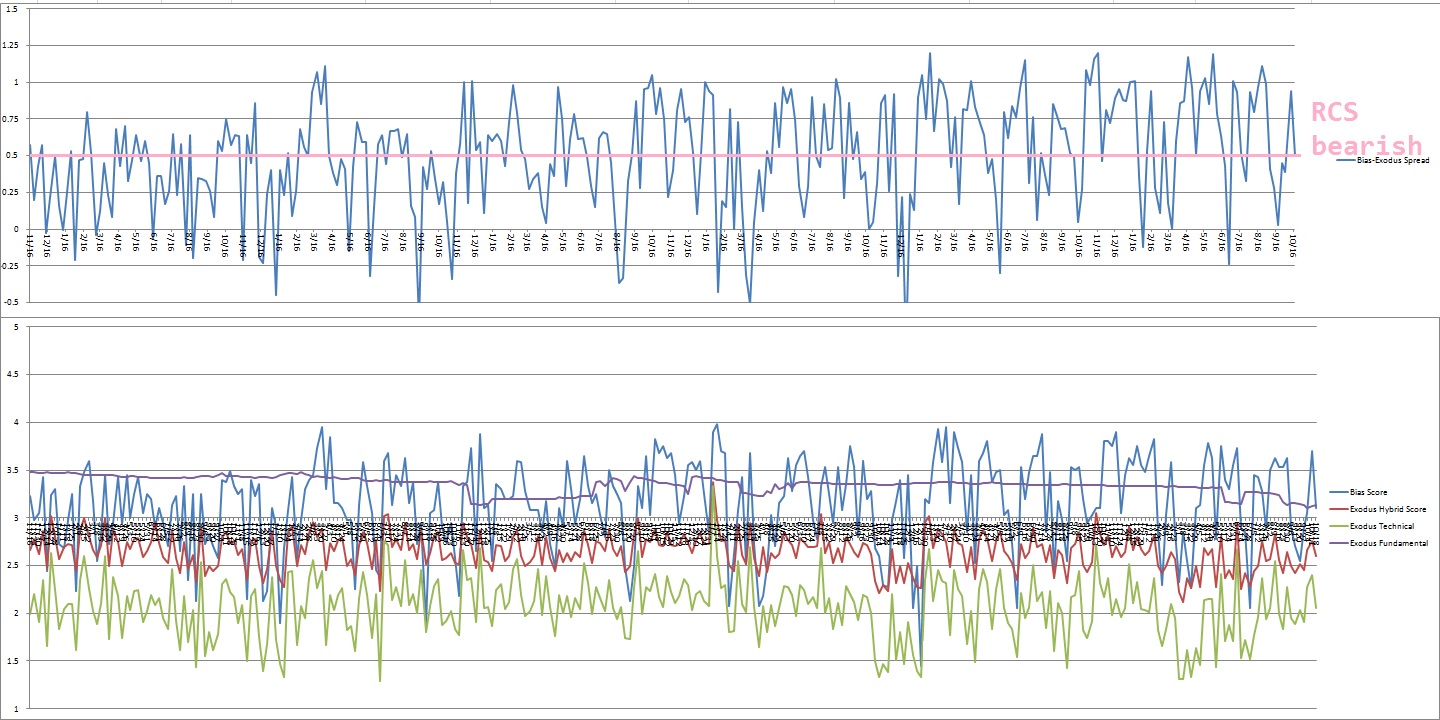 VI. Exodus hybrid overbought
On Monday, October 5th Exodus flagged hybrid overbought. This is a bullish cycle that runs through Monday, October 19th end-of-day.
The performance of each major index thus far is shown below: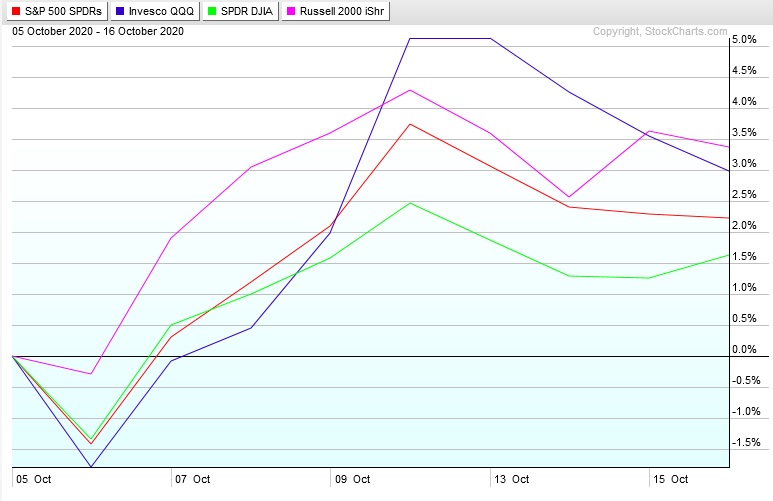 VI. QUOTE OF THE WEEK:
"It is impossible for a man to learn what he thinks he already knows." – Epictetus
Trade simple, always be learning
If you enjoy the content at iBankCoin, please follow us on Twitter