I have been plagued by overconfidence my entire life. There was nothing wrong with the bearish call I made several weeks back. It had an okay foundation. Not great, but a helluva lot better than some of the structures I've seen built by other speculators. But dammit, errors beget more errors and my first error was tuning out a few weeks ago and resting on the laurels of my convictions without monitoring the systems that brought me to a place of consistency.
Instead I headed out east and spent three days on the hunt for red October. I became more fascinated with the color red than is perhaps normal, wandering up the gentle hills of Vermont seeking visual treasure and perhaps a bit of spiritual enlightenment.
Which is fine as long as I pull up Exodus and check out what the thousands of sensors Le Fly has positioned throughout the global financial complex are seeing. The Fly built a fucking machine that doesn't blink. It doesn't waste time, reading the opinions of traders or thumbing through instagram videos. It stays on task and I didn't even have the decency to show up and listen to the thing. This is not fine.
On Monday night, September 28th, Exodus tipped its hand, not-so-subtly inferring that bulls were back in the driver's seat. Part of me was paying attention but apparently not enough to correct my position:
this week is setting up to be a real barn burner of a rally

and I'm out of position… they're likely gonna keep the squeeze on tomorrow and at that point they might as well squeeze right into Q4

I need to see another daily candle before I do anything

— RAUL (@IndexModel) September 28, 2020
Okay enough of this loathing. A man's life is too brief to spend any more time hosting a pity party. I am out of position and the last ten trading sessions have affirmed that beyond reasonable doubt. Come Monday I will cut the wretched SQQQ position I took on several weeks back. As of now it sits down a cool -19.48% and I suspect it could be worse by Monday morning.
I will work Monday and perhaps Tuesday but then I am going into the woods to help Elder Raul do some lumber jacking.
There is so much I'd like to say about Michigan being at the epicenter of another national news story, about these bugaloo bunyon and the other butt fuck boys, but I will simply state that it does not surprise me they were operating up here in the murder mitten. I traverse these lands far and wide, moving rocks and wood in a wheel-like manner from the main sprocket Detroit. I encounter these "militia" psychos constantly. They are a dumb and depraved, angry lot, tailgating and flying big flags with snakes and swear words and the like. They want to be left along, yet they fly giant flags…figure that one out. Pair that with an intelligent and strong female governor, leading a state split right down the middle politically, and you have the michelin recipe for extremism.
Your humble boy Raul is an extremist of sorts, bent on never working for anyone, and for that matter, working as little as possible. I'd rather read books and sit by the warm glow of a fire. Or swim laps. Or cavort around the city spreading cheer. This state breeds extremists, man.
So that's it. I had a sound reason to be bearish. I neglected all the signals at my disposal telling me my reasoning was wrong. Then I committed the fatal error of staying wrong. If it were not for my risk management, this could have been a major disaster. I am sorry. It feels shitty being out of position and I'll do my absolute best to ensure it doesn't happen again.
Raul Santos, October 11th, 2020
And now, here is this week's Strategy Session. Enjoy:
---
I. Executive Summary
Raul's bias score 3.7, medium bull*. Expect a calm drift through the beginning of the week. Then watch the big bank earnings out Wednesday morning to put some upward motion to index prices.
*extreme Rose Colored Sunglasses (e[RCS]) bullish bias triggered, see Section V
II. RECAP OF THE ACTION
Calm and upward through mid-Tuesday, then a sharp sell into Tuesday close. The rest of the week was a strong rally.
The last week performance of each major index is shown below: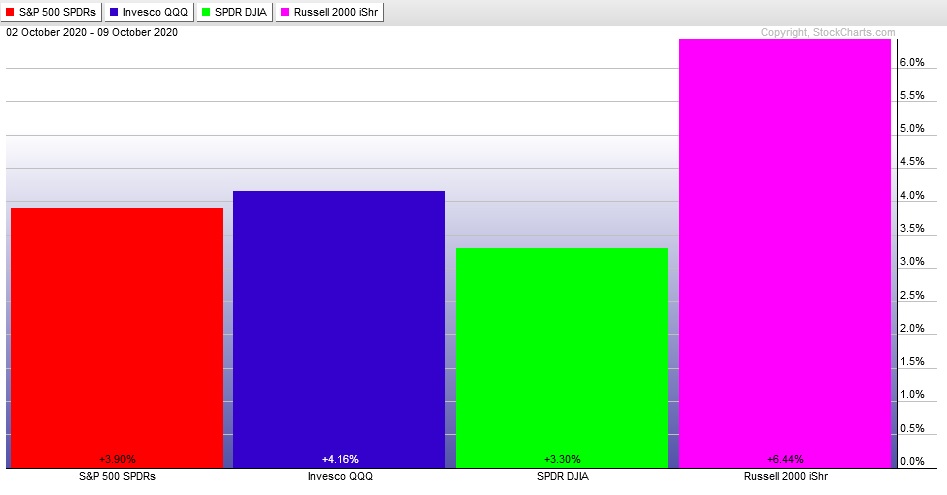 Rotational Report:
Strong, sector-wide rotation upward.
bullish
For the week, the performance of each sector can be seen below: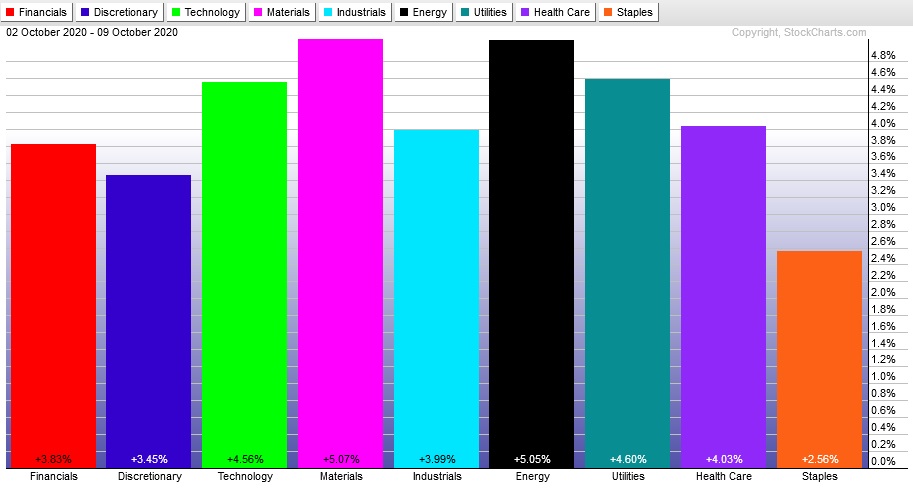 Concentrated Money Flows:
Exodus [PPT 2.0] streamlines how we can research the individual behavior of each industry and how it pertains to overall market sentiment.
Using the Industries screen, we can filter for the Median Return [1 week] of each industry.  I have established an arbitrary -/+ 3% cutoff for qualifying industries of interest.
Money flows skewed bullish with a broad spectrum of industry groups faring well.
bullish
Here are this week's results: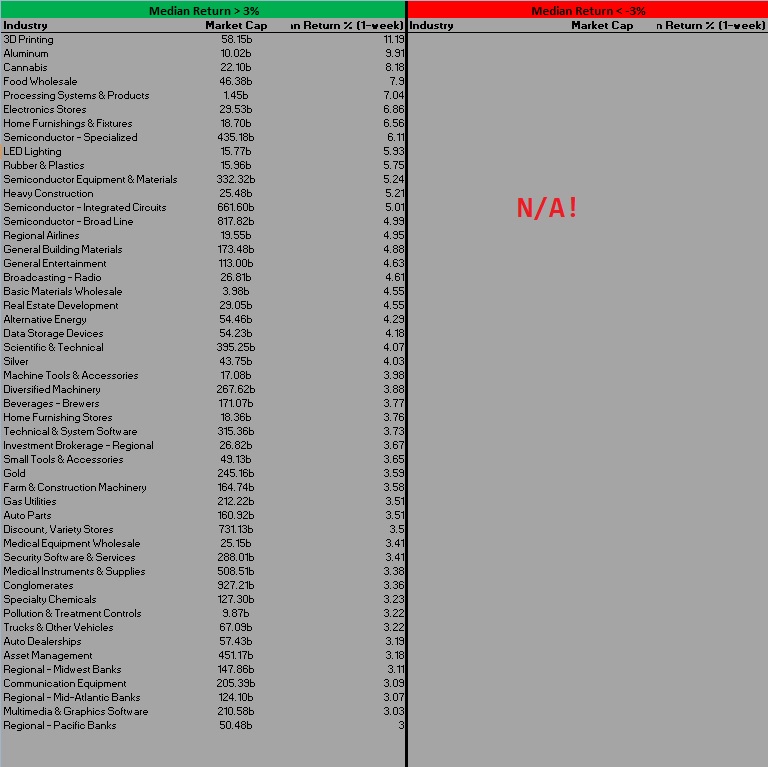 III. Exodus ACADEMY
Exodus tipped its hand on September 28th
Really upset to have missed the big Hybrid Change % move that happened back on September 28th. That was the subtle statistic that should have made any bearish convictions vanish.
Note: The next two sections are auction theory.
What is The Market Trying To Do?
Week ended searching for sellers.
IV. THE WEEK AHEAD
What is The Market Likely To Do from Here?
Bias Book:
The following biases were formed using basic price action and volume profile analysis. By objectively observing these actual attributes of the market we gain a sense of the overall market context. To quantify the effectiveness of this approach, each of the 4 equity indexes (/ES, /NQ, /YM, and /TF) has been assigned a fixed long/short target using a standard 14-period ATR. Each week there will be an outcome of win, loss, or timed stop on all four indexes. The first bracket level hit is deemed the winner in the event that both sides are tagged. This will be tracked and included in the Exodus Strategy Session.
Here are the bias trades and price levels for this week:
[Note: All levels are as quoted on the front month future contract (currently December 2020) by the IQFeed Data Servers. Prices may differ slightly from your data provider. If you do not have a platform which provides real-time futures quotes, please click here for a free (but limited) alternative.]

Here are last week's bias trade results:

Bias Book Performance [11/17/2014-Present]:

Semiconductors new leg up, Transports stay balanced
Markets fluctuate between two states—balance and discovery.  Discovery is an explosive directional move and can last for months.  In theory, the longer the compression leading up to a break, the more order flow energy to push the discovery phase.
We are monitoring two instruments, the Nasdaq Transportation Index and the PHLX Semiconductor Index.
Transports are above their pivot point, nestled in their multi-year range.
See below: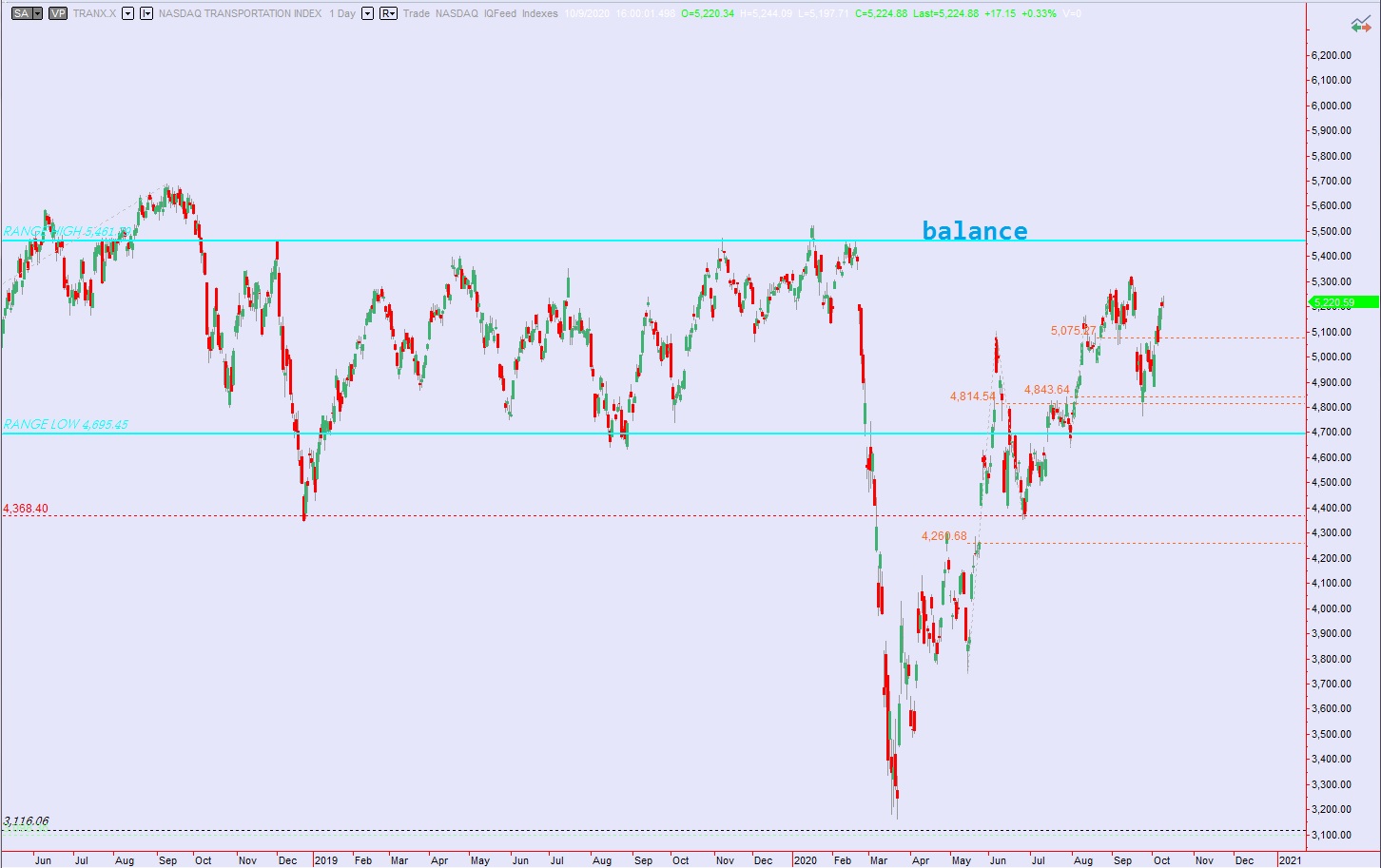 Semiconductors negated that island top candle we've been watching for the last few weeks and began a fresh leg of discovery up.
See below: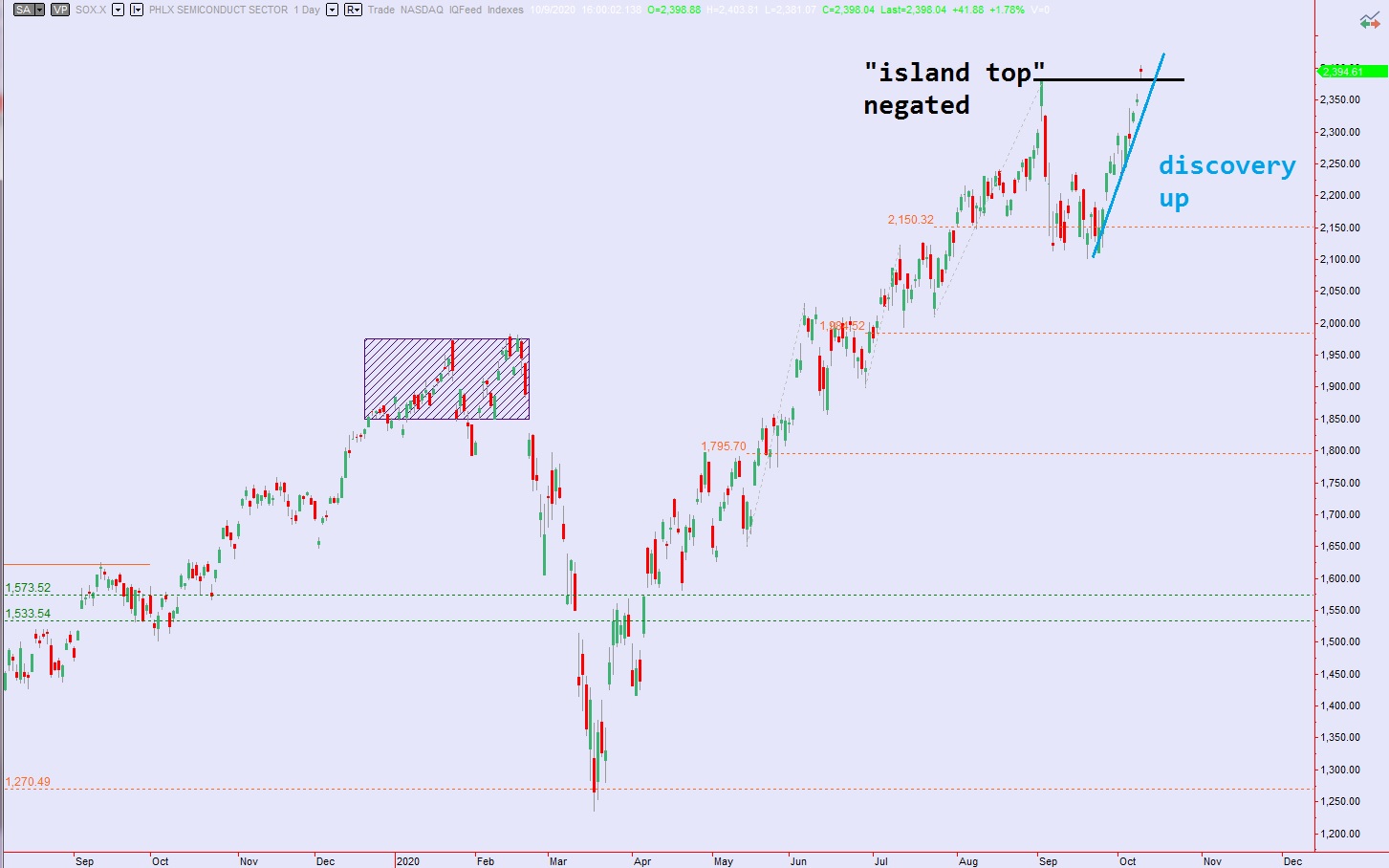 V. INDEX MODEL
Bias model is signaling extreme rose colored sunglasses. This bias calls for a calm drift, perhaps with a slight upward bias.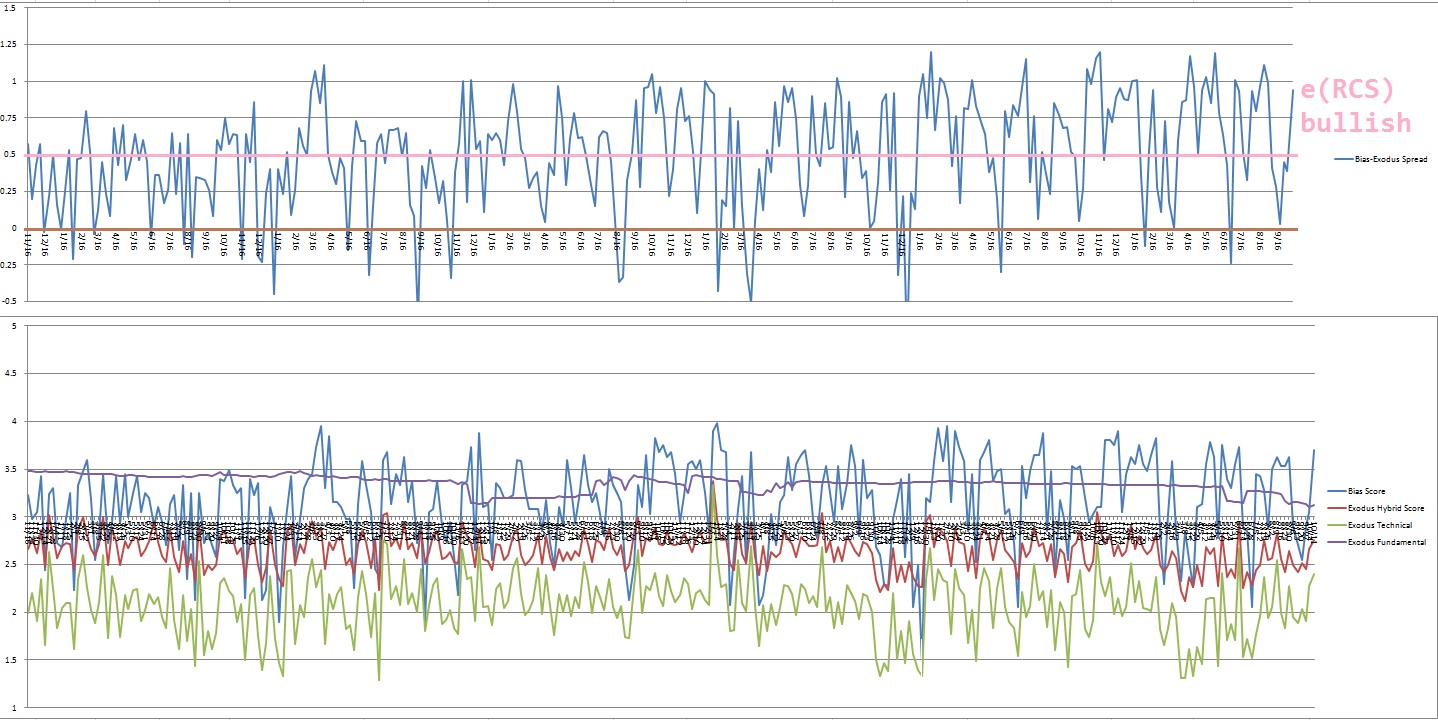 VI. Exodus hybrid overbought
On Monday, October 5th Exodus flagged hybrid overbought. This is a bullish cycle that runs through Monday, October 19th end-of-day.
The performance of each major index thus far is shown below: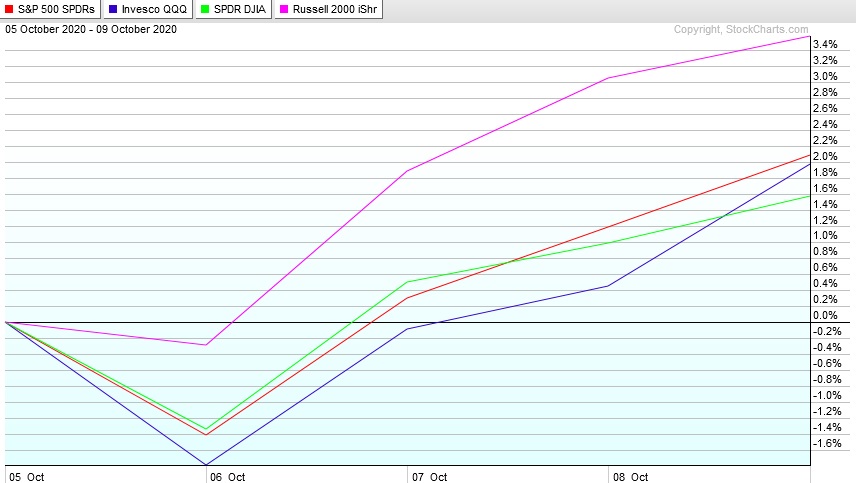 VI. QUOTE OF THE WEEK:
"When you're among peaceful, generous, happy people, you're inclined to feel happy and peaceful yourself." – Thubten Yeshe
Trade simple, surround yourself with kind and virtuous peers
If you enjoy the content at iBankCoin, please follow us on Twitter