Howdy internet friends, and happy Labor Day.
I'd like to take a moment to update you on the latest findings from my weekend research. I will keep this post brief given my need to labor elsewhere. Working on Labor Day is what America is all about and I have work to do. But first, let us look back on last Sunday's headline. Isn't it a bit unsettling how this here humble Raul blog (hRb) regularly presents a forecast that materializes? Here is the headline I put out last week Sunday: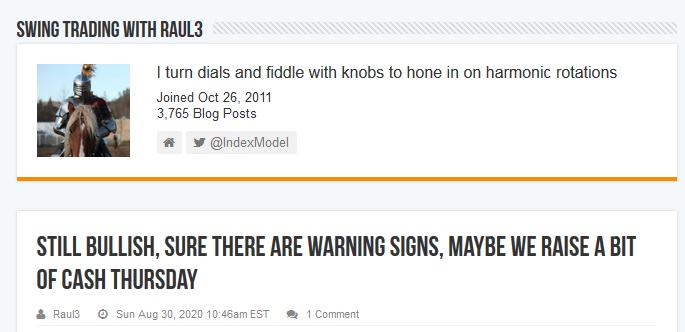 I suppose I panicked first, as they say, because when that wave of selling came through Thursday morning I raised some cash.
Raising cash never feels good to me. I need risk exposure and do not trust the american fiat dollar. Or those wretched bitcoins for that matter. Therefore I have to find a darn good use for cash anytime I have it. I'd rather maintain a lean checking account that has funds available for the next three months then have an unsettling six figure cash balance sitting around.
Cash unnerves me. It makes my impulses flair up. I suddenly find myself waiting in line at Gucci with a bunch of dolts keyed up on social media, wanting some dumb new belt or flip flop. Then, when they don't have the thousand dollar loafers I up and decided I wanted when I woke up, there I am calling all the stores in more established regions like Manhattan and Bal Harbour, trying to hunt down loafers. Then a whole day I could have been working is gone, and I am trying to venmo some likely scammer for a pair of furry loafers.
It's enough to make my feet spin right off the earth and into coo coo for cocopuffs land. Then what follows? Other impulses—to find some fast women and take them up on top of an old building to drink a few liters of tequila then jump down the fire escape to see if the welds hold up.
All of this takes my eye way off the prize. Staying invested, and hungry and broke keeps me focused. It never feels good raising cash.
Nevertheless, I am 35 heckin' years old now and I am so tired of hitting my head. So I need to find ways to carry all this useless cash without going insane.
Because I need to carry some cash into these next three months. Winter is coming and before it we have to walk through the ruthless climax of an election cycle. The extreme right is doing all they can to initiate helter skelter and the extreme left has gentrified the Black Lives Matter movement and I can't escape to Canada like I usually do about now. I'd much rather chase the fall colors. Seeing one brilliant red alert sunrise from a good vantage point can cure a decade of suburban mind rot.
I suppose I will have to keep myself busy with the giant hole in the backyard. I will probably add another two feet to its depth to refrain from other extracurricular activities.
This upcoming week will be a challenge. The models have gone neutral which gives me nothing to lean on in terms of bias. I have no edge heading into this holiday shortened week. A week that signals the end of summer in many a brain. It signals the time is now to gather up your nuts before the hard winter settles in. Without a clear bias, I have only one way of objectively engaging the market and extracting nuts—the open gap inside the prior day's range. That's about the only trade I will be working this week.
As always, we'll be taking it one day at a time. Be sure to drop by around 9am New York for my daily trading plan. I may take a few days off. If I do, I shall let you know over on my twitter handle @IndexModel.
Cheers lads, and happy labor day.
Raul Santos, September 7th, 2020
Exodus members, the only real edge we have heading into next week is the set up on the NASDAQ transportation index. Be sure to read Section IV of the report, which is live now behind the paywall, and understand what price levels to be aware of.
If you enjoy the content at iBankCoin, please follow us on Twitter