My job is to be the silent observer of all things stock market. To opine as little as possible. Yet also to serve as the old guard. To steer would-be traders an investors away from the obvious trouble makers—the bad actors that flock to Wall Street. The money hungry psychopaths who put on a suit before 11am and tell lies. The false prophets. Warning the good readers of the humble Raul blog to steer clear of danger whilst also providing and objective 5-day stock market forecast is my Sunday job. Today we are calling out two signs of froth then looking at one key piece of context that is going to tell the whole story next week.
Froth alert number one. Trevor Milton is a false prophet. He is also not cool. Like I really do my best to see the positive side of this guy. I can't find it. I can tell you this with absolute certainty: I would never work for him.
I mean, I don't particularly like working for anyone. But this guy? With his tough guy tone and frumpy manner of dress? I'd rather close my hand in a car door then spend five minutes helping him realize his goals.
Trevor Milton has been an unsettling sign of stock market froth over the last month. I have been issuing warnings on my Twitter profile.
beware the false prophet

only Our Dear Leader can deliver us to the promised land https://t.co/p5lqJ4uTTP pic.twitter.com/Qs4QcqDSDO

— RAUL (@IndexModel) June 29, 2020
It is so heckin' hard to not be cynical when jokers like Trevor sneak a Friday afternoon secondary offering onto unsuspecting folks who were attempting to "get in on the ground floor of the next Tesla". In July of all months. When these poor suckers who bought shares of NKLA were probably doing their best to sign off for the week and go enjoy some time with their family.
Nothing matters. Our society is full of Trevor Miltons. Money hungry psychopaths so callous and devoid of empathy that they can royally screw people over and sleep just fine. Our job is to avoid falling victim to their chicanery and to do our best to empathize with these villains, and be kind to them whilst calling out their bullshit.
Our One True Leader, dear and kind and benevolent Elon is set to report earnings Wednesday after-the-bell. Microsoft is reporting at the same time. The reaction to these true titans of Hope will tell the real story. I own shares of both and am bullish on their prospects and where they are taking us as a society.
Moving on to Dan Gilbert. Dan Gilbert, for those of you who don't remember The Great Recession, is the guy who sold off Rock Financial right before the whole housing crisis hit. Honestly, it was one of the most brilliant business decisions in modern finance. He later went on to buy his mortgage company back for pennies on the dollar and rebuild it back into a massive empire. All while accumulating most of the buildings in downtown Detroit and becoming the defacto king of Detroit. If you were doing business in the core downtown of Detroit, you were paying homage (or more) to King Dan. He has his own private security force. He's rigged up every street corner with cameras and sees everything. He may even see me now as I pen this blog.
It looks like Dan Gilbert is attempting to sell his organization again.
Danny Gill attempting to go 2-for-2 selling the bag before the whole s*** house goes up in flames. This time he wants to sell it to you. https://t.co/cZbCbtiQTD

— RAUL (@IndexModel) July 16, 2020
Can you say frothy? Maybe this time is different. I'd imagine the pension funds of Detroit will be buying a good chunk of the Rocket Companies IPO. Maybe this will be a way to distribute the power of one (Dan) to many (the investing public). In any event, it has me feeling uncertain.
Moving on to more objective observations. The NASDAQ Transportation index is telling a story heading into next week. This key contextual index has reclaimed its old multi-year range and price is how pushing up against Fibonacci resistance that is measured from the peak-to-trough of the most recent sell rotation. If buyers can reclaim these immediate resistance levels, there is room for lots of upside. This could lift the whole market higher: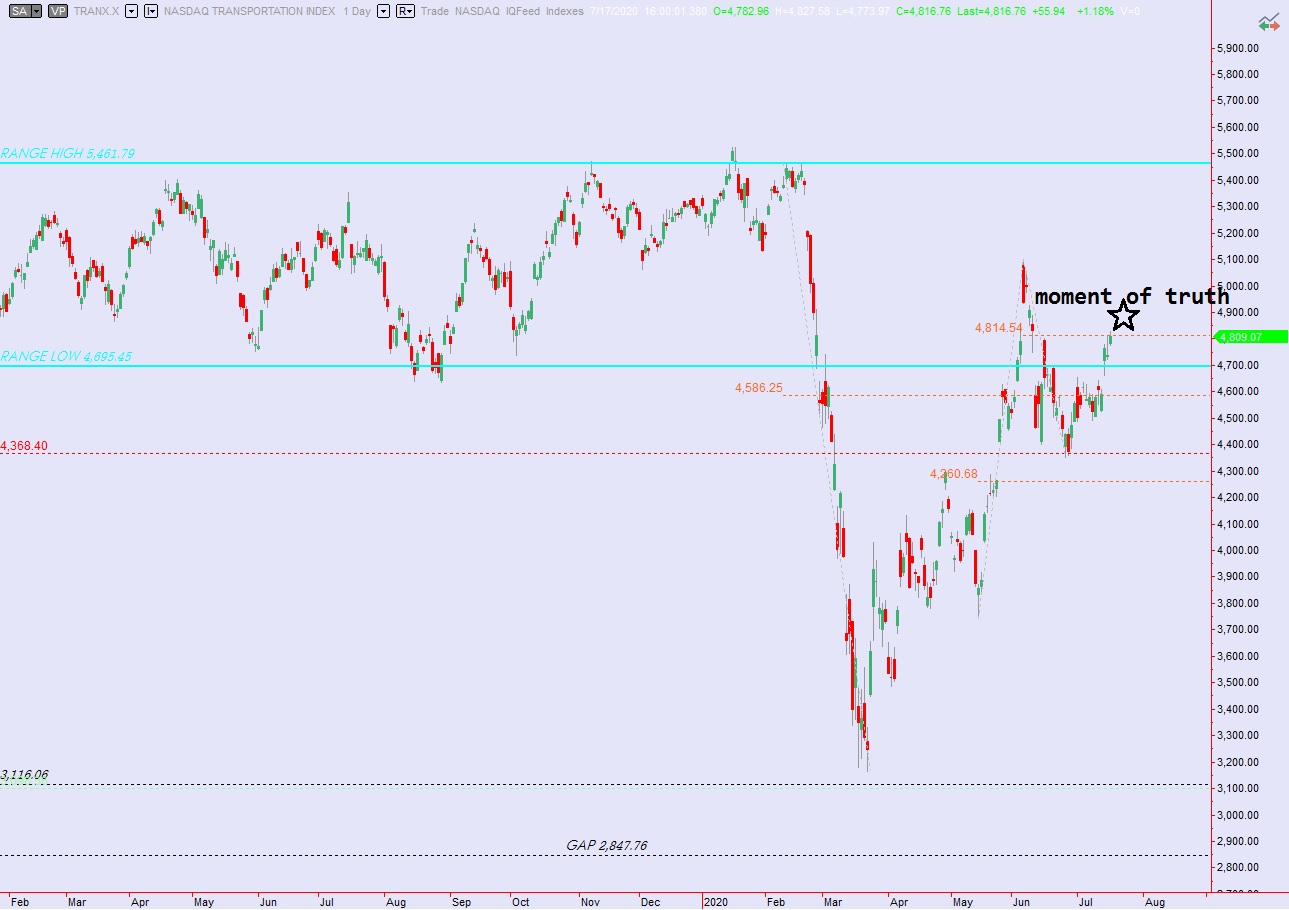 I am dedicating an entire computer monitor to watching this index next week. The other thing we may see is sellers rejecting any more upward progress. This would set-up a retest of the lows. This too could lead the whole market. You see what I am getting at?
Ignore the froth alerts. Avoid the bad actors. Respect the king. Love your discipline. Stay quiet. Watch that which can create an objective decision. Then trade accordingly.
Cheers and trade'em well.
Raul Santos, July 19th, 2020
Exodus members, the 295th edition of Strategy Session is live. Go check it out!
If you enjoy the content at iBankCoin, please follow us on Twitter