This entry shall be brief as it is already 65 degrees in the murder mitten and the forecast calls for sunshine and 70s. What I am about to tell you is based on the the following beliefs, which I hold to be true:
The stock market is an indiscriminate mechanism that regularly eviscerates the majority of short term speculators.
Beginners luck is real but doesn't last long.
Traditional technical analysis is often made to be a fool.
Markets will naturally price in the COVID-19 economic shock.
First off, here is the rising wedge everyone is looking at. We can debate exactly where the lines need to be drawn (well y'all can, I dgaf) but the essence is here: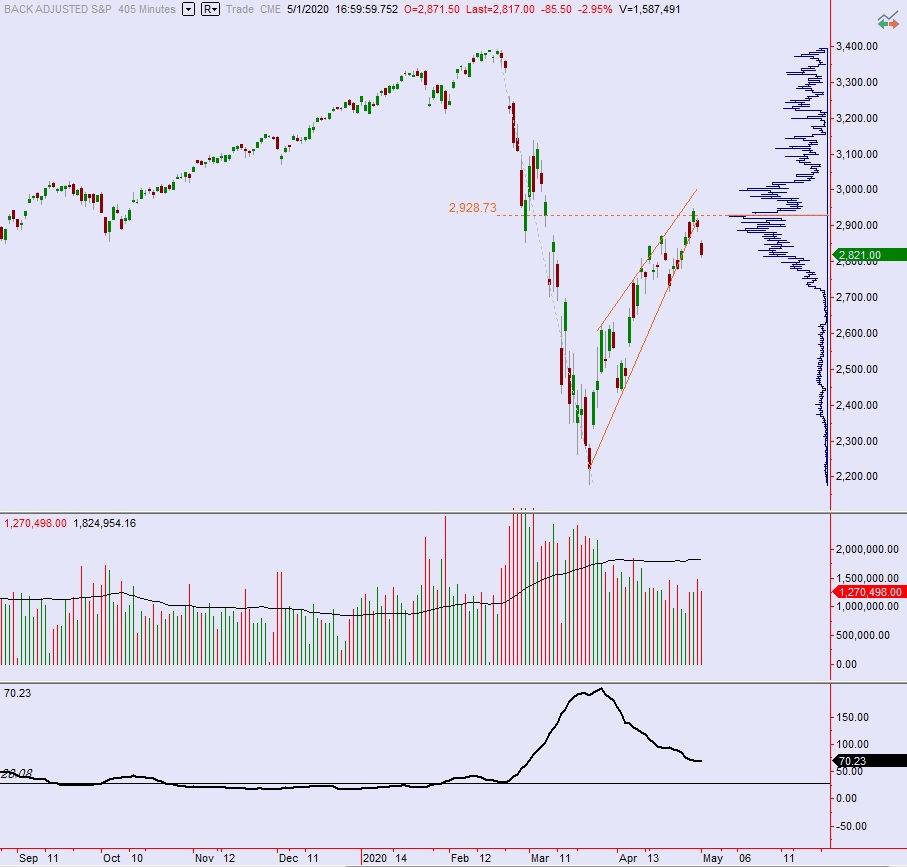 It is one of those technical patterns that anyone who has studied investing/trading theory has seen in a technical analysis portion of the book. There is one major flaw in clear technical patterns—we all see them. This leads people to make short term bets. Even option bets. The positions are loaded up, the backroom algorithms take in all this data, and then poof! said algos zero out these trades in one fell swoop.
To really screw the pooch, it works better if the move sort of starts to look like it is working. In this case, via a downward break from the wedge. This increases conviction in the technical set up. More people place bearish bets or raise cash. The algos jiggle with indifferent data, sounding the death knell in some otherwise quiet server room in Chicago.
I talk to a lot of people. I am a business man of the people. I do less talking and more listening. I listen to sentiment without applying any of my bias our perception to it. This I accomplish through a variety of mechanisms (it is complicated) but basically I am a mirror. Or a parrot. On some occasions even a mocking bird, but only if I need to demean someone into possibly changing their rotten ways.
Consensus is that the worse is yet to come. The real supply chains issues will hit in the fall, many say. This is said in real estate circles, manufacturing circles, not so much agriculture, but definitely from builders.
They are bored maybe and talking to me. They all perceive worse times coming.
The active traders I take seriously, they're almost all expecting downside resolution.
These are just observations. Fine.
Systematically, I have reason to be bearish heading into the first full week of May. The wedge broke downward, whatever, what really weighs my bias is IndexModel. It is bearish heading into next week. However, that is only one week, and it is also the first full week of May. This is where everything becomes murky. Normally May is a time of celebration, or at least preparation for celebration—graduation, weddings, Mother's Day and the like. It is when us northerners finally go outside in our bathing suits and relax.
But everyone has been "relaxing" for over a month now, sequestered to their homes. Some people love their home life, still others rue the day they can escape their family and return to the peace of their job/office/etc. These people may not know how to live, but they will be back to work. They will not be watching the stocked market as closely, they will be selling stuff, or sawing boards, or whatever it is people do for money.
Either thru leisure or jobber, attention will start to drift away from the markets. Markets will be markets, gyrating up and down until we establish a new, post-Covid value. Is that value lower than where we valued markets last May? I have no idea. Doesn't seem like much has changed. If anything the proverbial deck has been reshuffled, but the winners are still winning and creating economic expansion.
So that's it. I expect some downside early in the week which will serve to spook some investors into raising cash and cause active traders to increase their hedges/shorts. Then an about face higher, real vicious like.
Said simply—-the overplay for the underlay.
Raul Santos, May 3rd 2020
Exodus members, the 284th edition of Strategy Session is live, go check it out!
If you enjoy the content at iBankCoin, please follow us on Twitter