Late last week I allowed my mind to paint a negative bias onto the market.  My ego took a commanding lead on my thoughts for petty reasons—I never liked LYFT really, begin in bed with General Motors and all, with their money losing livery service.  For that matter I've got a bit of a bias against these unicorn IPOs, probably because they've lost me so much money (see: Snapchat o_0).  My pride has been assaulted by hyped up IPOs, but so what?  Other factors were at play.
As solid as my March Madness stock looked heading into last week, I lost to Operator, whose stock also looked real nice heading into the week.  When I say, 'looked nice' I mean the daily price charts looked, to my trained eye, like charts that would go up.  Anyways, as much as one week doesn't matter to my position, I lost.  Again, petty.  I lost a game.
Anyways, the models lads, throughout my emo Friday, were expecting higher prices.  They couldn't care less that one percenters were dumping their unicorn shares into public markets by the billions, or that RAUL was losing some website tournament.  Never.  They do not concern themselves with the petty.
The models are a better guide than emo RAUL any day.  Heading into Q2 they are bullish.
I have a long list of reasons 'why' this market should (such a nasty word) be selling off but by golly it isn't.  It could.  And maybe it will.  If I want to know ahead of time I think I know how.  The only way to think beyond the logical parameters of IndexModel is to watch the PHLX semiconductor index.  It has told the story for years, often a few weeks ahead of the broad market.  You don't have to take my word for it.  Go back and look for yourself how the October 2018 breakdown preceded the market-wide selling.  Or what it has done since.
Any reasonable reader should now be asking me what will happen next.  Of course I don't know.  But I do know exactly what level to watch and a few ways we could behave around that level and that will give me the conviction I need to take action.  That level, until further notice, is called 'Resistance becomes support' and is shown below in black: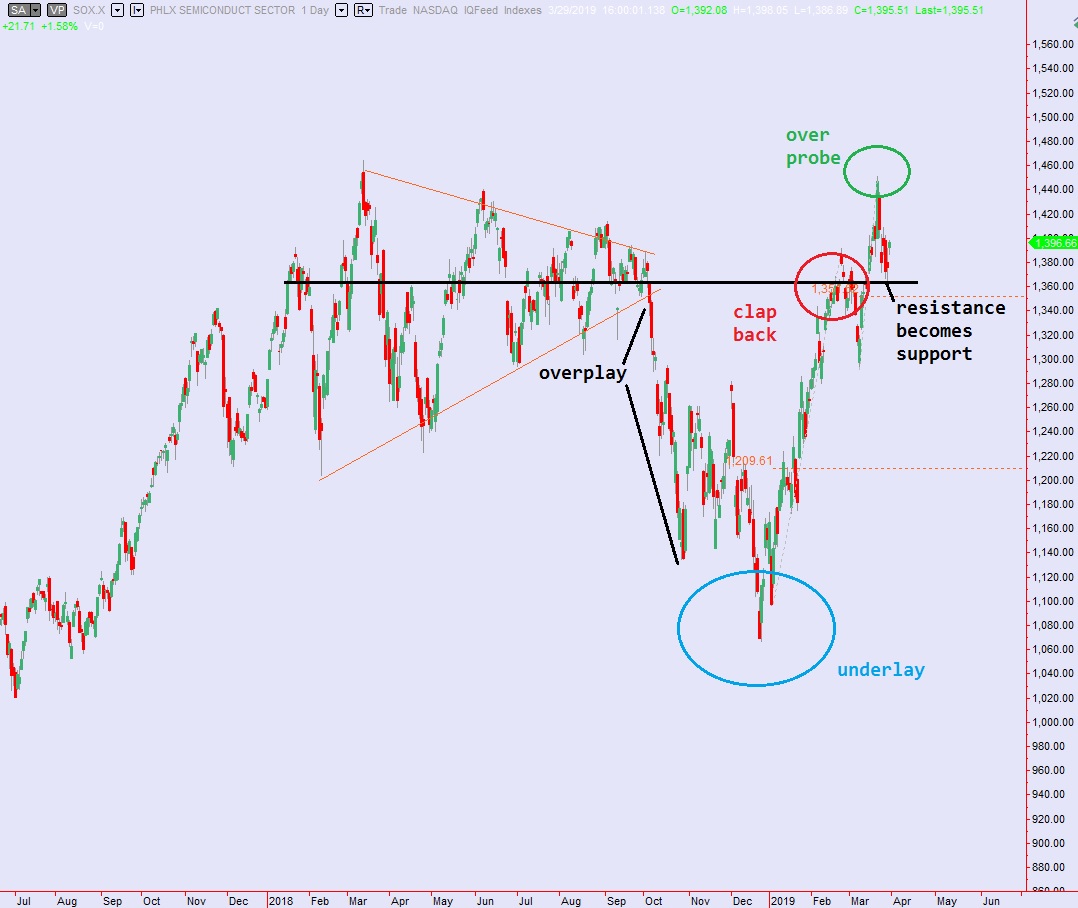 Saturday was a lovely spring day, with heavy rains falling from sunrise to sunset, then turning to snow overnight.  Today I woke to a surreal landscape of snow and ice, and it felt like some much needed breathing space.  I was not ready for the second quarter.  For spring.  Now I am.
You can be too.
RAUL SANTOS, March 31st, 2019
Exodus members, the 228th edition of Strategy Session is live, go check out my notes in Section IV where I lay out the two scenarios for upside/downside on the PHLX.
If you enjoy the content at iBankCoin, please follow us on Twitter