Did you enjoy the stock market bye week?
One of the things I like to demonstrate from my tiny, generally overlooked blog is how we can interpret the world around us in a meaningful way and then understand what to expect during the upcoming trading week.  Think of these Sunday entries like a five day weather forecast.  Like a meteorologist, I interpret mathematical models and layer in current events to create an objective outlook.
Is it always right?  Goodness, no.  How boring would that be?
All it is is a consistent way of approaching a task that can seem confusing and for most, downright impossible—to trade for a living without losing all you fucking money.
I chose my foundation stones wisely.  I observed my elders, the greats willing to share their hard earned lessons.  I emulated them for years, then I lopped off parts that didn't suit my style, built tools that did fit my approach, and came to the markets every week with a real effort to be better.
But enough self-aggrandizing.  I am nothing, nobody.  I matter very little.  Even though I've navigated these last six weeks with near perfection, the market can stop making sense in an instant.
Next week the stock market snaps back into action.
You need to be ready to hear key information from the real leaders of the known world.  We have earnings coming out of Apple, Microsoft, Facebook, Amazon, and the sweetest boy—Tesla.  These earnings and the reactions to them are far more important than the national crisis at our southern border, the rioting french, Roger Stone, or any other geopolitical bullshit.  These are our immortal rulers and they will determine the fate of the NASDAQ 100.
Just as important is the Federal Reserve.  They are the only part of the US Government worth taking seriously.  On Wednesday, they will announce their benchmark borrowing rate.  The gambling halls down in Chicago are currently pricing 98.9% odds that rates will remain unchanged.  However, there is a press conference scheduled afterwards and we will here from Jay Powell.  This is likely to put some direction onto the tape.  Then, because the month ends in a sloppy mid-week manner, we will have Non-farm payroll data Friday morning.  NFP will put some excitement into the early Friday tape, then I expect everything to fizzle out as participants drop dead from exhaustion and turn their attention to Super Bowl betting, allowing the algorithms to coast market prices into the weekend.
The models are calling for a sideways drift.  The signal I am referring to is code named 'extreme Rose Colored Sunglasses' [e(RCS)].  The model is prepared as part of the Exodus Strategy Session.  The signal name is derived from past observations of what the stock market has done when it has triggered.  In most instances of e(RCS) the stock market has drifted sideways, life has been good, everything has taken on a lovely tone as if looking at the world through rose colored lenses.  The caveat is, the model doesn't know about all the upcoming tech earnings, nor does it know Jay Powell is speaking Wednesday.  I still trust e(RCS) and will be pressing long bets until at least Wednesday afternoon, but if you want to take your cues from something more observable on your own time, then look no further than the PHLX semiconductor index.
I wrote about the 'overplay for the underlay' setup this index had two weeks back.  I filed that entry under the 'spoonfeeding' category, which I don't use often.  You guys really have no idea how seriously I take blogging.  Again, doesn't matter.  WHEN USED PROPERLY, the categories feature of a Word Press blog will show you other entries logged under that category in the 'RELATED ARTICLES' section below the current entry.  This stuff matters to me, and when I spoon feed you ingrates a tier-one set-up, I like to link it to the other tier-one setups I've spoonfed you in the past.
None.of.this.matters.
What matters is that any one of yous can use any number of free websites or broker plaforms to monitor the PHLX semiconductor index and you should.  It will tell the whole story.  It told the story at the beginning of October'18 when it broke down from a very clearly established consolidation pattern.  It told the story two weeks ago with the overplay for the underlay, and it will tell the story next week.  What do I expect?  I made this handy chart so even my special needs readers know where I stand: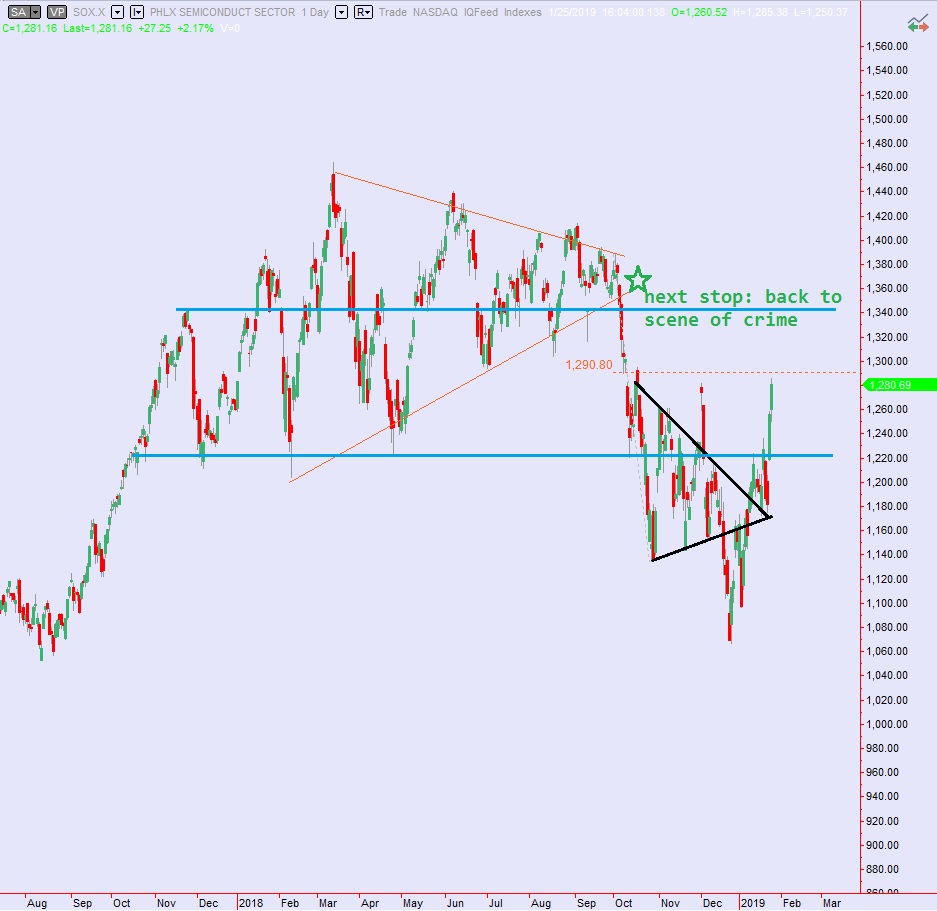 Between trading the opening bell and loathing the pity party for unpaid government employees, I will be keeping a close eye on this index.  At some point it will tip its hand and everything else will follow.
Through all the big earnings, the SOX.X will tell the story.  Through all the US Government bullshit, the SOX.X will tell the story.  Through the coldest bite of jack frost, the SOX.X will tell the story.  Say it with me, the SOX.X will tell the story.  You can literally ignore every other happening in the whole world and have a good sense of how to make money in the stock market.  In fact, you'll probably have quite a bit more clarity than your fellow competitors who find themselves neck deep in BULLSHIT.
So don't take it from me or my bullish e(RCS) model, just watch the semiconductor index.  It has told the story for a very long time.  If you want some extracurricular reading, check out my December 2017 blog entry where I lay out the exactly what I see happening as we enter the roaring '20s.
ciao ciao, kiss kiss and kind regards
One last thing—Tom Brady is an incredible athlete and Bill Belichick is a rock-solid leader.  Anyone hating on the New England Patriots doesn't admire dedication and hard work and probably doesn't hold themselves to a very high standard.  I don't even watch football.  I just respect a true competitive spirit.
RAUL SANTOS, January 27th, 2019
If you enjoy the content at iBankCoin, please follow us on Twitter