As I ventured deeper into my Sunday routine of gathering and parsing out raw market data from the world's financial complex, I found myself starting to slam the keys on my keyboard.  The outputs from IndexModel and Exodus began to make my plums tingle and the testosterone was being taken out on my computer. This is what happens when a good plan starts to come together.  This is when I start to become aggressive.  I see a fat pitch setting up into year-end; the type of buy signal you look back at in a few months with either a fully erect of wholly-limped penis.
And listen lads, research and blogging and tweeting is useful to me but make no mistake—I am far less concerned with being 'right' than I am with making money.  An observation I've made in my now 5-years as a full time traders and independent side hustler is that many of these cash 'rich' people are not intelligent nor are they often right.  They are barbaric and persistent.
Persistence.  That has been our theme into year-end.  The last Exodus hybrid oversold signal was a brutal tease.  At one point it saw prices on the NASDAQ higher by +7%, only to erase said gains by the time the signal completed: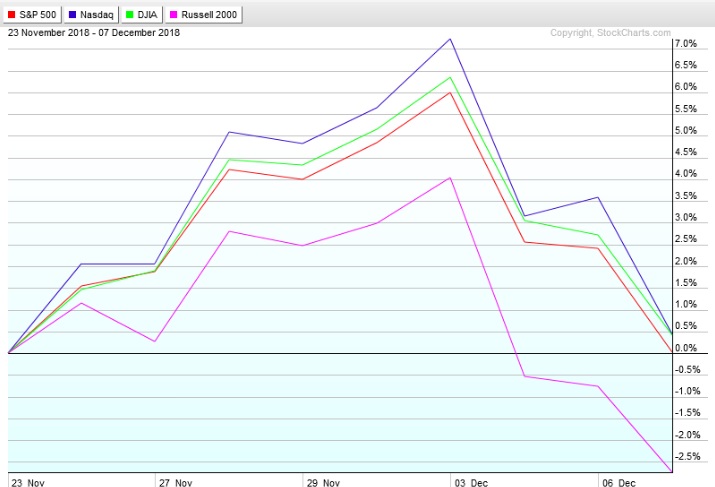 Part of my Sunday research is parsing through the signals generated by Exodus, and translating them into an easy-to-consume human format for our members.  The data inside Exodus is so immense that it can seem esoteric and even downright archaic without a translator.
That is why they sent me.  I am the expert.  I only hope that history remembers me as being kind to the robots.
I SUBMIT THE CYCLE SHOWN ABOVE AS EXHIBIT ONE TO MY FAT PITCH THEORY.
EXHIBIT TWO: BUNKER BUSTER
When I first started building IndexModel, I was just logging the data and observing the outputs, waiting to see something interesting before digging in.  One of the interesting observations centered around when the spread between the average bias score of IndexModel minus the Exodus hybrid score resulted in a number that was less than zero.  This does not happen often.  The last time it happened in 2018 was on April 1st.  We can look back on that time and easily see that bears were made to be fools that week.  That signal marked the swing low for the next six months.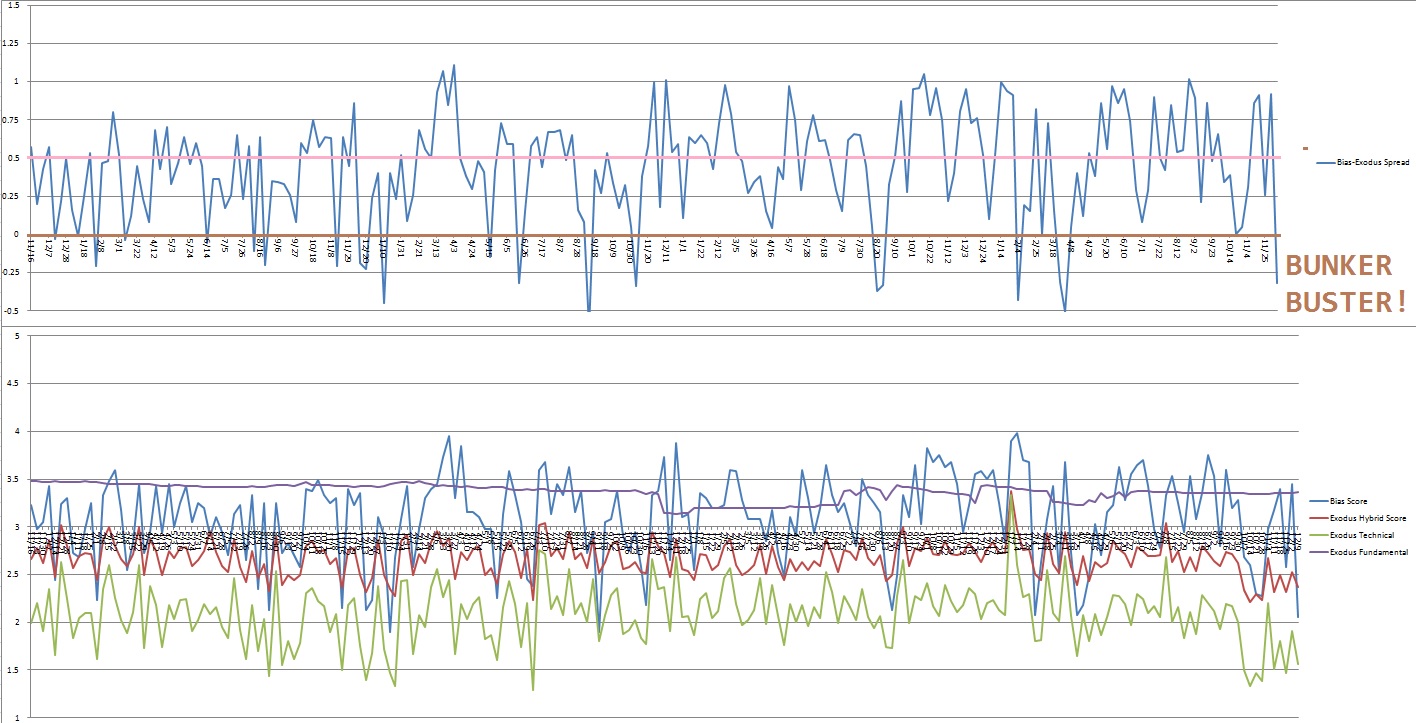 The other two Bunker Buster signals in 2018 were on 2/05 and 3/24.  The 3/24 signal happened the week before the 04/01 signal.  That being said, this 'fat pitch' may take more than one week to fully realize itself.  But overall, what the signal calls for is an acceleration to the downside that ultimately leads to a tradable low.  Long time reader and Exodus member UncleBuccs named the signal, and I've always felt that he named it exceptionally well.  I like to name my signals in a way that reflects the behavior historically seen and a bunker buster missile is a good mental visualization to keep in mind this week.
EXHIBIT THREE:
Massive negative skew in industry performance.  Another observation from Strategy Session.  We look at weekly industry returns with an absolute value greater than 3.  That shows us the abnormal movement.  These industries are placed onto a ledger and basically I eyeball the ledger to see when it radically skews.  This week is the biggest negative skew ever observed:

The two outsized positive returns on the left? Silver and gold.  L.O.L.  Primal fear has gripped the market and people have fled to shiny metal.  When we've seen big skews like this historically, it has meant continuation in the direction of the skew in the upcoming week.  In other word, industry money flows suggest more downside to come.  This fits into our downside acceleration theme.
EXHIBIT FOUR:
ROLLFORWARD.  This week, on Thursday, most active futures traders will migrate away from the December index futures contracts and start trading the March '19 contracts.  From close-of-trade Thursday until the FOLLOWING Friday, 12/21, is a set and setting rife for chicanery and downright fuckery.  Volume statistics, cum delta, all sorts of usually useful raw data bits futures traders use to gain an edge verse the institutions, are rendered worthless by rollforward activity—the unwinding of huge positions in the December futures and rolling that money forward to the March contract.
Fuckery that is likely to accelerate us to the downside and ultimately form a tradable low…
EXHIBIT FIVE
Santa Claus
EXHIBIT SIX
"Didn't hit nothing important."  My only buy-and-hold add so far, during this market rout, was that nice Italian sounding biotechnology stock.  A stock that I 'Simple Jacked' into, thinking it was a CRISPR stock.  Turns out it is not, but as a company they do seek the same outcome as CRISPR—IMMORTALITY.  The alchemists stone.  The holy cup.  The trident of Poseidon.   Hopefully I am not jinxing this buy, buy so far my entry has been validated by the market.
EXHIBIT SEVEN
I had an exhibit seven but then my A.D.D. kicked in.
Listen lads, the bunker buster signal can be extremely difficult to trade.  The key is waiting for that capitulation low AND a strong responsive buyer to step in.  Sometimes we gap down huge into Monday and the buying begins right off the rip, marking the low right then and there.  That is when it is most tricky.  So the key here, is not BEING RIGHT.  The key is making money.  Stick to your process, I'll stick to my process, and let's go get that bread.
I do believe we are very near swing low for the next several months.  If we catch it right, holiday seasonality should validate our low and then carry clean through into 2019.  Fat pitch.
Exodus members, the 212th edition of Strategy Session is live.  You have to read this one, go check it out!
If you enjoy the content at iBankCoin, please follow us on Twitter