Buyers are showing some aggression as we approach cash open in the Nasdaq. The session started off weak Sunday evening with some attributing the move to the outcome of the Greek elections. The move lower around 6pm Sunday took place on light volume and buyers defended the upper edge of value formed Thursday afternoon. Once the globex auction turned around it spent the rest of the session slowly churning higher.
This week's economic calendar starts off slow and builds in complexity. We have tons of earnings out and a heavy calendar of economic stats. Today we have Dallas Fed at 10:30am and Microsoft reporting after the bell.
Taking to the charts, we can see the Nasdaq went on a four day unidirectional streak to the upside, with Friday's profile forming a balance on top of the range.  Typically after three days of trade in one direction we start to see price action become more two-way. After four days it becomes even more likely.
Price has so far managed to push up to the upper third distribution of volume. The current micro composite structure as we form this big range has three distinct areas of value with air pockets in between. These air pockets zones are where we see the dramatic, discovery-type moves take place. We could see downside action gain speed, given our current location. See below: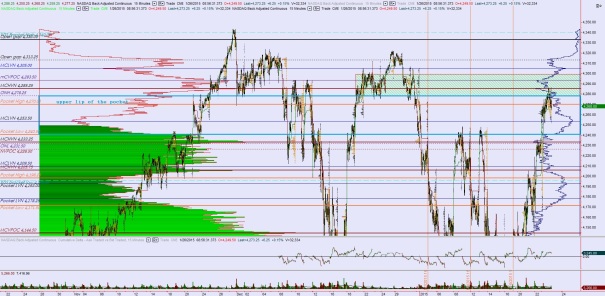 So far sellers are defending the upper region of value. Whether they can continue doing so will be my primary focus this morning. My primary expectation this morning is for a choppy, two way auction on the open with sellers a bit more aggressive. They work to fill the overnight gap to 4268 and test the lower end of Friday's value 4255-4253.75 where we see responsive buyers. These buyers than work up toward the MCHVN at 4285.25 and potentially test above Friday's high to tag the HVN at 4293.50.
Hypo 2 is buyers active, perhaps not allowing the overnight gap fill to 4268 before making a move to take out Friday's high 4286.50 and testing up to 4300 where we find responsive sellers and balance out.
Hypo 3 is sellers extend below 4254 and work down through the air pocket to target the overnight low 4231.50 and the naked VPOC below it at 4226.50. I have highlighted my key market profile levels below: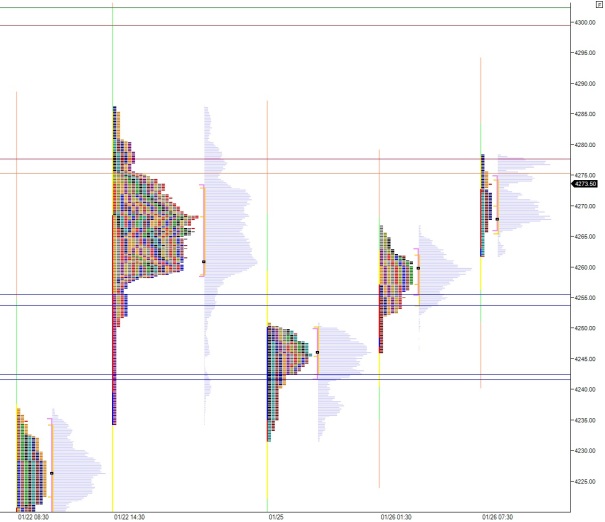 If you enjoy the content at iBankCoin, please follow us on Twitter