If you go back and read my recent 2015 predictions you can find mention of a Euro-zone based negative news cycle. I suppose I was not expecting it to hit on the 5th day of the year, but these are the facts on the ground. We have an important economic release at 10am today (ISM Non-Manufacturing Composite). Keep in mind tomorrow afternoon's FOMC Minutes too. These could lead to some choppy-directionless trade.
Heading into US cash open the Nasdaq futures market is flopping around the unchanged line after a busy evening. Volumes are elevated but normal and the price range was contained to the lower half of yesterday's RTH range. The primary feature of the overnight session was a strong range rotation that occurred from 5:30am to 7am.
Sellers took us back to the scene of the crime yesterday while extending their down-day winning streak to four days. The gap left behind after the Fed rate decision in December was filed before we way signs of responsive buyers coming in. Heading into today's session it will be interesting to see if sellers are able to take out yesterday's lows and continue probing into large daily session from 12/17.
My primary expectation is for a choppy open, likely an open auction in range then a push higher to test 4167. This level was a big battleground yesterday but eventually resistance. If we can sustain trade above it then I will look for a test of the overnight high 4172.50 then MCLVN 4179. Any trade sustained above 4179 may signal a shift in the character of the auction from short term seller controlled-to-buyer controlled.
Hypo 2 is a push lower toward the overnight low 4149. There is a big high volume node just a tick below yesterday's session low at 4144.75. The area was met with a buyer response yesterday and returning to it would likely mean we push through HVN and test the other side of this value which is 4135.25.
Hypo 3 is an early drive higher that spikes through overnight high 4172.50 and tests 4179.00 early. We find responsive selling higher which takes us back down to 4167 where buyers defend and press us back up to test Monday's session high 4207.25.
You can see these levels on the following volume profile chart: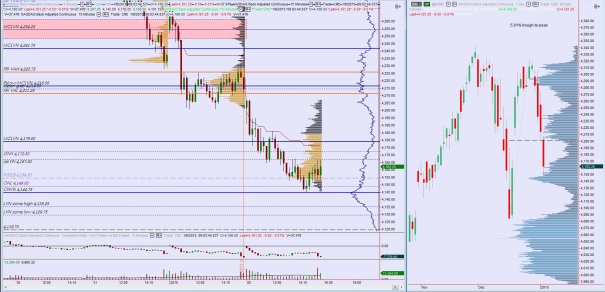 If you enjoy the content at iBankCoin, please follow us on Twitter