The Nasdaq is hardly showing a pulse as we heading into trade this morning having traded only a paltry 6000 contracts so far. Range is low, prices are a bit higher and the primary feature of the session is an 11 point rotation up which was faded back to the mean of the session.
At 8:30am Initial and Continuing Jobless claims came out mixed and we saw little-to-no reaction from the market. At 9:45am we have Chicago purchasing manager index set for releases, this may lead to a choppy open, and then at 10am we have Pending home sales.
At 10:30am we have crude oil and gas inventory data followed by a noon read on natural gas inventories. The weekly energy announcements have been showing an elevated impact on not only the price of the commodities but also equities, thus, they are something to keep in mind as you navigate your trading day even if you primarily deal in stocks.
Turning to the charts, we can see the intermediate term coming into balance. This is seen as a series of overlapping value areas which I coagulate into a volume micro-composite (red-outlined, green value area profile on left).
Yesterday we opened gap down and when we tested higher sellers rejected us away from Monday's range aggressively and targeted the gap fill down to 4281.50. If you recall this was yesterday's hypo 2.
Sellers could also be seen actively defending the micro VPOC at 4295 which resulted in the second leg down. I emphasize this not to pay myself on the back but instead to show you the market has memory and this is not a random walk of price.
Toward the end of the session we saw some signs of excess low and then a sharp candle higher.
Today my primary expectation is for sellers (initiative in nature relative to the int term, and responsive relative to the overnight session) to push into the overnight inventory and close the gap down to 4283.50. Here I will look for signs of buyers who work back up to test the MVPOC at 4295, just abover the overnight high of 4294.25.
Hypo 2 is sellers become initiative and push through overnight low 4281.50 and test the lower end of intermediate term balance via taking out yesterday's session low 4273.75 then 4271.25. If buyers are not present at this level then a continued exploration lower to the LVN at 4263.
Hypo 3 is the buyers blast through overnight high and MCVPOC 4295 and work to close the Monday-Tuesday gap up at 4313.25.
I have highlighted these levels on the following volume profile chart: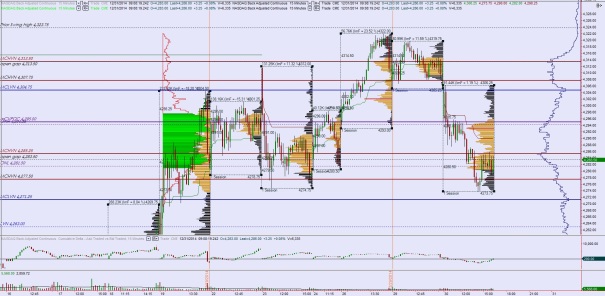 If you enjoy the content at iBankCoin, please follow us on Twitter