The market is off to a real grinder of a start as we barrel headlong into a series of high impact economic announcements.  And though many traders are focused on asset purchasing pace, interest rates, and oil prices, momentum traders will be watching Twitter.
Just one scant year into public trade and this stock has seen its fair share of drama.  Yet, the company has seen very little change to its overall value—it has traded flat over the time.  Flat, mind you, is relative because along the way have been rotations fit for a king.  As we head into the first birthday of trade, and earnings after the bell, here are some basic price levels to have in mind: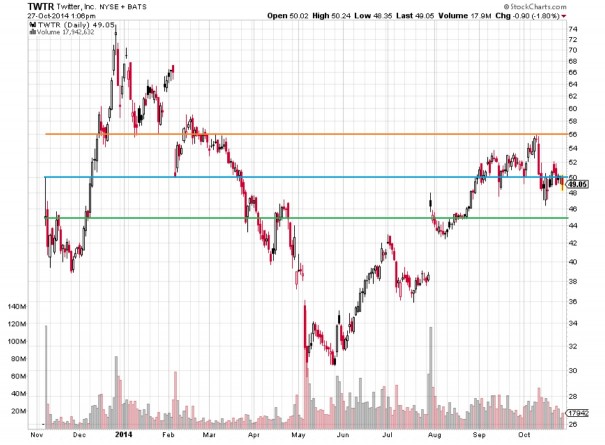 Being a long, long since day one to some varying degree or another, I am certain this will be Twitters 'coming out' day where it proves doubters of the concept to be introverted clown babies.  This company has become one of the primary cogs of human existence.  It is trading like crap today, another solid sign for the chuckle hut.   Twitter has the added bonus or reporting after the Yelp and  the Amazon face plants where a notable shift in investor perception occurred in the growth complex.  Put simply, both companies were punished for being weak.  Here is the relative performance of TWTR, YELP, AMZN, and FB since the BABA top: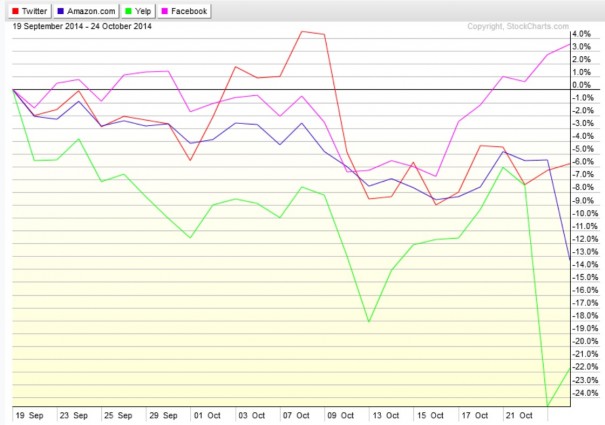 Twitter is hovering in the middle of the pack, just slightly under-performing FB who reports tomorrow.  Will these two social media juggernauts join the ranks of our other two internet pillars?  Absolutely  not, both will crush and guide sending shorts to run to the hopium pipe.  My bed is made, long of TWTR in common terms, willing to risk to zero if need be to see this company ride to glory.
If you enjoy the content at iBankCoin, please follow us on Twitter