There is only so much analysis one can do when the price of an instrument is climbing to fresh highs.  Mostly I rely on measured move targets to the upside and highlighting support levels.  This is important, but I much prefer the confines of territory we have already auctioned.
I have these expectations sometimes, based upon analysis, where I expect something like lower prices.  Yesterday I was expecting some follow through on the morning weakness in the Nasdaq.  The challenge with expectations, especially those built upon market profile logic, is the timing.  The old axiom says the market can stay irrational longer than you can stay solvent.  The duration of "longer than you can stay solvent" is drastically shortened when you add a big leverage element to your trading.
GPD numbers came in better than expected and jobless claims worse than expected.  The initial reaction to this cocktail of economic numbers is buying across the equity index complex.  Overall however, it appears we will be gapping lower on the open, an event we have not seen in the Nasdaq since 08/12.
I have highlighted the key composite price levels on the following chart.  I will be watching how we behave at these low volume nodes for clues about the ledge of overhead supply and looking for signs of dip buyers creating demand below: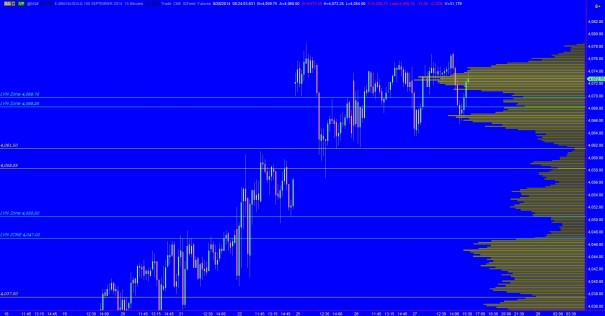 I have noted the short term price levels I will be keying off of on the following market profile chart: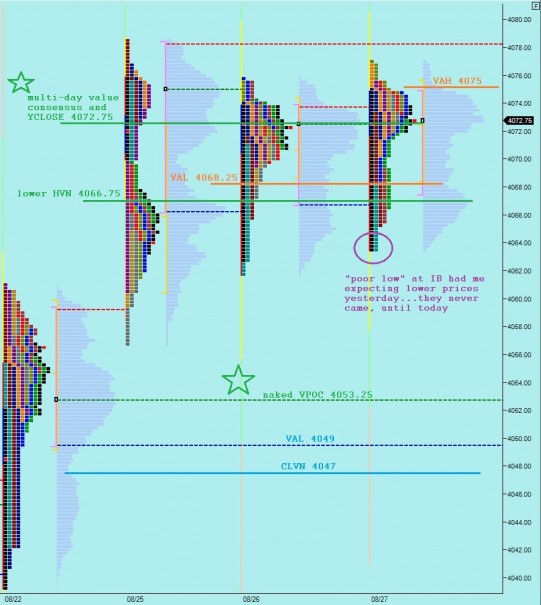 If you enjoy the content at iBankCoin, please follow us on Twitter