Quiet morning on the economic front, with our biggest scheduled event being premarket earnings announced by PCLN whose shares are currently trading over 2% lower on a weaker-than-expected Q3 forecast.  The calendar is relatively quiet until Wednesday, however we continue to be in an elevated headline risk environment associated with both Mid East and Russian tensions.
As we head into USA trade, the price of the Nasdaq is set to gap higher.
Turning our attention to the auction, long term participants are bullish to neutral.  Intermediate term players have been neutral-to-bearish since the end of July.  Last Monday we traded back up above 3900 and were unable to find sustained buyers.  Then several times last week, a responsive seller was found just above MCVPOC at 3886.  We are set to open above the 3886 responsive seller near 3900.   The intermediate term timeframe is in balance over 30 sessions after pulling back off the highs.  You can see the intermediate term commentary on the following composite profile: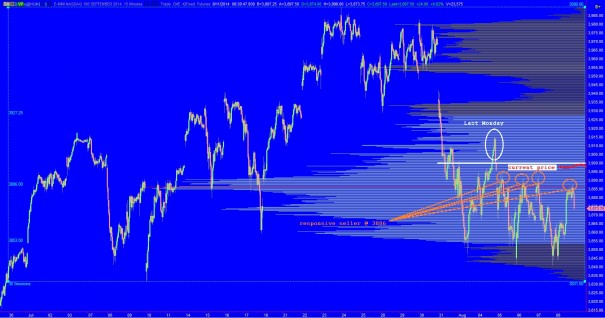 Risk of a drive higher is elevated today give the gap up and away from a 4 day range.  The drive force becomes even more likely if we sustain trade above 3907, the nearest composite LVN to current prices.
On the contrary, if we open for trade and the market goes on SALE, with a large rejection seller who starts fading the gap, we are returning to a very ugly auction from Friday.  Caution if we sustain trade below 3882 it opens the door to an overnight gap fill down to 3873.75 which puts us on the mouth of a slide zone down to 3867 and Friday's session had a poor low which too would be vulnerable.  It is context to keep in mind today, this poor structure, especially if we see an aggressive fade.
I have noted the short term levels I will be observing on the following market profile chart: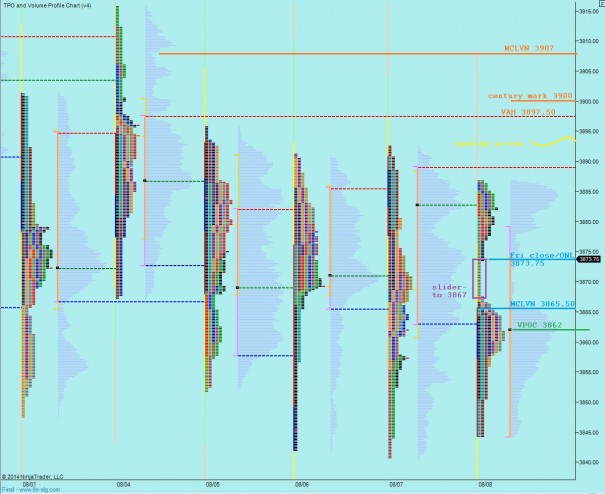 If you enjoy the content at iBankCoin, please follow us on Twitter