Index futures are down quite a bit across the board as we approach the final day of US trade in the month of July.  The major news overnight came from Argentina, who in a few hour may default, an event which would "plunge the country into turmoil."  Worsening tensions with Russia seem to be weighing in on the eurozone where some are speculating the external shock may be enough to push them into a deflation trap.  We are off the overnight lows a bit but saw a fresh wave of selling roll in after the 8:30am US Continuing Claims and Initial Jobless Claims.  We have Chicago Purchasing Manager at 9:45am, a Natural Gas Storage report at 10:30am, and Chinese Manufacturing PMI out after hours today at 9pm.  We are also in the thick of earnings season which has been mixed but positive for social media, a hot spot of discussion after being singled out by Fed Chair Yellen.
We can rack our minds with all of this macro economic news, or we can focus our energy and attention on the auction taking place, and use our objective eye to perceive who is participating in this market, what they are trying to do, how good of a job they are doing, and what they are likely to do from here.
It is the end of the month, equity inflows typically take place at the start of a new month, and we are wrapping up the first month of Q3. The first half of the year was a challenge for growth performance, especially after many of the marquee high beta stocks were cut in half.  Thus starting the second half of the year strong was important to many participants.  With that in mind, we know the intermediate term is very likely to be active in this environment.
On the month, we formed a rather balanced profile until launching higher.  The final footprint left a big volume pocket which we have slid through overnight.  There was a second volume pocket up higher, but we filled it in this week.  Now it appears we are backing and filling this region.  See below: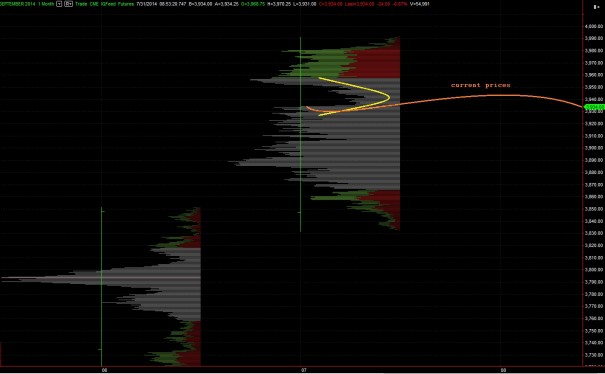 If I bring our eyes in a bit closer we can see the key price levels on the intermediate term, the levels we are likely to see respected during today's trade: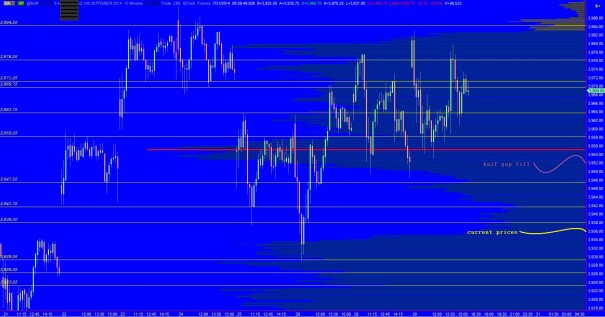 I will also be keying off the following market profile levels to start the morning: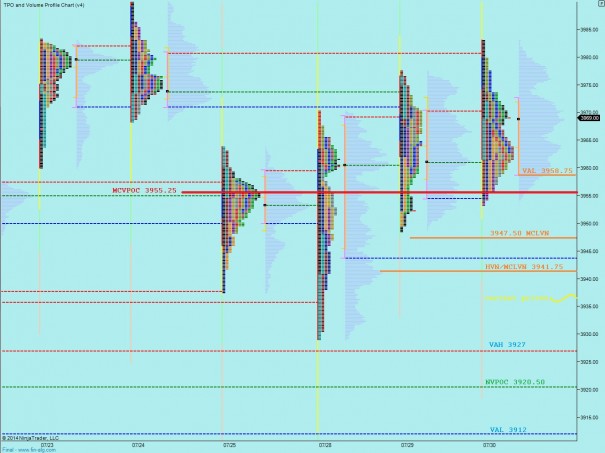 If you enjoy the content at iBankCoin, please follow us on Twitter