Futures are slightly up through the globex session despite my twittersphere erupting with hubris over the China PMI data that came out last night.  I never view the futures after the market closes because I do not trade during these hours and usually someone else will talk about them sufficiently.  To me, the equity index futures really only make sense when the underlying instruments they track are also trading, especially in our current environment, the "market of stocks".
Taking to the NASDAQ, the long term picture is interesting as we can still see buyers in control of the auction.  The weekly chart printed an outside candle two weeks back which is a candlestick pattern which tends to develop near inflection points.  It is important to wait for confirmation of this type of candle before adding credence to it.
The long term auction as viewed on a daily chart of the NASDAQ composite is in buyer control.  Sellers can shift the long term into balance by sustaining trade below the lows printed two Fridays ago, March 14th.  If they are able to complete this feat, it would put the long term auction into balance.  Until then, we are still in buyer control on the long term.
The intermediate term is balanced with an edge to the sellers.  The potential exists for another revision trade back to the midpoint of the maturing intermediate term balance we have been watching which dates back to February 13th.  The VPOC of our balance still sits well above the midpoint which suggests the market has not yet accepted the lower end of intermediate term balance as fair.  Sellers gain the slight edge because of the speed with which we have seen the market trade.  This fast environment creates anxiety which can result in liquidation.  If we are to stay in balance, then the market needs to not spend too much time below 3645.75 today.  I have highlighted the key levels pertaining to the intermediate term on the following volume profile chart: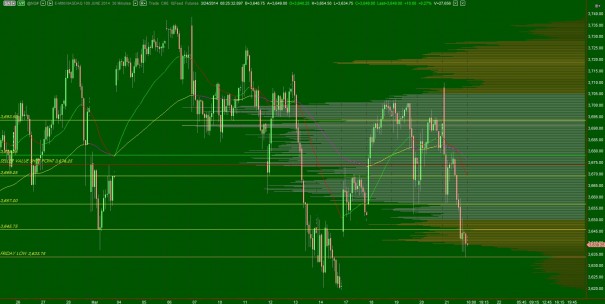 The short term auction is balanced.  After the afternoon selling Friday the market came into balance and the action carried through into the overnight session last night.  We are currently priced to open inside of Friday's range in a thin volume area.  This may result in some fast action early on.  I have highlighted the price levels I find most interesting, as well as envisioned a few scenarios on the following market profile chart: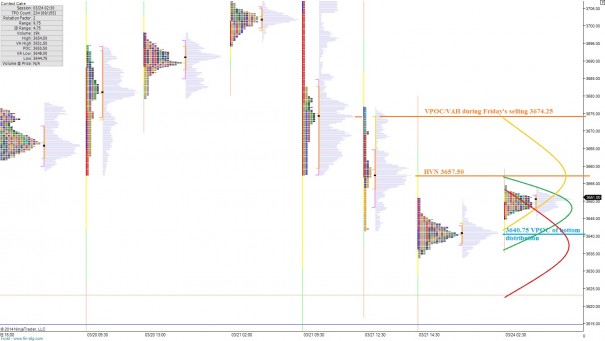 If you enjoy the content at iBankCoin, please follow us on Twitter