NASDAQ futures are currently trading just above the high print on yesterday's trade in an overnight session in a relatively quiet and balanced overnight session.  The first test above yesterday's high occurred early this morning and found responsive selling by price since stabilized and is holding the high water mark.
We printed a trend day yesterday which started with a strong opening drive and continued making successful auctions higher for most of the day.  Once a trend day is recognized, a consistently profitable play is to find a place to get a trade on in the direction of the trend and hold the position into the following session.  That is because any entry during a trend day offers a near risk free entry into the following session meaning, at some point in the following session price will trade beyond the direction of the range of the trend.
The short term auction is buyer controlled.  This can be seen in the migration of value back higher and the buying tail present on our current profile.  As we approach the cash open, price action has stabilized near yesterday's highs and is coiled tight.  It appears the market is waiting for news of catalyst before deciding short term direction.  We have an FOMC meeting this afternoon which may be what has the market on pause.  I have highlighted a few scenarios for this morning as well as interesting levels on the following market profile chart: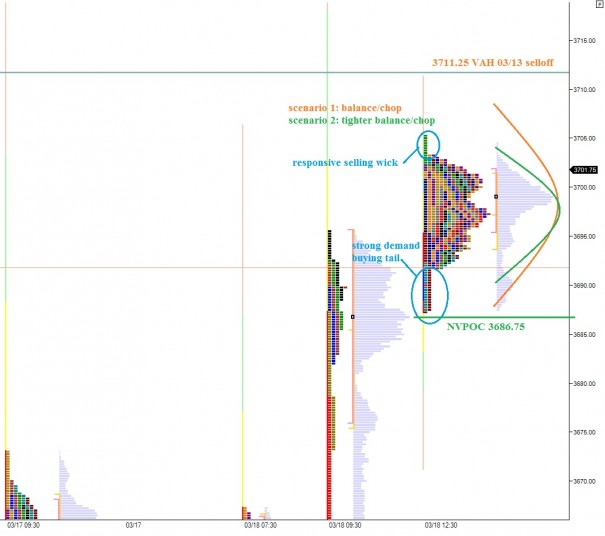 The intermediate term auction is back in balance.  The sellers were quick to lose control of the intermediate term.  Yesterday morning it appeared they may sustain control by holding Monday's high and printing another lower high.  However and entrance by the long term participant drove price through most areas of resistance and reverted price back to the mean or volume point of control at 3699 (or 3700 if you prefer round numbers).  Price and value always converge it is just a matter of how they do so.  In this case, price reverted back to value and not the other way around.  This suggests the current value of the NASDAQ is perceived as about 3700 by buyers and they were aggressive buyers until the level was reached.  This begs the question then, why did I begin shorting the index yesterday?  My hypothesis is that value is actually a bit lower, more around 3678.25.  Therefore I want to participate in the discovery process by selling into this two day rally.  I have highlighted the intermediate term balance on the following volume composite chart: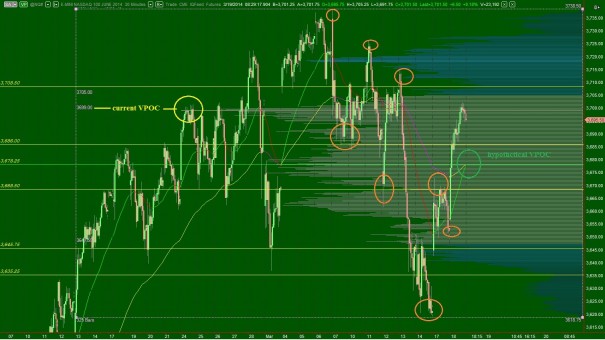 Even though I am confident in my short and willing to add to it upon further strength, I realize the long term auction still favors they buyer.  Thus this trade carries a lower probability then a mean reversion long trade.  I am willing to cut this loss if price is accepted above   ~3715.
If you enjoy the content at iBankCoin, please follow us on Twitter