Equity futures are currently priced to gap up after printing over 40 handles in range on the NASDAQ.  As I write, prices are coming in a bit, and by the looks of both the intermediate term balance profile and the overnight profile, the action could be fast this morning.
Yesterday's context report focused on the intermediate term balance, and whether price would stay in balance on the intermediate term or instead begin exploring lower.  Bracketed (or balanced) trade can be very frustrating noise for the trader if they are not aware it is occurring.  It can result in unnecessary capitulation and overconfidence at the extremes prior to getting faded.  The last two sessions in the NASDAQ have effectively set the floor and the ceiling for our balance zone.
If you have ever seen a live auction, you have seen this action.  Yesterday the market pressed lower in search of buyers.  They were found in the form of a sharp reaction.  Once a baseline bid is established, price can very rapidly move in the opposite direction to form the extremes of an auction.  Now market makers and specialists and hedge funds and retail participants meet and hash out the details of this balance to determine if the value is an accurate representation of the NASDAQ or not.
Long term auction is controlled by the buyer.  This can be seen as a series of higher highs and lows on a daily and weekly chart of the $COMPQ.  Yesterday we nearly brought the long term into a balance scenario, but we managed to print a higher low.  We need to monitor any retest of yesterday's low very closely, and we need to consider reducing exposure should price be accepted below perhaps yesterday's open at 4261.42 (on the $COMPQ).
The intermediate term auction is in balance.  This balance stretches back to 02/13 when we broke above the neckline of a V-shape recovery.  We are currently prices to open inside a cave inside the intermediate term auction.  Price will move fast in this low volume environment, at least initially, and often times we spend time filling these voids in prior to exploring elsewhere.  Intermediate term balance is aging, and a move away from it becomes more likely with every half hour that goes by.  I have highlighted this cave feature and some other observations on the following $NQ_F intermediate term volume profile: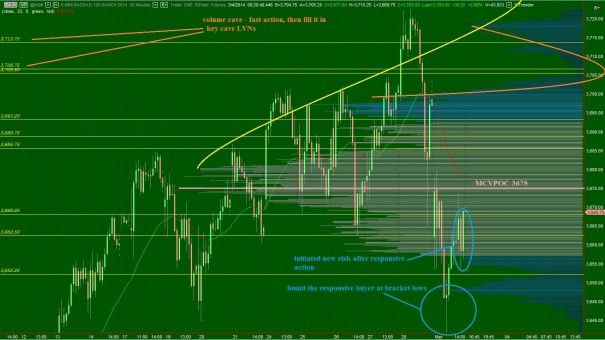 We covered tons of ground, in the short term, but buyers are back in control.  This can be seen via the migration of value higher over the last few distributions.  However, the last two profiles suggest a slight downside imbalance exists.  It would not surprise me to see some backfill early on.  Given the overnight inventory is long, it would make sense to press into that inventory and test its conviction.  Conversely, should we see an opening drive, we can begin to consider the long term timeframe reentering the market, and we should join them.  I have highlighted the imbalances I expect to see resolved on the following market profile chart: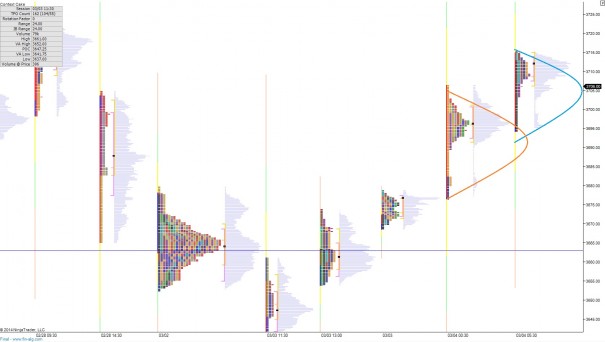 If you enjoy the content at iBankCoin, please follow us on Twitter