There has been solid overall auction activity overnight where we are seeing constructive action from both the buyer and the seller.  Late into trading Friday the sellers rejected the uppermost distribution we were forming.  Their action could be seen as a swift vertical movement lower followed by an hour of "acceptance" of the new prices via sustaining the levels.  Once the futures opened back up for business, we gave the area a solid auction lower, found a bid, and pressed above where we are currently finding selling.  The net activity forms a nearly symmetrical distribution of time and volume.
The profile however, does appear to have a slight imbalance which sellers could capitalize on early this morning.  It appears to be contingent upon how we handle 3674.50 early on, a value area low and sight of prior responsive selling.  If we again find sellers here in the early USA hours, we may see an attempt to balance out our current profile by trading down below the volume shelf at 3664.25.
Of course, if sellers are unable to respond at 3674.50, then we may see another drive for fresh highs.  Also, if sellers cannot push us over the volume shelf to balance out our current profile, then we would gain a valuable bit of insight, that buying force is great enough to disrupt the natural tendency of Gaussian distribution.
In the short term, I give sellers a slight edge in control.  This is void if they do not show responsive trading at 3674.50.  This short term control by sellers firms up if they push us below the shelf at 3674.50.
Intermediate term, we are in balance.  I have highlighted this balance and a few key levels on the following micro composite profile, spanning about 6.5 days of trading activity: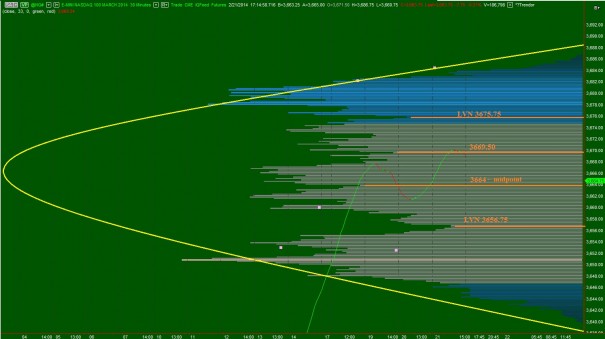 Long term, buyers are in control.  This can be seen as a series of higher highs and lows on the daily and weekly COMPQ chart.
Below is my vision for the morning, where I have highlighted the key price point and a scenario for the session using my market profile chart: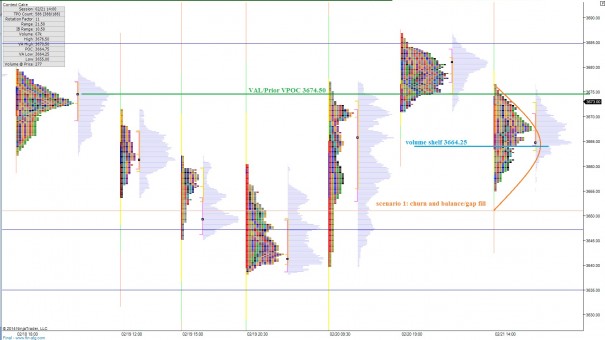 If you enjoy the content at iBankCoin, please follow us on Twitter