My book has swollen into something of an autonomous beast.
Price action is coiled up upon the daily VPOC as we enter the final few minutes of trade.  Buyers again presented themselves to a dip opportunity, snatching shares of their favorite stocks and dipping rather carelessly.
I have accumulated a book of options over the last 5 or 6 trading days.  Aka, I am building a book of long exposure on top of a mountain of uncertainty.  I know it sounds bananas, but every red cent I have invested into option premium could evaporate and I would still be where I started the year.  Aka, I am working with the houses money (famous last words).  Here is my option exposure, all calls:
ANGI Feb $17.50
Z Feb $95
FSLR Feb $60
ACAD Feb $26
AMZN Jan Weekly $410
TRLA $40
GRPN Feb $12
LULU Feb $52.50
FB Feb $57.50
That, my friends, is some straight crack rock.  No chaser.
I also have some low priced crank:
LEDS, RVLT, MCP, YGE, LITB, and now PHOT
Finally, there are my common stock positions:
TSLA, Z, SINA, CREE, TWTR, FSLR, GOGO, LO, LITB, and BALT
I may seem overexposed here but I still have 25% cash.  I feel like all hell could break loose and I could trade my way out of it with all this cashish.  The kicker of it is, I do not need to put huge option positions on to achieve the returns I desire.  Instead I just wager a modest 1% of my book, sometimes less.
This is an experiment of sorts, happening live for the fine readers of iBankCoin.
Elroi is hard at work too, working off his rough start.  Check out the latest stats, he crushed the holiday trade and today's action: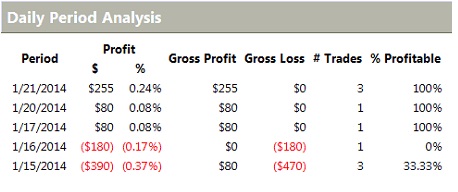 I golf clap Elroi, may he continue to dig out from his early hole.  That's all I have for you at the moment.  I am cutting out early.  Hopefully you guys do not break anything. I will be listening to the CREE call from my motorola car phone.
Be well
If you enjoy the content at iBankCoin, please follow us on Twitter