The first characteristic I notice when reviewing the market profiles printed last week is the fragmented nature of the distributions.  Price is bouncing all over the place while it explores buyers and sellers in search of the perfect price.  As we dive into earnings during October with Washington DC dramatics occurring, the market is having a difficult time establishing value.
We gapped lower Sunday evening for the third week in a row.  The previous two occurrences saw follow though to the downside before buyers showed up to buy the dip and press us above the gap point.  Will the third gap lower yield a solid victory for the sellers?
Price formed a wedge overnight as it worked higher into the gap.  As the USA comes online, we are seeing an early attempt to break down from the wedge.  The market is still very choppy in terms of momentum control early on, with no clear victor during the overnight trade.
The profile suggests a relatively balanced overnight trade with an overhead shelf at 1688.  This is the price where we shot higher last Friday before balancing out over the weekend.
I have mapped out a few scenarios and price levels of opportunity on the following market profile charts: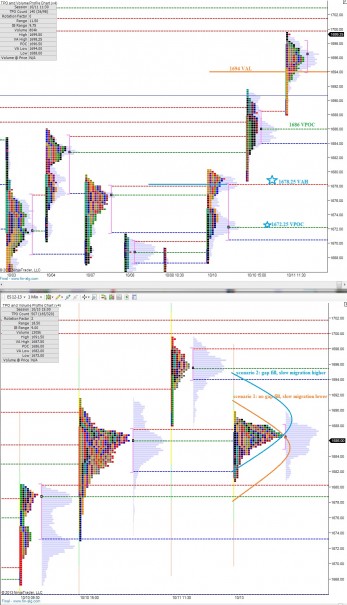 If you enjoy the content at iBankCoin, please follow us on Twitter