The globex session pieced together a bit of a rally yesterday evening, following through on a wave of upward momentum that rolled into the market late into Tuesday afternoon's cash session.  The move encompassed 6.25 handles of direction which pressed into the single print selling tail from early yesterday morning.
The selling tail yesterday morning was a result of aggressive selling and the action left behind a low volume pocket from 1643.75 – 1639.50.  After setting an overnight high at 1642.25 the market stalled out and failed to sustain trade within the low volume zone.  However, we've balanced out since then and I'll be on watch for a rotation through the low volume zone early on today.
Less may perhaps be more in the /ES_F today as the market is currently flat lining since the evening rally.  The buyers could have made better use of the momentum they carried into the overnight session, which leads me to question their tenacity.
I've laid out three scenarios on the 24 hour profile below, none of which would surprise me.  1629.75 is key support should scenario three take hold.  We'll want to see bulls defending this level, otherwise prudent measures like raising some cash or taking a hedge should be considered.
1648 is key to the upside if we see the stronger scenario 1.  Momentum and profile/auction theory slightly favor a rotation higher, which is why I'll be closely monitoring if and how the market conforms to scenario 1 this morning.
I've also noted price levels of opportunity on the following RTH profile chart: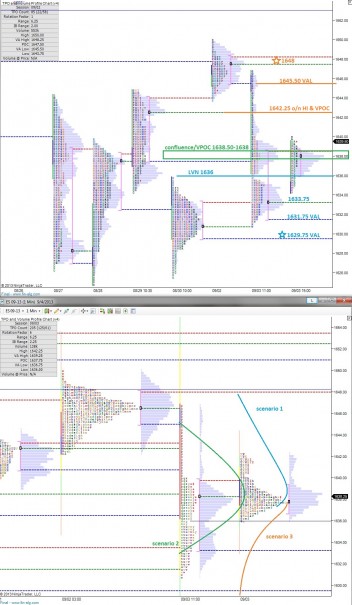 If you enjoy the content at iBankCoin, please follow us on Twitter