The overnight session was quiet and balanced, with a slight upward bias after gapping lower a bit.  As a result, we have a profile which suggests we may see a rotation lower early on.  The action overnight was very slow however, and didn't produce much by the way of an auction.  Therefore, both the poor high (double TPO) and the low are susceptible to breakage.
I've drawn out three scenarios on the 24-hour profile chart (first chart below) none of which would surprise me much.
There's still a gap present in the regular trading hour (RTH) profiles dating back to month-end.  Therefore, although it would seem abnormally weak and corrective for price to trade back down to 1681.75, it should still be in kept in the realm of possibility.  However, my view is that demand for equities is high, especially for the month of August (historically a weak month) and everyone is looking to buy this gap, so we may not see it.
Upside target is 1706 (measured move target).
Other levels which may see demand flow in are 1696, 1690.50, 1689.50, and 1682.50.  I've highlighted these levels of support on the second market profile chart: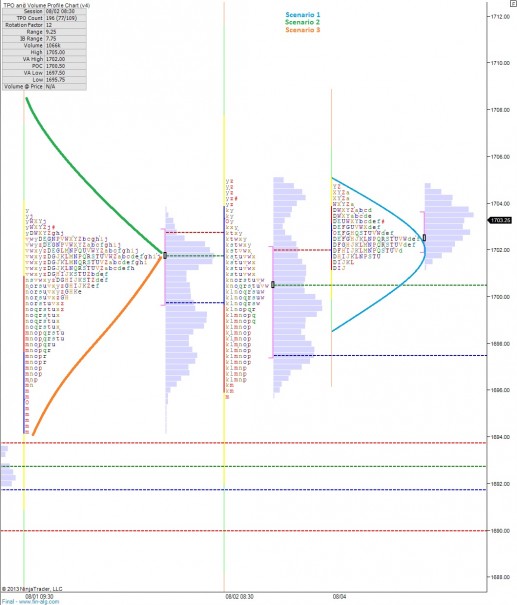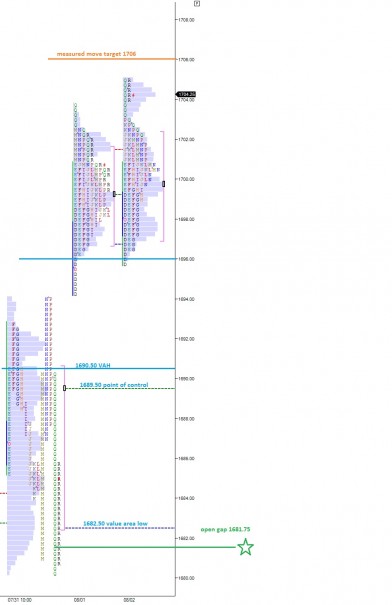 If you enjoy the content at iBankCoin, please follow us on Twitter