It doesn't take a genius to realize that solar companies offer the same promise as CREE: a reduced dependency on the electrical grid.  But pull out a 2013 chart of CREE and compare it to your favorite solar issuance.  Actually no, I'll do it for you.
Behold!  Greatness, smooth and non-porous…vs…bleep,blop,bloop:
Better yet, let's get visualized via a performance chart, shall we?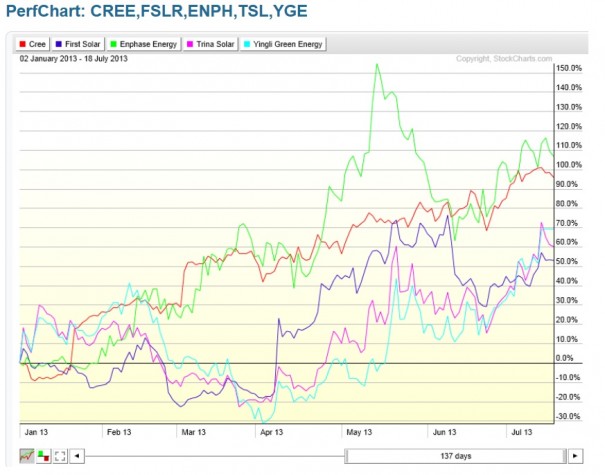 NOTICE ANYTHING?  I do, CREE besting the competition and doing so in a smooth, methodical manner.  But wait, who is that little shining star, outperforming on the year ever so boldly?
Indeed it is ENPH.  And I'm fully over sized into ENPH, sitting though a melt down of sorts.  If I had it my way, I'd be buying more I bought more here because ENPH is a winner this year, don't let anyone tell you otherwise.  I implore PPT subscribers to dial this ticker into your machines and observe the statistics.
It's hot.  All other solar exposure is a crappy crap shoot, trust.  Look at March and April weakness across the board on the performance chart, who didn't care?  CREE and ENPH.
Think
If you enjoy the content at iBankCoin, please follow us on Twitter