One of the marquee characteristics of climbing to new heights in the market or atop a mountain is small progression.  Think of a climber reaching uncharted territories: her steps become smaller, her moves more calculated and thought out.  The familiar trek below (profiles) gave a navigational map and experience to build progress on, now we're taking measured moves.
The squatted range yesterday took time to break the initial balance, finally doing so to the upside.  We left an incomplete auction below and we're likely to eventually fill out the 07/11 profile down from 1667 – 1664.  When this occurs, the treatment of the prices by the market could be a major sentiment piece.
Overnight we've been mostly balanced with a top-heavy profile.  A rotation down to 1674 early on would not surprise me.
There's potentially market-moving data out ahead of the bell, but so far we're set to open within yesterday's value.  I'll be eying the following levels and potential developments in market profile: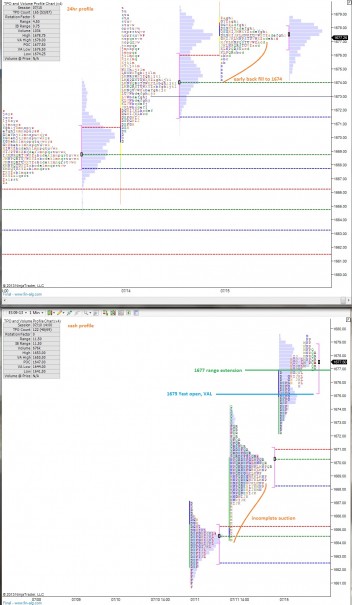 If you enjoy the content at iBankCoin, please follow us on Twitter