Which means today is the third, you follow?  Let me explain:
We had a rather pungent selloff overnight, taking us as much as 13 handles off Tuesday's close.  We continue to be operating in a gap prone environment so mentally you should be prepared to handle such occurrences if you choose to hold positions overnight.
The key support today, on this shortened trading session, is 1592 which is only two handles below the overnight low at 1594.  When I present the market profile to you, and you see the succinct manner in which it has located highs and lows this week, you'll understand the gravity of this level.
Below 1592, price could begin working toward 1584, however given the shortened session, it would take a great deal of fear to press into these levels.
We're right on the cusp of considering today's gap to be of the pro variety, so it carries a lower probability of filling, but also a much higher reward.  Let's see who enters the market early on, if at all.
I've noted the levels I'll be trading around in the following profile chart: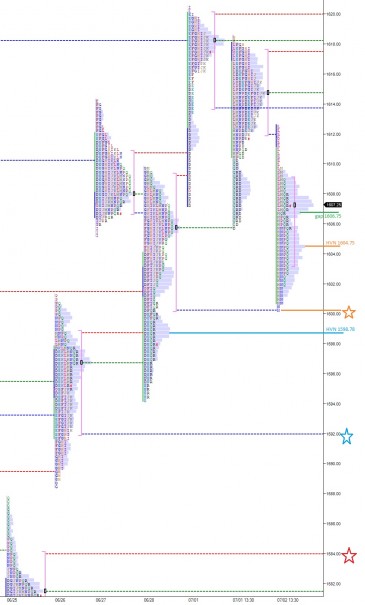 UPDATE: ON $F strength, I've swapped the dirty Brit Beatles song for the USA #1 Beach Boys:

If you enjoy the content at iBankCoin, please follow us on Twitter