The recent downdraft in Lululemon stock and the behavior that lured me back into shares of American Apparel had me turning a curious eye on the whole textile and apparel industry this evening.  A few swipes into The PPT on my Windows 8 touchscreen laptop and I'm laser focused on the industry's stocks and The Fly's robot brain is spewing diagnostics across my screen.  I'm multi-touching, feeling like Tom Cruise in Minority Report finding future pumps and looking awesome.  The future is good so far.  I'm glad to be living in it.
The chart is the final arbiter when determining whether to place a trade, but I love adding layers, measuring results, and building context.  I especially like to poke around and see what kind of news flow is occurring.  After observing the following chart, I turned an eye to the news flow.  First just look at the chart and observe the volume on this pump: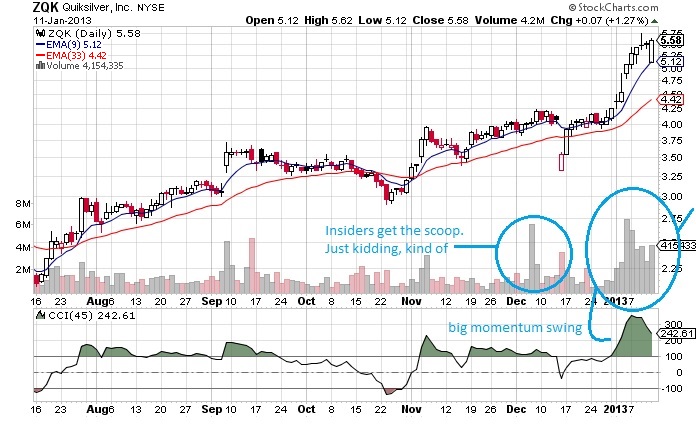 I figured something was afoot so I fired up the finviz news feed.  Look, they're getting all giddy and noisy about a new CEO: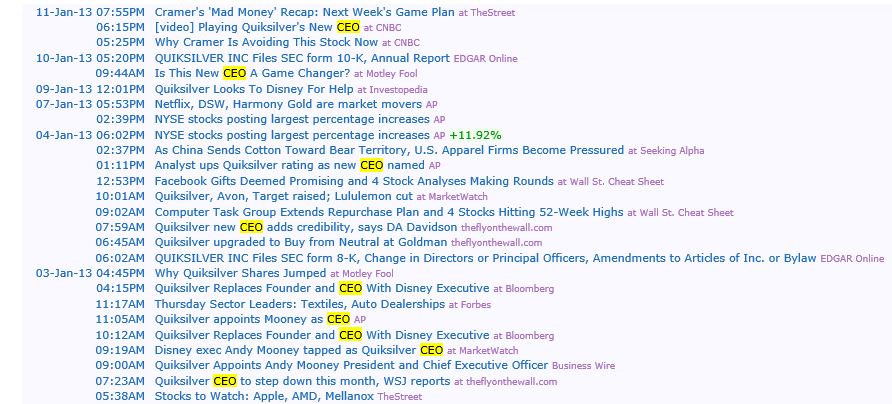 Early December, Bloomberg reported the prior-rumpled CEO was getting sued:

So here's our context.  The company's chief was sued, he was quickly and kindly shown the door and they brought in a hot boy replacement (so homo).  They brought in Andy Mooney.  He came to QuickSilver from Disney where he was chairman of consumer products.  And the market loves the news.
Take that context and layer it onto our context on the big indices, currencies, and industries and you'll have a lovely feel for context.
This stock looks as overheated as the rest of the market.  The stock could certainly pullback before ripping higher.  Pull out to the weekly chart and you will see we're nearing a critical price level.  Sellers are going to be at work up here, but we've rammed up here aggressively and on volume.  For a trade only and if it fits the whole markets behavior, I may grab a few shares on strength tomorrow.
On the swing timeframe the stock looks good down to $4.25.
Don't be afraid to grip and rip, just make sure you define your risk.
If you enjoy the content at iBankCoin, please follow us on Twitter