"Technology stocks may have suffered a sell-off in the last few weeks, but the U.S. market as a whole is still set for a dramatic correction this year, Marc Faber, the market watcher known as "Dr. Doom" told CNBC Wednesday.
The editor and publisher of The Gloom, Boom and Doom Report said that he personally favors emerging market securities that are still "cheap," adding that he had even made investments in Iraq last year.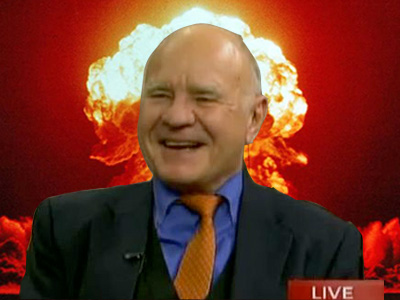 "We had already a big break in the market but we haven't had yet the big break in the overall market," he said.
In early April, the wider technology sector was hit by a selloff in momentum stocks which saw the Nasdaq Composite Index fall below 4,000 points for the first time since early February. Momentum stocks are fast-rising stocks which can unexpectedly reverse when investors fear they have overshot and a bubble is brewing. The Nasdaq Composite suffered its worst weekly hit since June 2012, and recorded its longest weekly losing streak since late 2012.
Telecommunication, social media, and biotechnology companies were all part of the move lower, but Faber believes this selling will eventually hit the wider indexes, with energy and utility companies seeing a sharp pullback. Faber reiterated his concerns that equities were facing a crash that could be worse than the financial world saw in 2008.
"I believe it is too late to buy the U.S. stock market," he said. Faber questioned the future returns of these U.S. stocks, highlighting that record low interest rates and high valuations mean companies will not be able to give back bumper returns to their investors…."
If you enjoy the content at iBankCoin, please follow us on Twitter