"We're being Fed to the sharks, every day, one morsel at a time. What a way to go….
What can we say about the Federal Reserve's policies that hasn't been said a million times? How about simplifying the two primary purposes of Fed policies? I will cover one today and the second one tomorrow. Both involve feeding the 99.5% to the financier/ Wall Street/bank sharks.
Longtime readers are familiar with Harun I.'s incisive analysis. Two of his recent commentaries can be found in Resolution #1: Let's Call Things What They Really Are in 2014 (January 15, 2014) and Doomed If We Do, Doomed If We Don't (February 12, 2014)
In the above entries, Harun explained how the Fed's money creation has leveraged a global bubble in assets. At 72-to-1 leverage, the Fed's $3.3 trillion money expansion has generated inflation as well as asset bubbles, though the Fed and its cronies deny both asset bubbles and inflation.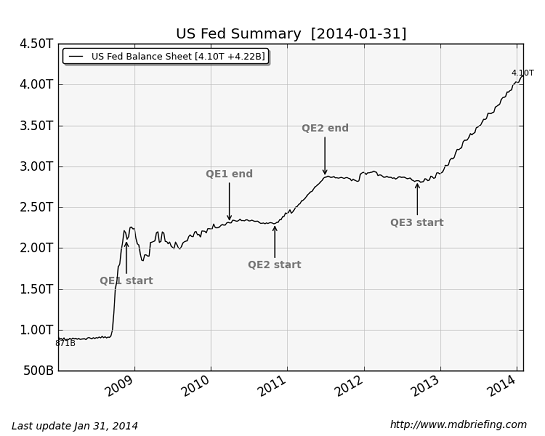 Inflation is the Fed's explicit, stated goal. The Fed wants prices to go up because that raises GDP (gross domestic product) and makes debt cheaper to service every year.
But alas, real income isn't keeping pace–it's declining. Median household income is down 7% since 2000, but if we strip out the top 1% households, the decline for the bottom 99% would be more than 7%. And if we strip out the top 10% households, the decline of the bottom 90% of households is much more than 7%.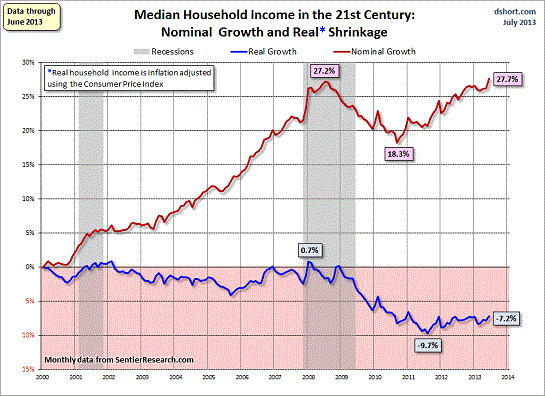 Household income for the bottom 90% has been stagnant for four decades: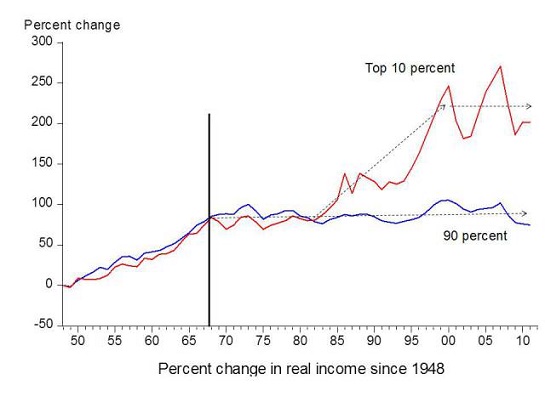 So the Fed is robbing the purchasing power of our money as a matter of policy. In simple terms, the Fed is stealing purchasing power and delivering the stolen wealth to the financiers and banks, who borrow money from the Fed for near-zero rates of interest…."
If you enjoy the content at iBankCoin, please follow us on Twitter