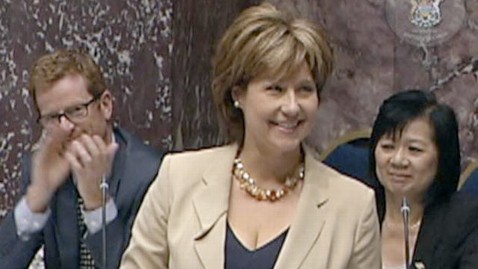 _______________
Canadian politician Christy Clark's navy blue v-neck dress set off a debate about workplace attire. Credit: Hansard

_______________
The Premier of British Columbia, Christy Clark, wasn't criticized for her stances on taxes and education when she took questions from the legislature last Wednesday. Instead, the 45-year-old politician's navy blue v-neck dress and khaki blazer was the subject of ire from one political pundit, which set off a fiery debate on Twitter that poured over into Canadian newspapers and news programs.
"Is Premier Clark's cleavage revealing attire appropriate for the legislature?" David Schreck, a retired politician, tweeted.
Schreck's controversial comment has drawn people on both sides of the issue to weigh in, with some agreeing and others branding the comments as sexist.
"Your comments about Premier Clark are sexist and inappropriate," marketing consultant Lesli Boldt wrote to Schreck on Twitter.
Mary Polak, a liberal cabinet minister in Vancouver, who is from the same party as Clark, told the Vancouver Province that Schreck's comments were "astonishing."
"Her attire was quite appropriate. Everybody knows women are more likely than men to be judged on their appearance, so she takes great care about it, and I've heard nothing but compliments about the way she dresses," Polak said.
Clark's office did not respond to a message from ABCNews.com.
Despite calls for him to recant his comments, Schreck said he stands by them.
"I cannot apologize for my point of view, namely that Clark was inappropriately dressed for the legislature," Schreck wrote on his blog.
There is, however, one thing that Schreck and his detractors can agree on: "It's time to get back to the real issues of the day," he wrote.
If you enjoy the content at iBankCoin, please follow us on Twitter