I tend to agree with @aswathdamodran here. As a collective we are obsessed with the FED, even if we aren't. I remember a time when the chatter was "the thickness of Greenspan's briefcase" – sheer idiocy. Quit being rhapsodic about the FED. Unless we're talking Roger.
Here are some of my notes from the video :
NOTES BEGIN:
– myth #1 = fed sets rates
– myth #2 = fed has kept rates low
– myth #3 = low interest rates "reason" for stocks doing well
– myth #4 = biggest danger to fed: market will react "badly" to change in rates
MYTH #1
– fed sets ONE rate: rate at which banks borrow at the federal window
– it indirectly sets the "fed funds rate"
– ffr: rate at which banks borrow and lend with each other
– the fed: DOES NOT set any other rates
– fed funds rate is connected to other short term market rates
– that is the extent of the direct connection
– everything else is implicit
– the effect the fed has on really long term rates: "much more tenuous"
– really short term rates are set by the market, not by the fed
MYTH #2
– rates => low for the last six years because "fed has kept them low"
– true: the t/bill and t/bond rates @ levels we haven't seen in decades
– but is it the "fed" that is "doing this"?
– to answer that Q => AD went back to econ 101
– fisher equation: ties nominal interest rate to expected inflation + expected real interest rate
– @aswathdamodaran "made one leap of faith"
– leap: assumed growth in real gdp appoximates real interst rate
– calls this sum an "intrinsic risk free rate"
– expected inflation + real gdp growth = "intrinsic risk free rate"
– see 4:45 for a graph of intrinstic risk free rate
– graph includes the historic 10yr t/bond rate superimposed
– when inflation is non-existent/ growth anaemic => rates are low
– this pehom occurs with or without fed's tinkering!
– @aswathdamodran suggests:
– the primary reason interest rates have been low =>
=> because fed's actions have not worked
– this is contrary to conventional wisdom!
MYTH #3
– low rates = bull market
– 2008 => forward looking ERP => 8.5% ; T/BOND = 4.5%
– ERP = equity risk premium = investors' expected return on stocks
– per AD :
– if rates were the driver of stock prices => ERP should have dropped to ~6.5%
– August 2015: expected return on stocks: 8.5% (roughly same as 2008!)
– what is causing stock returns to be so high?
– per AD:
– answer is straight-forward "US companies returning insane amounts of cash"
– reasons for returning cash:
– profits at historic highs, operating margins, cos earning more than ever
– returning proportions of earnings that are unheard of
– 2014 – US cos returned 91% of earnings as cash flows
– much higher than 80-85% in last decade and ~70% prior to that
– AD's view: that is the biggest danger to stocks!
– if cash flows stay at current levels with rates up => fine
– but if cash flows drop and rates rise => danger!
– see table at 7:50
MYTH #4
– "rates up – stock and bond markets collapse"
– AD : there are two other scenartios that are "far more dangerous"
– 1) fed raises rates, and nothing happens
– 2) fed doesn't raise rates: and rates go up anyways (via inflation)
In Summary:
– the fed does not "set" rates; but it has credibility
– investors assume =>
– "fed raise" = "economic strength" and "fed lowers" = "economic weakness"
– as long as fed acts consistently => has credibility
– biggest danger to the fed => anything that attacks the notion of credibility
– if the fed acts and nothing happens to bonds/stock markets => not good!
– tells chanteclier story: rooster crows in the morning and the sun comes up
– the barnyard animals think that the rooster's crow caused the sun to come up
– per damodaran: this is the fed situation => investors may wake up!
– per damodaran: "we don't know how equity, bond markets will react"
– "obsession with fed has gone on long enough, lets move on!"
END NOTES.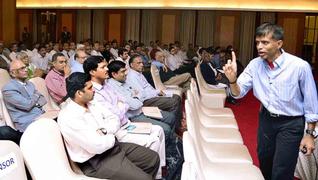 Comments »