Gary Gensler "taught" a brief course at MIT in 2018 where one can see his true colors on the topic of crips. He's so casual and fun. Cheering on aspiring mercenaries, regaling with one Lawrence Lessig. Ha ha ha! Let me tell you something, quietly, this man is a H8TR — a wonk that wants to make his name by REGULATION VIA ENFORCEMENT.
"IM A LITTLE BIT CENTER MINIMALIST" – PER GENSLER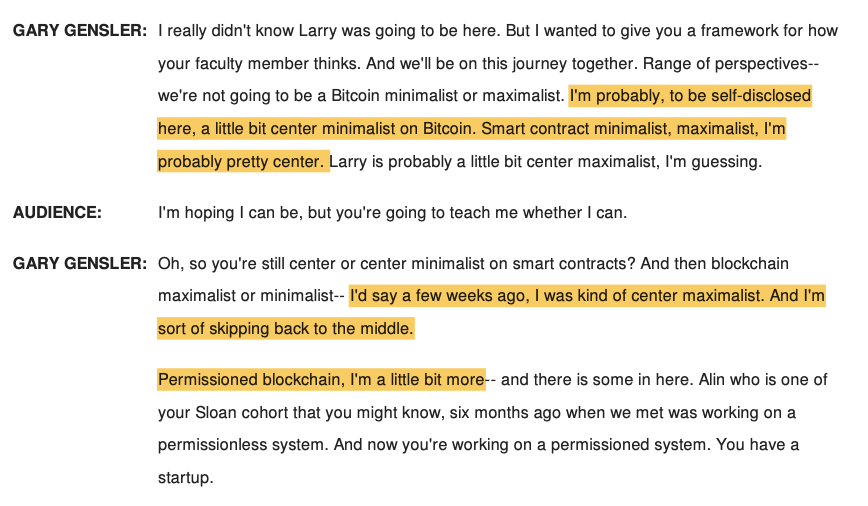 "WHATEVER THAT IS" – PER GENSLER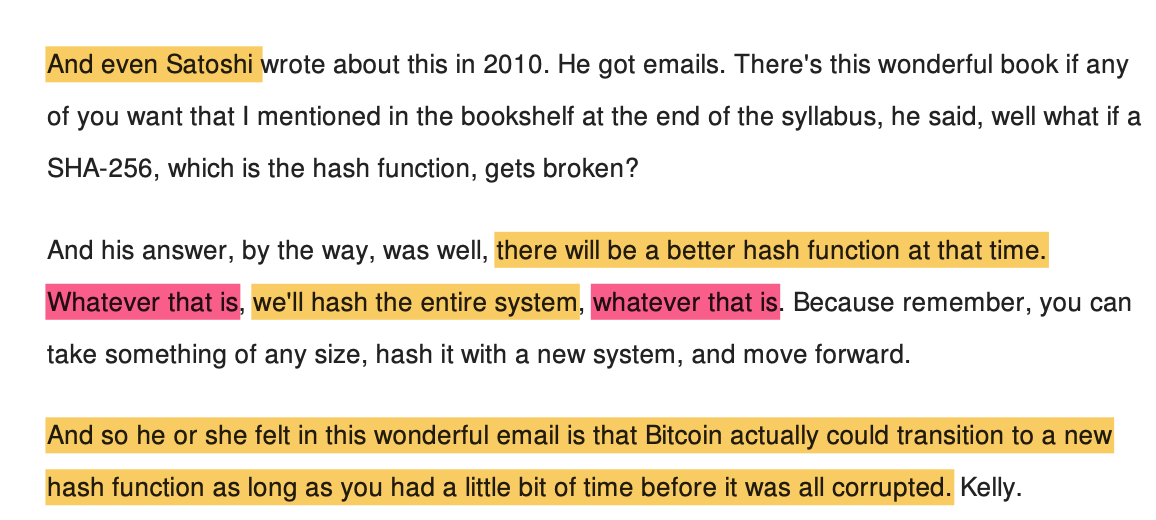 "SOME QUANTUM COMPUTING WILL COME ALONG" — PER GENSLER

umm, sidenote:
In a preprint posted online Thursday night, researchers at Google in collaboration with physicists at Stanford, Princeton and other universities say that they have used Google's quantum computer to demonstrate a genuine "time crystal." In addition, a separate research group claimed earlier this month to have created a time crystal in a diamond.

A novel phase of matter that physicists have strived to realize for many years, a time crystal is an object whose parts move in a regular, repeating cycle, sustaining this constant change without burning any energy.

"The consequence is amazing: You evade the second law of thermodynamics," said Roderich Moessner, director of the Max Planck Institute for the Physics of Complex Systems in Dresden, Germany, and a co-author on the Google paper. That's the law that says disorder always increases.

Time crystals are also the first objects to spontaneously break "time-translation symmetry," the usual rule that a stable object will remain the same throughout time. A time crystal is both stable and ever-changing, with special moments that come at periodic intervals in time.
"REGULATING SWAPS = DEMOCRATIZING FINANCE" – PER GENSLER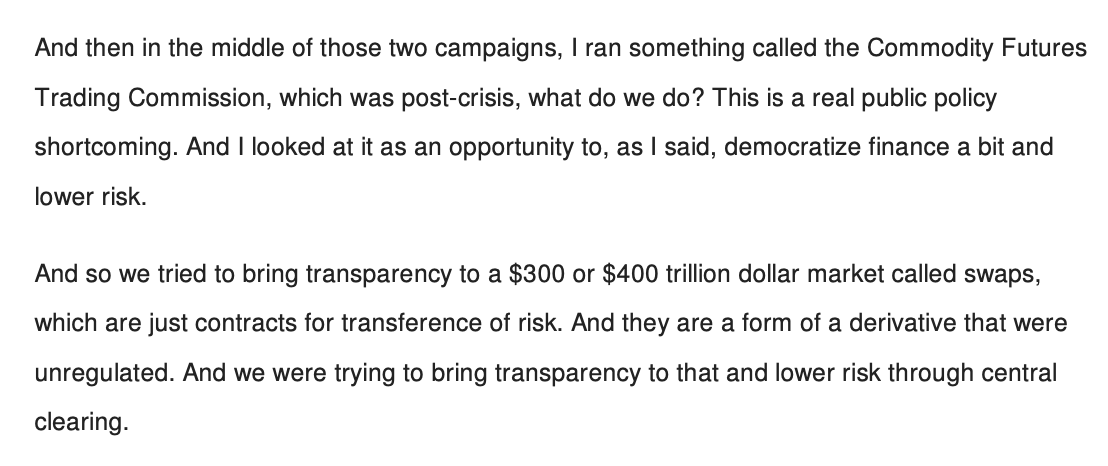 "WILD WEST" – PER GENSLER
Currently, we just don't have enough investor protection in crypto finance, issuance, trading, or lending. Frankly, at this time, it's more like the Wild West or the old world of "buyer beware" that existed before the securities laws were enacted. This asset class is rife with fraud, scams, and abuse in certain applications.
"COME TALK TO ME" – PER GENSLER
Further, I've suggested that platforms and projects come in and talk to us. Many platforms have dozens or hundreds of tokens on them. While each token's legal status depends on its own facts and circumstances, the probability is quite remote that, with 50, 100, or 1,000 tokens, any given platform has zero securities. Make no mistake: To the extent that there are securities on these trading platforms, under our laws they have to register with the Commission unless they qualify for an exemption.
"STABLE VALUE COINS" – GENSLER POTENTIALLY REBRANDS STABLECOINS

"TECHNOLOGIES DON'T LAST LONG IF THEY STAY OUTSIDE OF THE REGULATORY FRAMEWORK" – PER GENSLER
I am technology-neutral. I think that this technology has been and can continue to be a catalyst for change, but technologies don't last long if they stay outside of the regulatory framework.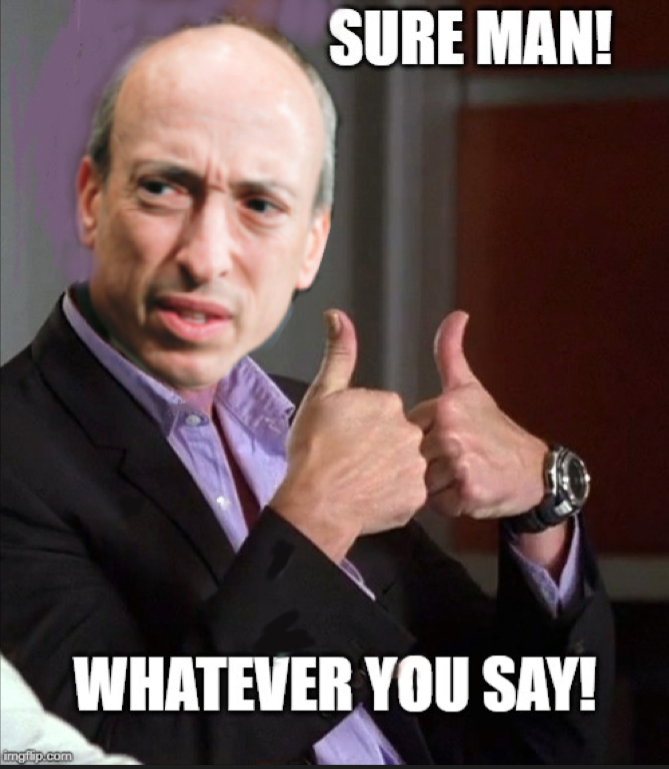 "GG = GENERAL FUCKERY MAXIMALIST" – PER JUNGLE
Gary Gensler, self proclaimed "bitcoin center minimalist" — general fuckery maximalist.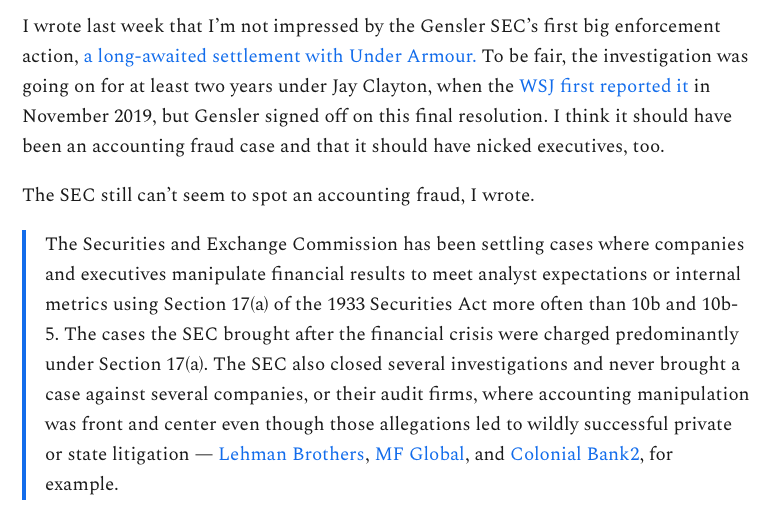 FOR FUN:
Gary Gensler, U.S. Securities and Exchange Commission Chair, is one of the world's most powerful financial regulators and a key player in the push by the government to regulate the trillion-dollar plus cryptocurrency industry. On Tuesday, Sept. 21 at 12:00pm ET, Washington Post columnist David Ignatius speaks with Gensler about the cryptocurrency landscape, the growth in digital trading platforms and his call for more stringent financial disclosures around sustainability.
STREAMING LINK Tuesday, Sept. 21 at 12:00pm EST
These regulators live in a paradigm in which there can be no such thing as free and open markets regulated by math rules and transparency.
Comments »