Dear Penii,
Sometimes, there really isn't much more to say or do. Jungle's megalomaniacal self wants nothing more than to pound out a missive on this cartoon, but 'tis the holidays, and Jungle is taking the path of least resistance.
Instead, let me share a handful of John Foley's most inane lines, curated in-house.
Foley, is a fucking fraud my friends. Through and through. A hybrid between Gary Freidman and Joel Osteen, if you will.
"We are weirdly profitable" — NO YOU ARE NOT YOU FULL OF SHIT INDIVIDUAL [see clip above]
MEANWHILE AT BARCLAYS GLOBAL TMT CONFERENCE
Peloton Interactive, Wednesday, December 11, 2019 at 9:30:00pm GMT
Quoting Mr Analyst:
What do you think are your competitive moat in this space?
Inane Quote from Mr Foley 1.0:
Yes. In the same way that for 8 years, it's been really hard to raise money for Peloton. And even with our IPO reception, some investors are still skeptical or struggling to get their brain around what it is and how it works because it's so different. And what — when you think about the competitive moat, it's different because there's so much to it. We are a hardware company. We're a software company, hundreds of the best Python engineers in New York City in Chelsea. We are a media company. We're a retail company. We're a logistics company. We deliver the majority of our bikes and treads globally. We now are in manufacturing. We have a music platform into a Spotify type of platform. We have an apparel business. It is a very multifaceted thing that they all work in concert to deliver a very bespoke high-end experience.
Inane Quote from Mr Foley 1.1:
If you've ever bought a bike from a Peloton store, a Peloton bike, and got it delivered and then get on the platform and it's our media. It's our — there is — that's obviously vertically integrated in a way that not many young businesses are this vertically integrated. And I think that creates a moat.
Inane Quote from Mr Foley 1.2:
But we have massive moats. I mean IT, brand, our community is very powerful. Social — our network effect on our software, we have close to 2 million people on the platform today. And we are making it such that the more people we add, the better experience you get just like Facebook and LinkedIn if you think about consumer Internet. So there's lots of moats, but none smaller than it's really, really hard to do what we do.
Inane Quote from Mr Foley 1.3:
Well, one of the things that, as I've been scratching my head, is understanding why everyone isn't pouring all their money — all of their savings into Peloton right now.
Inane Quote from Mr Foley 1.4:
So we are very excited about the secular tailwind that fitness has gotten as broadly, Jill will point out, if you got her S-1, that even in 2008 and 2009, fitness dollars spend in the U.S. went up dramatically.
JUNGLE ANNOTATION: BAHAHAHAHHAHAHA "IF YOU GOT HER S-1"
Inane Quote from Mr Foley 1.5:
Yes. We love the $39 price point. We did no research on it. I picked the number — excuse me, I picked the number, I think, 6 or 7 years ago. I said it costs $30, $35 to go to a boutique fitness class in New York City. I wanted the 1 class, the 3 handle is important to me. So $39 for the consumer to connect the dots. For the price of 1 class, you and your whole household can get unlimited fitness experiences at a better location, on a better bike with better instructors. So $39 has stuck.

I mean, to your question, Sandeep, we believe it is sacrosanct — sorry, Deepak. It is a sacrosanct price point. The $39, we make over time, going to, call it, 70-plus percent margins in the coming years on that $39 a month. And so yes, we are giving you more and more goodness, more content, more software, more class types, more categories, and we're very excited about that. And it's all in the name of giving a better experience to our members.
JUNGLE ANNOTATION: What the fuck is a "sacrosanct" price point? And for the love of god — does this not remind you of the time that Kevin Plank, the idiot ex-CEO of Under Amour gave estimates based on the Golden State Warriors statistics?
Quoting the illustrious Kevin Plank, 1Q16 Call:
I want to focus this morning on our transformation, the evolution that is manifesting itself across multiple product categories, channels, and geographies. But first, our scoreboard. We have started off our 20th year in business with impressive results. Our first-quarter revenues grew 30%, with the growth coming from every facet of our business. And to be clear, that 30% number was no accident. When Stephan Curry decided to average 30 points this season to take the scoring title while wearing the number 30, we thought that putting up 30% growth on our end was the best way for us to demonstrate our pride and support of Stephan and the Warriors.
Incidentally, £39 also happens to be what this thing costs in the UK. Go figure. Sacrosanct.
PTON = SUBPRIME LENDER IN DRAG
This is good ol' consumer finance, in fitness drag. Might be a good acquisition for Conn's Inc., an American furniture, mattress, electronics and appliance store chain headquartered in The Woodlands, Texas. Financing durable goods at inane rates to those in need of basic items. Fitness is indeed a basic need (ask Michelle Obama). 18%+APR after you miss a payment. You want to bet they are optimizing for the people who miss, but can still keep paying? What else are these fucking their-party fintechers doing on the backend?
Per CFO:
And, incidentally, I don't know if you were asking as well about the P&L impact of financing. We do solely use third-party providers today for all of our financing underwriting APIs loan qualifiers. So all of that is actually a contra revenue item and essentially then baked into our cost of goods that way for our connected fitness products.
per Gandel of CBS Moneywatch:
The IPO documents show that about half of Peloton's exercise-equipment sales come through a generous financing arrangement that allows customers to buy its stationary bike for just $58 a month or its treadmill for $179 a month. The purchase requires no money down, and it carries a 0% interest rate for as long as 39 months for the bike and 24 months for the treadmill. There are also no late fees for either piece of equipment.

Nonetheless, Peloton, according to its IPO documents, books these sales as full purchases from the moment the customer gets the equipment. That's not so unusual. Many companies book revenue before they have been paid. But most of them will record an accounts receivable to identify cash that they are still waiting to collect. Peloton doesn't seem to be doing much of that: While its sales rose by $480 million in its last fiscal year, its accounts receivable rose by just $9 million.

That's fine, according to corporate accounting expert Bob Willens, as long as Peloton recognizes the cost upfront of the $58-a-month or $179-a-month installment loans. It could do that by, for example, lowering the amount of revenue it books from each sale to take into account that some customers inevitably won't end up paying off their bikes or treadmills. The problem is Peloton doesn't seem to be doing that either, Willens said.

The installment loans are set up by https://techcrunch.com/2019/09/12/affirm-fintech-explosion/, a separate financial services startup in San Francisco, which finds lenders and sends the cash for the installment loan purchase to Peloton. But how much cash Peloton is getting from Affirm, and how much Peloton is compensating Affirm for this service, or sharing the credit risk, is not clear in its financial statements, Willens said.
JUNGLE ANNOTATION: Oddly, another "fintech" company Klarna, deals with therr Europena financing. For more on Klarna — see the article linked.
The firm has become a notable disruptor in the payments sector, marketed as an alternative to credit cards and allowing users to shop now and pay later, either in a lump sum or in instalments and without interest on most items, as long as they pay on time.
Since its launch in 2005, Klarna has gained popularity among cash-strapped millennials and Generation Z – those born from the mid-1990s – who want to shop before payday but either do not have, or would like to avoid, a formal line of credit.

It now has 60 million users worldwide, and with 1 million transactions processed per day online and in store, Klarna says it is on track to make $1bn in annual revenue. The company charges fees to merchants, and customers who fail to pay on time.
For more on the demographics, Per CFO:
" …. total addressable market, we do define it as people over the age of 18 and those that make over $50,000 in household income. And what Eric said is 100% true: our fastest-growing demographic is actually those that make under $75,000 a year in household income, and those that are under 35. And obviously this trend over the last several years has continued to improve as we've, I think, done a better job at educating the consumer, not only about our product but clearly the value proposition."
What JUNGLE is not understanding, is what "trend" is exactly improving. Meh. Whatever.
CFO goes on:
For those of you who know the gym industry, the average gym membership in the US is $58 a month. If you finance a Peloton bike and pay for our subscription associated with that — on a household basis, because we scale within a household, unlike gym memberships — that's less than $50 a month per person. And that is while you're paying off your financing period for your bike; and then, thereafter, it's less than $20 a month.

So John can attest to the fact that he sold bikes to many people that were going broke going to boutique fitness because they liked that type of workout, and the value proposition for Peloton really resonated with them. We think, over time, we are going to continue to see that trend of people recognizing, again, that true value proposition of our product. In fact, in fiscal year 2019, almost 20% of the bikes we sold were to people that make less than $75,000 in household income a year.
THE MAIN POINT:
Jungle has about 1000 more nuggets on this topic.
But this was to be an abbreviated post, with one message:
THIS COMPANY IS NOT PROFITABLE, YET THE CEO SAYS IT IS PUBLICLY.
In conclusion, Foley joins JUNGLE'S ASSHATS OF THE DECADE List, just in the nick of time, along with Friedman and Plank.
Exhausted from thinking about this cesspool of a going concern. Hence, I'll take your leave for now.
Off to quaff a Russian Imperial Stout for God's sake.
Cheers,
JG
————-
PS: A LITTLE CHERRY ON TOP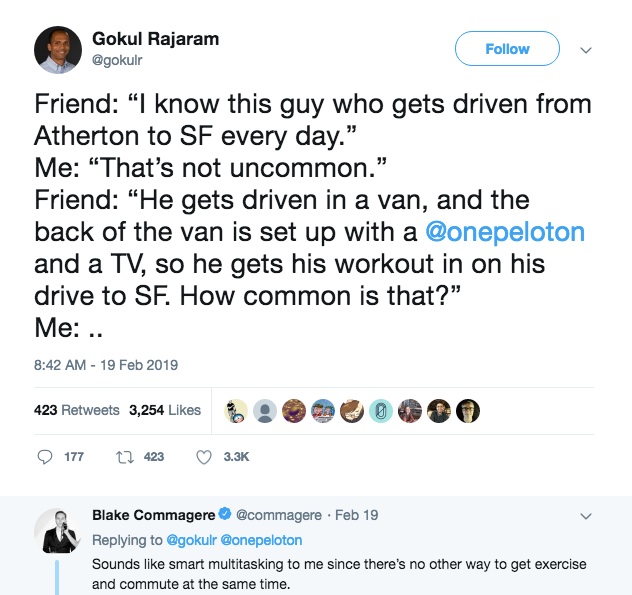 Mark my words. These will be "sold" in the glorious cycling terrain that is 'the 650' for a small "removal fee" of about $150 in the near future.
Back to Buck's for a mid-ride coffee.
————–
RANDOM "FACTS"
10% conversion from digital to connected fitness.
32 instructors.
562,774 subscribers as of 3q19 (calendar) 1q2020 (fiscal) report.
Peloton does not say whether that #includes paused subs. Lol.
If you enjoy the content at iBankCoin, please follow us on Twitter