First take a gander at this shit —
http://ir.restorationhardware.com/phoenix.zhtml?c=79100&p=irol-videos
Dont worry, you'll have to cut and paste the link, as hyperlinking does not work to the piece of shit site. They mandarins at RH don't want that shit going viral.
A quarterly earnings release link that is dead.
"Nearly thorugh the most uncertain stages of our transformation." — says Gary Friedman, the venerable and mentally ill CEO of Restoration Hardware. Time to GET LONNNNNNG? FUCK NO. First and foremost, any person who uses the phrase "you know" roughly 230 — yes, you read that right two hundred and thirty times during a 57 minute call, is mentally ill. I personally, do not need any more data. Also, he has no college degree. Just stating facts here. No elitism.
The Q+A call was so disgusting, so vile, that I will deal with it in two parts, if I feel like it. There is nothing new and/or earth shattering here. Just the same ol' garden variety BULLSHIT spewed in a mildly dolourous tone. With all the reassurances that ol' Gary himself is an investor right along with your dumb ass. Unless of course, you've been heeding the warnings of the one and only JG.
per the WSJ:
Sales at stores open at least 14 months fell 6% in the quarter ended Oct. 29, and the company lowered its profit and sales targets for the rest of its fiscal year. Profit for the fourth quarter is now expected be at least a third below Wall Street's target.

Overall for the third quarter, the company reported a profit of $2.5 million, or 6 cents a share, down from $20.7 million, or 49 cents a share. Revenue rose 3.1% to $549.3 million.

For the current quarter, the company expects revenue between $562 million and $592 million with adjusted profit on a per-share basis in the range of 60 cents to 70 cents. Analysts surveyed by Thomson Reuters were expecting $637.6 million in revenue and $1.08 a share in earnings.

For the fiscal year, the company said revenue would be between $2.11 billion and $2.14 billion, which represents a range of no growth to a 1% climb. Previously the company expected revenue to grow between 1% and 3%. The company also sharply cut its adjusted earnings outlook to a range of $1.19 to $1.29 a share, from a previous projection of between $1.60 and $1.80.
Some notes —-
The Membershiip Program = FUCKING JOKE = Let me pay you $100/annum to get discounts. And this fuckers thinks that 200,000 unsuspecting Americans will join his club in 2017? Amounting to $20 million of 100% margin business. I don't even want to expend any energy on this.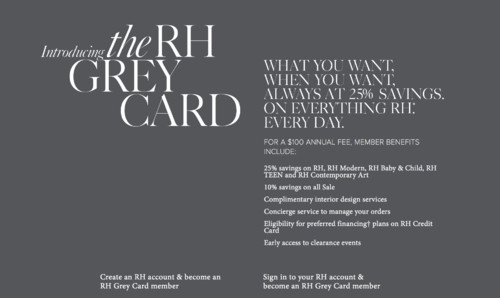 Here's an anectode:
It's a rip off. They marked up everything in their store by 25% then offer a 25% discount to those who purchase their membership card. I bought a bookcase from RH Baby and Child in 2014. I wouldn't have but I couldn't find anything I liked anywhere else and it was practically perfect though overpriced. It was $749 back in 2014 before there was a Grey Card. It went on sale for $649 so I bought it because that was the best I was ever going to do. I am pregnant with my second and decided I wanted to purchase the same bookcase for my next child. I now see that the exact same bookcase is $999 and $749 for members. In order to get the $749 I'm going to have to pay the $100 membership fee. I feel so ripped off that I've decided not to purchase it after all. It was already overpriced and now I'm going to have to pay $200 more for it if you consider the membership fee and no sale. I'm very disappointed since I truly love the bookcase.
These fuckers have no idea what they are doing. No idea how to price their products. And are blatantly asleep at the wheel. They are throwing shit at the walls and seeing what sticks while snorting lines of coke on Mount Tam. And now they are entering the logistics business too!? Interior design services (headcound doubled). And of course we can't forget hospitality! The shit is so inane that I had to stop listening to the call. I will post my notes below to half of the call, and post the rest later. Annotating this shit was fun at one point, but now its just lame.
If you care here's a little background on the stupid Waterworks deal. Assuming hte company is not bleeding cash, this is a clear throwback to RH's roots. The company was founded by some dude in bumfuck Northern California who sold unique fixtures at premium prices. They had cute odds and ends. Screwdrivers, lip balms, leather conditioners, etc. Shit that was useful. Now the showrooms are an abyss of nothingness. As a side note the chat boards are referring to the "feel" of their showrooms with the terms "dirty fog" and "corpse-like" — !
The transaction with Waterworks was valued at approximately $117 million, which is subject to changes in working capital and other adjustments, and funded from RH's cash balances. Waterworks is expected to be accretive to RH's fiscal 2016 earnings. Waterworks has long been the definition of the well-appointed bath, and is the only complete bath and kitchen business offering fittings, fixtures, furniture, furnishings, accessories, lighting, hardware and surfaces under one brand in the market. Waterworks is comprised of the Waterworks, Waterworks Kitchen and Waterworks Studio brands, all built on a foundation of impeccable style, design integrity, quality and craftsmanship. Waterworks products are sold through its 15 showrooms in the U.S. and U.K., as well as its boutique retail partners, hospitality division and online. The Company prides itself on its deep relationships in the design community and the technical expertise and tenure of its people.
As for new store openings:
Outlets are a liquidation channel for "nick and dent items" that come back from a returns and exchanges. We did open a number of temporary outlet to get us through the inventory SKU rationalization and get rid of the occupancy, and avoid occupancy, so a lot of the locations, 8 of the 12 that we're going to open this year are temporary, so anywhere from 12 to 24 months and we'll be out of those.
Good to know that so much shit comes back that they have to open stores to get rid of it.
As a sidenote I'm thrilled that the popchips founder and CEO is now on the board, in case Gary's got the munchies.
Some details from the call:
RH – Restoration Hardware Holdings Inc
Q3 2016 Restoration Hardware Holdings Inc Earnings Call
December 08, 2016 / 10:30PM GMT
================================================================================
Presentation
——————————————————————————–
Editor JUNGLEEGIRL
——————————————————————————–
Matthew Fassler of Goldman Goldman Sachs
——————————————————————————–
Good afternoon, evening. My question relates to underlying demand as best you can address it. As you said in video that written sales are not quite up to expectations in the third quarter and certainly that was the case it sounds like in November.
If you could talk about the cadence of demand [JG: THERE IS NO FUCKING DEMAND DIPSHIT] and the impact that some discreet items might have had on it, specifically your discussion of the later mailing of the books, and also just the ad in November and perhaps what you have seen in the brief couple of weeks since then.
——————————————————————————–
Gary Friedman [6] ——————————————————————————–
Sure. Matt, this is Gary. There's [JG: LEARN SOME GRAMMAR FUCKFACE] really three things we can kind of look at and somewhat quantify today, and that is, you know, there's a real softness in November. November got off to a very slow start. We think that was, you know, created by some distraction around the election. At least that was our hope early on. [JG WAIT, SO YOUR HOPE EARLY ON WAS WHAT? THAT YOU WOULD GET OFF TO A SLOW START DUE TO THE DISTRACTION OF THE FUCKING ELECTION? — ARE YOU FUCKING KIDDING? THE GOBBLEDYGOOK BEGINS]
As we got past the election, you know, our business was building at a slower rate than we had anticipated, and as we dug into look at some of the implications around that, you know, one of the things that stood out was our books were getting in home slower in November specifically than we had planned. [REALLY, YOU DECIDED TO DO A 600 PAGE BOOK AGAIN WHILE YOUR FUCKING BUSINESS IS IMPLODING? RECALL THE ECO-BLING UPROAR IN THE DOWNTOWN PALO ALTO STORE, WHERE YOUR CORE CLIENTELE (IN TERMS OF INCOME) STACKED ALL THOSE PAGES OF DRIVEL IN FRONT OF THE STORE TO BLOCK THE ENTRY? — YOU THINK THIS IS STILL A GOOD FUCKING IDEA? ARE YOU OFF YOUR ROCKER? UMM, YES, YOU FUCKING ARE GARY. YOU FUCKING ARE!] So beginning in November, we lost about a month of books in the delay.
And, you know, so and also impacting the businesses is really just a poor performing holiday collection, and we believe some of that in looking back is from probably being too aggressive and pulling too much of the holiday content out of the store.
Our thesis was we could consolidate holiday, consolidate the inventory in the DC, move more of the sales to direct, offer free shipping, and we could run the business at a more productive level and at a higher margin, and our thesis, it proved to be incorrect. [WRONG AGAIN, BECAUSE YOU ARE TOO BUSY POPPING OXYCONTIN GARY. HAVE YOU SEEN THE PUPILS OF THE CEO AND CFO ON THE INANE "EARNINGS VIDEO? — I HAVE NOT EITHER BECAUSE THEIR EYELIDS ARE HALF CLOSED — IM TELLING YOU THESE ASSHOLES NEED SUBSCRIPTIONS TO ALTA MIRA. COZY, QUAINT, AND JUST DOWN THE ROAD IN SAUSALITO. DON'T WORRY, IT'S A RORT TOO. TAILOR MADE FOR FUCKFACES LIKE FRIEDMAN, AT $30K A MONTH. DON'T WORRY RH HEALTH INSURANCE WILL PROBABLY TAKE CARE OF THE BILL. AIN'T AMERICA ALREADY GREAT? 'TIS THE ONLY LAND WHERE YOU ARE REWARDED FOR BEING A FUCKUP AND GET A SECOND CHANCE WITH A VIEW OF THE GOLDEN GATE BRIDGE]
I think we're just losing too much of the conversion from the store traffic in the store, so one of the things we're considering is next year, layering back in some of the holiday decor, and gift items. We won't put the it stocking stuffers back in. We think that's a legacy business that doesn't associate with our business, and you know, with our current content. [WOW BIG FUCKING DECISION THERE GARY — NO STOCKING STUFFERS FOR 2017. BITCHES BE BE NAUGHTY, AND GARY HAS A DIRECT LINE TO SANNY KLAUS]
That's really the key things. [AHH, YES, THE "KEY THINGS" — RIGHT — THE STOCKING STUFFERS AND THE ELECTION — HOLD ON, LET ME DO ANOTHER LINE HERE OFF MY IPHONE 7]
You know, for us right now, I think what's difficult is, you know, as we sit here today, how do we think the business will build into January, and how do we think the business will build as the books get in, and also as the impact of our kind of gallery conversions and remodels where we put modern and design, you know, how long is that ramp. [JG: SO WHAT IS DIFFICULT IS THAT YOU HAVE NO FUCKING VISIBILITY WHATSOEVER. YOU HAVE NO IDEA WHAT THE FUCK THE IMPACT OF THE CATALOG MIGHT BE. YOU KNOW WHY GARY? BECAUSE THE HISTORICAL IMPACT WAS SO FUCKING SHITTY AND LARGELY UNQUANTIFIABLE THAT YOU JUST DECIDED TO GIVE IT A GO AGAIN! AREN'T YOU GLAD WE'RE RICH! SITTING ON YOUR TINY LITTLE ASS IN TIBURON, NOT A CARE IN THE WORLD. FUCK! LET'S DO THIS AGAIN! SERIOUSLY, YOU ARE OUT OF YOUR FUCKING MIND. PERHAPS THE INTERIOR DESIGNER B!TCHES THAT YOU BEND OVER GIVE YOU POSITIVE FEEDBACK ON THE CATALOG GARY. BUT LET ME TELL YOU, THE REST OF THE WORLD FINDS IT TO BE AN EGREGIOUS WASTE. ONWARD.]
In New York, when we converted that store and modern last year, it took about 6 to 8 weeks to build to the level, you know, where modern built to a level where it was doing consistent run rate, so it took about that long, so we think we've got probably, you know, we've got a build coming from the investment we made in the stores, we've got a build coming from the books in-hoping and a month later versus where we are, and the holiday mist is going to go away, right, so, you know, at the end of the month, the drag of the holiday reduces considerably, you have some holiday mark down sales in the first few weeks that are a little bit of volume, but then it falls completely off. [JG: MORE TO LOOK FORWARD TO FOR 4Q16 — WOO!!!!!]
As we look forward in the next year, and we rebuild our base off of next year, you know, off of where we think this will land, and I think I would characterize it as we're being conservative, and in Q4 today. Because we just don't have visibility in the builds, right, you know, it could be a little better, but today, based on where we sit, we thought it was right to take a conservative view based on how we saw the rest of the December and January. [JG: AGAIN NO VISIBILITY, PER GARY. LET ME REPEAT, NO FUCKING VISIBILITY FOR 4Q16]
So but when you build and YOU look forward and you take a look at next year, and you build off the base where we think we're going to end, and you take a look at the four revenue and earnings drivers next year as you look forward to 17, anniversary of the cost related to our RH Modern, which we have estimated around 20 million. We moved beyond the timing issues related to the launch of RH membership and expect membership revenues and earnings to increase by about 20 million year over year, and that's on the P&L affected, right, so we'll pick up about 20 million there. Those fall straight to the bottom line. Those are 100% margin. [JG: YA, IF WELLS FARGO CAN FABRICATE ACCOUNTS, SO CAN MOTHERFUCKING RESTORATION HARDWARE. A CONVENIENT LITTLE OPENING FOR JIGGERY-POKERY GARY. OR WAS IT THE IDIOT CFO'S IDEA? JUST THE RIGHT SHADE OF BLONDE TO RUN SOME PUSSY-MAGIC ON DEPRIVED MANAGERS #IMWITHHER]
JG: SO FOUR REVENUE DRIVERS: 1) ANNIVERSARY RH MODERN LAUNCH (LOL) 2) PRODUCT MARGINS WILL REBOUND (WHAT IS YORU FUCKING RATIONALE HERE GARY?) 3) MEMBERSHIPS (FAKE ACCOUNTS AND/OR LAZY/FORGETFUL RENEWALS) 4) RH MODERN BOOK (ONCE AGIAN, MENTAL ISSUES COME TO THE FORE).
And we'll begin to cycle the efforts to reduce our inventory and rationalize our SKU could wants and we expect product margins to rebound year over year beginning in the first quarter and the fourth point, which is the one that, you know, we'll have to watch as we build through the end of this quarter, and into first quarter, but we expect revenues to increase based on the fact that we just mailed the books, and we'll be up against no source book throughout the first three and a half quarters of next year, right, and then we'll mail the modern book in the first quarter. So, you know, that should provide substantial revenue lift year over year, and you add to that new stores that are flowing from this year into next year, and you add the new stores that were opening next year. So we feel very good about looking at how we see 17. You know, and what I mentioned in the video, with each passing quarter, we have more certainty as it relates to how we look at 17. We have, you know, a lot of data now about membership. [JG: SO LET ME GET THIS STRAIGHT. YOU HAVE NO VISIBILITY INTO 4Q16, BUT YOU ARE "FEELING GOOD" ABOUT 2017 AND HAVE "MORE CERTAINTY" ON 2017. IS THAT RIGHT? OK, JUST MAKING SURE. ONWARD.]
You know, the only open issue I would say about membership that we don't know next year, but I think we're conservatively forecasting it, is how we're forecasting renewals, right. But we do know from signups today, that a very minimal percentage are opting out saying don't auto renew me, so, you know, we believe based on, you know, what we have studied in other companies, and what we think renewal rates will be. We think we're conservative, and we have that forecasted in a conservative rate, so, you know, so we have a lot of data now. We feel very good about how memberships are rolling through. And, you know, as we think about 17, we think we're going to, you know, bridge into next year, and be very happy with where we land. [JG: READERS, PLEASE GO AN PICK UP A COPY OF SELLING AMERICA SHORT BY RICHARD SAUER. THE 'FORGETFUL CUSTOMER' THAT AUTO-RENEWS IS THE OLDEST TRICK IN THE BOOK]
——————————————————————————–
Matthew Fassler of Goldman Sachs [7] ——————————————————————————–
I guess a brief follow up just to get clarity, are you getting any comfort from the build that you've seen since business presumably around the election. Is it driving closer to a rate that would be consistent with your launch in growth expectations or is it still subdued given the holiday issues and the mailing of the catalog, the timing of the mail.
——————————————————————————–
Gary Friedman [8] ——————————————————————————–
It's clearly subdued and we forecasted it to be subdued, you know, from a demand and revenue point of view through the rest of the quarter. My point being is if you take that new base, right, and you build off the base into next year, we feel very good about, you know, what next year looks like, and, you know, the bridge back to, you know, business performance that would be, you know, more in line with, you know, what we'd expect. [SO THINGS WILL GET SO SHITTY IN 4Q16 THAT 2017 WILL BE A SLAM DUNK, PER GARY]
——————————————————————————–
Oliver Jen from Cowen and Company [11] ——————————————————————————–
I had a question regarding the, why did you pursue a little more aggressively than you originally expected and also on the cap X line, do you have flexibility to continue to kind of tweak that number down in the event that your free cash flow doesn't materialize, you know, how you would like it to, and Gary, I think you articulated this, but if you could have done this over, you know, over the past year, just what would you have highlighted that, you know, some differences you would have made, and I think also we wanted to know about the source book, why was it a little bit later. You had mentioned that it was one month later than — later than planned.
——————————————————————————–
Gary Friedman [12] ——————————————————————————–
Sure. Let me kind of address those from bottom to top. I'm going to take it backwards, but, you know, the books in later than planned. One, we're one of the few people that mail a book our size and our complexity. Some of our books are mailed in bundles. We mail 600 page book. Our printers don't really, you know, have other books of that sides besides phone books, so our books don't go through like a typical catalog goes through a facility, and our book goes through multiple facilities, so there's always a chance that there's going to be some delay in the printer, which we had some delays, and like wise, when you go through the US mail postage system with a book of our size, you know, at each of the books that, each of the points that it moves through, whether it's going to the printer from BMC or an FCS special center facility, and then breaks out to a post office, and then the post office's ability to handle it and move it, you know, our books can be somewhat imperfect in predicting how they move through all those points and all those steps. So we have some delays as we move throughout printers and we have delays as we move throughout postal network, and those delays were compounded in the postal network, which didn't anticipate. It's the first time we mailed and had books going in in November, you know, and in December, so November books is where we missed, and I think we missed because, you know, we went into, you know, a very crowded time, right, so you have all the holiday mailings and the other point is you had, it was very unusual, we had all the postage that was going through based on the election, so if you think about early November, a lot of election postage going through the pipeline, so, you know, that's the feed back and the insights we have been able to give, so that's the impact as it relates to the book being later. [JG: BLAMING THE POSTAL SERVICE AND ABSENTEE BALLOTS. AND OTHER HOLIDAY MAIL. MENTAL ILLNESS CONTINUES.]
We lost about a month of in-home, about 30 days of in-home. What would I do over, and clearly we decided to use this year as kind of a transformational and transition year, and take a lot of, you know, make a lot of moves with the business from moving from a promotional model to a membership model which we thought was right for the business long-term. You know, we clearly, you know, in the first quarter, we were still in the early days of the the launch of RH Modern so we had to figure out how to ramp that business. You know, we, you know, we decided to reevaluate our supply chain and the way we were moving against our supply chain and we were ready to put a shovel in the ground to build another DC. We decided not to. One of the ways to avoid that was to reevaluate our inventory, be more aggressive in moving through SKUs that we're not long-term that we didn't think hit the performance, you know, hurdles and metrics to be in the assortment so we decided to accelerate that this year, avoid building a distribution center, give ourselves time to reevaluate the network, and you know, design the supply chain network in a way we thought could be more productive and more impactful to capital usage, and terms long-term. [JG: WHY BUILD ANOTHER DC WHEN YOUR PRODUCTS SUCK DICK AND NO ONE WANTS THEM? NOT TO MENTION, YOU HAVE NO FUCKING IDEA WHAT YOUR CUSTOMERS WANT, AND YOU HAVE NO PLAN FOR REPLACING SKUS — BECAUSE YOU DON'T HAVE A CLUE WHAT THE CUSTOMER WANTS! THIS SHIT IS GOING THE WAY OF LEVITZ UNLESS FRIEDMAN GETS THE BOOT.]
You know, and as far as several other initiatives, right. We redesigned the entire source book and to do that, we delayed that, and also we delayed it to give our vendors more time to catch up on modern and we remodeled all of our stores, rolled out that design to liaison and doubled the size of our interior design team. [JG: LOL DOUBLED THE SIZE OF THE INTERIOR DESGIN TEAM] When I look back at many of those things, and there's some other things we did, too, but those are the big ones and I say to myself, what would I have done different this year, the biggest thing, if I had to make a decision over again, I would not have delayed the source book. [JG: THE BOOK. ITS THE BOOK DAMMIT. IF WE JUST HAD THE BOOK OUT ON TIME.]
I think the vendors in Modern, you know, recovered and caught up. I don't think that mailing the source book would have the impact, you know, we thought it could have, you know, the risks we thought it could have on the vendor base, and the efforts to redesign the source book, while I think it looks fresh, new, and very impactful, the lost source of mailing it 6 to 8 months later, you know, cost us, you know, significant revenues in earnings, and I think that created the biggest risk on the year, so that's what I would have done over. [JG: FLAT OUT BLAMING THE FACT THAT A COFFEE TABLE MARKETING BOOK HIT YOUR REVENUE LINE ALL YEAR LONG. LET ME TELL YOU SOMETHING GARY. THE BOOK IS FUCKING STUPID. AND NO ONE CARES ABOUT THE FUCKING BOOK. YOU KNOW WHY? BECAUSE NO ONE ACTUALLY LOOK AT THAT SHIT AND THINKS, HEY LET ME ORDER THAT $7000 CHINESE MIRROR ONLINE. NO FUCKFACE. NO. STOP BLAMING THE BOOK. THE ISSUE IS THAT YOUR "CONCEPT" OF A STORE HAS JACKSHIT FOR INVENTORY ON PREMISE AND SO THERE IS NOTHING IN STOCK FOR FOOLS TO BUY OR EVEN PONDER TO BUY — BUT DON'T WORRY THEY CAN GRAB A SANDWICH AT THE CAFE, GO UP AND DOWN THE SWANK ELEVATORS AND "FEEL RICH". LEAVING YOU WITH THE TAB FOR THE PSYCHOLOGICAL SHORTCOMINGS OF THE 250K MIDDLE CLASSS. GOOD WORK GARY. AND YOU KNOW WHAT IF YOUR FUCKING BOOK WAS 6 TO 8 MONTHS LATE, PLEASE DONT BLAME THE FUCKING POST OFFICE AND THE ELECTION. ITS INSULTING TO THE USPS, WHICH IS ONE OF THE GREATEST INSTITUTIONS EVER KNOWN TO MANKIND. TRY SENDING A PACKAGE TO FUCKING BANGALORE WITH TRACKING AND YOU WILL APPRECIATE MY WORDS]
——————————————————————————–
Oliver Jen from Cowen and Company [14] ——————————————————————————–
Karyn, I was curious for investors that are concerned about free cash flow, it would be right to be briefed on your thoughts around that CapEx. And why were you incrementally more aggressive? Was that an effort to make sure you were clean? Because it looks like you've been prudent about aggressively managing inventories as well.
——————————————————————————–
CFO [15] ——————————————————————————–
Our working capital has been something that we're very interested in. Making sure that those inventories get down as you guys saw. We ended last year with our Q4 miss with much higher inventory than we wanted: so some of that, the ongoing assortment, we managed through lower receipts, but there were the critical evaluation of the SKUs as Gary mentioned to see what we no longer needed in the assortment. So we have been making great progress in that initiative as you can see at the end of Q3, our inventory was at, you know, plus 2, and that includes the Waterworks so really great progress with that, but as we're heading into Q4, you know, with some of the slow down and what we saw in November, whether it was the election or consumer, whatever the reason, we don't want to be sitting on some of that inventory, and we want to move through it. We went to, at the beginning of the month or about the 11th, we went to 20% off sales. A lot of stuff on sale is the SKU rat (?) merchandise and deeper mark downs on some of the planning, to continue to do that through the end of the quarter and make sure we're clean by year end and get through what we wanted to get through. [JG: HAHHAHAA. SO THIS B!TCH IS NOT CONVINCED IT WAS THE ELECTION. HAHAHAHA. "OR THE CONSUMER" — HAHAHAHHAHA] That had a positive impact on the cash flow as we head into next year if we can continue to make improvements with your inventory down. The second piece with the capital took our range down, that's based on the lower sales. We're taking a critical look at what projects we have on deck, what's in flight, where do we need to be more critical in that spend. I still feel really confident in what we have the ability to affect to effect both in the real estate and other projects, what's nice to have, what need to have, and we'll continue to be diligent to make sure we reach the free cash flow positive goal in 2017.
Honestly, I don't know if I'll get the to rest — its utterly idiotic. It is complete chaos in this joint. There is simply no substance in this entire operation. Vapid.
Gary, check yourself in. Do us all a favor. Just do it.
If you enjoy the content at iBankCoin, please follow us on Twitter