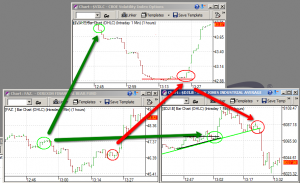 Hey guys, I decided to do things a little more differently.  Instead of me annotating the trade, try and see if you can figure this out yourself.  This is a good example of how the $VIX + technicals on the broad market,  move the leverage ETFs like FAZ or FAS.
In this chart, I shorted FAZ using the green colored arrows.  You also could have went long FAZ using the red color arrows for a ridiculous gain.  The question is, Why?
Use the VIX and the DJI chart in your answer to why you would short or get long FAZ at the red and green circles.  I'll give you answer later this weekend.
If you enjoy the content at iBankCoin, please follow us on Twitter